Learn why this astounding toy dog is one of the most loved and discover important Pomeranian facts and Pomeranian info.
All about Pomeranians. Interesting facts about Pomeranians
Pomeranian Dog Origins
The Pomeranian dog acquired its name from a region in Germany called Pomerania, now part of Poland and Germany.
This spitz dog was developed and became known as the Pomeranian in England.
Classed as a toy dog breed because of its small size, the Pomeranian is descended from larger Spitz-type dogs. 
In 1870, the English Kennel Club officially recognised the breed and held the very first show, where three Poms were on exhibition.
1863, Pomeranians had classes of their own in London's Great International Dog Show.
The English Pomeranian Club was established in 1891.
In 1900, in the United States, the American Kennel Club (AKC) first recognised this small breed.
In 1900, the country's Kennel Club officially recognised the Pomeranian and the American Pomeranian Club was formed.
The American Pomeranian Club became a member club of the American Kennel Club in 1909.
1910, saw the very first Pomeranian breed show in the U.S.A.
Pomeranian Characteristics
The Pomeranian is the smallest a member of the Spitz family of breeds.
Dogs in this group usually have thick, long fur. Ancestors of the Pom were generally white, black or off-white in colour.
A Pomeranian is a small, compact, dainty dog. The Pomeranian ideally weighs 4 to 5 pounds (1.8 to 2.7 kg) but may weigh 3 to 7 pounds. 
The Pom's tail goes straight over his back and lies flat. It should NOT curl.
The flat tail is an important Pomeranian characteristic that distinguishes the Pom dog from all other dogs that are spitz breeds.
Apart from the Pomeranian, other dogs in the group include the: Chow Chow, the American Eskimo Dog, Akita Inu, Alaskan Malamute and Alaskan Husky.
Although the Pom seems to only have one extremely fluffy coat, this isn't really the case. It actually has two separate coats. The undercoat has thick fur and is quite short. The overcoat has long hair. The two layers combine to make this beautiful fur ball that people everywhere fall in love with.
Pomeranian Dogs have to be brushed and patted upwards, as in towards the head.
This dog breed is different to most, as the female is required to be a little bigger than the male counterpart.
Pomeranians spin a lot. This habit is a breed trait and some Pomeranian owners refer to this habit as the Pomeranian Pirouette.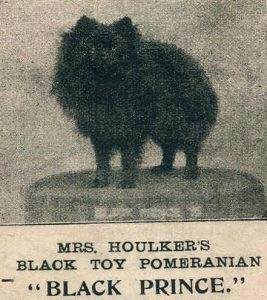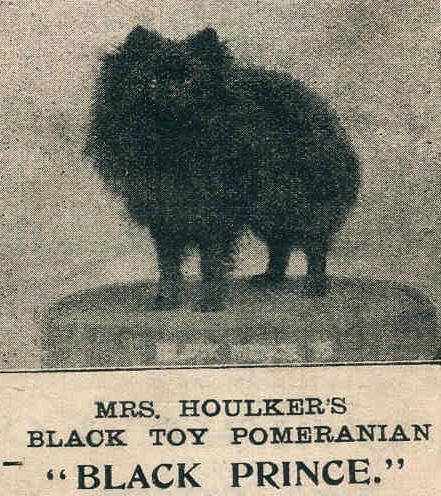 The average Pomeranian lifespan is about 12 years. Pomeranians and other smaller breeds tend to live longer than bigger dogs. 
A Pom dog is regarded as an adult once he's one year old. The bigger breeds hit this mark around the age of two years.
Pomeranians are now in the top 10 most popular dogs in the US.
Pomeranians on the Titanic:
There were 12 dogs on the Titanic. The majority of these dogs belonged to affluent Americans. The fare for a canine on the Titanic was pricey, identical to a child's fare. 3 dogs survived the tragedy, a Pekingese and two Pomeranians.
The two Pomeranians being Lady, owned by Miss Margaret Hays and a Pomeranian belonging to Mrs Elizabeth Barrett Rothschild. This Pomeranian survived the Titanic disaster, however was later killed by another dog in New York. Elizabeth's husband, Martin was one of the many who perished in the accident.
History of the Pomeranian as a Show Dog
In 1988, the winner of the Westminster Best In Show was a Pomeranian called Ch. Great Elms Prince Charming III.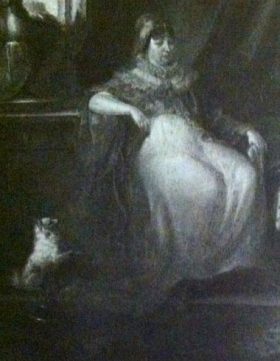 First Pomeranian Champion
The first Champion of the Pom breed was a white Pomeranian named "Rob of Rozele ".
Read more about early Champions of the Pomeranian Breed HERE.
Famous Pomeranian Dog Owners
As a Pomeranian lover, you're in extremely good company. Over the years, many famous people have fallen under the spell of this delightful little dog.
Past and Present Pomeranian Owners Include:
Queen Charlotte:, King George III's wife, (1744-1818) had white Pomeranians Phoebe and Mercury.
Queen Victoria: (1819-1901) Bred and exhibited Pomeranians. On holiday, she purchased four Pomeranians from Italy, the most famous being a little sable dog called Marco. Other Royal Pomeranians included Gina, Fluffy, Nino, Mino, Beppo, Gilda, Lulu and Turi. Queen Victoria housed up to 35 Pomeranians in the royal kennels.
Marie Antoinette: Queen of France (1755 -1793).
Josephine Beauharnais:Empress of France (1763-1814).
Wolfgang Amadeus Mozart:Classical Music Composer (1756-1791) owned a Pomeranian called Pimperl. Mozart wrote an aria dedicated to his Pom.
Gainsborough: A painter (1727-1788).
Carl Friedrich Abel: Composer. (1725-87). Gainsborough painted his Pomeranian.
Martin Luther: (1483 –1546) German monk, theologian, church reformer owned a Pom called Belferlein.
Charles Darwin: Owned a Pomeranian who was named Snow.
Michelangelo Di Lodovico Buonarroti Simoni: (1475 –1564). Michelango's Pom was said to have sat on a satin pillow watching him paint the Sistine Chapel.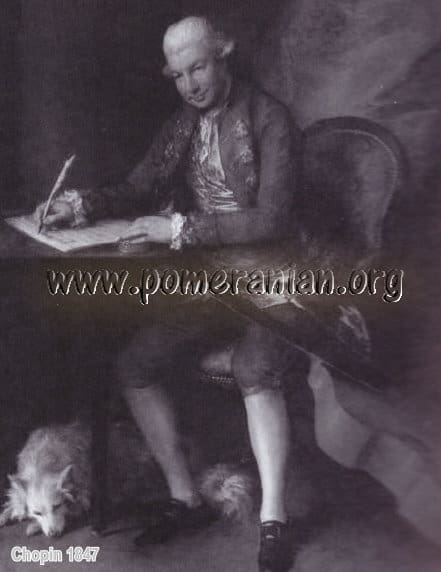 Sir Isaac Newton, mathematician and physicist (1642-1727) owned a Pom called Diamond.  Diamond would chew his manuscripts.
Frédéric Chopin Composer. (1810, –1849). Chopins "Valse des Petits Cheins" was inspired by his girlfriend's Pomeranian.
Emile Zola : French novelist and critic (1840 –1902).
Harry Houdini: had a Pom called Charlie.
More Recent Famous Pomeranian Owners:
Jean Harlow : had a Pomeranian.
Kimora Lee Simmons: had two Pom Suki & Simba.
Sasha Cohen: ( Ice Skater) owned the Pom Mocha.
Elvis Presley: bought a Pom called Sweet Pea for his mother Gladys. After Gladys' death Sweet Pea came to live with Elvis.
Fran Drescher: owned a Pom called Chester who appeared in the show "The Nanny". After Chester's passing Fran purchased another Pomeranian called Ester.
Kate Hudson: is the proud owner of Clara Bow.
Paris Hilton: has 3 Poms called Marilyn Monroe, prince and Kimchi.
Nicole Richie :Foxy Cleopatra.
Tammy Wynette:  Killer.
Britney Spears:  Isabelle and Izzy
Rhianna: Marley.
Sharon Osbourne:  Minnie, Mr Chips and Pipi.
David Hasselhoff : Jenny & Killer.
Jeff Hanneman: a chocolate Pom called Scoolu.
Humberto Gonzalez: Cosmo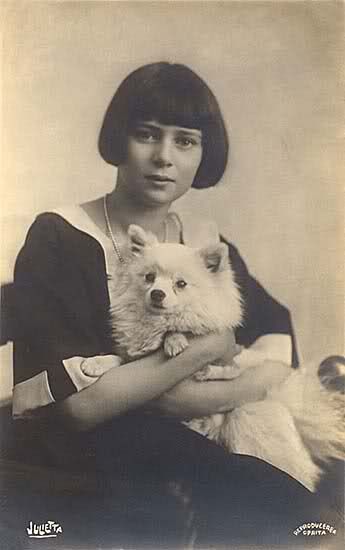 Nick Cave's: parents owned a Pom called Marco Polo.
Pauline Rubio :  Miranda.
Maria Sharapova: Dolce.
Brittany Taylor:  Bandit.
London Tipton:  Ivanna.
Holly Madison:  Harlow and Panda.
Hilary Duff:  Minnie and Macy.
Haylie Duff : Bentlil.
Chanelle Hayes:  Crumpet.
Patrick Stump:  Penny.
Victoria Asher: Gizmo.
Geri Halliwell:  Daddy.
Dee Winfield:  Chauncey.
LeAnn Rimes: Joey and Raven.
Cindy Williams:  Phoebe.
Daishi Kajinaga :Momo.
Irene Handle : Fluffy.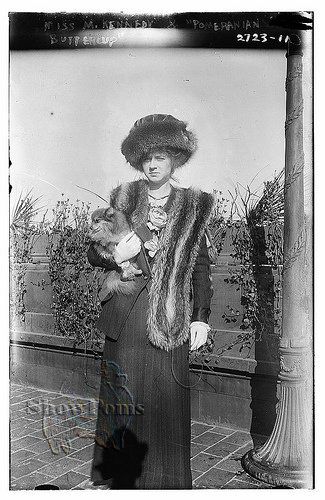 Jessica Alba:  Lucky.
Liza Minnelli:  Austin Powers.
Samantha Mumba:  Foxy.
Goldie Hawn:  Clara.
Courtney Love:  Princess Paps.
Bill Cosby:  Luther.
Keanu Reeves : Fluffy.
Cynthia Bailey:  Bai Lei.
Gavin Rossdale:  Chewy.
More Famous Pomeranian owners include:
Sandra Bullock, Alec Baldwin, Bethenny Frankel, Perez Hilton, Cesar Milan, Jeff Lewis, Gerard Butler, Niecey Nash, Mario Lopez, Betty White, Brad Goreski, Barry Bonds, Brandi Glanville, Cee Lo, Drake, Kathy Hilton, Lisa Rinna, Slash, Miss Universe Olivia Culpo, Jenni Pulos, Dolph Lundgren, Tony Bennett, Sylvester Stallone, P. Diddy and Kim Porter, Eva Longoria, Frank Watkins, Rudi Johnson, Lisa Vanderpump and Matt Light. If we have missed a celebrity Pomeranian owner please drop us a line with any information.
Movies and Television Shows featuring a Pomeranian Dog
The most famous Pomeranian dog in his own right is BOO. Boo the Pomeranian has well over 16 million Facebook fans, 2 published books and a huge range of Boo collectables available. 8 year old Boo at is often referred to as the World's Cutest Dog the cutest Pomeranian in the world. Boo resides in San Francisco.
Literature:
Beatrix Potter wrote about a black Pomeranian named Duchess in The Pie and the Patty Pan.
My Trip by Bunty. An Australian book written about the adventures of a Pomeranian dog who was called Bunty Rogers. This book was written and illustrated by Hunter Rogers in 1964.
Movies:
Pomeranian Dogs Appeared In The Following Movies:
Candy paint – 2005.
Killer Bud 2000.
Quigley 2003.
To Die For 1994.
Dumb and Dumber – 1994.
Harlem Nights- 1989.
Cadillac Man- 1990.
Fran Dreshler's Pomeranian Chester has a starring role in this movie.
Superman Returns – 2006. Two Pomeranians appear in this movie.
Screwed – 2000. Enemy of the State – 1998. A white Pomeranian appears in this movie with Will Smith.
Blade: trinity – 2004.
Lady and the Tramp 11: Scamp's Adventure- 2001.
Titanic – 1997.
Hounded – 2001.
Chasing Papa.
Adventure of Bailey: A Night in Cowtown – Jiff the Pomeranian had a starring role in this movie.
The Secret Life of Pets – One of the main characters is a white Pom female.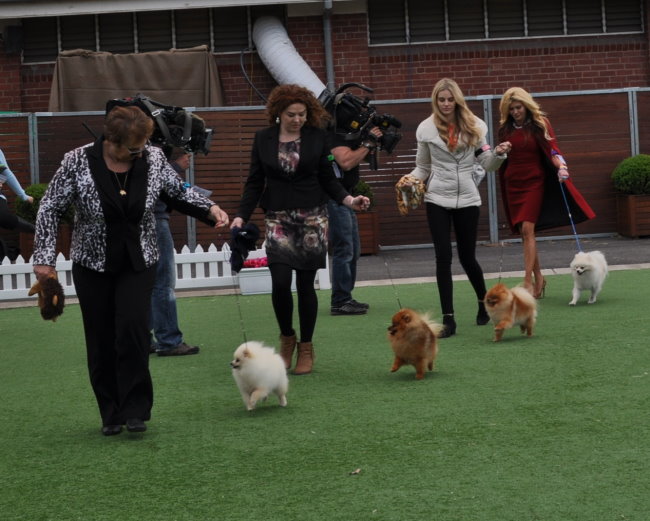 Television:
That's So Raven.
The Suite Life of Zack and Cody.
Excel Saga.
The Nanny.
The Osbournes.
Heroes.
The Simple Life.
X-Files.
Heroes – A Pomeranian called

Lestat , who played the character Mr. Muggles in the show. Las Vegas

– Lestat appeared in this show.

The Real Housewives of Beverley Hills. The Real Housewives of Melbourne. Gamble is the proud owner of two Pomeranians, who appear in the show.

Underbelly.
Pomeranians have appeared in many commercials.
If we have missed any Pomeranian in this article please drop us a line with any information.
Copyright Pomeranian.Org. All Rights Reserved.
References and Further Reading:
[1] Official Standard of the Pomeranian (AKC). American Kennel Club, 2011.
[2] Official English Kennel Club Pomeranian Breed Standard , 2017.
[3] Kimbering Pomeranians "1891-1991".
[4] Denise Leo, The Pomeranian Handbook.