Are there teacup, toy, mini, miniature, pocket, teddy bear, or standard Pomeranians ? Simply no, nearly all of these terms are not utilized by registered show Pomeranian  breeders.
Frequently, prospective Pomeranian owners wanting to obtain a typical high quality, correctly sized Pomeranian ask for a teacup or mini Pomeranian. Officially neither variety of Pomeranian exists. Purchasing your puppy from a registered show breeder will ensure that your Pomeranian will mature correct to the breed standard.
What is the Pomeranian breed standard you ask ? The breed standard is the "blueprint" of the breed. Dedicated show breeders carefully select for the traits and characteristics described in the breed standard. By participating at dog shows, show Pomeranian breeders are able to evaluate and compare breeding programs.  
 Pictured above Pomeranian puppies bred by a registered show Pomeranian breeder. These puppies can be expected to mature to be typical examples of the Pomeranian breed. As pictured below in the 3 photos.
Without study of the breed standard, meticulous selection for breed quality and regular evaluation of breeding programs by participating at dog shows the very essence of the pomeranian is quickly lost. Pomeranians bred by people who do not show their Pomeranians may look adorable and very cute as young puppies. New owners are often captivated with the appealing ball of fluff, but are purchasing a totally different dog to the "show" type Pomeranian.These poor quality puppies frequently mature considerably larger than the Pomeranian breed standard, lack the correct Pomeranian double coat, becoming very long in back, long nosed, having big ears & a low set curly tail.
Many pet Pomeranian purchasers are dismayed when their Pomeranian puppy does not grow up to look similar to "Boo". It should be explained, I don't see show flaws as detrimental in pet Pomeranians. I adore each and very Pomeranian which exists. All dogs are lovely, but if you intend to purchase a Pomeranian safeguard yourself by spending a little extra time selecting your Pomeranian and purchase from a show Pomeranian breeder. 
Click on this link or go to the right menu we have a link to the best, reputable, registered, Show Pomeranian Breeders worldwide. Find a good Pomeranian breeder close to you.
Is there a throwback Pomeranian? Simply No! Perhaps this term could be used to describe a poor type or  backyard breeder type Pomeranians, which often resemble a German Spitz more than a Pomeranian.
Pictured below the type of "Pomeranian " puppy sold via pet shops, newspaper advertisements, back yard breeders etc. This type of Pomeranian puppy can be expected to mature into a dog of the quality pictured above right. If this is the type you favour consider researching the German Spitz.
Book will be delivered by instant download.
Pomeranian head types :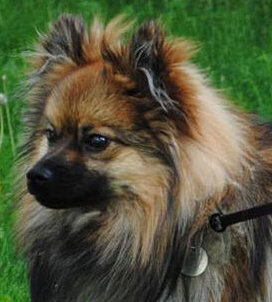 The Pomeranian breed standard includes the phrase "foxy outline". This does not mean a foxy type face. The above head is an incorrect Pomeranian head and is more consistent with a German Spitz dog.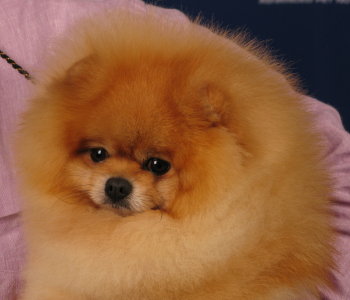 Baby Doll, Teddy Bear faces could be used to describe certain Pomeranian face types.
The Pomeranian pictured above, Multi Best in Show Grand Champion Dochlaggie Dragon Heart could be described as having a "teddy bear type face". This Pomeranian could be described as a "Teddy Bear "Pomeranian .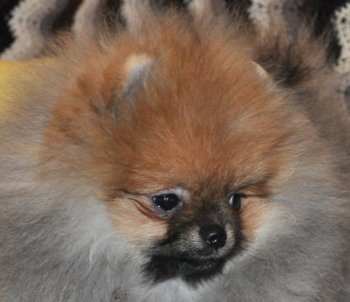 The photo above is of a Pomeranian bred at Dochlaggie Pomeranians. This Pomeranian could be described as having a "baby doll" type head.
Copyright Pomeranian.org. All Rights Reserved.
For complete and detailed Pomeranian information, how to choose the right Pomeranian puppy for your family, Feeding your new Pomeranian puppy, toilet and crate traing your Pomeranian, Socializing your Pomeranian Puppy, Common Health Issues Affecting Poms, Choosing Your Pomeranian's Veterinarian, Pomeranian Colors and Patterns. The Pomeranian colors explained, Breeding & Exhibiting Pomeranians