You may have a cute, fluffy Pomeranian at home and want to know the best brush for your dog's fur and other tools you should have. You can find all of these things in this article.
Many dog brushes are out there, but what should you use on a Pomeranian? The best kind is a slicker brush because it will help remove tangles or mats from their thick coats.
Pomeranian Grooming Tools Should Include:
Best Slicker Brush for Pomeranian
Pin Hair Brush for Pomeranian
Xylan coated Metal Comb for Pomeranian
Coat Conditioner Spray
Nail trimmer or a small grinder
Eye wipes
Grooming Tools for Pomeranians. How to Brush a Pomeranian's Coat
Details of the best Pomeranian grooming tools are provided below:
Best Brush for a Pomeranian
The best brushes for Pomeranians listed below are the Pomeranian combs, brushes, and other Pomeranian grooming tools recommended here are the actual equipment used to groom the Dochlaggie champion Pomeranians.
Utilizing proper Pomeranian grooming tools and brushes will make it possible for you to easily and quickly perform the task of Pomeranian grooming.
Grooming is incredibly important for all dogs especially breeds such as the Pomeranian. Finding the ideal Pomeranian comb and best brush for the coat is the vital first step in this process.
Best Brush for Pomeranian Puppy?
There is no need to purchase a different Pomeranian grooming kit for Pom pups. I use the same Pomeranian grooming supplies on the Dochlaggie Pomeranian puppies as the adult Poms.
What Type of Brush Should Be Used on a Pomeranian?
Combs and brushes come in numerous sizes and shapes, but there are just three main types of brushes.
Best Bristle Pomeranian Dog Brush
All dog coats will benefit from being brushed with a bristle brush. They vary according to bristle length, space between them, and the brush head size.
The longer the hair, the more widely spaced the bristles need to be. Stiffer bristles can be used for coarse hair; use a bristle brush with a bigger brush head and stiffer bristles for longer hair.
These bristle brushes are ideal for a puppy coat, as they are gentle on a dog's skin. I find a bristle brush will struggle to get through the double coat on an adult Pomeranian.
Chris Christensen Soft Tufted Boar Brush
The Chris Christensen Soft Tufted Boar Brush with soft bristles is the perfect first Pomeranian hairbrush for puppies. It's an ideal finishing brush for show Pomeranians and for use on any sensitive areas.
Best Slicker Pomeranian Hair Brush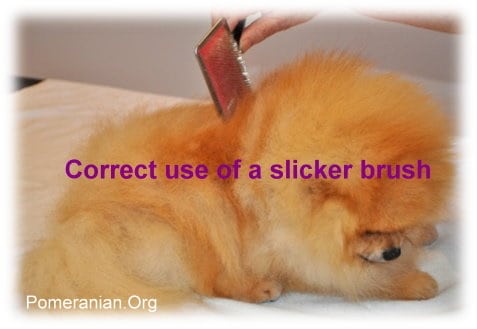 Correctly using a slicker brush for Pomeranians is necessary for all serious Pom dog grooming.
What is a Slicker Brush Used For?
The fine wire bristles on these Slicker brushes eliminate tangles and mats while keeping the dog's hair looking as good as possible. A large, soft, slicker brush is the best for Pomeranians.
Remember, the best results are obtained when using a slicker brush by only flicking with the corners of your brush.
For more details on the correct use of a slicker, refer to our Pomeranian Grooming eBook.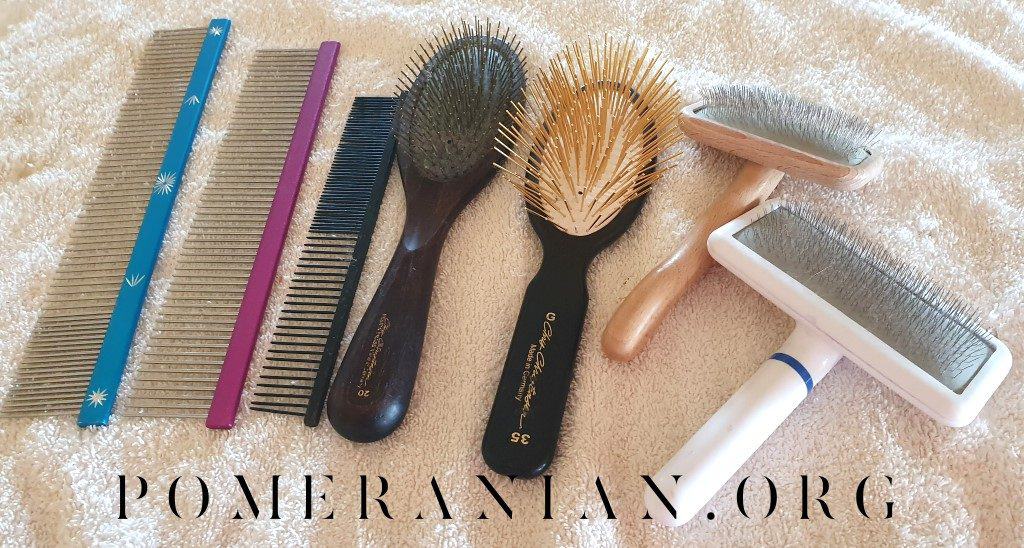 Doggyman Slicker Brush Small White
The Doggyman Slicker Brush Small White is a great choice for those on a budget who need a range of grooming tools to keep their Pom healthy and looking good. It's a gentle, soft brush that prevents mats from forming and removing dead hair.
It's useful for brushing through your Pomeranian's undercoat and is ideal for all long-haired dogs.
I use this slicker here at Dochlaggie Pomeranians nearly every day. Learn more about this product on Amazon.
Millers Forge Elan Pet Slicker Brush
This is another budget option for Pomeranian grooming. The Millers Forge Elan Pet Slicker Brush is extremely popular and economical and is a perfect choice as the number two contender for Pomeranians.
It has a good look, feels great when holding it, and, last but not least, is efficient for brushing the hair on all my Pomeranians.
Learn more about this product on Amazon.
Chris Christensen Mark V Triangle Slicker Brush
I am a huge fan of all Chris Christensen dog grooming brushes. This super-soft triangle-shaped slicker brush is perfect for small, difficult areas, like behind the ears, the elbow area, etc.
It's also perfect for tiny Pomeranian puppies. It comes with a contoured handle, which assists you when changing directions and styles.
Learn more about this product on Amazon.
Chris Christensen Long Pin Coral Slicker Brush, Large
You should buy the Chris Christensen coral slicker brush because it helps remove all loose hair and eliminates dander, knots, tangles, and any dirt that becomes trapped.
This brush is very gentle on your Pomeranian's skin and hair because of its high bristle density.
This doesn't scratch your Pom's skin while penetrating deep into his coat. It's all useful for improving his blood circulation and maintaining a shiny, soft coat.
 
It's suitable for most Pomeranians and easy to work through dense coats down to the roots.
When your Pom is shedding his coat, this is the number one choice for slicker brushes. It gets rid of all his dead, thick undercoat.
Learn more about this product on Amazon.
Mark VII Curved Back Large Slicker Brush by Chris Christensen
This is a brilliant Pomeranian grooming tool when buying supplies to fill your grooming kit. It aids in the removal of tangles and mats. It also helps you comb right through his undercoat and does an excellent job on long-haired dogs.
Another reason you should buy this brush is its ergonomic and durable design. You'll easily get rid of mats, debris, and dead hair from the coats of your Pomeranians and most other breeds.
The bristles have been specially designed to get into deep coats, which is ideal for Pomeranians because they don't scratch the skin. This brush would be a serious contender for the best Pomeranian brush, and most owners would love it. Learn more about this product on Amazon.
Best Wire Pin Pomeranian Brush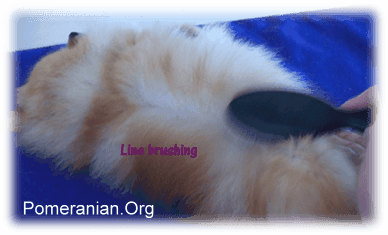 Wire pin brushes without rubber-tipped ends are the best brush for a Pomeranian undercoat. Avoid using rubber-tipped pin brushes on your Pom, as the rubber tips can damage the coat.
Some owners have mentioned their Pom may not like being brushed with a pin brush minus rubber tips.
If this is the case, adjust your brushing technique and purchase a pin brush that doesn't hurt. This is a quality dog pin brush with polished pins. The best brush for the Pomeranian coat is not an inferior product with rough and sharp pins.
Chris Christensen Oval Pin Brush
One of my preferred brushes for the Dochlaggie Pomeranian champions is the Chris Christensen Oval Pin Brush. It's a terrific brush that you would certainly describe as classy. It's a classic brush and shows off a refined style.
While there are many contenders for the best brush for Pomeranian dogs, this Pomeranian hairbrush is different enough to be among the best dog brush for Pomeranians.
One of the best aspects of the Chris Christensen Oval Pin Brush is its ground, polished tips with high-quality stainless-steel pins. What this means for your Pomeranian is that they'll experience one of the smoothest brushes on the market.
This Pomeranian hairbrush is also made of lightweight beach wood with a handle that's simple to hold and is durable and firm. This brush is made 100% in Germany, which we all know has amazingly high-quality products.
The Chris Christensen Oval Pin Brush is available in 27mm pin length and a brush with shorter 20 mm length pins.
Both of these brushes are suitable for Pomeranians. I constantly use both, depending on my Pom's coat length.
Learn more about this product on Amazon.
Best Comb for Pomeranian
Combs with wide teeth are great for removing loose hair from brushes and finishing touches on your Pom. A Pomeranian comb with very fine teeth can help to shape the hair on your Pomeranian's face and clean any debris away from the eye area.
Use a Xylan-coated Metal Comb ( if a Xylan-coated Metal Comb is unavailable, purchase a large wide-toothed comb with rounded tooth ends) on the Pomeranian's body fur.
When you comb and brush your Pom, always do it gently and take all the time necessary. Extra care is required when eliminating tangles and mats.
Your Pomeranian should enjoy the gentle strokes on his skin when you brush. However, it's easy to make your dog dislike brushing by pulling at hair tangles and taking ages to remove them.
Win your Pom's confidence by brushing his coat every day, as this helps prevent tangles from forming, and if he does get any, the tangles and mats will be small and be removed easily and without a struggle.
YOOHUG Pet Stainless Steel Comb, Grooming Scissors Comb for Dog and Cats with Short or Long Hair Shedding, Royal Blue
All of my Poms love this comb. First, I use a slicker brush to brush through the coat, then the pin brush, and lastly, a comb is used to comb through the Pomeranian's coat.
It's an excellent comb for getting down deep into my Pom's coat and removing loose hair. Its teeth are well-rounded at the ends, and it's a sturdy tool.
I like its versatility; the teeth are wider at one end and closer together at the other.
This latter end is two inches and is handy for removing all those mats of fur in the undercoat. Used with care, this comb doesn't pull, meaning there's no discomfort for the dog. Learn more about this product on Amazon.
Professional Anti-Static Dog Grooming Combs Xylan Coated Wear Resistant Tools (10″ Finishing)
This is the perfect finishing comb. It easily glides through the coat and doesn't hurt.
It's made of metal and has a coating of Xylan to reduce friction, stop static, prevent fly-away hair, and increase its resistance to normal wear and tear and chemicals.
Teeth get drilled into its spines to improve durability and increase strength. Now, you can stop fly-away hair with this high-quality anti-static grooming comb.
Learn more about this product on Amazon.
Top 10 Pomeranian Grooming Tools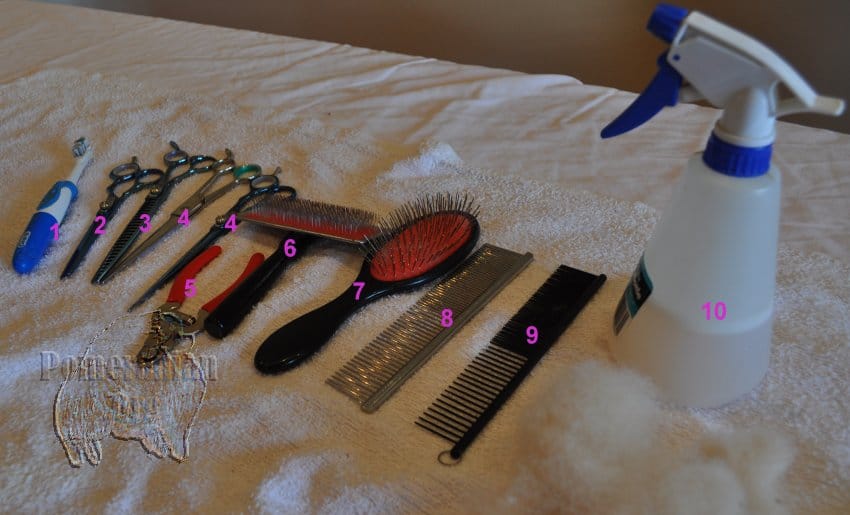 Battery toothbrush.
Geib Stainless Steel Small Pet Super Gator 48-Tooth Blending Shears, 8-Inch
ShearsDirect Japanese 440C 24 Tooth Chunker with Light Blue Gem Stone Tension and Anatomic Handle, 7.5-Inch
Master Grooming 5200 Titanium Straight Shear, 8.5-Inch, Blue
Safari Professional Dog Nail Trimmer, Small/Medium
Millers Forge Stainless Steel Pins Designer Series Soft Slicker Pet Grooming Brush, Large
Chris Christensen Oval Pin Brush, 27mm
Andis Pet 7-1/2-Inch Steel Comb (65730)
Prolux Anti Static Dog Grooming Combo Comb
Spray bottle containing diluted conditioner. Tolco Empty Spray Bottle 8 oz. Frosted Assorted Colors
Trim your Pomeranian toenails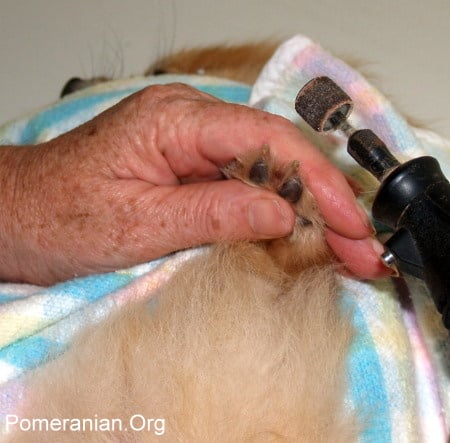 Electric Grinder:
I use a nail grinder to maintain short Pomeranian toenails.
A word of caution: Great care is necessary to prevent any Pomeranian fur from being grabbed by the grinder.
Wrapping your Pomeranian in a towel while using a toenail grinder is an excellent idea.
The Dochlaggie Pomeranians prefer a grinder to toenail clippers and will sit on my lap happily while their nails are done.
Details of nail grinders for pets can be found on Amazon.
Complete details on how to trim your Pomeranian's toenails.
Other Dog Grooming Products to Help Maintain a Healthy Pomeranian Coat :
Furminator for Pomeranian
I don't recommend using a furminator for Pomeranians or other small dogs. If you regularly perform Pomeranian grooming, you won't need this tool as you will often remove loose fur from your dog's coat.
Pomeranian Tear Stains
Dealing with tear stains in Pomeranians can be a common challenge for many owners. These small, affectionate dogs often develop noticeable reddish-brown marks beneath their eyes, primarily due to their eye structure and fur type.
Tear staining is usually more prominent in lighter-colored Pomeranians, where the contrast with their fur is more visible. The root cause of these stains is typically porphyrin, a pigment found in tears that can leave a reddish-brown residue when exposed to air for prolonged periods. In addition to this, factors like diet, water quality, and overall health can also influence the severity of tear staining.
A multi-faceted approach is often most effective in managing and reducing tear stains. Regular, gentle cleaning of the area under the eyes is crucial. Use a damp, soft cloth or a special tear stain remover formulated to safely and gently cleanse the fur without irritating it.
It's also important to ensure that the Pomeranian's diet is high-quality and free from common allergens, as food sensitivities can exacerbate tear staining. Providing filtered or distilled water instead of tap water can help, too, as minerals in tap water might contribute to staining.
Regular veterinary check-ups are essential to rule out any medical issues causing excessive tearing, such as infections or blocked tear ducts. Through daily grooming, dietary management, and veterinary care, it is often possible to significantly reduce the appearance of tear stains in Pomeranians.
Pomeranian Grooming Tools Conclusion
For more about the best grooming tools for Pomeranians, Pomeranian grooming tips, learn how to brush a Pomeranian's coat, how to brush Pomeranian fur, and Pomeranian brushing tips, purchase the Pomeranian Grooming Guide.
Pomeranians are one of the most popular breeds in America. They're tiny, fluffy, and adorable – but they can also need a lot of care. These little dogs need almost daily brushing with a slicker brush or pin brush, regular bathing, nail trimming, and other grooming tasks that may seem daunting for new pet owners.
But don't worry! We've provided you with all the tools necessary to give your pet's coat its best appearance so it will look great both inside and out. Follow these simple steps below on how to groom your pom pup at home using our specially selected products.
Copyright Pomeranian.Org. All Rights Reserved.
References and Further Reading:
[1] Denise Leo "The Pomeranian Handbook."
[2]Denise Leo " Pomeranian Grooming."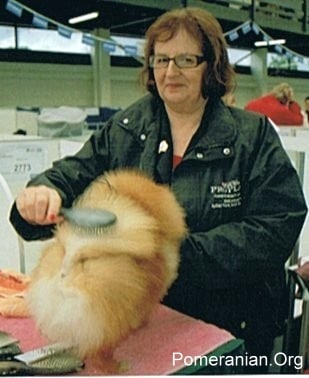 The Pomeranian Handbook by Denise Leo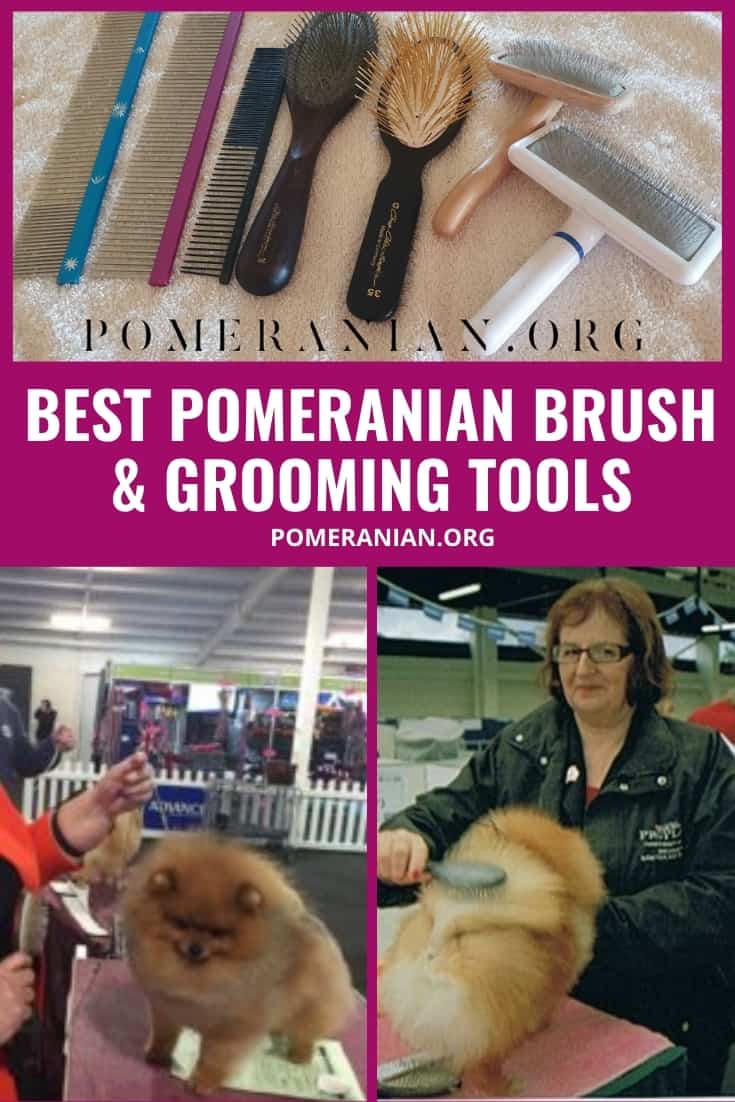 Pomeranian Grooming eBook