As a Pomeranian lover, you're in extremely good company. Over the years, many famous people have fallen under the spell of this delightful little dog. Past and Present Pomeranian owners include: Queen Charlotte, King George III's wife, (1744-1818) had white Pomeranians Phoebe and Mercury. Queen Victoria, (1819-1901) purchased four Pomeranians from Italy, the most famous being a little sable dog called Marco. Other Royal Pomeranians included Gina, Fluffy, Nino, Mino, Beppo, Gilda, Lulu and Turi. Queen Victoria housed up to 35 Pomeranians in the royal kennels. Marie Antoinette, Queen of France (1755 -1793). Josephine Beauharnais, Empress of France (1763-1814). Wolfgang Amadeus Mozart, Classical Music Composer (1756-1791) owned a Pomeranian called Pimperl. Mozart wrote an aria dedicated to his Pom. Gainsborough, a painter (1727-1788). Carl Friedrich Abel, Composer. (1725-87). Gainsborough painted his Pomeranian. Martin Luther (1483 –1546) German monk, theologian, church reformer owned a Pom called Belferlein. Charles Darwin's Pomeranian was named Snow. Michelangelo Di Lodovico Buonarroti Simoni (1475 –1564). Michelango's Pom was said to have sat on a satin pillow watching  him paint the Sistine Chapel.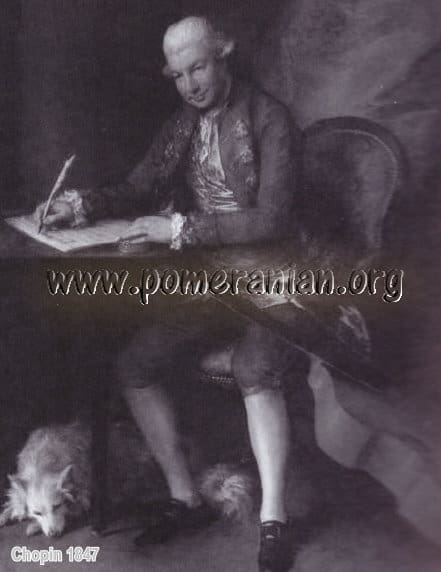 Sir Isaac Newton, mathematician and physicist (1642-1727) owned a Pom called Diamond. Frédéric Chopin, composer. (1810, –1849). Emile Zola, French novelist and critic (1840 –1902). Harry Houdini had a Pom called Charlie. Jean Harlow had a Pomeranian. Kimora Lee Simmons had two Pom Suki & Simba. Sasha Cohen ( Ice Skater) owned the Pom Mocha. Elvis Presley bought a Pom called Sweet Pea for his mother Gladys. After Gladys' death Sweet Pea came to live with Elvis. Fran Drescher owned a Pom called Chester who appeared in the show "The Nanny".  After Chester's passing Fran purchased another Pomeranian called Ester. Kate Hudson is the proud owner of Clara Bow. Paris Hilton has 3 Poms called Marilyn Monroe, prince and Kimchi. Nicole Richie – Foxy Cleopatra. Tammy Wynette –  Killer. Britney Spears – Isabelle and Izzy Rhianna – Marley. Sharon Osbourne – Minnie, Mr Chips and Pipi.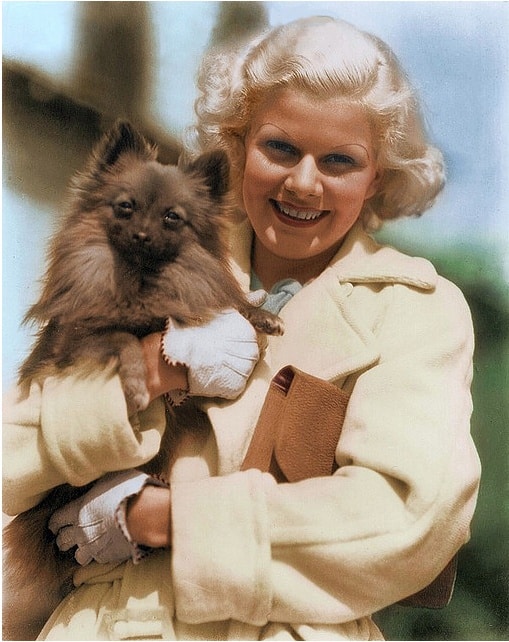 David Hasselhoff –  Jenny & Killer. Jeff Hanneman – a chocolate Pom called Scoolu. Humberto Gonzalez- Cosmo Nick Cave's parents owned a Pom called Marco Polo. Pauline Rubio – Miranda. Maria Sharapova – Dolce. Brittany Taylor –  Bandit. London Tipton – Ivanna. Holly Madison – Harlow and Panda. Hilary Duff – Minnie and Macy. Haylie Duff – Bentlil. Chanelle Hayes – Crumpet. Patrick Stump – Penny. Victoria Asher – Gizmo. Geri Halliwell – Daddy. Dee Winfield – Chauncey. LeAnn Rimes – Joey and Raven. Cindy Williams – Phoebe.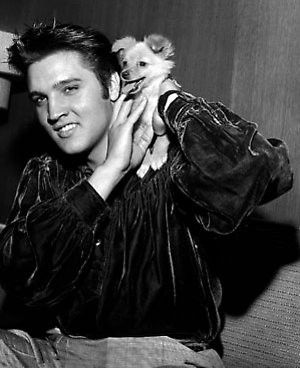 Daishi Kajinaga – Momo. Irene Handle –  Fluffy. Jessica Alba –  Lucky. Liza Minnelli – Austin Powers. Samantha Mumba –  Foxy. Goldie Hawn – Clara. Courtney Love – Princess Paps. Bill Cosby – Luther. Keanu Reeves –  Fluffy. Cynthia Bailey –  Bai Lei. Gavin Rossdale – Chewy. Some other famous Pomeranian owners include Sandra Bullock, Alec Baldwin, Bethenny Frankel, Perez Hilton, Cesar Milan, Jeff Lewis, Gerard Butler, Niecey Nash, Mario Lopez, Betty White, Brad Goreski, Barry Bonds, Brandi Glanville, Cee Lo, Drake, Kathy Hilton, Lisa Rinna, Slash, Miss Universe Olivia Culpo, Jenni Pulos, Dolph Lundgren, Tony Bennett, Sylvester Stallone, P. Diddy and Kim Porter, Eva Longoria, Frank Watkins, Rudi Johnson, Lisa Vanderpump  and Matt Light. If we have missed a celebrity Pomeranian owner please drop us a line with any information. Copyright Pomeranian.org. All Rights Reserved.