Information on important Pomeranian breeders and kennels of the past. These Pom breeders helped form the foundation of the Pomeranian dog breed.
Aristic Pomeranians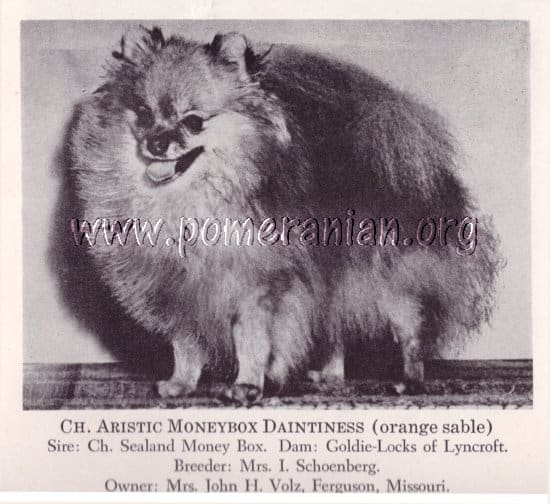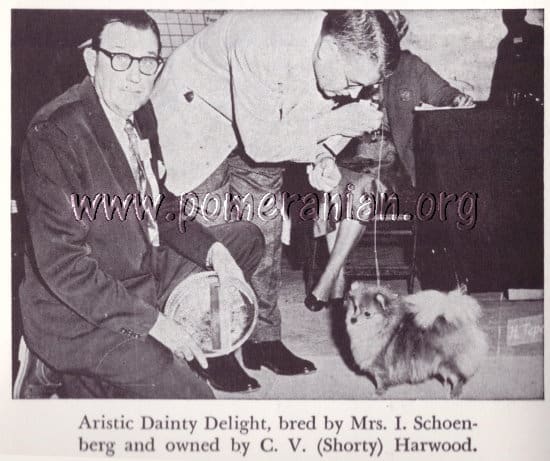 Mrs I. Schoenberg purchased many good Pomeranian from Fairfax, Twin Oaks, Cairndhu and the Julo strain from which many homebred Champions were produced.
A red, orange-sable Champion Fairfax Red Scamp of Twin Oaks (Sired by Champion Honeydew Red Man ex Fairfax Gleam of Joy) was the main foundation stud at Aristic.
Gold Blackacre Pomeranians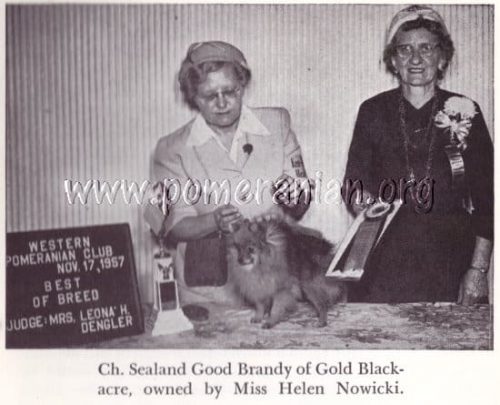 Miss Helen Nowicki's kennel located in Chicago kennel had a foundation of Riverleigh, Montacute and Blackacre strains. She imported the brood bitch Reine des Reines ( sired by English Champion Peter Blackacre x Blackacre Jenny Wren), who produced many champions.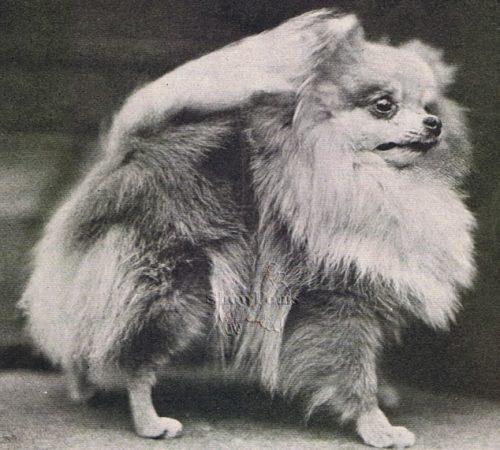 Julo Pomeranians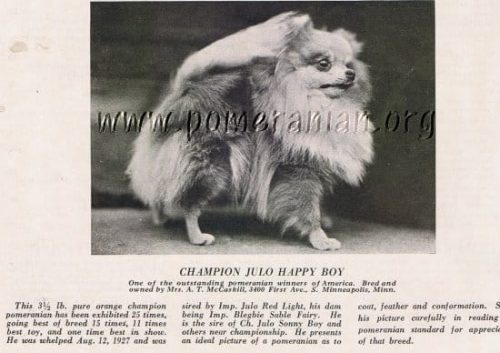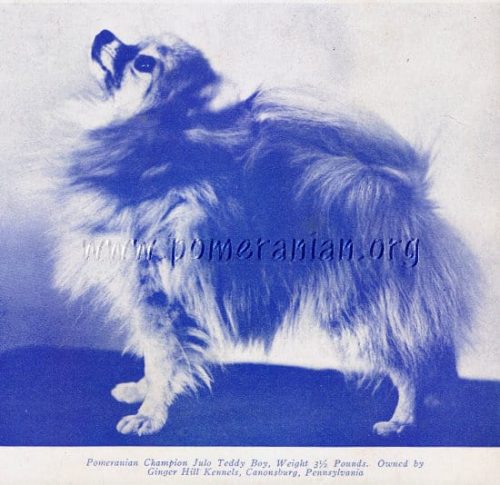 The American Julo Kennels ( Mrs A. T. McCaskill ) imported Julo Red Light the foundation of Julo Pomeranians, who became a famous stud producing many winners. Mrs A. T. McCaskill's foundation breeding bitches were also imported from England.
The home-bred Specialty Best in Show Champion Julo Happy Boy ( Julo Red Light x Blegbie Sable fairy of Pomona ) was a great winner at the shows being exhibited twenty two times, went Best of Breed fifteen times and nine times Best Toy.
Happy Boy's fame was not confined to winning, as he produced many famous show winners.
Copyright Pomeranian.org. All Rights Reserved.
References and Further Reading:
[1] Official Standard of the Pomeranian (AKC). American Kennel Club, 2011.
[2] English Kennel Club Pomeranian Breed Standard, 2017.
[3] Denise Leo, The Pomeranian Handbook.
[4] Milo G. Denlinger "The Complete Pomeranian"".
[5] Kimbering Pomeranians "1891-1991".
[6] William Taplin "The Sportsman's Cabinet".
[7] E. Parker "The Popular Pomeranian".
[8] Lilla Ives "Show Pomeranians".
Pomeranian Shopping

Learn All About Pomeranians in The Pomeranian Handbook