Click on the image below to JOIN now!
Your Pomeranian should be a welcomed, much loved member of the family. He'll love you and your family unconditionally. Sometimes it can be hard to know everything necessary to ensure your beloved Pom is properly cared for. That's where I come in.
I'm a true Pomeranian Professional with over 40 years' experience.
Other less effective methods for learning about Poms include:
• Buying books on the subject with not much real information. • Reading information on websites that may only cover a couple of topics in a shallow manner. • Asking advice from friends who own other breeds. • Asking questions of your vet. While he may give you good advice on one topic, it's impossible for him to teach you everything.
While these are useful methods, they're often superficial and a waste of time.
This is where I come in. I'm a true Pomeranian Professional with over 40 years' experience. The ONLY way to learn EVERYTHING about your Pomeranian is to join my membership site. I'm a true Pomeranian Professional with more than 40 years' worth of experience. I can answer ALL your questions and I'll even answer some questions you don't even know to ask, especially if this amazing Pomeranian world is new to you.
How much money would you spend to look after your children?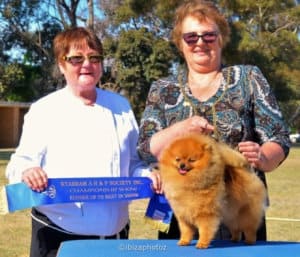 Probably as much as you can to ensure their good health and safety. It all adds up over many years. Caring for the four-legged member of your family is just as important and you'll need to invest a substantial amount of time, energy and money If you don't believe that, you have no business owning such an amazing animal.
I'll teach you techniques to use when raising your Pom that are fun and safe. These methods have been used to transform thousands of Pomeranian puppies into the happy, healthy, obedient family members their owners cherish every day.
Pomeranians appeal for three reasons:
• Their glamorous looks. • Their high level of intelligence, compact size and happy-go-lucky temperament. • Their irresistible charm – a constantly wagging tail, striking markings and big fluffy coat.
Learning how to care for your pom is a huge undertaking and requires a firm commitment from you before you even adopt/buy your pom. Read books written by other people that don't have all the answers you need. Browse online sites such as Amazon to further your doggie education but, again, it won't be comprehensive enough.
Most of the books I read didn't answer any Pomeranian-specific questions…because they were generic DOG books, NOT specific Pomeranian books. You can't treat all breeds the same way so you need to learn the specifics of caring for your pom. This is where my high quality membership site will help you enormously.
I can teach you everything you need to know about POMERANIANS, instead of just offering generic advice about dogs of no particular breed.
The Pomeranian Expert Information membership site is the most valuable, all-encompassing resource for all Pomeranian lovers that you'll ever find and use, whether you're a first time owner or a long term owner of this delightful breed.
Join my membership site and you'll find plenty of solid advice covering every imaginable topic relating to Pomeranians. Ask questions and I'll give you the complete answers you seek and more. Through my members-only Pomeranian Forum you can chat to other owners and share your knowledge. It's a great way to learn from people who have already been through what you're about to undertake. I'll also send you regular emails with information you may not even have thought about. You'll learn exactly what you need to know as a proud pom owner.
Avoid the common pitfalls when purchasing your Pomeranian such as: how to select a breeder and how to avoid being scammed when trying to buy that cute puppy.
Pomeranian topics covered in my membership site include:
• Access information on correct Pomeranian care.
• Tips to help you bring your Pomeranian puppy home.
• Should you purchase one or two puppies?
• Tips on toilet training your puppy quickly and without stress.
• How to avoid possible health dangers to your puppy.
• Feeding your pet.
• Learn about the correct diet for Pomeranians.
• How to handle fussy eaters.
• How to prevent your Pomeranian from becoming obese, essential advice if you want to avoid expensive veterinary bills.
• Dealing with issues such as: barking, biting and chewing.
• Desexing and breeding.
• Hand rearing Pomeranian pups, colour breeding showing, coat care and much more.
Fast and effective solutions to common Pomeranian problems. What steps you can take to make sure your Pomeranian lives a long, healthy life. Learn how best to cater for his needs at different stages in his life.
YOU OWE IT TO YOUR POMERANIAN TO EDUCATE YOURSELF ABOUT HIS/HER CORRECT CARE AND TRAINING IN ADDITION TO POTENTIAL HEALTH ISSUES.
• Learn how to train your Pom so he's obedient, healthy and happy. • If your Pomeranian puppy is loved and properly cared for in every way, he/she will be a real joy to own. • You now have one place to find the answers to all your Pomeranian questions, regardless of whether you have a puppy or an adult dog and whether you're new to it all or you're a seasoned owner.
I'm a genuine Pomeranian lover with over 40 years of experience in the Pomeranian breed. My top priority is to make sure you get honest advice about how to successfully look after your Pomeranian. My website is open 24/7 for you to refer to whenever you want. So take the plunge!
Join The Pomeranian Education Site Now!
Become a Premium Pomeranian Member and enjoy access to all our site content:
A one-time fee for Premium Membership allows Premium Members access to all content for LIFE
FREE DOWNLOADS FOR PREMIUM MEMBERS :
The eBook:  The Pomeranian Handbook ( Version One)
The eBook:  Grooming your Pomeranian
The eBook: Healthy Home Cooking For Your Pomeranian
The eBook: Training your Pomeranian
Your Dog's Emergency Contact Information
Contingency Plan: In Case of Emergency
PLUS: Enjoy unlimited access to all Pomeranian articles, information, advice and support. The opportunity to join the Pomeranian newsletter and be advised of site updates. Unlimited access to the Pomeranian Forum, allowing you to ask any Pomeranian questions or concerns. Please read our terms of Service prior to signing up.
  LIFETIME FULL site access and download Pomeranian Education books for the low price of $39.00. Don't miss this special opportunity. Click on the image below to JOIN now!
Free Membership You get unlimited access to the Pomeranian Forum, allowing you to ask any Pomeranian questions or concerns and contribute to the Forum. Free membership content and the opportunity to join the Pomeranian newsletter and you will be advised of site updates. Price: Free! Join for free.