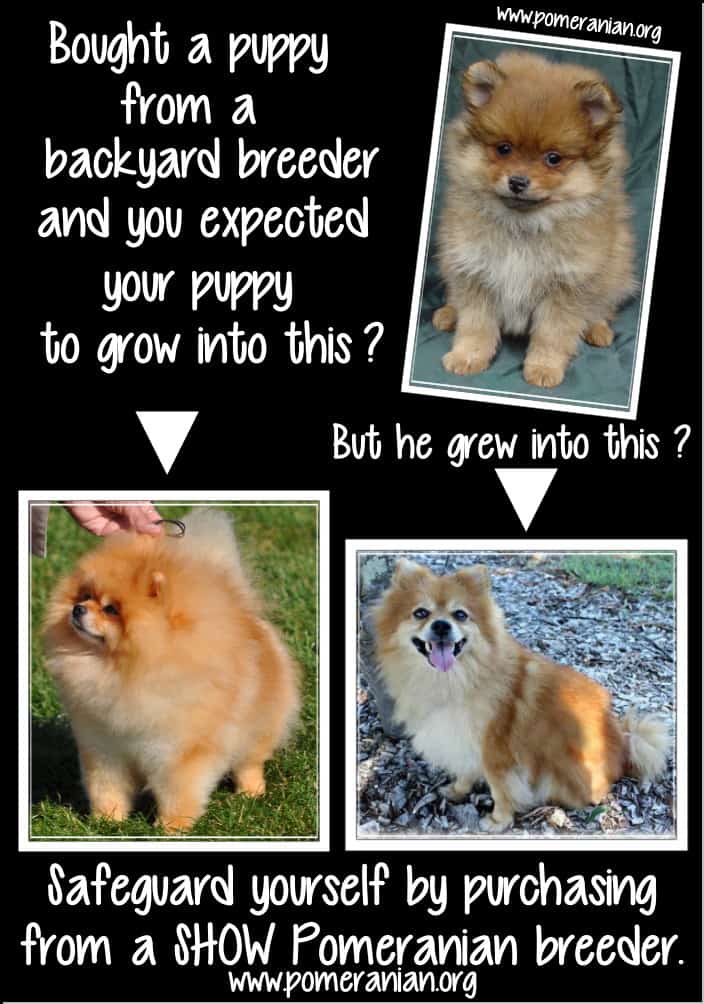 It is vital to acquire a puppy from a regis
tered SHOW breeder
and not via an individual who has invested no thought or planning into a
breeding program
whatsoever. Prospective Pomeranian owners should understand the huge difference in the quality between puppies produced by a dedicated
SHOW breeder
and other sources. The reason I place emphasis on the word SHOW? Anyone can easily join the kennel club and become a registered breeder. Would-be Pomeranian owners need to recognise and understand the real difference between
Show breeders
and backyarders. A
registered SHOW breeder
will devote many hours planning a litter with dogs that are true to the
Pomeranian Breed Standard
, have been proven in the
show ring
and health tested. The objective of
SHOW breeders
is to contribute to the advancement of the
breed
by producing Pomeranians who are healthy in mind and body and are close as possible to the
Breed Standard
. In the event you purchase via a
back yard breeder (registered or otherwise),
you may have little idea of the future. The cute puppy you purchased at 8 weeks most likely will not resemble a
Show type Pomeranian
at all. Without proving breeding Pomeranians in the
show ring,
breed type
is quickly lost. 100 years ago, Pomeranian's weighed around 20 kilos and looked much like a dog now called the German Spitz. These dogs had longer
backs, flat open coats, lowset curled tails, long noses, and bigger ears.
If you purchase a puppy originating from a
NON SHOW POMERANIAN BREEDER
your pup will in all probability, as an adult look considerably more like a German Spitz than the true to
standard Pomeranian
. You are purchasing a Pomeranian and you have every right to expect your puppy to look true to
breed standard
at maturity. The purchase price of a Pomeranian is a minimal investment, compared to the emotional investment, or the vet bills, if you are unfortunate to purchase a poor quality or sickly dog from an
unregistered breeder
,
registered backyarder
or a
pet shop puppy
. In the event that pricing is a significant concern delay the purchase or consider the option of adopting from a shelter. Pet Shelters frequently come to the rescue of Pomeranians bred by
backyarder breeders
. These unfortunate little dogs are usually rejected because of behavioural problems, health issues or just the sad fact the dream puppy did not turn out small and cute like Boo. Registered Pomeranians bred by a
SHOW breeder
are rarely surrendered to an animal shelter.
Registered Pomeranian breeders
Copyright. Denise Leo. Dochlaggie Pomeranians. www.pomeranian.com.au