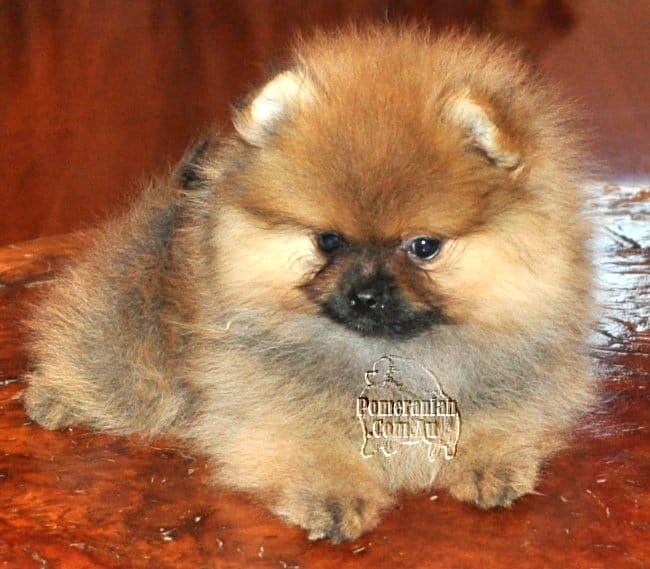 Nobody wants their pet to pee whenever and wherever they feel the urge. This is why pee pads were invented. Define a space where your Pomeranian will spend his time when home alone. This may be in a canine playpen or a gated area of your home. Even when you're at home, ensure your Pom can enter and exit that area when he chooses.
Whenever he looks like he needs to go potty, take him to the pee pads or some newspaper placed on the floor for that specific purpose. Every time he uses the pads or paper properly, regale him with affection and rewards. This can be treats or hugs and kisses and genuine excitement that he has done it in the right place. He loves attention and praise so gradually he'll associate the praise with doing his business in the designated areas.
If he misses the pad, put his faeces on the pads for a brief period, giving it time to add the scent to the pad. If he misses when peeing, wipe up the pee and put the paper towel on the pads for the same reason.
A puppy may be confused when being taught to use pads. If so, cardboard is another method that can be used. A cardboard box is ideal as a "designated toilet area." Get a sturdy box without a lid.
The best place for this is in your Pomeranian's "home" area. It needs to be stable. Cut a doorway all the way down on one of the sides so he doesn't have to step up and over to get inside. The box will then surround the pad and feel more like a specific area than just a pad dropped on the floor. Each time you take your new puppy to do his business, have him on a leash and guide him to that spot. Gently guide his entry into the box, and make him stay there with the leash, without letting him leave.
A puppy may take up to 15 seconds so you need to give him some time. Every time he's successful, lavishly praise him so he understands that's where he needs to go every time he has the urge. As time marches on and he gets better at going potty in his space, you can cut the walls down a bit. Once he clearly demonstrates that he knows this is the bathroom area, you can take away his box. This method is also great if you have a deck outside but no actual backyard so you want him to only use a corner of the deck for his bathroom business.
Recommended Potty Training Aids for Pomeranians
  Copyright Pomeranian.org. All Rights Reserved.