Do Pomeranians need professional grooming? Most proud Pomeranian dog owners opt for the services of a professional groomer instead of trying to do Pomeranian dog grooming themselves. Owners interested in learning how to groom their Pomeranian at home will benefit from Pomeranian Grooming Tips in my Pom Grooming Book.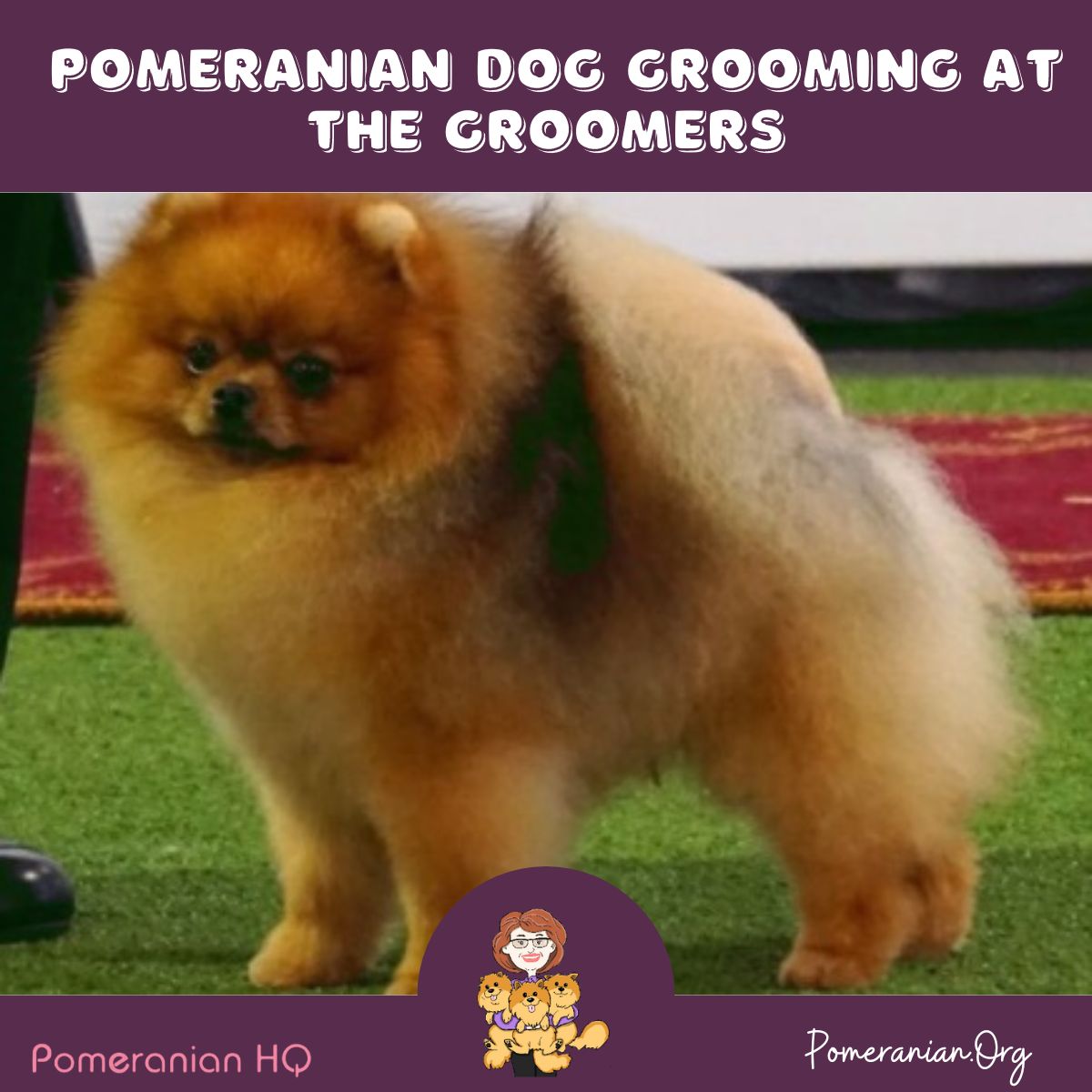 How Often Do Pomeranians Need Haircuts?
A Pomeranian's fur is vital to its endearing charm, so it pays to keep up with regular grooming visits. According to Pomeranian expert Denise Leo from Dochlaggie Pomeranians in Australia, your pup should be shown some quality TLC at least every four to six weeks.
This timeline follows the cycle of hair growth while also promoting basic hygiene. Trimming fur from sanitary areas is important for cleanliness, and shearing pesky tangles in paw pads can cause slipping.
Plus, if you're vigilant with baths and inspections during this time frame, it will be easier to spot any unwelcome visitors like ticks or other parasites!
That way, you can ensure their fluffy coats stay healthy and beautiful! However, it would be best if you still brushed his coat a couple of times weekly.
Sale
Bestseller No. 1
Gimars Professional 6 in 1 Dog Grooming Scissors 4CR Stainless Steel with Safety Round Tip, Heavy Duty Titanium Coated Pet Grooming Scissor for Dogs, Cats and Other Animals
【Professional Dog & Cat Grooming Essential Tool for Groomers】Gimars dog grooming scissors are made of 4CR stainless steel materials, dipped in a ceramic coating and suffer 60 process carefully polishing and grinding, which makes blades will not rust, cleaned easily and keep the blades sharp for a longer time than stainless steel without this sheath
【Sharp Convex Edge & Safety Round Tip】The sharp convex edge makes the cutting of these dog grooming scissors professional and more smooth and stable, great for eliminating hair mats and tangles. Safety round tip keeps pets safe no Injured facial, not scare the pets
【Ergonomically Designed for Holding Comfortably】We also know how tiresome grooming can be, so we made the handles ergonomically designed to fit comfortably in your hands and your hands don't get tired and sore while using the scissors
【6 in 1 Dog Grooming Scissors Set】The dog grooming scissors set comes with 2 straight scissors, 1 thinning scissor, 1 curved scissor, 1 grooming comb and 1 storage case
【Professional After-sale Service】We are professional pet product manufacturers and confident in the quality of the products, so we provide 3 months unconditional return. If you are not satisfied with our products, you can contact us anytime and we will provide the most professional after-sales service
Bestseller No. 2
Healthy Breeds Pomeranian Bright Whitening Shampoo 12 oz
Enhances White And Light-Colored Coats! Bring Back That Bright Shine Their Coat Used To Have As A Puppy!
Cleans Your Dog Thoroughly While Adding Luster To Their Coat! Helps Control Matting And Tangling! Leaves Hair Smooth, Manageable And Shiny With A Delicious Pina Colada Scent!
Ph Balanced! Healthy Breeds Offers A High-Quality Bright Whitening Shampoo That Moisturizes And Nourishes Your Dog'S Skin And Coat!
Made In The Usa! Buy With Confidence! All Shampoos Made In Federally Regulated Manufacturing Facilities! Excellent Customer Service And Return Policy. 100% Satisfaction Guaranteed!
Healthy Breeds Offers An Assortment Of Dog Healthcare Products, Grooming Products And Treats For Over 200 Breeds! Make Sure To Search For Your Breed! Click The Healthy Breeds Hyperlink Above The Title To See Our Amazon Storefront!
Sale
Bestseller No. 3
Healthy Breeds Pomeranian Deodorizing Shampoo 16 oz
Keep Your Dog Fresh And Clean With The Delicious Sweet Pea Vanilla Scent! Get Rid Of The Wet Doggy Smell!
Ph Balanced! The Best Shampoos Are Between 5.00-7.00 On The Ph Scale In Order To Keep The Vibrant Color, Shine And Health! The Shampoo Also Contains Essential Fatty Acids That Nourish And Aid In The Flaking And Scaling Of Skin! Natural Moisturizing Factors Promote The Hydration Of Your Dog'S Skin And Coat!
Hypoallergenic Formula Is Safe For Use With Topical Flea Control Treatments. Healthy Breeds Deodorizing Shampoo Is Gentle And Soap-Free Leaving Your Dog'S Coat Silky And Lustrous!
Healthy Breeds Offers An Assortment Of Dog Healthcare Products, Grooming Products And Treats For Over 200 Breeds! Make Sure To Search For Your Breed! Click The Healthy Breeds Hyperlink Above To See Our Amazon Storefront!
Sale
Bestseller No. 4
Healthy Breeds Pomeranian Tearless Puppy Dog Shampoo 16 oz
A uniquely gentle shampoo that cleanses and conditions a puppy's skin and coat. Mild enough for use on the face of puppies 4 weeks of age and older.
Formulated with the proper ingredients to maintain a moisturized and nourished coat as they get older. Contains aloe Vera, lanolin, and gentle proteins that leave a soft, fluffy coat.
Safe for use with topical flea control products. No harmful chemicals or irritants. It can be used as often as necessary and will not strip the coat of natural oils.
Made in the USA so you can buy with confidence. All shampoos made in federally regulated manufacturing facilities. Excellent customer service and return policy. 100% satisfaction Guaranteed.
Healthy Breeds offers an assortment of dog healthcare products, grooming products and treats for over 200 breeds! Make sure to search for your breed! Click the Healthy Breeds hyperlink above to see our amazon storefront!
Bestseller No. 5
Ceenwes Dog Clippers with Storage Case Low Noise Pet Clippers Rechargeable Trimmer Cordless Grooming Tool Professional Dog Hair Trimmer with Comb Guides Scissors for Dogs Cats & Others
【ALL-IN -ONE】This dog grooming clippers also come with 11 tools: 1 × Pet clipper( included Battery),1 × AC Power Adapter,1 × Cleaning Brush,4 × Comb Attachments(3-6-9-12mm),1 × Stainless Steel Scissor,1 × Stainless Steel Comb,1 × Nail Clipper,1 × Nail File,1 × manual.dog shears fit for All HAIRY PETS!
【LOW NOISE】 Pet clippers for dogs with Precision motor, low vibration and ultra quiet design, free it from work noise with only about 60 db, to help the pet feel at ease, not afraid haircut any more. Powerful motor of professional dog clippers (the spindle of which is made of fine copper), not to clamp and hurt pet hair.
【CORDLESS 】Light weight and cordless design for easy use. The pet grooming kit is equipped with a charger. Charging for five hours, pet grooming clippers can sustain uses of 70 minutes. With the cordless clipper, you can no longer be bothered by the trouble of replacing batteries or boring wires.but aslo available for cord.
【SHARP BLADE】Cat clippers with Titanium acute-angle blade combining with the ceramic movable blade for smooth and efficient cutting,the fine-tuning knob offers five level of length (0.8-2mm)for precise adjustment on hair length.With 4 attachment guide combs: thinning-out, (3mm/6mm/9mm/12mm,) skin-friendly contour-following combs make it safe, easy, comfortable.
【USEFULLY】 keeps your pets always looking good, it's very useful both in home and profession salon use! Complete new user friendly, with limiting comb this clipper ensure you a safe cutting and neat and tidy hair result.All accessories are underneath the case on the bottom. please check and confirm it,thanks so much .
Bestseller No. 6
Healthy Breeds Pomeranian Chamomile Soothing Dog Shampoo 8 oz
Healthy Breeds Chamomile Dog Shampoo with Oatmeal contains the natural botanical extracts of chamomile, cactus, calendula, fir needle oil, colloidal oatmeal and aloe vera.
Our luxurious shampoo gently conditions the coat while moisturizing and nourishing the skin with naturally produced oils
It is a natural cleaner, perfect for sensitive, dry and/or itchy skin. Will clean and condition the coat, leaving it fresh, smooth and manageable without the use of harsh, irritating chemicals.
Safe for use with topical flea control products and can be used as often as necessary as it will not strip the coat of natural oils.
MADE IN THE USA! Buy with confidence! All Healthy Breeds products are made in federally regulated manufacturing facilities. Excellent customer service and return policy. 100% satisfaction guaranteed. Healthy Breeds offers an assortment of dog products including health care, grooming, dental care and treats for over 200 breeds! Make sure to search for your breed – Click the Healthy Breeds hyperlink above to see our Amazon storefront
Bestseller No. 7
neabot Neakasa P1 Pro Pet Grooming Kit & Vacuum Suction 99% Pet Hair, Professional Clippers with 5 Proven Grooming Tools for Dogs Cats and Other Animals
【All-in-one Professional Grooming】This pet grooming clippers come with 5 proven tools: Grooming brush and DeShedding brush to help prevent damaging the topcoat whilst promoting a soft, smooth, healthier skin & coat for your pet; Electric clipper provides excellent cutting performance; Nozzle head and Cleaning brush can be used for collecting pet hair falling on the carpet, sofa and floor.
【Vaccumable Pet Grooming Kit】: Traditional home grooming tools bring about a lot of mess and hair in the home. But our P1 Pro grooming kit with vacuum function collects 99% of pet hair into a vacuum container while trimming and brushing hair, which can keep your home clean, and there's no more tangled hair and no more piles of fur spreading all over the house.
【5 Comfortable Guard Comb】Adjustable trimming combs (3mm/6mm/12mm/18mm/24mm) suitable for trimming hair of different lengths. The detachable guide comb allows for quick and easy changing, enhancing versatility.
【Low Noise Design】: Pet clippers for dogs with low noise design to help the pet feel at ease and no longer afraid of haircut. We suggest grooming your pet with our brush before trimming pet hair, treating your pet with little snacks to avoid making your pet nervous because of vacuuming noise, which conclusively makes the grooming experience even more enjoyable.
【After-Sales Service】: Neabot P1 Pro Pet Grooming Kit & Vacuum provides 1 Year Warranty & 45 Days No-Worry Return. 7*24 customer service after your purchase. If you have any problems, please feel free to contact us via message.
Bestseller No. 8
Bestseller No. 9
Dog Clippers Cordless Dog Grooming Kit Professional Horse Clippers Detachable Blade with 4 Comb Guides,Low Noise Pet Clippers Rechargeable Pet Grooming Tools for Small & Large Dogs Cats Horse Pets
🐶【Ultra-sharp Blade and Powerful Motor】Upgrade stainless steel& ceramic sharp blade and powerful motor, providing smooth,closed and no-snag cutting. Detachable blade for easy clean.
🐶【5 Size Fine Tuning Knob】Dog clipper has 0.8mm-2.0mm Fine Tuning Knob,which allow you to adjust different hair lengths for versatility.This High Performance Dog Clippers help you get the suitable length for the pet coat.
🐶【Low Noise Dog Clippers】Dog grooming clippers have low on noise and vibrations,your dog was not scared of it, you can groom your dogs or cats yourself with ease.
🐶【USB Chargeable & Cordless】Built in Li-ion battery, the dog grooming clippers come with a USB cable and adapter, you can charge it easily; 3 hours charging for sustain 4 hours working, you can groom dogs outside and has no worry an extension cord.
🐶【All in One box】Included a stainless steel scissor, a stainless steel comb, a oil bottle and 4 guide guards(3mm,6mm,9mm,12mm).4 different size attachment combs work as guide comb to help you custom the cutting hair length, also work as guard combs make haircut safe and easy.You can give your dog cat a new look at home easily,and saving money from the pet shop.
Bestseller No. 10
Healthy Breeds Pomeranian Grooming Wipes 70 Count
CLEAN YOUR DOG – Removes dirt, dander, odor, and excess hair from hard to reach spots like foot pads, skin folds, arm pits, face and butt!
EASY AND SIMPLE – Perfect between baths to wipe, clean and throw away! It is that quick!
GENTLE WIPES – Formulated with a baby shampoo concentrate, Aloe Vera Gel and Oatmeal Extract to make a soothing and mild wipe to clean your dog!
MADE IN THE USA – Buy with confidence! All Healthy Breeds Wipes are made in federally regulated manufacturing facilities! Excellent customer service and return policy. 100% satisfaction guaranteed!
Healthy Breeds offers an assortment of dog healthcare products, grooming products and treats for over 200 breeds! Make sure to search for your breed! Click the Healthy Breeds hyperlink above the title to see our amazon storefront!
What is the Best Pomeranian First Haircut Age?
The earlier you groom your pup, the more likely they will enjoy it! As an experienced Pomeranian breeder and exhibitor for many decades, Denise Leo recommends taking your puppy to the groomers between 12 and 16 weeks.
Many groomers offer special packages for puppies and encourage owners to bring their pets in early on. This allows them to get used to being around hair dryers, clippers, and other tools so that further sessions go smoothly.
To prepare at home, give your puppy daily brushes, regular nail trims, and tooth brushing.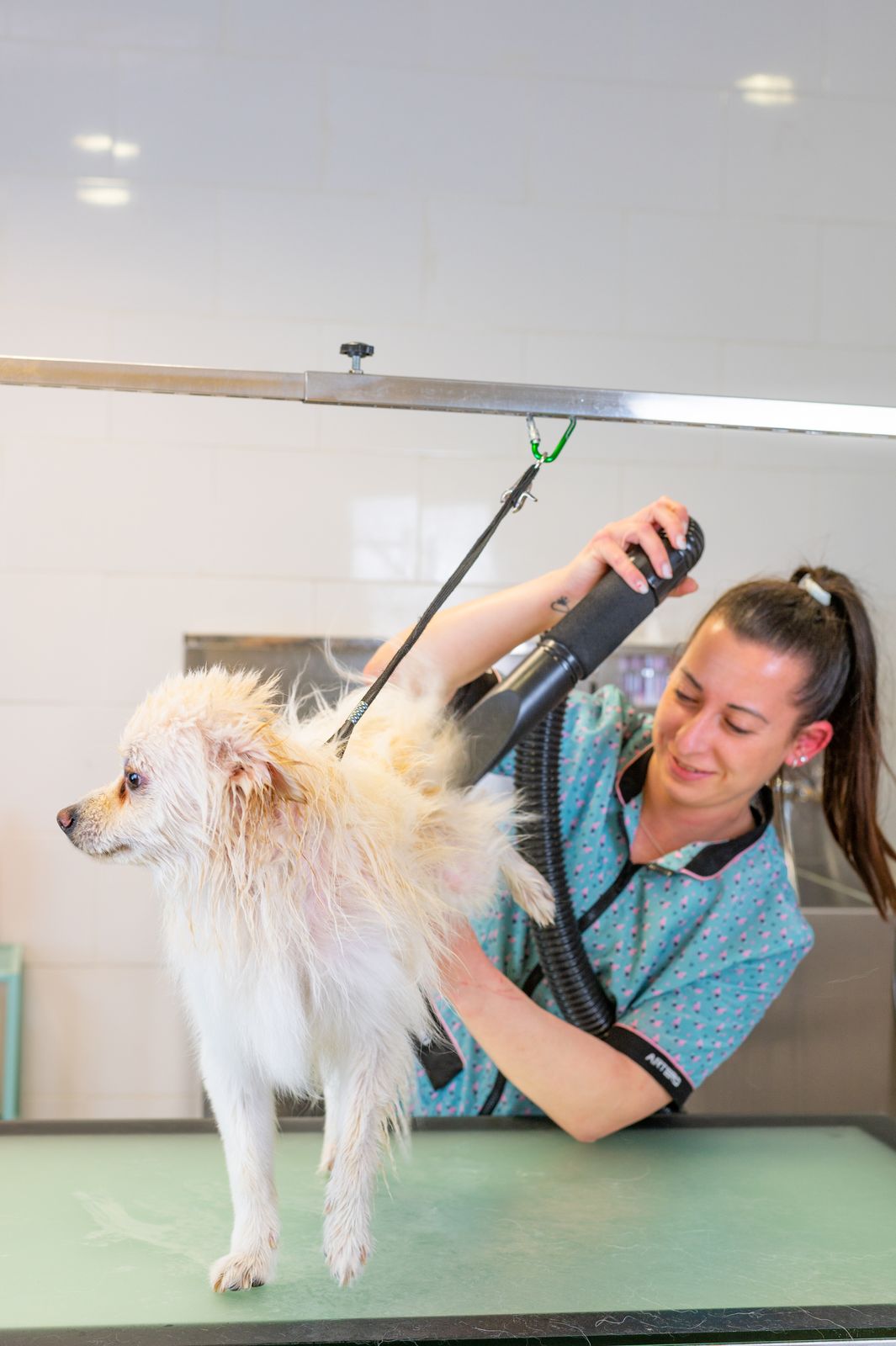 How to Locate Dog Groomers Specializing in Pomeranians
Ask other local Pom owners to recommend Pomeranian groomers or refer your breeder to a good dog grooming salon. Pom owners will often ask for help locating Pomeranian grooming near me.
Dog groomers for Pomeranians will vary in price and standards. Talk to the groomer about what trim or clip they will do so there are no surprises when you collect your beloved Pom dog. If something is done wrong, the hair may not grow back again.

Breeders often receive phone calls from anxious Pom owners asking what to do if their groomer shaved their Pomeranian and if a shaved Pomeranian's hair grows back.
Dog Groomers often have apprenticed under seasoned groomers or graduated from special dog grooming schools. Some regularly attend seminars so their knowledge remains current.
Some dog groomers for Pomeranians will have a clinic, others will work from home, and some will work as a mobile service and come to you.
Before you make any appointments, request a tour of the facility if possible. They don't need to have the flashiest business, but you do need to look out for these specifics:
Every dog must have a cage to keep them away from others.
The groomer must clean and sanitize the cages for each dog and sterilize equipment between dogs. If not, parasites and bacteria may be transferred from one animal to another.
Responsible groomers won't leave a dog unsupervised in a tub, table, or cage when a dryer is on. Serious accidents may occur. If you see dogs unattended, don't use that groomer.
True groomers never use sedatives during grooming sessions, but some may use a
muzzle. They're trained to handle all types of dogs comfortably and with safety as a
top priority.
Address any concerns you have with the groomer at any time. If your dog can't easily be managed, you may need a groomer in a vet clinic because a mild sedative can be used under proper supervision.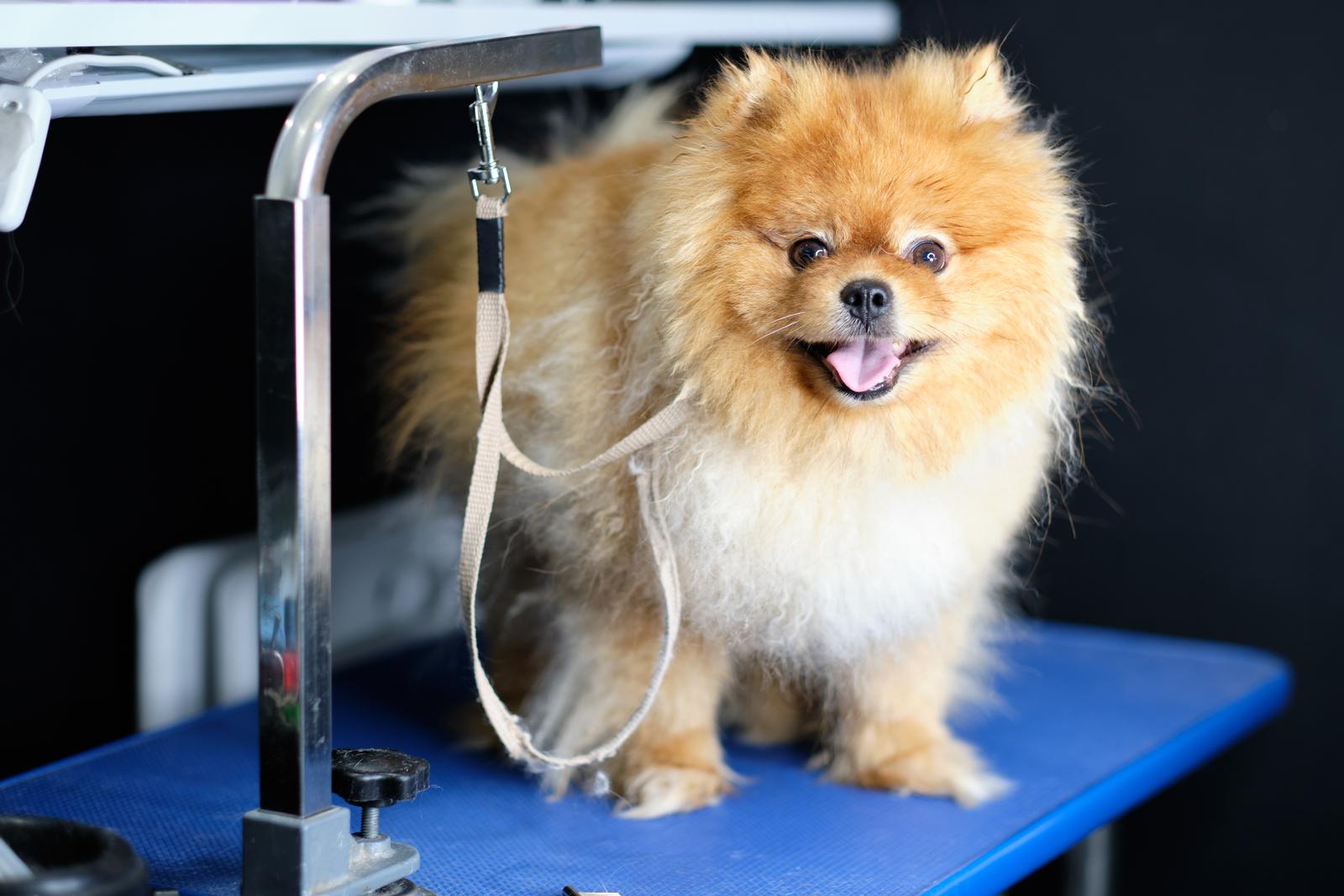 Professional Pomeranian Dog Grooming
Usually will not involve grooming your Pomeranian like a show dog or any fancy Pomeranian dog grooming styles. Typically the groomer will brush coats, remove mats, trim nails, bathe and dry dogs, and clean ears.
Occasionally the rectal sacs will be emptied while the dog is being washed and clean ears. An experienced groomer may notice abnormalities you may not have seen. E.g., skin disease, dental issues, ear and eye problems, an infection in the rectal sacs, or parasites. Pomeranian clipping grooming is usually included.
You can often deliver your dog to the groomers in the morning and come back after to collect him.
When you pick him up, he will look fresh and in true Pomeranian style and be proud of his freshly groomed looks.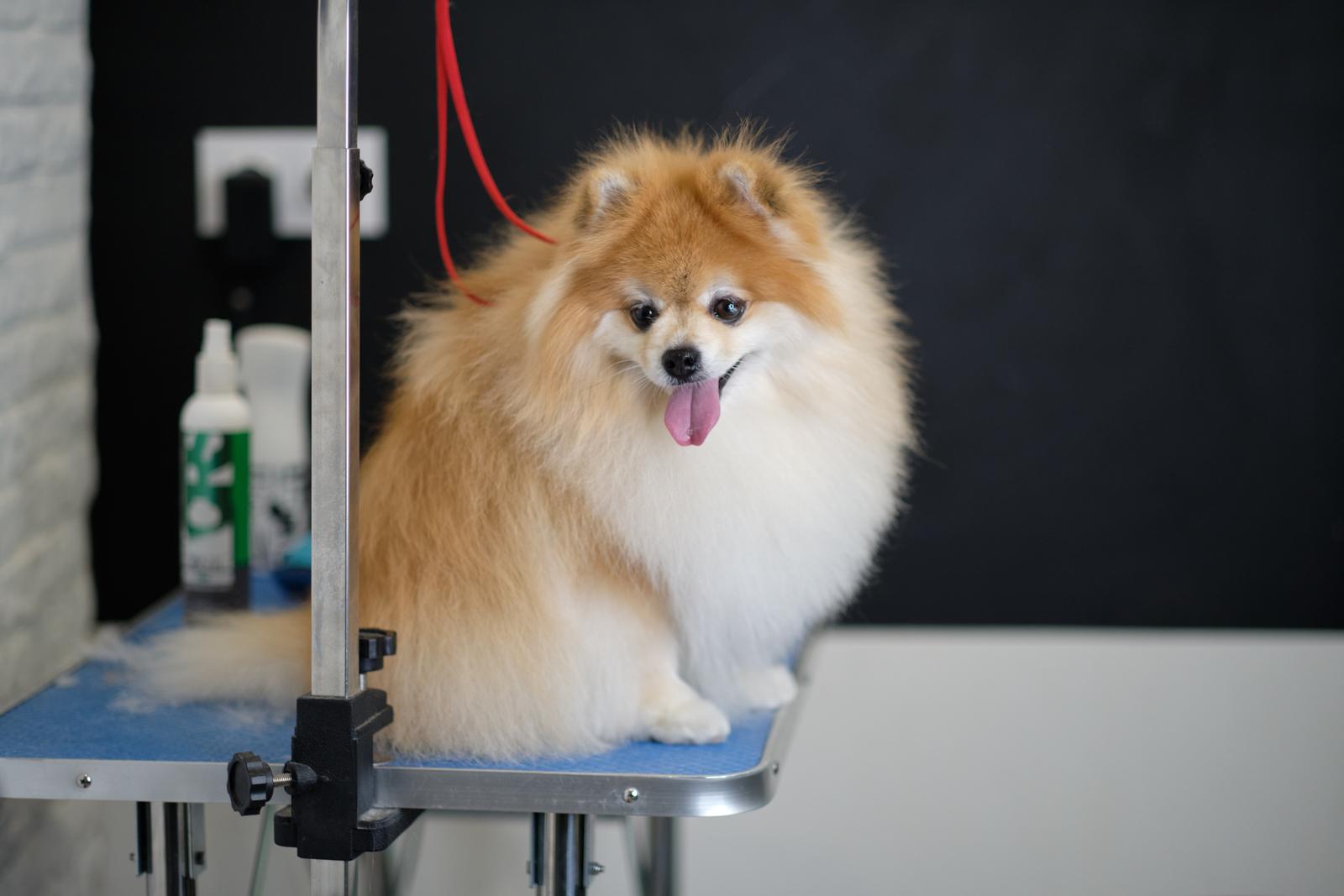 Pomeranian Trim Styles
Owners often request Pomeranian haircuts in certain styles. These requests frequently include:
Most Pom dog owners do not realize the famous doggie Boo suffered from Pomeranian coat issues, and Boo Pomeranian grooming was a necessity, not a choice.
Before you leave your Pom dog, ensure you and the groomer have a clear idea of the grooming style your dog will receive. A good idea is to provide the groomer with photos of what you like and exactly what you don't want.
Like humans attending the hairdresser, some grooming styles may not be possible for your Pomeranian. Clear dialogue with your Pomeranian dog groomer will ensure you are not disappointed.
Ask if the groomer will be doing a Pomeranian scissor cut or Pomeranian clipping grooming using electric clippers. Most dog groomers know how to clip a Pomeranian dog. Groomers who know how to cut a Pomeranian hair with scissors are often hard to locate.
Too many Pom owners regularly leave their heavily coated Pom at the groomers and return to find a fully shaved Pomeranian. Don't let this happen to your dog unless this is required or necessary.
If your Pomeranian is heavily matted, the only choice is for a groomer to shave the dog. Attempting to comb out large areas of Pomeranian matted undercoat would cause the Pomeranian too much distress.
Remind yourself that if you had done more regular grooming, you could have prevented the matted undercoat from forming. Now the only choice is to have your Pomeranian clipped and start afresh.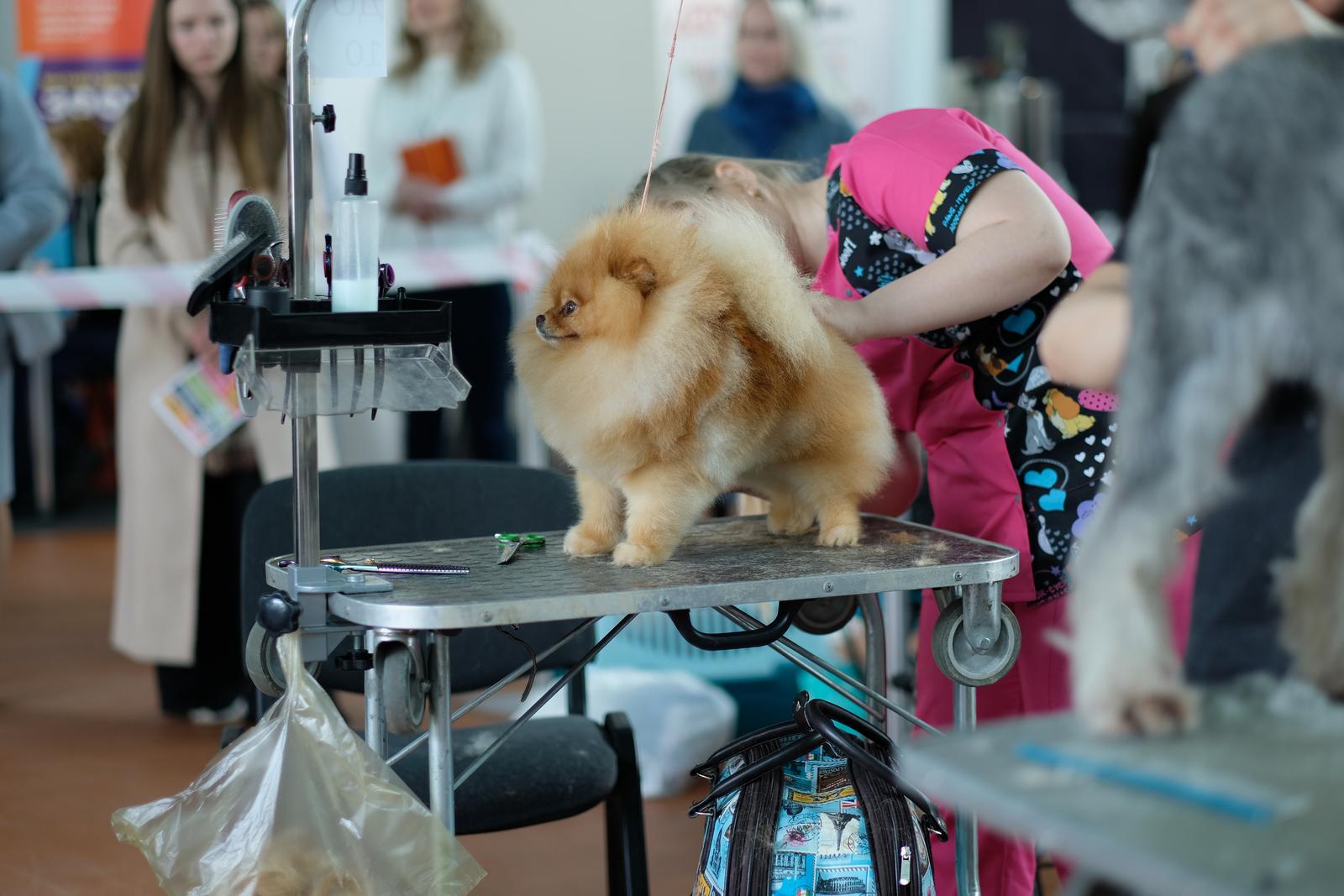 How Much Does It Cost To Get a Pomeranian Groomed?
Grooming your Pomeranian's thick coat is essential to keep the fur shiny and healthy. You can do this yourself or consider taking it to a professional groomer, who would cost anywhere from $10-$90, depending on the services requested.
For example, if you choose an all-inclusive package that most likely includes bathing, ear cleaning, and nail trimming, costs will range between $20 and $90. In contrast, other services, such as teeth brushing and anal expression, are usually around $10 each up to about $35 per service.
Pomeranian grooming price varies. Prices for groomers will differ depending on experience, location, type of service and on experience, location, type of service and type of shop.
Flashy premises will usually be more expensive than a home-based business if your dog needs to be clipped or business.
How much to groom a Pomeranian depends on a lot of factors. If your dog needs to be clipped or is matted, the prices will usually be higher. The price for a Pomeranian scissor cut will be higher due to the required skill and time.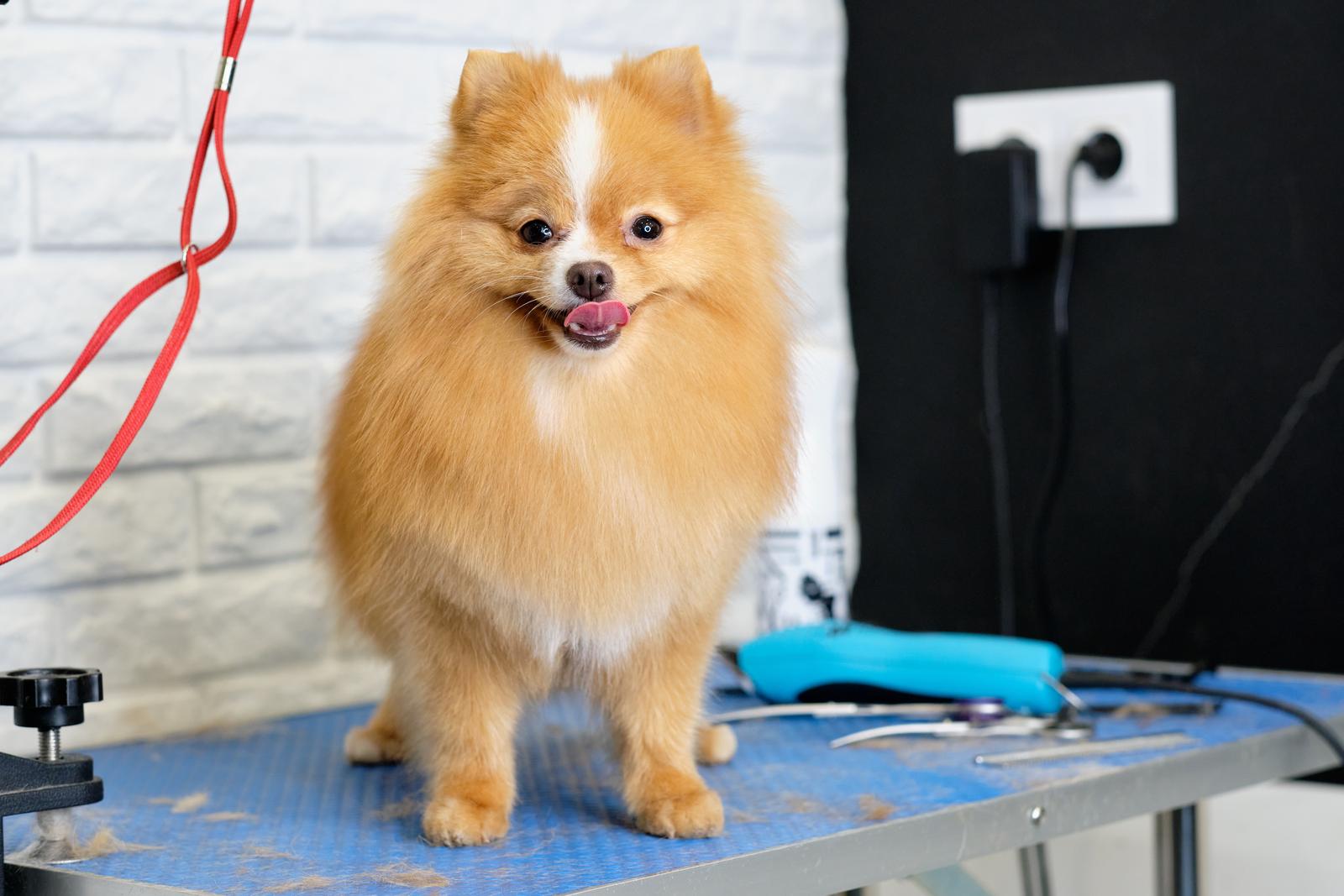 Do Pomeranians Need Haircuts At The Groomers' Conclusion?
In conclusion, Pomeranians can benefit from haircuts. Groomers with experience in small dog breeds are the best choice when looking for a professional groomer. Regular grooming habits are essential to keep your Pom's fur healthy and looking its best.
Going too long between haircuts can result in matted fur, so plan to visit the groomer every four to six weeks. Be sure to look for a groomer with good reviews and is known for their expertise with this breed of dog.
Regular at-home brushing and maintenance baths ensure that your beloved Pomeranian always looks luxurious and enjoys a great quality of life!
Copyright Pomeranian.Org. All Rights Reserved.
References and Further Reading:
[1] Denise Leo " Pomeranian Grooming Guide."
Pomeranian Grooming eBook is available for instant download NOW.