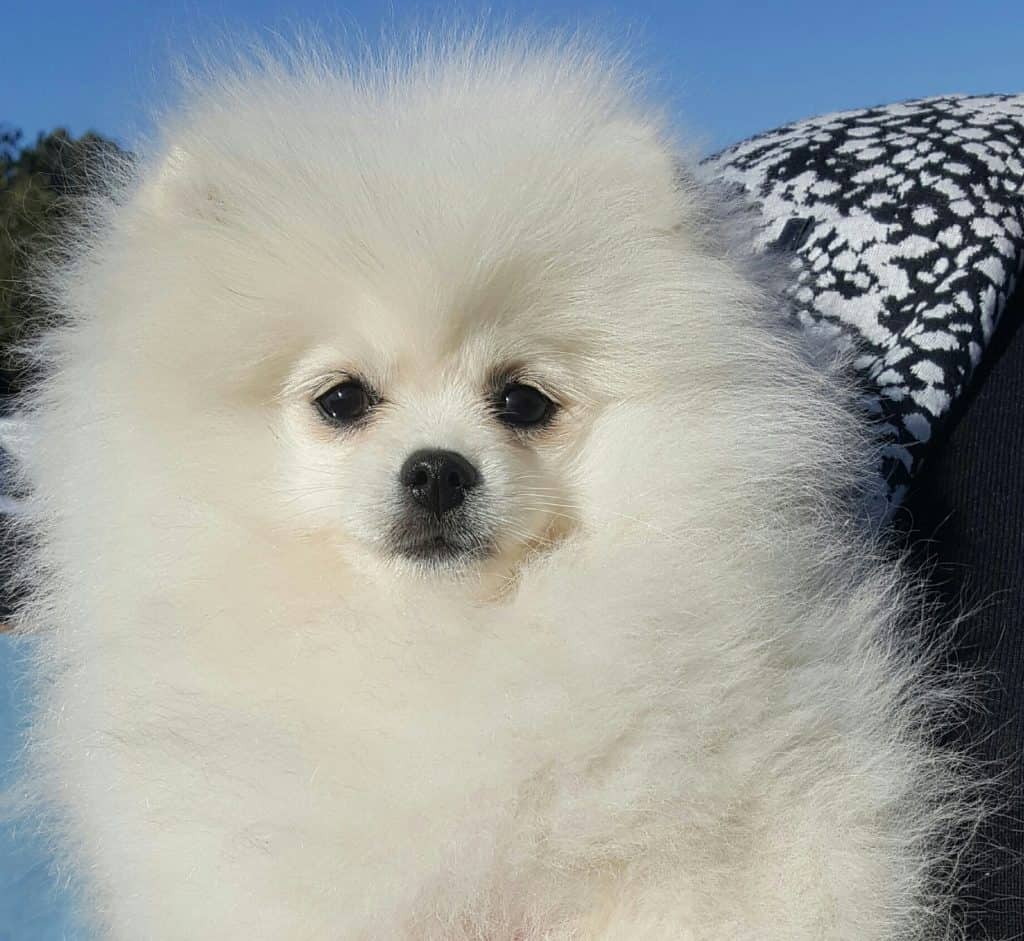 Pomeranian dog submissive urination is defined as what a dog does when he sees, or interacts with, his owner, other dogs or people.
It may be confusing because you may think he has simply lost control of his bladder because he's scared of something.
An owner may be very worried if this happens, especially if you have never given him any reason to behave in that manner.
Signs Pomeranian Suffers Submissive Urination  Include:
• Dribbling or emptying his bladder, like he has lost control.
• Behaving in a submissive manner (cowering and possibly also shaking).
• Looking up at a person with a frightened look or hanging his head in shame and refusing to make eye contact.
• A submissive grin. People may mistake this for a nasty growl because the dog's teeth will be visible, but it actually causes the corners of the mouth to pull back in a canine form of appeasement.
• A dog can have squinty eyes, lick his lips, and possibly wiggle his body at the same time as "grinning."Wwhy does my dog pee when excited:
Why Does My Dog Pee When Excited ?
• Confusion.
• Being nervous.
• Overload of his senses.
Problems Sometimes Thought to be Pomeranian Dog Submissive Urination:
• Health problems such as a urinary tract infection (UTI), kidney troubles or an infected bladder. Your dog should be taken straight to the vet if you even think any of these issues exist.
• Problems with housebreaking: If this is the case, he'll urinate in the house when you're not in sight as well as when you are.
• Marking. If this is the case, he'll urinate inside your home in a spray, not a full bladder release.
Ways You Can Resolve Pomeranian Submissive Urination:
When he reacts to other canines.
• Never force him to interact with dogs around him.
• Begin work on desensitizing and socializing him so he grows used to being around other dogs.
How to Stop a Puppy Peeing When Excited:
1. Take him to his defined bathroom area frequently. If you believe you're doing this, add several more trips per day.
2. Avoid direct contact straight after he pees. If he's prone to peeing as soon as you come into the house, ignore him, pour a glass of water, read your mail and then pat him.
3. Never stand over him. Always kneel or sit down to greet him.
4. Never stare at your beloved pet as you greet him. Look to one side at first.
5. Your first physical touch shouldn't be a pat on his head. Either touch him under the chin or on his chest at first.
6. If your dog does urinate submissively, don't react. Keep calm and have a neutral face and relaxed body. Collect the cleaning products and clean up his mess.
Your dog's behavior should get better over time. If it doesn't, you may have to speak with the vet to determine if he has any health problems that may affect his bladder.
Your Dog's Reactions to People Who Don't Live in The Home:
He Urinates When Visitors Arrive. Puppy Excited Pee: 
• If he loves visitors and will urinate because he's excited, let him greet them outside before allowing them all to come in.
• If he's scared of visitors, place him safely in his playpen area with toys and his bed so he feels comfortable and safe.
• If it happens with friends and you trust them to help you, ask them to follow the guidelines mentioned under the heading "in your presence," as listed above.
In every case, it's crucial that you begin to teach him commands or restart it because this is a guaranteed method for giving him a self-confidence boost.
Copyright Pomeranian.Org. All Rights Reserved.
References and Further Reading:
[1] Denise Leo "The Pomeranian Handbook".
[2] Denise Leo "Training Your Pomeranian ".