Any time you adopt a puppy you need to puppy proof your home as you would when you have a toddler. When it's time to bring your new Pomeranian home please remember to take some precautions to create a safe environment for him. Just because he or she is so tiny and cute doesn't mean he won't be curious about everything in sight. A look in those mischievous eyes will be your first clue. Most puppies love to chew, especially when they are teething, so keep chewable treasures out of reach. Here are a few suggestions for you: Get down on your hands and knees or at least grab a flashlight and look around for small things such as rubber bands, children's toys, or string Do the best you can to hide electrical cords. This isn't always easy, but in some cases you can hide them under carpets and rugs Don't leave any "people food" within your dog's reach Keep all chemicals in cupboards and make sure to close the doors after you take something out or put something back Don't forget to stow waste-baskets and garbage out of sight and reach Make periodic checks of all of your rooms. Sometimes people forget to put potentially dangerous things away or they may leave doors open that should be closed Leave your purses, briefcases, backpacks and similar items up high or locked up Look up information on your indoor and outdoor plants and flowers. Some are poisonous for Pomeranians
If you have cat litter boxes in your home, keep it safely away from your pup If you have collections or memorabilia you will want to make sure they are on shelves or in cabinets out of your Pomeranian's reach Distract your Pomeranian from being interested in your personal items by providing toys appropriate to his size and age. If you give him things to chew on right from the beginning, you are less apt to find things like your shoes and belts targets for his little teeth. For complete and detailed Pomeranian information, Feeding your new Pomeranian puppy, How to read dog food labels,toilet and crate training your Pomeranian, how to choose the right Pomeranian puppy for your family, Socializing your Pomeranian Puppy. Download the Pomeranian Book by Pomeranian Breed Authority Denise Leo.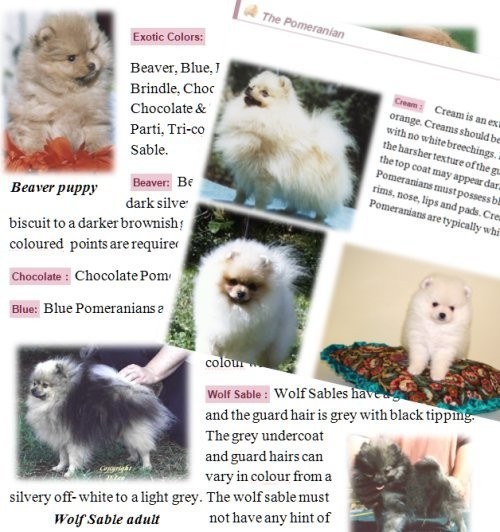 Book will be delivered by instant download.
Train your Pomeranian. Top Training Tips and Secrets