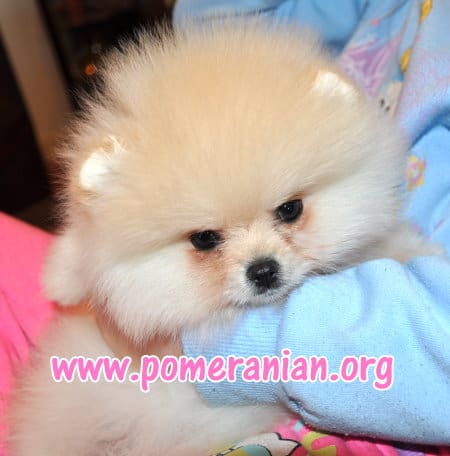 Breeders will generally sort litters by quality. Companion/pet, a breeding dog and show potential. When it comes to "quality," a show dog is regarded as the highest and a pet as the lowest. Despite this, if you purchase from a show breeder your puppy will definitely be high quality. It's often impossible to fully determine show quality until he becomes an adult. The higher the quality you want, the more time you'll spend looking for him. A pet may be found in a couple of months but if you want a breeding-quality dog, you may wait a year before achieving success. Lastly, finding a great show dog might take you a few years.
Pet/companion quality
A pet generally has at least one trait that stops him from being a suitable show dog. He may have minor issues such as larger ears. He may have major "problems" including not having much of a coat or being too big. One common issue in the male Poms is when one or both testicles don't fully descend. There's nothing wrong with the health of a pet-quality Pomeranian. He'll still have a great temperament. Acting as a companion or pet is regarded as the most significant task a Pom can fulfil so owners will regard this type as being of the utmost highest quality. The best breeders generally will see puppies that are of pet quality with the proviso that they be desexed or that their registration be limited. If your Pom ends up becoming a higher quality dog, the breeder can remove the limitation on the registration. However, reversing a desexing procedure can't happen but such dogs can still compete in all forms of competition except for conformation showing. Some shows now have classes for neutered  dogs.
Show quality
As with all dogs, those of show quality need to be in good health with ideal temperaments. If you're to have any chance at winning, the dog needs to demonstrate the qualities expected of a show dog. You'll also pay a lot more money for a show dog. It's essential to note that breeders who never show their own dogs generally won't produce show winning dogs. The dog's pedigree needs to contain many champions. Expect to wait a long time for a show dog, as compared to a pet. The number of demands you have in place will affect the speed at which you'll find a worthwhile show dog, usually a few months.
There are two reasons for the longer wait.
• Many factors will be affected by age. If you definitely want a good quality show puppy, you probably should wait and find an older puppy (that's more expensive). The odds are greatly increased if you do wait.
• Pomeranians only have small litters (1-4 puppies at any one time) and only a few of these puppies are of show quality.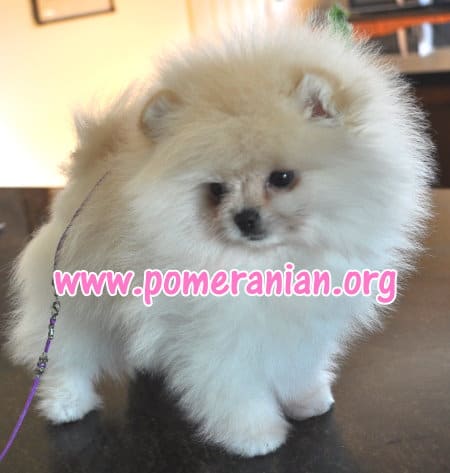 If you're sure a show-quality dog is what you desire, think of these points:
As a puppy ages, flaws may start to appear. He may keep growing and end up too big or he may develop another issue which would make showing difficult. No dog is 100% perfect. Dog shows can be a lot of fun but they only represent a tiny amount of the overall time spent with your beloved dog. Never let it upset you. Try to compete in one or more of the other categories your Pom is suitable for attempting.
Always be respectful of the breeder. If you do buy a good show dog, aim to compete in shows. Show breeders put in a huge amount of time and effort into producing quality show puppies. Their significant reward is the pride they feel when one of their  puppies wins in a show.  It's unwise to promise to show a dog and then just hide him away somewhere safe and out of the public eye. You must work hard to earn the respect and trust of a breeder. If you're a novice at showing dogs, breeders may feel unsure whether to even trust a top notch puppy that's ready for a show. One method to gain their trust is to win an obedience title with a different dog…maybe through the purchase of a pet dog.
Breeding quality
Breeding-quality dogs should come from the highest backgrounds. Occasionally they may have a fault that stop them from being the best show dogs (for example, being slightly over size or having a curly tail). However, these dogs have other merits that counteract the negatives. Breeding dogs are always free from any serious genetic problems.
Checking out pedigrees
All kennel club registered dogs have a pedigree; a type of birth certificate. However, most pedigrees only list information from the last 3-4 generations. When you see the actual document regarding registration, on the left it will list the dog's parents. Then the pedigree travels backwards, going from one generation to the one before, and so on. On the paperwork, it goes from left to right. The male (sire) is listed above his progeny's name and the female dog (dam) is always listed below.
Copyright Pomeranian.Org. All Rights Reserved.