Research and learn all you can about these amazing dogs, before you buy a Pomeranian. Go to Shows and observe everything you can. Become a member of your local Pomeranian Club and go to all the Specialty Shows.
These shows are ideal for meeting and making connections with Pomeranian show dog breeders and seeing lots of Poms in action. Study every aspect of the Pomeranian dog. Learn about their anatomy. Buy books about the Pomeranian breed. Both eBay and Amazon have a variety of second hand books about Pomeranians.
If you decide that showing Pomeranians is for you, here are a few tips to help you get started:
Go to dog shows. Pay special attention to the Pomeranians in the ring.
Become a member of your regional Pomeranian Breed Club.
Attend Pomeranian breed specialty shows to network with other breeders and exhibitors.
Observe which Pomeranian types seem to be more desirable than others and which types appeal to you the most.
Learn the Pomeranian Breed Standard. The more information you have, the smarter your breeding decisions will be.
Recognize that whelping and other problems have dubbed Pomeranians "the heartbreak breed" amongst Pomeranian breeders.

You can also learn a lot by using Google, joining Pomeranian forums and picking up loads of free high quality information. You should also subscribe to Pomeranian magazines and newsletters because they have a wealth of information that you may not find anywhere else.
Showing Pomeranians Tips for Novices
If you don't want to be a breeder, but you do want to be an exhibitor with a champion Pomeranian, it's wise to buy a male Pomeranian from a highly reputable breeder. Females are always in high demand. The older the puppy is, the better chance of obtaining a show quality Pomeranian.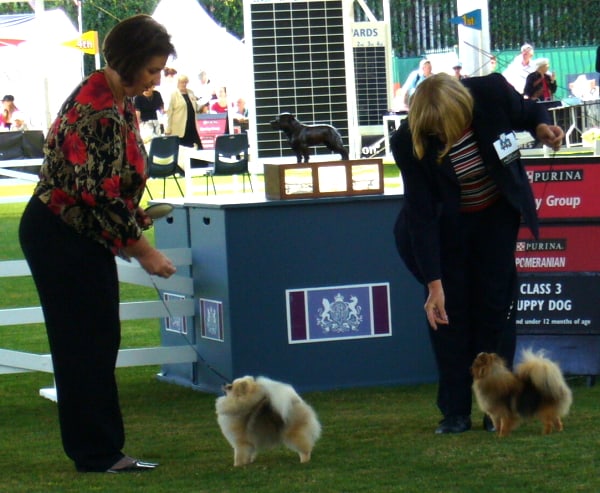 Lots of Pom babies look great when they're 8 weeks old but often don't make the grade as a Pomeranian show dog when they have matured.
If you want to both breed and show Pomeranians, I would recommend buying the best possible female and in time mate her with the most suitable male candidate. Starting a successful breeding program with a male puppy is not the best way to move forward.
As a new breeder, it's smart to focus on females until you have garnered a lot of experience. It's unwise to buy a male within the first few years. Studs to the best males are usually available at a fee. Look at your female dog and find the most compatible mate. Retaining the best puppies for yourself and go forward from there.
The Strength of a Kennel is the Quality of the Females
In an ideal world, you should have two females to begin with. However, they must get along or that can be a major problem. Two puppies living together grow up better than one living alone. They're good company for each other.
They exercise and play together, even if nobody else is home. It's vital to choose breeding stock with well-bred parents on both sides. Females can often set the type in their puppies so you need excellent females and a great male pedigree if the puppies produced are to be of the highest quality.
Balance, type, movement, correct conformation and a good temperament are all crucial in the make up a show quality Pomeranian.
If these can all be identified in a couple of girl Pomeranians, grab them quickly! If you plan to find a bitch puppy that will breed you good stock in the future, select one that's good enough to show, from a successful lineage that you can easily access.
It's also best to choose for type plus normality. Exaggerations may be impressive but if you need a dog for breeding, correctness is a more valuable attribute and that makes breeding top quality dogs a lot easier to accomplish.
Try to find an average, good type of Pomeranian female with good points, no major faults or exaggerated points and most importantly sound. This type of female will be suitable for sires of many different lines. The more flamboyant a female is or the weedier the female is, the harder it will be to find a compatible stud.
Spend lots of time at shows learning everything that's involved. If you can locate a breeder who consistently produces the type of dog you most admire, go and talk to that breeder and ask as many questions as possible. That's the only way to learn. Novice breeders need to be cautious of pedigrees that have quite close breeding.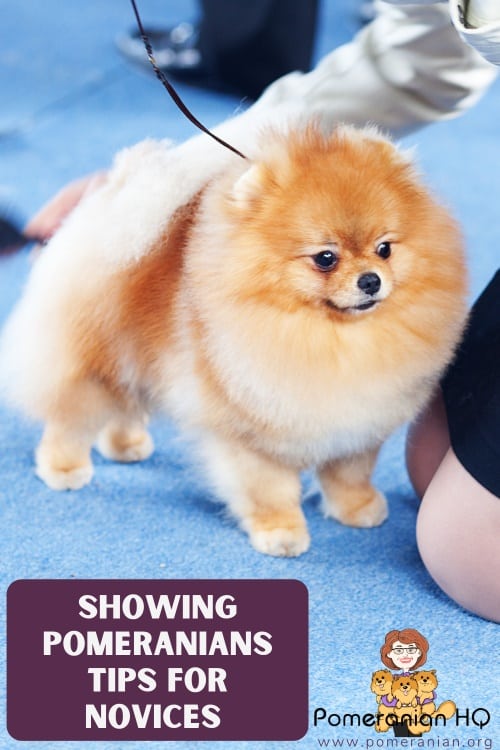 Only very experienced breeders with an intimate knowledge of their stock and breed history should attempt this. Mismanaged close breeding (inbreeding) can become catastrophic. It's very handy to have lots of champions behind breeding stock but it's even better if their pedigrees have some line breeding to quality champion Pomeranian dogs. When line breeding is done properly, it consolidates the best points of the forebears, and this often leads to even more improvement.
Champion Bloodline Pomeranian
Champion Pomeranian dogs who come from unknown lines may not always be ideal for breeding. It's quite unlikely that good breeding material exists in a litter without first rate forebears in their pedigree. It's a rare situation when very good quality stock surfaces from ordinary ancestors and if this rarity does occur the puppies rarely breed on.
Final Thoughts on Showing Pomeranians
Become a full time apprentice. There's an enormous amount to learn when it comes to Pomeranians and this includes: grooming, feeding, breeding, training soundness, conformation and breed type. Remember the old saying that …Rome wasn't built in a day."
If you can find a good mentor, your apprenticeship will be much shorter in duration. There are lots of experienced Pomeranian show dog breeders who are genuinely happy to mentor newbies who are prepared to listen and learn.
Copyright Pomeranian.Org. All Rights Reserved.
References and Further Reading:
Official Standard of the Pomeranian (AKC). American Kennel Club, 2011.
Official English Kennel Club Pomeranian Breed Standard , 2017.
Denise Leo, The Pomeranian Handbook.
Purchase the Pomeranian Handbook by Denise Leo.
Delivered by instant download OR purchase the hardcopy version.