Recipe: Slow Cooker Chicken, Rice and  Veges for Pomeranians.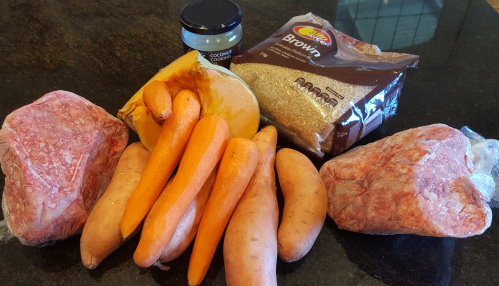 1 kilo of minced chicken carcass (this is finely ground chicken which includes the bones) 1 cup of peeled and cubed pumpkin or sweet potato 3 cups of frozen green beans ½ cup of brown rice 2 tablespoons of coconut oil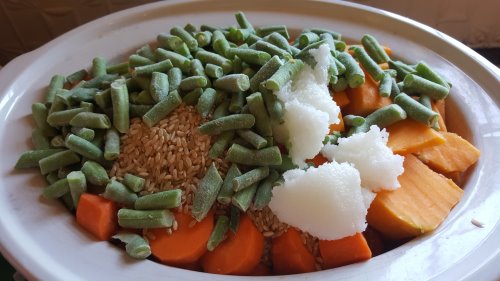 If you Pomeranian is overweight double the amount of vegetables used and decrease the brown rice. Cook on high for about 8 hours in your slow cooker. Freeze in meal size portions while still hot. I added carrots in my slow cooker.
Next time I make this meal for my Pomeranians will not add carrots as a stick blender was required to blend the carrots into the food. Pumpkin or sweet potato blends in well with the meat and rice. Pomeranians enjoy pumpkin and this a really healthy vegetable for your Pom.
Do not be concerned about the small bones. Slow cooking will dissolve the small bones. By using  minced chicken carcass ( chicken mince which contains very fine bones ) you are able to feed this food to puppies under 12 months, pregnant girls and nursing moms.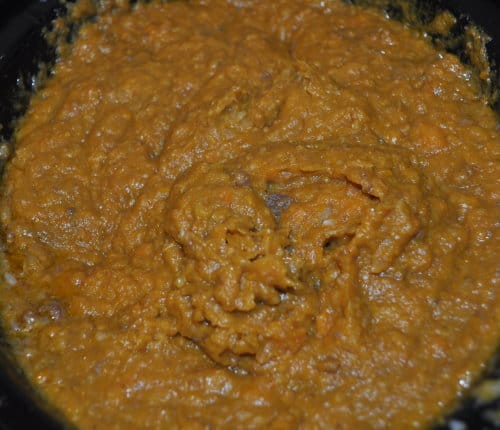 Stir occasionally and used no water, check while cooking and if required add a small amount of water.
Slow Cooker Beef & Vege & Pasta dog food 1.5 kg of mince beef, 2 large carrots diced, 1 large swede diced, 2 small sweet potato diced, 1/4 pumpkin diced, 1/2 cauliflower in florets and 2 cups of water on low for 6 hours. 1.5 cups of macaroni ( or any wholegrain pasta) added in the 6th hour and cook for one hour or two. Blend with a stick blender.  Freeze in meal size portions while still hot and thaw the day before when required.
SLOW COOKER DOG MUFFINS
 Cooking Time: 1 & 1/2 hours on high.
 Ingredients 2 eggs 1 cup mashed pumpkin 2 tablespoons of powder milk 2 & 1/2 cup plain flour 1/2 teaspoon of salt.
Instructions Mix altogether to get a dough type mixture, Lightly spray a mini patty pan tray, Spoon mixture into patty tray, Cook on high for 1 & 1/2 hours, tea towel under lid.
For more Healthy Dog Food and Treat Recipes.
Top Bought Doggie Treats
Copyright Pomeranian.org. All Rights Reserved.