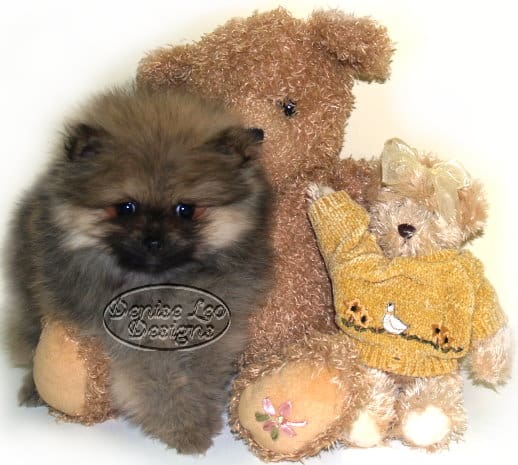 Exactly how big will my Pomeranian grow?
The size of your Pomeranian puppy as an adult depends on a variety of things.Your Pomeranian puppy's genes play a very important role, so always observe the size of your puppy's parents.
Overfeeding young Pomeranian puppies can also cause unwanted growth spurts. Underfeeding is certainly not beneficial either. Both overfeeding and underfeeding can cause serious health issues for your Pomeranian puppy.
Always discuss any feeding issues with your breeder.
Your breeder will be able to advise you on the amount and type of food suitable for your Pomeranian puppy.
It is possible to estimate your Pomeranian puppy's adult weight by using our Pomeranian weight chart.
How to use the Pomeranian Growth Chart:
Convert your Pomeranian puppy weight to ounces. 16oz equals 1 pound
NOTE: an example; 10 week old puppy current weighs 2.2 lbs
conversion 16 X 2 + 2 = 34 ounces.
If you need to convert your Pomeranian Puppys weight from metric to ounces prior to using our Pomeranian growth Chart : Click here to convert
Next find puppy's current age to the left then follow along until you find 34;
Next follow to the bottom of that column estimated adult weight is 5lbs.
When in doubt use 3 x weight at 8 weeks or 2 x weight at 12 weeks
| | | | | | | | | | |
| --- | --- | --- | --- | --- | --- | --- | --- | --- | --- |
| Birth | 2.5 oz. | 2.75 oz. | 3 oz. | 3.5 oz. | 4 oz. | 4.25 oz. | 4.5 oz. | 5 oz. | 5.5 oz. |
| 1 week | 4.50 | 5 | 5.5 | 6 | 7 | 7.5 | 8 | 9 | 9.5 |
| 2 weeks | 6 | 6.5 | 7 | 8.5 | 10 | 11 | 12 | 13 | 13.5 |
| 3 weeks | 7 | 8 | 8.5 | 10.5 | 13 | 14 | 15 | 16 | 17.5 |
| 4 weeks | 8 | 9.5 | 10 | 12 | 14.5 | 16 | 18 | 20 | 21 |
| 5 weeks | 9 | 11 | 11.5 | 13.5 | 16 | 18 | 20 | 22 | 24 |
| 6 weeks | 10 | 12.5 | 13 | 15 | 17.5 | 20 | 23 | 24 | 27 |
| 7 weeks | 11 | 12 | 14.5 | 17 | 19 | 22 | 25 | 27 | 30 |
| 8 weeks | 12 | 13.5 | 16 | 19 | 21.5 | 24 | 27 | 29 | 32 |
| 9 weeks | 13 | 15 | 18 | 22 | 23 | 26 | 30 | 33 | 35 |
| 10 weeks | 14 | 16 | 20 | 24 | 25 | 28 | 33 | 36 | 38 |
| 11 weeks | 15 | 17 | 21 | 26 | 28 | 31 | 36 | 39 | 42 |
| 12 weeks | 16 | 18 | 22 | 28 | 32 | 35 | 40 | 43 | 45 |
| 13 weeks | 17 | 20 | 24 | 30 | 34 | 36 | 42 | 45 | 48 |
| 14 weeks | 18 | 22 | 26 | 32 | 36 | 39 | 44 | 47 | 51 |
| 15 weeks | 19 | 23 | 28 | 34 | 38 | 42 | 46 | 51 | 55 |
| 16 weeks | 20 | 25 | 30 | 36 | 40 | 44 | 49 | 54 | 59 |
| 17 weeks | 21 | 26 | 31 | 38 | 42 | 46 | 51 | 57 | 62 |
| 18 weeks | 22 | 28 | 33 | 39 | 44 | 48 | 54 | 60 | 65 |
| 19 weeks | 23 | 29 | 34 | 40 | 45 | 50 | 56 | 62 | 67 |
| 20 weeks | 24 | 30 | 35 | 41 | 46 | 52 | 58 | 64 | 70 |
| 21 weeks | 25 | 31 | 36 | 42 | 48 | 54 | 60 | 66 | 72 |
| 22 weeks | 25 | 32 | 37 | 43 | 48 | 56 | 62 | 68 | 74 |
| 23 weeks | 26 | 33 | 38 | 44 | 50 | 57 | 64 | 70 | 76 |
| 24 weeks | 26 | 33 | 39 | 45 | 51 | 58 | 65 | 71 | 78 |
| 25 weeks | 27 | 34 | 40 | 46 | 52 | 59 | 66 | 72 | 79 |
| 26 weeks | 27 | 34 | 40 | 47 | 53 | 60 | 67 | 73 | 80 |
| 18 Month | 2 lbs | 2.5 lbs | 3 lbs | 3.5 lbs | 4 lbs | 4.5  lbs | 5 lbs | 5.5 lbs | 6 lbs |