Pomeranian Colors
Beaver
,
Black
,
Black & Tan
,
Blue
, Blue & Tan, 
Merle
,
Blue Sable
, 
Brindle,
Chocolate
,
Chocolate & Tan
,
Cream
,
Cream Sable
,
Orange
,
Orange Sable
, Red,
Red Sable
, Tri-Colored,
White,
Wolf Sable
, Beaver Sable,
Black & Brindle, Blue Brindle
, Chocolate Merle ,
Chocolate Sable
Patterns:
Tan  Points –  Any solid colour or allowed pattern with tan or rust sharply defined, appearing above each eye and on muzzle, throat, and forechest, on all legs and feet and below the tail. The richer the tan the more desirable. Tan markings should be readily visible.
Brindle – the base color is gold, red, or orange-brindled with strong black cross stripes.
Parti-color – is white with any other color distributed in patches with a white blaze preferred on the head. Ticking is undesirable. Extreme Piebald: White with patches of color on head and base of tail. Piebald: White with patches of color on head, body, and base of tail. Irish:  Color on the head and body with white legs, chest and collar. 
Merle – Is actually the typical gray/black pattern. The Blue merle is in reality a black or black and tan with the dilution gene affecting the black coat regions.
The color of the points in the merles is influenced by the base color of the Pomeranian e.g. Orange merles, blue merle should have black points .
Blue, brown and beaver merles should have self colored points.
The Pomeranian Breed Standard does not permit blue eyes.
Classifications: The Open Classes at specialty shows may be divided by color as follows: Open Red, Orange, Cream, and Sable; Open Black, Brown, and Blue; Open Any Other Color, Pattern, or Variation.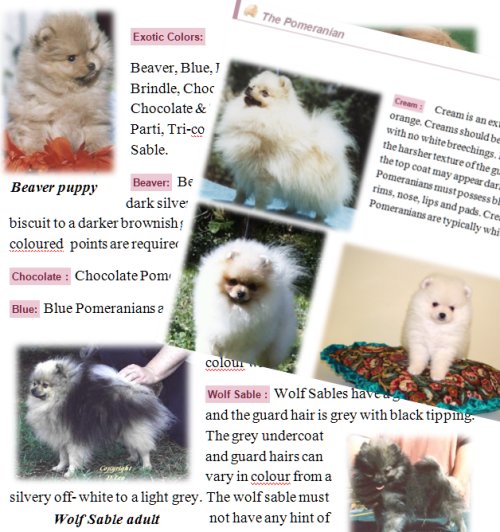 For complete and detailed Pomeranian information, Pomeranian Colors and Patterns, How to choose the right Pomeranian puppy for your family, Feeding your new Pomeranian puppy, toilet and crate traing your Pomeranian, Socializing your Pomeranian Puppy, Common Health Issues Affecting Poms, Choosing Your Pomeranian's Veterinarian. The Pomeranian colors explained, Breeding & Exhibiting Pomeranians. Download the Pomeranian Book by Pomeranian Breed Authority Denise Leo.