Maintaining a Pomeranians' teeth and gums in top shape is an extremely important job. The main reason is that this particular breed of dog is much more likely than most, when it comes to having dental diseases due to specific scenarios.
However, it's relatively easy to win the battle by defeating tartar, plaque, gingivitis and any other bacterial infections by choosing the recommended toothpastes for Pomeranians.
Regrettably, Pomeranians are a lot more prone to dental issues that can cause teeth to fall out and various other bad health problems. Pomeranians have small mouths so if they have all their teeth, the mouth gets overcrowded, adding extra pressure to the teeth, gums and lips, so it's only natural that problems can occur
It's common for your Pomeranian to get small pieces of food and other things stuck in the gaps between their very small teeth. Pomeranians often have tiny teeth. Having tiny teeth usually means there is less contact and stability with jaw bones.
Some Pomeranians don't breathe as much through their noses because they prefer to be mouth breathers. The downside is that they don't have enough saliva to wash away any bacteria and other things, thereby protecting his teeth and gums.
There are a few different methods for ensuring your Pomeranian's gums and teeth are kept as clean as possible such as:
Visits to the vet for a professional clean.
Giving your Pom water additives.
Giving him raw meaty bones to chew.
Last, but certainly not, least, is to clean your Pomeranian's gums and teeth with a high-quality dog toothpaste. This is one of the simplest methods but there are lots of options to choose from.
What is The Best Toothpaste for Dogs?
Amazon Dog Toothpaste Reviews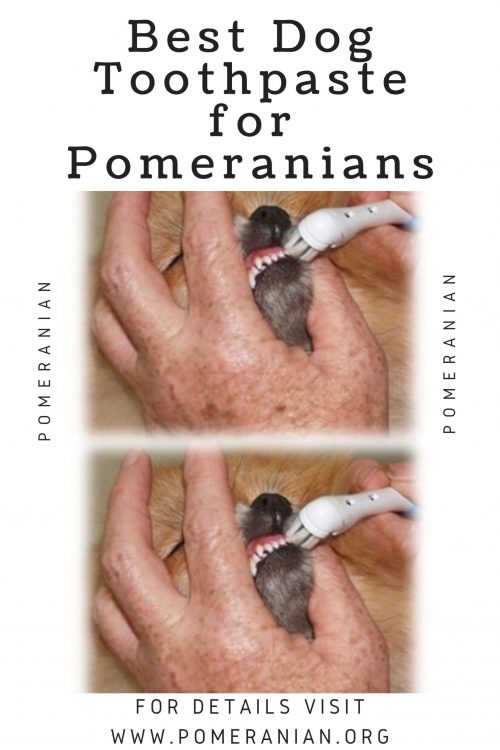 Vetoquinol Enzadent Enzymatic Toothpaste for Cats & Dogs
Enzadent Enzymatic Toothpaste is one of the best enzymatic toothpaste for dogs. This canine toothpaste doesn't foam, is safe if swallowed, and has a triple enzyme formula that removes food particles, plaque and anything else from your dog's teeth. This toothpaste has a scrumptious poultry flavor that even the fussiest dogs will love.
To achieve the best results, brush your pom's teeth on a regular basis; every day if you can. That will improve his overall dental hygiene and help combat mouth illnesses and tooth decay.
To help your Pom get used to having a regular mouth cleaning routine, start with brushing just a few teeth and then gradually increase that number as he gets used to how it feels, smells and tastes. Click on this link to learn more about this product on Amazon.
Virbac Enzymatic Vanilla Mint Flavored Dog Toothpaste
Choosing products that have been around for a long time and have an excellent reputation is often the easiest choice to make when deciding which will be the ideal toothpaste for your Pomeranian.
This describes Virbac Enzymatic Vanilla Mint Dog Toothpaste perfectly as they've been around for a long time and are extremely popular by plenty of dog owners and lovers alike.
Virbac makes a powerful CET enzymatic canine toothpaste that will destroy all bacteria it finds within your pet Pom's mouth quickly and completely.
This special formulated toothpaste is ideal for canines that require a safe, natural antibacterial solution for dogs that have in need of a natural, antibacterial solution that's also safe for Pomeranians that have exceptionally bad breath.
If you haven't come across Virbac products prior to today, you need to try them as part of your Pomeranian's dental health schedule. Click on this link to learn more about this product on Amazon.
Vet's Best Enzymatic Dog Toothpaste and Toothbrush
There are occasions when you must really take quick action to eliminate your Pomeranian's extremely bad breath as it usually signifies an incredible growth of bacteria. However, there's no need to worry because a solution is at hand.
By using Vet's Best Enzymatic Toothpaste for dogs and Toothbrush, you'll have a professional-grade toothpaste that will give your Pomeranian's mouth a good clean, get rid of all bacteria and he will end up with a pleasant smell in his mouth.
An enzymatic toothpaste is by far the best way to eliminate bacteria building up in your dog's mouth. The ingredients in this toothpaste include: neem oil, aloe, enzymes, baking soda, grapefruit seed extract and more. If you need to get rid of bacteria, this should be your first choice. I've been searching for the lowest price and found it on Amazon; click this link to access it.

Pura Naturals Pet All-Natural Organic Dog Toothpaste
It's no secret that companies are making more organic products, particularly if they're being used on or in the body. Pura dog toothpaste certainly fits this category and that's why I fully endorse Pura Naturals Pet All-Natural Organic Dog Toothpaste. Apart from being 100% USDA-certified organic, this toothpaste doesn't break the bank.
Pura Naturals has created a healthy, organic, dog toothpaste that includes organic ingredients such as: sweet potato, coconut oil, thyme leaf extract, cinnamon powder, kelp extract, fennel extract and more. None of the ingredients are chemically-based or toxic.
They're made from a cruelty-free, food-grade dog toothpaste that's 100% made in the USA. I definitely suggest you check this product out! Click on this link to learn more about this product on Amazon.
Petrodex Enzymatic Toothpaste for Dogs
Petrodex Advanced Dental Care Enzymatic Dog Toothpaste is listed as the number one best-selling canine toothpaste. It decreases the amount of tartar and plaque formation. It has patented enzymes; is a non-foaming dog toothpaste and you don't need to rinse his mouth afterwards.
If you use it regularly, Petrodex Enzymatic Toothpaste helps reduce plaque and fights bad breath. The dog toothpaste comes in a poultry flavor your dogs will be certain to adore. To maximize results, use an enzymatic toothpaste for dogs a minimum of 2-3 times every week. Use a soft-bristled toothbrush for your Pomeranian. Click on this link to learn more about this product on Amazon.
Petrodex Natural Peanut Flavored Dog Toothpaste
Not all toothpastes for dogs are expensive. This is good news for those of us who live on a budget. One toothpaste that stands out as being a triple whammy for the budget-conscious:
It's very affordable, even for those on a budget.
It's very effective.
The peanut flavor is loved by most dogs.
Petrodex peanut butter flavored dog toothpaste is rapidly becoming quite popular because if your dog likes it, you'll be buying it to make him happy. It's made from all-natural ingredients, and avoids additives and preservatives.
A Pom dog will enjoy having his mouth cleaned, thanks to the peanut flavor, which is safe to swallow as well. So, you do a few tasks simultaneously…you clean his teeth, he gets a lovely flavor to enjoy, a small treat that lasts a while, he can swallow, and there won't be any bad breath. Click on this link to learn more about this product on Amazon.
The Kissable Dog Dental Kit
This kit goes a lot further than most who just sell a toothpaste and perhaps a toothbrush. Kissable Dog Dental Kit contains a natural toothpaste with a cucumber mint flavor. There's a toothbrush that has been designed to "hug" your Pomeranians gums. There's also a finger brush. This kit is made in the USA for smaller dog breeds and puppies. They do offer a different kit for larger canines.
Apart from identifying the best toothpaste for your Pomeranian, the same amount of carte should be taken to identify the best finger brush and tooth brush. The Kissable Dog Dental Kit takes care of all your needs and is listed as a community-approved, very popular kit on the dog market,
Let's look at why a kit is a great choice. Naturally you first think about the ideal toothpaste BUT if you marry that with a top-quality finger brush and toothbrush, your dog's dental health is covered.
Kissable all natural pet toothpaste is a specifically-designed toothpaste which gives a high-calorie boost to all sizes of canines. It's recommended by numerous veterinarians who give all customers a genuine 100% money-back guarantee. Click on this link to learn more about this product on Amazon.
Nylabone Peanut Flavored Natural Dog Toothpaste (3-Pack)
If your Pomeranians are like mine, they LOVE flavored products, particularly chicken, beef and peanut butter. As the name says, Nylabone Peanut Flavored Natural Dog toothpaste has a delicious peanut flavor, as well as being a community-approved, high-quality, dog toothpaste. Your Pom will love having his mouth cleaned because the flavor is still left in his mouth after you stop.
This advanced oral care toothpaste has been formulated to reduce the build-up of tartar and plaque. It's made with Denta-C and various other powerful ingredients. A major benefit of Denta-C is that it reduces plaque, ideal because bacteria has a safe haven in plaque. There's no doubt this dog toothpaste will leave your Pomeranian's breath fresh and his teeth and gums healthy. Click on this link to learn more about this product on Amazon.
Pet Republique Toothbrush Series for Dogs and Cats
Dog and Cat Finger Toothbrushes, Handle Toothbrushes and Special Toothpaste for Dogs.
The Enzymatic Pet Toothpaste Kit with Handle Toothbrushes. Beef Flavored Toothpaste, 3 Mini-Handle Toothbrushes and 1 Silicon Finger Toothbrush.
No Rinse Dog Formula. This enzymatic toothpaste will freshen your animal's breath as it cleans and you don't need to rinse out his mouth. It will attract your cats and dogs immediately. This dental kit is designed for every size of dogs and cats.
Complete Pet Dental Kit – Apart from the 3.5 oz toothpaste, this kit also comes with 3 mini handle toothbrushes, and 1 silicon finger toothbrush. The bristle and brush head of the handle toothbrush is specially designed for pets to brush those hard to reach area. The silicon finger toothbrush is ultra-soft, and great for initial tooth-brushing training or areas with sensitive gums. Click on this link to learn more about this product on Amazon.
Arm and Hammer Dental Care and Tartar Control Kit for Dogs
When large companies create products with big names and these names often get used to label dog products as well. One fine example is Arm and Hammer Dental Care Kit with Dog Toothbrush, Toothpaste, and Finger Brush is a terrific cleaning kit for your Pomeranian to use because, if he gets to watch you brush your teeth, he may be curious and perhaps a tad envious.
This kit is one of the best all-round choices for fighting any dental problems your dog may encounter. The company has an outstanding reputation backed by the positive feedback from countless happy customers. The Arm and Hammer dog toothpaste ingredients are all natural and has been infused with baking soda. Click on this link to learn more about this product on Amazon.
ProSense Plus Peppermint Flavor Dental Solutions Wipes
You can't always clean your Pomeranian's teeth as thoroughly as you would like because life tends to drag you in 100 directions at the same time. Thanks to ProSense, there's a way to care for his dental health between cleans and it's the ProSense Plus Peppermint Flavor Dental Solutions Wipes. It's not toothpaste; it's more like a tooth wipe.
Vets recommend this brushless product as a healthy time saver. I agree as I have used them a lot when caring for my dogs. You can win the battle with bacteria, tartar and plaque in your dog's mouth with minimal effort and maximum care. Click on this link to learn more about this product on Amazon.
PlaqueOff for Dogs
Another excellent dental hygiene item used here at Dochlaggie Poms is a seaweed based product which is added to their food daily.
PlaqueOff for Dogs assists with softening and removing of pre- existing tartar build up and helps prevent brand new tartar developing, hence decreasing bad breath and gum disease. Click on this link to learn more about this product on Amazon.
Final Thoughts on Best Dog Toothpaste for Pomeranians
While regular brushing your Pomeranian's teeth will decrease the frequency of expensive veterinary dental procedures, a good dental hygiene routine will not remove the need for a full dental by your vet every year.
Avoid giving any type of dental chews. These products are all dangerous for small dogs like the Pomeranian. Instead purchase a raw meaty bone from your butcher.
Copyright Pomeranian.Org. All Rights Reserved.
Disclaimer: The Content is not intended to be a substitute for professional veterinarian advice, diagnosis, or treatment. Always seek the advice of your veterinarian with any questions you may have regarding the medical condition of your dog. Never disregard professional advice or delay in seeking it because of something you have read on ANY website.
References and Further Reading:
[1] Denise Leo "The Pomeranian Handbook".
[2] Denise Leo "Training Your Pomeranian ".
The Pomeranian Handbook