If you're new to owning this breed, you may be asking yourself - What size crate for Pomeranian dogs is best? If you want the ideal sized crate for your Pomeranian, you should examine the various elements that go to making up a crate. Although safety is a vital aspect, you need to ensure your Pomeranian feels comfortable and happy because he'll spend a large portion of his time inside.
Perhaps the crate needs to be strong enough that your dog can't destroy it. Maybe you need it to help you train your Pom puppy. There are quite a few Pomeranian crate designs to help you with whatever your needs could be.
Let's go through all the elements you must keep in mind when making the right selection, including the right way to measure him, as well as analyzing the available crate styles and the pros and cons of each crate so you can make an informed decision.

Pomeranian Crate Size
It's of the utmost importance that you select the right Pomeranian crate size for puppy. If the dog cage only suits a small or large Pomeranian, then your puppy will miss out on experiencing everything that's usually a part of a Pomeranian puppy's life.
Your Pomeranian must have sufficient room to do all the following:
• Stand up and stretch.
• Lay down on his side and stomach.
• Turn himself around in the dog cage and not bump into any of the cage's sides.
• Stands tall, turns himself around normally while he stands, sits, or lies down in any normal position.
If you have a Pomeranian cage that's too big for your dog, and you transport him in that cage, it can be extremely dangerous. His small body could be tossed around like a ball, potentially causing serious harm to him.
Pomeranian Crate Buying Guide
How Big Are Pomeranians? We need to know their height, weight and length.
A Pomeranian's size can vary but they're regarded as small in size or, as some call them, a toy dog breed and their average height and weight is:
Height – 7-12 inches.
Weight – 3-7 pounds.
It's wise that you take down the measurements of your own Pom, and this includes length, height and weight.
To get the height, measure from the top of his head down to the paws or ground.
To get your dog's length, you measure from the tip of his nose down to the base of his nose. As for weight, that's obvious.
Airline Prerequisites for Pomeranian Dog Crates
It's important to take note of airline requirements for Pomeranian crates prior to purchase. Airlines have set measurements they use relating to your Pomeranian's size to ensure what we have already mentioned; that he can stand, sit, turn around and sleep without feeling squashed.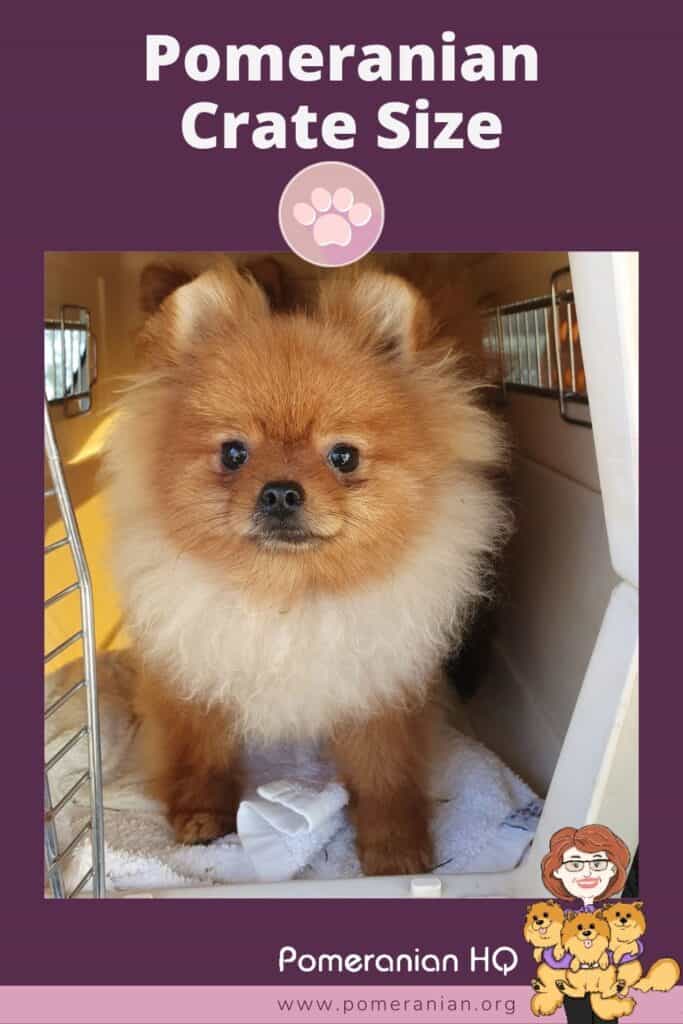 An airplane flight can be a long arduous trip for you as a passenger, so think about how well your pet will travel before considering buying any dog crate. You also need to know the weight and size of the crate, as well as your Pomeranian's weight because these factors will affect any plane ride you'll have in future.
Pomeranian Puppy Crate
If you're in the market for a small dog crate for your Pomeranian puppy, you do have options. If you plan to make him a member of your family for as long as he lives, maybe you don't want to waste money and buy two crates; one would be a puppy crate, and the other would suit an average size of Pomeranian adult.
A smarter choice would be to buy a crate for a full-size Pomeranian that also comes with dividers. You start by placing the dividers in the crate to fence off areas so he only has the smaller amount of space he would need as a puppy. When he grows older, just remove the dividers and you have a full-sized Pomeranian crate without any extra expense.
Many owners decide to purchase a crate based on what they believe their Pomeranian's size will become as he grows into adulthood. Others make decisions based on the average Pomeranian's size for an adult.
Best Size Dog Crate for A Pomeranian – What Size to Get?
Most reputable crate manufacturers provide easy information to help you choose the right size crate for your Pomeranian. Sometimes they may suggest a size of a crate they make as being suitable for a specific dog size or breed.
For example: an 18-inch crate is often suggested for Pomeranians and other small dog breeds. However, it's important not to regard this as an exact size. You have to compare your dog's measurements to that of the crate you may consider buying.
It's critical to know a crate's interior dimensions when making a decision about which crate to buy because you really need 2—4 extra internal inches each way to ensure your dog's comfort.
He needs the freedom to move in and out easily so the width and height of the crate's doors should resemble that of your Pomeranian.
When it comes to a weight capacity, it's necessary that you know your dog's weight as this may cause problems if you keep lifting the crate and it's too heavy. When it comes to Pomeranians, a crate that measures 13W x22L x 16H inches is generally called a 22-inch crate and it should be enough.
Sometimes this crate size is called Extra Small. A 24-inch dog crate may be good enough for some Pomeranians.
When you start thinking about buying a crate for your Pomeranian, talk to the breeder and the vet to get a rough idea of how big your Pomeranian puppy may grow because that information can help you make the best decision.
Copyright Pomeranian.org. All Rights Reserved.
References and Further Reading:
[1] Official Standard of the Pomeranian (AKC). American Kennel Club, 2011.
[2] English Kennel Club Pomeranian Breed Standard, 2017.
[3] Denise Leo, The Pomeranian Handbook.
[4] Milo G. Denlinger "The Complete Pomeranian".
[5] Kimbering Pomeranians "1891-1991".
[6] William Taplin "The Sportsman's Cabinet".
[7] E. Parker "The Popular Pomeranian".
[8] Lilla Ives "Show Pomeranians".