Pomeranian owners to review the ten best harnesses for Pomeranian dogs, and here are the results:
I have spoken with numerous Pomeranian owners and asked for recommendations and reviews to identify the top 10 best dog harnesses for Pomeranians. The harnesses for these small dogs vary from the step-in versions to the stylish vests and fulfill the needs of your Pomeranians.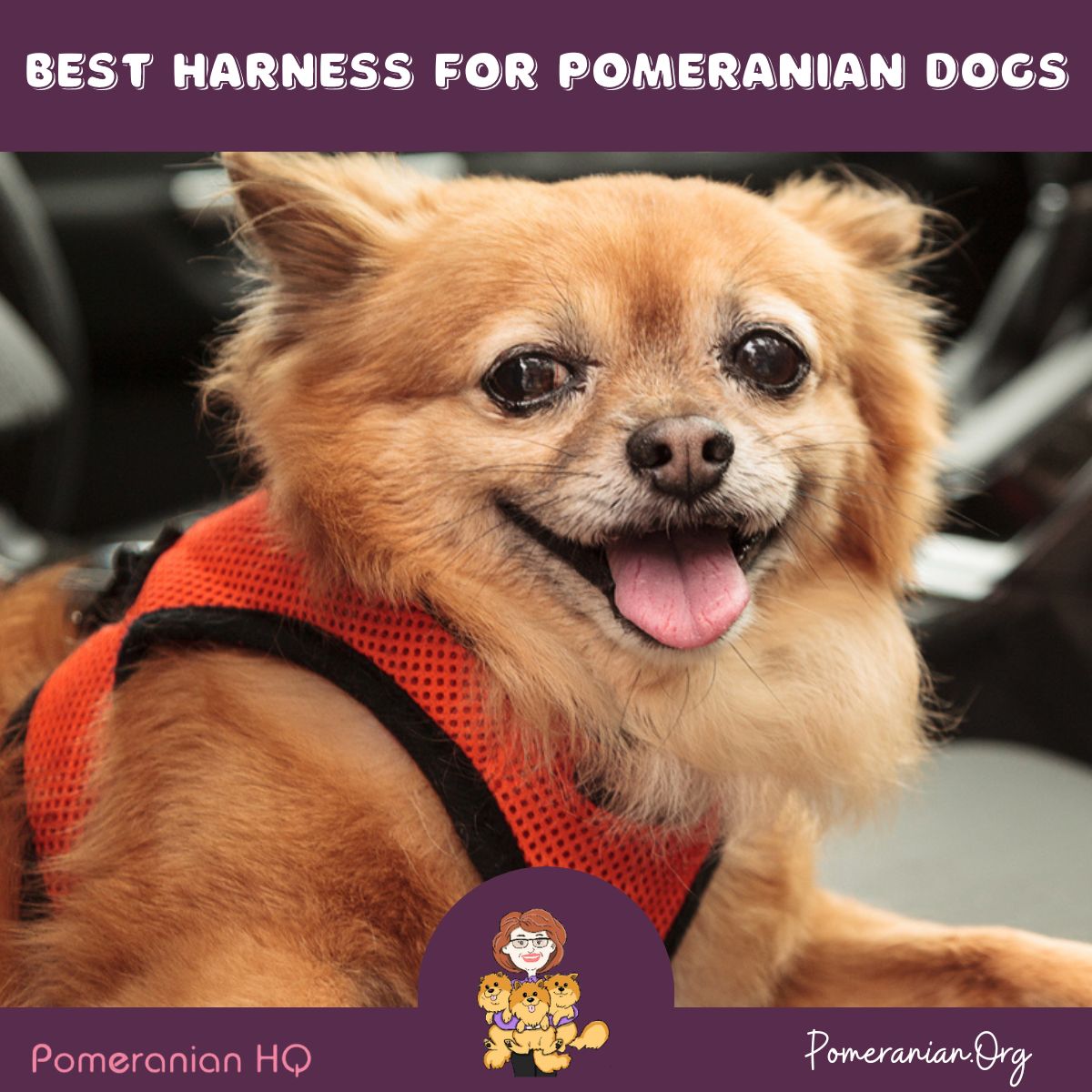 Puppia Authentic RiteFit Harness with the Adjustable Neck
The Puppia brand is the most popular harness for Pomeranian dogs for three main reasons:
The neck is adjustable, making it ideal for Poms in between sizes.
It still retains the same comfort and looks as the soft harness.
It also has an adjustable chest belt.
This Puppia brand Pomeranian harness has solved problems that so many proud dog owners have wanted. It solves the restrictions caused by the Soft Harness and the demand for an adjustable neck.
This newer harness has two fast-release buckles for the neck and hook and loop straps to make the neck more adjustable.
Undo the clasp around your Pomeranian's neck, open the straps, and adjust each side to fit his neck correctly. It's the best solution for Poms that don't match average sizes. The harness is made from the same polyester mesh as the adjustable chest belt and Soft Harness and has the same high-quality look and comfort as Soft Harness.
Pomeranian Owner Review:
The back strap and adaptable neck combine to create as perfect a fit as possible. The harness won't slide around a dog's body easily, and it's nearly impossible for a dog to move backward and get free of his harness. For this reason, I have ordered this harness for my Pomeranian dog.
I'm extremely happy about the nylon straps and plastic clips that cover the velcro fasteners at the neck. I have always been concerned that velcro can wear out and my dog can wiggle free at the worst time. I might never need it, but the extra security gives me peace of mind, just in case.
Tough seams. My Pomeranian puppy is seven months old and extremely hyperactive. During the last few weeks, he has pulled harder on the harness than I would expect a dog twice as big as him to pull and has done it hundreds of times. He chases his tail, dives and rolls on the ground, leaps in the air, gets himself tangled up in bushes, and still has more energy to burn. Despite all the wear and tear, his harness still looks close to new.
It does have a few scuff marks, but there aren't any loose threads, and the clips and straps are still in good condition. Because we take him out a lot, we have chosen to leave his harness on him from when he gets up until when it's his bedtime—considering that also, his harness is still in great shape.
2. Best Pet Supplies Voyager All Weather Dog Harness
This step-in harness gently and securely holds your Pomeranian through velcro closures. It has extra-gentle, padded, soft mesh. It has great visibility at night, thanks to the reflective bands attached to the sides.
Other reasons why I like this Pomeranian harness:
It comes in more than 16 bright colors.
Back-outs are prevented by buckle and velcro secure closures.
Double metal D-rings secure the leash attachment.
A Review From a Pomeranian Owner:
I use the harness on every Pomeranian I own. It's ideal for lots of reasons:
The velcro helps make this Pomeranian harness comfortable.
It's breathable and light to wear.
Two D rings secure the leash on the dog's back. This is critical because it doesn't circle the dog's throat and pull so hard that it collapses the Pom's trachea.
A Pomeranian can't get out of it.
Ensure your dog's measurements are accurate so you buy the correct size.
Voyager Step-In Air Dog Harness – All Weather Mesh Step In Vest Harness For Small And Medium Dogs By Best Pet Supplies – Pink Base, S
ATTENTION: Sizing does NOT directly correspond to your pet's breed or weight. Please MEASURE your pet by printing out our Size Guide which has a measuring tape and refer to our sizing chart for the best fit before ordering.
ALL WEATHER MESH: Made with a soft, breathable air mesh, this lightweight pet harness is perfect for walks all year round.
REFLECTIVE BANDS: Two reflective bands on the sides of this harness enhance your pet's visibility for those early morning and late evening strolls.
THREE SAFETY FEATURES: Our hook and loop fastener, buckle and double D-rings work together protect your pet in three layers of security.
STEP IN, CLIP & GO. Step into your next walk in this simple and easy-to-wear vest harness. Click 'Add to Cart' now.
3. Bark Appeal EZ Wrap Harness with Leash
Thanks to Bark Appeal, a sophisticated plaid harness such as this will enable your Pomeranian to strut his stuff.
It's comfortable and easy to adjust, thanks to velcro closures and a step-in design.
A bonus is a matching leash.
I like it for numerous reasons:
The mesh fabric is soft, comfortable, lightweight, and breathable.
The vest is designed to avoid any pressure on your Pom's neck.
Due to the popular yet practical step-in design, it's simple to don and remove.
A Happy Customer's Review:
This particular Pomeranian harness is ideal for all small dog breeds and is simple to put on your dog…and it's about time! There's no choking or chafing, and he can't wiggle his body to escape it. Wrap, snap, and you're off. Your dog is comfortable in a harness that's the right size.
Solid Step-in Dog Harness by Bark Appeal, Multiple Colors Mesh Vest Harness for Small & Medium Dogs, Non-Choking with Adjustable Heavy-Duty Buckle for Safe, Secure Fit
IMPORTANT INFORMATION: ALL NEW AND RETURNING CUSTOMERS, PLEASE REVIEW THE SIZE CHART FOR PROPER FIT 1.) MEASURING & FITTING: Please use our sizing & measuring guide thumbnails to MEASURE the size carefully before purchasing this present for your pooch. To get the most accurate size, we recommend measuring your dog vs. using the weight alone. Our sizing may be different from other brands, so please make sure to use the size guide for Bark Appeal.
2.) STYLISH COMFORT: Give your pup some real Bark Appeal with this harness made from soft, breathable mesh. Our Vet Recommended Step-In Dog Vest Harness is thoughtfully made with stylish comfort using superior quality materials.
3.) SAFETY FIRST: 3 layers of safety – Strong Strap, Buckle, and D-Rings combine to ensure your pet is safely secured in the harness.
4.) NON-CHOKING & VET RECOMMENDED: This pet harness reduces the strain on your pet's neck by distributing pulling pressure across the chest. Vet Recommended for a safe, secure, and comfortable walk for your pooch.
5.) EASY TO USE: Simply Step in, Wrap and Buckle for a safe, secure fit. This step in dog harness goes on in seconds, and it uses a heavy-duty buckle with adjustable strap to ensure your pup is quickly ready for their walk without any complicated setup.
4. Bolux Dog Harness
Does your Pomeranian provide emotional support? If so, this harness has an extra benefit for you and people who come into contact with you.
This Bolux reflective harness has a larger-than-normal velcro panel where you can attach a specific patch showing other people that your Pom is a support dog, therapy dog, or perhaps he's nervous (never touch him). It's made from waterproof Oxford material, making this the perfect selection if your Pomeranian goes everywhere you go.
This harness has a long list of likable attributes:
A chest strap that can easily be adjusted along with a buckle, meaning your Pom won't escape his harness.
The top of this harness has a nylon handle that makes it simpler to pick up your Pomeranian.
Reflective stitching gives your dog greater visibility when it's dark.
Review by a Pom Owner:
This harness is better than the step-in-one we have for our small Pomeranian. I bought the small one because he weighs less than 10 lbs. and is under 18". The front band is adjustable, and the middle band has extra room if required. Taking my Pom for walks is so easy.
Bolux Dog Harness, No-Pull Reflective Dog Vest, Breathable Adjustable Pet Harness with Handle for Outdoor Walking – No More Pulling, Tugging or Choking (Blue, S)
SMALL DOG HARNESS: ★Approx Weight: 11-20 lbs. Neck Girth: 12.5″-14″, Chest Girth: 16″-18.5″★. It perfect for small dogs and pups, like Yorkie, Chihuahua, Pug, Cockapoo, Chinese crested, Shihpoo, Shih Tzu, Russell terriers, Aussie, schnauzer, Maltipoo, Jack Russell, etc.
SUPER COMFORTABLE: Bolux no choke dog harness pulling pressure is evenly distributed to the body to prevent pulling and choking. The dog vest harness have a adjustable chest strap with snap on buckle, move its body parts freely, can customized fits for your puppy growth do not need to always change it.
STURDY HANDLE: The adjustable dog harness with rugged nylon handle further enhances your distance from the dog and is more intimate with each other. Easy on dog harness is also the best partner for dogs and is easy to control your dog.
OUTDOOR HEALTHY: Puppy no pull dog harness with reflective straps to ensure your dog is highly visible and keep dogs safe at night. You can connect the dog leash on the D-ring and with handle is easy to control on crowded streets. The high-end pet harness is perfect for daily walking, running, hiking, training, hunting, outdoor adventure and more!
GREAT EXPERIENCE: We are committed to providing our customers with high quality dog walking harness and the best shopping experience. If you encounter any problems or are not satisfied in any way, we will provide the best solution and all issues will be resolved within 24 hours.
5. EcoBark Max Comfort and Control Vest Dog Harness
This lightweight, comfortable harness is made from breathable mesh and eco-friendly materials. It also has a wonderful visual appeal because you can select from a rainbow of prints and colors. This EcoBark harness is a great functional, fashionable accessory for Poms outside the home.
Things I like about this harness:
Quick and easy to put on.
Precise sizing and secure straps prevent a dog from being able to get out.
The special vest design stops pressure on a Pomeranian dog's delicate neck.
Pom Owner Review:
My Pomeranian suffers from trachea issues, so this harness prevents her throat from irritation. When I get her harness, she's keen to wear it and go for walks. It seems truly comfortable.
EcoBark Dog Harness and Matching Leash Combo Set; Soft Double Padded, Fully Adjustable Neck and Tummy for Small and Medium Dogs (Small, Stripe)
🐕 𝐃𝐎𝐆 𝐇𝐀𝐑𝐍𝐄𝐒𝐒 𝐀𝐍𝐃 𝐋𝐄𝐀𝐒𝐇 𝐒𝐄𝐓 – Ecobark Comfortable pet harness leash set Ultra Soft breathable and Highly Durable Eco-Friendly Dog Harness and Leash No Fade Straps Made from Recycled Water Bottles. Innovative No-Choke Design Protects Pet's Fragile Trachea and Throat with Extra Plush Piping Around the Neck Opening. Please attach the lead to the back D-ring of the dog vest.
🐕 𝐂𝐇𝐎𝐊𝐄 𝐅𝐑𝐄𝐄, 𝐍𝐎 𝐏𝐔𝐋𝐋 | 𝐒𝐏𝐄𝐂𝐈𝐀𝐋 𝐃𝐄𝐒𝐈𝐆𝐍𝐄𝐃 𝐏𝐀𝐓𝐓𝐄𝐑𝐍 – Dog harness have D-ring at back that facilitates casual walks, jogging, hiking, etc. Attach the dog leash to sturdy metal D-ring. Beautiful Stripped Pattern design make your pet more fashion and charming while walking outside. It is easy to see that your pet is unique. Dog Leash is lightweight for casual walking/jogging.
🐕 𝐀𝐓𝐓𝐄𝐍𝐓𝐈𝐎𝐍! 𝐌𝐄𝐀𝐒𝐔𝐑𝐄𝐌𝐄𝐍𝐓𝐒 | 𝐒𝐈𝐙𝐈𝐍𝐆 – Ecobark Pet Dog harnesses are a different and more innovative design, so please do not base sizing off of other companies sizing. Animals come in all shapes and sizes. Therefore, please measure using a measure tape for the perfect fit. Quick release buckles provide hassle-free wearing. Your pets will love the easy-to-wear harness.
🐕 𝐇𝐄𝐀𝐕𝐘-𝐃𝐔𝐓𝐘 & 𝐃𝐔𝐑𝐀𝐁𝐋𝐄 – Dog Harness & Leash set is made of heavy-duty and durable material. The high quality buckle fastens the D ring on harness securely, and the stainless steel clasp that hooks on the harness firmly to provide you the best control on your pets. 𝐌𝐎𝐑𝐄 𝐀𝐅𝐅𝐎𝐑𝐃𝐀𝐁𝐋𝐄 𝐏𝐀𝐂𝐊𝐀𝐆𝐄𝐒: This product is a set combination. Your order includes two products: harness and dog leash.
🐕 𝐆𝐑𝐄𝐀𝐓 𝐅𝐎𝐑 𝐖𝐀𝐋𝐊𝐈𝐍𝐆 & 𝐎𝐔𝐓𝐃𝐎𝐎𝐑 𝐀𝐂𝐓𝐈𝐕𝐈𝐓𝐈𝐄𝐒 – Dog Harness and Matching Leash Combo Set is easy to put on your pet and very secure soft double padded. Strapped dog vest halter is fully adjustable on neck and chest of your pet, suitable for small medium and large dogs. Great for Walking, Running and Hiking. Breathable for all Outdoor Activities, Hugs the dog with a Flexible Air-Mesh Which Maintains your Dog's Natural Movements.
6. RYPET Small Dog Harness and Leash Set
Imagine a Pomeranian wearing a bowtie. This leash and plaid vest harness set have an attached bowtie. Take your Pomeranian to the park and then enjoy a fancy patio dinner, where the leash will ensure he spends quality time by your side.
Things I like:
It fits your Pom properly, thanks to the adjustable side straps.
He's so adorable.
He's always comfortable because of the lightweight, breathable, soft material.
Review From a Loving Pom Owner:
He's very cute. I bought a medium size, and it fits well. He's adorable, and I love him.
Rypet Small Animal Harness and Leash – Soft Mesh Small Pet Harness with Safe Bell, No Pull Comfort Padded Vest for Small Pet Pink S
Size: Chest Girth 4.5″-7.0″, Neck Girth 2.5″-5.5″,Back Length 2.8″. It comes with 4.4ft leash. This harness is suitable for for baby ferrets, pet rats, guinea pig, teacup chihuahua and other very small pets.
Brethable and Soft Material – Made of breathable mesh fabric and ideal both for summer days and year-round due to breathable feature. The mesh harnesses never put any strain on your pet's neck and are designed using soft material for your furry friend's total comfort.
Comfortable Harness – Rypet small animal harness designed to reducing tugging and pulling on your pet's neck and keep your pet safe and comfortable. comes with a lovely safety bell to prevent anti-lost, fit for walking, jogging.
Easy to Put on – First: unclip harness and lay on the floor; place harness on your pet's back. Then, handle parallel with neckline ring at the back. Finally: clip the velcro under the neck and chest.
Outdoor Activities – Breathable for all outdoor activities, hugs the pet with a soft nylon which maintains your pet's natural movements and increase the relationship between you and your pets.
7. Blueberry Pet Step-in Classic Dog Harness
Step-in-harnesses are the best for Pomeranians due to the simplicity and speed of putting them on and removing them. They're securely fastened around the dog's shoulders, so backing out isn't an option. This
is made from webbing that's strong yet simple to use.
I like these features:
A choice of 19 popular bright colors.
The nylon webbing is substantial but never stretches.
It has several adjustment points to customize the harness for your dog.
Review By a Pomeranian Owner:
This harness is ideal for my Pomeranian puppy. It's durable, even when chewed. It's the ideal width and length for walks and training. I recommend this harness for small Pomeranian dogs and other small dog breeds, such as Chihuahuas.
Blueberry Pet 5 Colors Step-in 3M Reflective Multi-Colored Stripe Padded Dog Harness, Chest Girth 20″ – 26″, Violet & River Blue, Medium, Adjustable Harnesses for Dogs
Chest Girth 20-26″, Chest Strap 6″, Width 3/4″, Medium; The chest strap is not adjustable. For a safe and fit purchase, be sure to check the neck and chest; A properly fitting collar and harness won't leave any room for your dog to chew
The harness does not stretch itself. NEVER leave your dog unattended with a harness on
Made of high density polyester webbing. Buckles are made from eco-friendly plastic. The metal D ring is matt grey coated to add durability
This harness is a single product. Its matching collar (B017UAJZLC) /leash (B01LWN6HZR) sold separately
All pictures are taken with our production samples from a size 3/4″(wide) * 20-26″(chest). Wipe to clean.
8. Comfort Fit Metric USA Small Dog Harness
This harness has a size XXS, which makes this the best harness for a Pomeranian puppy. The Comfort Fit Metric USA Small Dog Harness fits the tiniest Pom puppies and is a suitable harness for small Pomeranian dogs. It's extra-comfortable due to the soft padding. First, measure your Pom puppy and check a size chart to find the perfect fit.
Other reasons I like it:
The harness is comfortable and soft, with a quick-release clip to put it on or remove it.
Two D-rings are reinforced, so the leash is attached securely.
Lots of bright colors to suit your dog's personality.
Pomeranian Owner Review:
I have been hunting for the best Pomeranian harness for ages. This one is perfect because it's easy to adjust. I bought a small one so it will still fit when she's being groomed or owns a full coat. It's so easy to remove or put on.
9. Gooby Choke Free Small Dog Harness
Pomeranians are a breed prone to collapsing tracheas, so you must buy a dog harness that won't put any pressure on their throat. The Gooby Choke-Free Step-In Comfort Dog Harness has been designed to prevent pressure on a dog's neck/throat. The X frame ensures the force is even right across your dog's chest so that he has no difficulty breathing when he goes for walks.
Why I like it:
The "Step-in" style is simple and quick to don and remove.
There are four straps that you can adjust to ensure an ideal fit.
Suede trimmings and soft mesh combine to ensure your dog is comfortable.
Positive Pom Dog Owner Review:
I chose these harnesses because they're the first ones I found with a deep v neckline, so I wanted a harness comfy for my Pom because he has a collapsing trachea. It's made from high-quality materials, and the generous straps stop him from escaping. It matches my needs completely.
Sale
Gooby Comfort X Head in Harness – Pink, Small Harness Patented Choke-Free X Frame – Perfect on The Go Harness for Medium Dogs No Pull or Small Dogs for Indoor and Outdoor Use
No Choke Dog Harnesses for Small Dogs – Gooby's Comfort X Harness is made for small breed dogs. This means that our largest size will fit a dog up to 30 lbs. In order to fully utilize the functionality of the harness, as well as the fit, we recommend measuring the largest part of the dog's chest and follow the chest sizing. For reference, estimated sizing by weight is Small: 5-9 lbs Medium: 9-15 lbs Large: 15-20 lbs X-Large: 20-30 lbs.
PATENTED CHOKE FREE X FRAME – Comfort X Harness is made with a patented choke free design with chest strap creating a X. Our no choke dog harness sits below the usual neck area, reducing the stress pressed on the neck. By placing the D ring on the back, pull trajectory is lowered, reducing the chance of harness being pulled up to choke the dog (US D823,556 S/ US D850,021 S).
Lightweight Mesh – Polyester soft mesh no pull harness for medium dogs and small dogs keeps the body temperature cool. It is also very light in weight and easy to take care of (just machine wash cold and air dry) ideal for an everyday use for your no pull dog harness.
Leash Attachment – High quality metal d-ring for extra security to withstand the test of time. [Note: When choosing the correct size, we recommend measuring the largest part of the dog's chest and follow the chest sizing first and foremost. If between sizes, please size up]
Machine Washable – 100 % polyester mesh material allows for easy cleaning and quick air dry, saving you time and hassle.
10. PetSafe Easy Walk Harness
When you take your Pom for a walk, and he pulls the leash, this PetSafe Easy Walk harness is ideal. It fits across the dog's chest and will softly guide him to the side. This will decrease or possibly stop pulling on his leash. It's the best small dog harness for Pomeranian Dogs who can't wear a collar.
I like it because:
It fits across your Pom's chest, meaning zero pressure on his neck.
Quick-snap buckles that help put it on and remove it.
Different colored straps help with the right alignment of the harness.
Pomeranian Owner Review:
These are great harnesses if dogs pull on their leash. I strived for many years to stop my dog from pulling on his leash with no success. I was recommended to try this harness, and now there's no more pulling.
PetSafe® Deluxe Easy Walk® Dog Harness, No Pull Harness, Stop Pulling, Great For Walking and Training, Comfortable Padding, For Small Dogs- Rose, Small
DELUXE VERSION: Features padded neoprene straps for cool comfort and reflector strips for night safety
LEGACY OF TRUST: This harness was created by a veterinary behaviorist and is trusted by a million dog parents and trainers each year
TEACHES BETTER LEASH MANNERS: Patented martingale loop and front chest leash attachment minimizes your dog's pulling by gently steering him in the direction you are headed
NO MORE GAGGING AND CHOKING: The harness safely controls light to moderate pulling by resting across your dog's chest instead of his throat
QUICK AND EASY TO FIT: The quick-snap shoulder and belly straps allow you to fit the nylon harness easily on your dog; less coverage than many other harnesses to keep your pup cool
Pomeranian Harness Size:
What size harness for a Pomeranian? Always select the correct Pomeranian harness size by measuring your Pom dog. There are a few factors to consider when selecting the proper harness size for your Pomeranian.
First, measure your Pomeranian's girth (the widest part of its chest) and length (from the neck's base to the tail's base). You'll then need to compare these measurements with the sizing chart of the Pomeranian harness you're interested in purchasing.
Adjusting the harness for a comfortable fit is also essential, leaving enough room for two fingers between the Pomeranian and the harness straps.
Lastly, remember that Pomeranians are fluffy and often have fur that can add up to an inch of thickness – consider this.
Pomeranian Harness Summary
The ten best harnesses for Pomeranians are:
The Puppia Authentic RiteFit Harness.
Best Pet Supplies Voyager All Weather Dog Harness.
Bark Appeal EZ Wrap Harness with Leash.
Bolux Dog Harness.
EcoBark Max Comfort and Control Vest Dog Harness.
RYPET Small Dog Harnes and Leash Set
Blueberry Pet Step-in Classic Dog Harnesses.
Comfort Fit Metric USA Small Dog Harnesses.
Gooby Choke Free Small Dog Harnesses.
PetSafe Easy Walk Harness.
Sale
Bestseller No. 1
KOOLTAIL Dog Harness for Small Medium Dogs,Dog Harness and Leash Set, Step in No Pull Soft Mesh Padded Adjustable and Reflective Pet Vest Harness Puppy, Plaid Extra Harness for XS S Dogs, Beige XS
Size XS: Neck girth 11″ – 13″; Chest girth 14.5″ – 16.5″; Leash length 59″, width 0.6″. Please measure your dog/cat carefully and refer to the size chart before order.
Quality Material: Made of 100% polyester, which is soft, lightweight, and breathable fabric. This air-mesh dog harness is designed to reduce tugging and pulling on your pet's neck. No complex decoration, but comfortable and safety performance.
Reflective: The reflective material will make your dog more visible and safe in dark. It makes drivers have a long time to react if your dog is on the road. Reflective straps are really nice while out for a walk.
Classic Plaid Pattern: Unique beige plaid design is not the latest fashion, but it's never out of date. Simple style suits almost any breeds of dog and integrates into different environments. Your dog would be attractive and cute when wearing.
Easy Step-On: The hook&loop and quick-release buckle make it to effortlessly slip on or off your dog in seconds. Each harness is with a leash, double D-rings allow them to connect securely. Great for walking, running, hiking, and all outdoor activities.
Bestseller No. 2
PUPTECK No Pull Dog Harness Soft Adjustable Basic Nylon Step in Puppy Vest Outdoor Walking with ID Tag
[No Pull, No Choke] – Both sides of the harness are like a triangle structure, which can wrap around the dog's body perfectly, you will feel good control during use. And the stress is on the dog's chest, not its neck, so this harness allows dogs to breathe freely.
[Step in Harness] – The harness is very easy to put on/take off. Just let your dog's front leg in, then close the buckle, adjust the strap to fit perfectly, and done! It makes your travel faster and more convenient.
[Durable & Comfortable Material] – High-quality nylon fabric with high-density webbing to add durability. The webbings have been widened, and the surface is very smooth, so the harness's comfort will be better. Your dog will enjoy the daily walk in this comfortable dog harness!
[Cute ID Tag for DIY] – Each harness is equipped with a metal ID tag, and the front is a cute paw pattern, while on the back, you can engrave whatever you want, such as the dog's name and so on. It does not corrode as easily as wooden labels and is durable. You can also remove it when washing the harness.
[Size Guide] – Available Size for Different Breed Dogs – [XS – Strap width 1/2″, chest girth 12″-14.8″], , [M – Strap width 3/4″, chest girth 17.5″-23″], [L – Strap width 1″, chest girth 22″-30.5″]. The straps are adjustable to provide maximum comfort and reliable fit. It is recommended that you adjust the suitable size before putting it on your dog, which will save more time for wearing.
Bestseller No. 3
Pawtitas Reflective Step in Dog Harness or Reflective Vest Harness, Comfort Control, Training Walking of Your Puppy/Dog Extra Small Dog Harness XS Pink Dog Harness
SUITABLE FOR ANY STAGE OF THEIR LIVES: The extra small dog harness is an outstanding choice for breeds like Pomeranian Yorkie Shih Tzu Chihuahua Maltese Miniature Pinscher and small puppies
REFLECTIVE HARNESS PROPERTIES: The Pawtitas reflective step in harness strip designed to reflect ambient light in extreme low light conditions, providing maximum visibility when your puppy need it the most.
ERGONOMICALLY DESIGNED: We created an step in dog harness with the functionality of a dog vest harness , easy to use yet an easy walk dog harness great for your adventures.
GREAT COLOR SELECTION: We understand we all are unique, so is our pooch, with that philosophy in mind we created the Pawtitas Dog Leash with a large selection of colors available in both sizes.
Not for chewing. Do not leave dog unattended with product. For the safety and comfort of your pet we recommend to measure them prior the purchase of the mesh dog harness
Bestseller No. 4
PoyPet Reflective Soft Breathable Mesh Dog Harness No Choke Double Padded Vest Adjustable(Light Blue,XS)
SIZE – X-SMALL : Neck Girth: 10-12" , Chest Girth: 12-20". Very Important to Measure Before Buying. When it properly, two fingers should barely between the fur and strap.
EASY TO PUT ON AND TAKE OFF: This soft mesh dog harness is easy to put on and take off with its 2 quick-release buckles. Just slide the harness over dog's head, buckle it up, adjust the straps!
REFLECTIVE STRAPS FOR SAFETY: The reflective stitching will be really nice and high visibility when it gets dark. Your dog will be seen easily. This reflective material can make drivers have long time to react, which ensure your dog's safety.
ALL WEATHER MESH: Made with a soft, breathable air mesh, this lightweight dog harness is perfect for walks all year round. This easy dog harness is perfect for daily walking, running, hiking, training, hunting, outdoor adventure and more!
ADJUSTABLE & CUSTOMIZABLE FIT: This dog harness has dual elastic construction on belly straps, provides stretchability for more comfort and help absorb jerks, reduce strain and the risk of getting Hurt. The 4 clips allow a customized fit with room for growth.
Bestseller No. 5
Puppytie No Pull XXS Puppy Harness with Multifunction Dog Leash,Soft Adjustable No Choke Escape Proof Pet Harness Vest,Pink,XXS
Puppy Harness/XXS Puppy harness:Puppytie no pull dog harness for weighing 1.7-6.6lb (0.75-1.5KG),small dogs,puppies of medium dogs:chihuahua,pomeranian,poodle,yorkie,miniature pinscher.Exclusive patented technology worldwide,Friendly to all breeds of puppies,Mini dogs, small and medium-sized dogs wear no pressure,no bound
No pull dog harness:No pull dog harness:Weight as low as 1.19 oz,undoubted ultra-light harness.Perfect tailoring design,patented rounded adjustment buckle,effectively protect the dog's bones and muscles during exercise to avoid injury.
Comfortable high-quality dog harness:Puppytie's dog harness uses a soft and breathable low-sensitivity baby-specific fabric to protect the dog's skin.Exquisite hardware that does not deform or fade, water-proof and rust-proof, demonstrates high-end quality
Dog leash:Puppytie's dog harness is equipped with a multi-functional leash, which can be adjusted in two lengths of 49inch and 37inch. You can use it to easily carry two dogs out. It has the function of carrying keys or garbage bags. The function of wait in place allows dogs to wait in place quickly and safely
Puppytie's service: Puppytie is the world's leading brand of high-end pet products with original personality. All products are in gift packaging and can be returned and exchanged within 30 days without any reason. Professional customer service will provide you with size consultation and after-sales service 24 hours a day. We look forward to your suggestions and opinion.
Bestseller No. 6
Zunea No Pull Small Dog Harness and Leash Set Adjustable Reflective Step-in Chihuahua Vest Harnesses Mesh Padded Plaid Escape Proof Walking Puppy Jacket for Boy Girl Pet Dogs Cats Pink S
S: Chest: 34cm/ 13.5inches; fit for cats, small dogs, puppies weight about 1.5-3kg/ 3-7lbs. (Pls measure the chest girth of your dog and refer to the size chart before ordering, thanks)
MATERIAL — Made of high quality fabric, soft and comfortable to wear. Mesh padded design for breathable, also no pull for your love pet. Plaid design, look more attractive.
REFLECTIVE STRIP — With reflective strips, your pet dog and cat will be visible in low light conditions, Improves safety when walking at night.
EASY TO USE — Special back clasp and magic strap design, made if easy to put on and take off. There are 2 adjustable buckles on the pet vest harness that can be adjusted for better fit your love dogs or cats.
FIT FOR — Suitable for small size dogs, cats, likes puppy, chihuahua, shih tzu, miniature poodle, yorkie, yorkshire terrier, pomeranian, bichon frise etc.
Sale
Bestseller No. 7
Dog Harness and Leash Set for Walking, Escape Proof Vest Harness with Soft Mesh, Adjustable Strap, Reflective Strips for Kitten Cats and Puppy Dogs
ADJUSTABLE HARNESS FOR YOUR PET-Size XS fits Chest Girth 10.2″-11.4″, Neck Girth 7.9″-9.5″. There may be some differences in the different breeds, please measure your pet's chest before buying. Please pay more patience and guide to lead your pet to wear the harness for the first time, and then take them outside.
SOFT & COMFORTABLE-It made of lightweight, soft, breathable air-mesh fabric. Its vest-style design can prevent choking or neck strain. The inside fabric will not stick to the dog's hair.
SAFE WALKING & DRIVING-The reflective stripe can reflect ambient light, ensuring visibility when night walking in outdoor. Definitely a bonus that increase safety.
SECURE & ESCAPE PROOF-The adjustable straps allow you to quickly customize the vest to your pet, so that he/she won't escape or even get lost.
HASSLE-FREE CUSTOMER SERVICE-Please measure twice before buying and contact us if there is any question. If you don't love your new vest harness, send it back for a full refund, no questions asked! Just buy with confidence!
Bestseller No. 8
Small Dog Harness and Leash Set Small Pet Harness for Winter, Adjustable Soft Padded Dog Vest for Poodle, Pomeranian, Chihuahua, Minlature Pinscher Under 10LBS, Polka Black
Small Dog Harness – Recommended Breeds: small dogs, such as Poodle, Pomeranian, Chihuahua. Please measure the size carefully and refer to the size chart before purchasing this vest harness for your puppy.
Without step in or pull over the head, this dog vest harness is easy on and easy off with hook and loop fasterner.
Padding strap without harsh webbing or buckles which may rub your pet.
Long and wide velcro strap -Size L: neck strap adjustable from 7″-10″, chest strap adjustable from 13″-16″.
Make your puppy stand out with this polka black harness. There are variety of stylish patterns available.
Bestseller No. 9
FEimaX Dog Harness and Leash Set for Walking, Soft Mesh Adjustable Easy Control Lightweight Cat Vest Harnesses with Reflective Strips, Escape Proof Small Dogs Cats Vests (Pink, Small)
Easy Control – Our dog harness has an alloy traction hook on the back. You can attach a traction rope to control the pet while you are walking, running, shopping and training, you can enjoy freedom and safety.
Reflective & Safe – Reflective dog harness strap design, makes it visible in dark night and low light conditions, improves safety when dogs and cats walking at night. And the vest-type design evenly distributes the stress area of ​​the chest and shoulders, reducing the dog's stress.
Soft & Comfortable – The dog harnesses are made of mesh fabric, the front fabric is breathable and comfortable, and the dog is not stuffy. The reverse fabric is delicate and soft, and the weaving threads are dense and not sticky to dog hair.
Easy to Put ON/ OFF- The adjustable chest strap can fit the dog's body more. You can fasten the buckle after the velcro is affixed, which is safe and firm, it's so easy and fast to put on and take off in two steps.
Suitable Size – Please measure your pet size accurately before placing an order! If your pet's chest grith is between the two sizes, it is recommended that you can choose the larger size and adjust the strap to prevent the harness from being too small.
Sale
Bestseller No. 10
Rypet Small Dog Harness and Leash Set – No Pull Pet Harness with Soft Mesh Nylon Vest for Small Dogs and Cats Gray M
SIZE: Medium – Chest Girth 14″-19.5″, matching leash is 59″. Please measure size before purchasing. Recommended weight 7-15lbs, please refer to our size chart and measure the size of your pet before placing the order.
BREATHABLE MATERIAL: Made of soft and breathable air mesh fabric, keep your pet soft and comfortbale for them walking.
CUTE DESIGN: Classic plaid design, never out of date. Attached with cute bowtie and safe bell, you can easy find your pet according to the bell sound.
EASY TO ADJUST: Very Easy to adjust the chest size, just need to move the metal clip to enlarge or narrow the chest.
Fit small medium dogs or other small animals, such as Chihuahua, Yorkie, poodles, cat and so on. If any of the measurements are between two sizes, please choose the larger size or contact us.
Final Thoughts on Pomeranian Harness
A Pomeranian harness can be essential for keeping your Pomeranian safe and secure. It is designed to fit comfortably and snugly around the Pomeranian's chest, providing greater control when walking or playing with your pup.
Additionally, Pomeranian harnesses are more comfortable for your dog than collars, which can irritate their neck or cause choking. Pomeranian harnesses also help reduce pulling on the leash and provide more control in busy and crowded areas.
A Pomeranian Harness can be an excellent solution for owners who want to ensure their pup's safety and comfort while out and about.

Each of these harnesses has unique features that make them suitable for different needs, such as adjusting or using reflective bands attached to the sides.
Measure your Pom's girth (the widest part of its chest)and length (from neck's base to tail's base) before selecting a size to ensure a comfortable fit.
Copyright Pomeranian.Org. All rights reserved.
References and Further Reading:
[1] Denise Leo "The Pomeranian Handbook."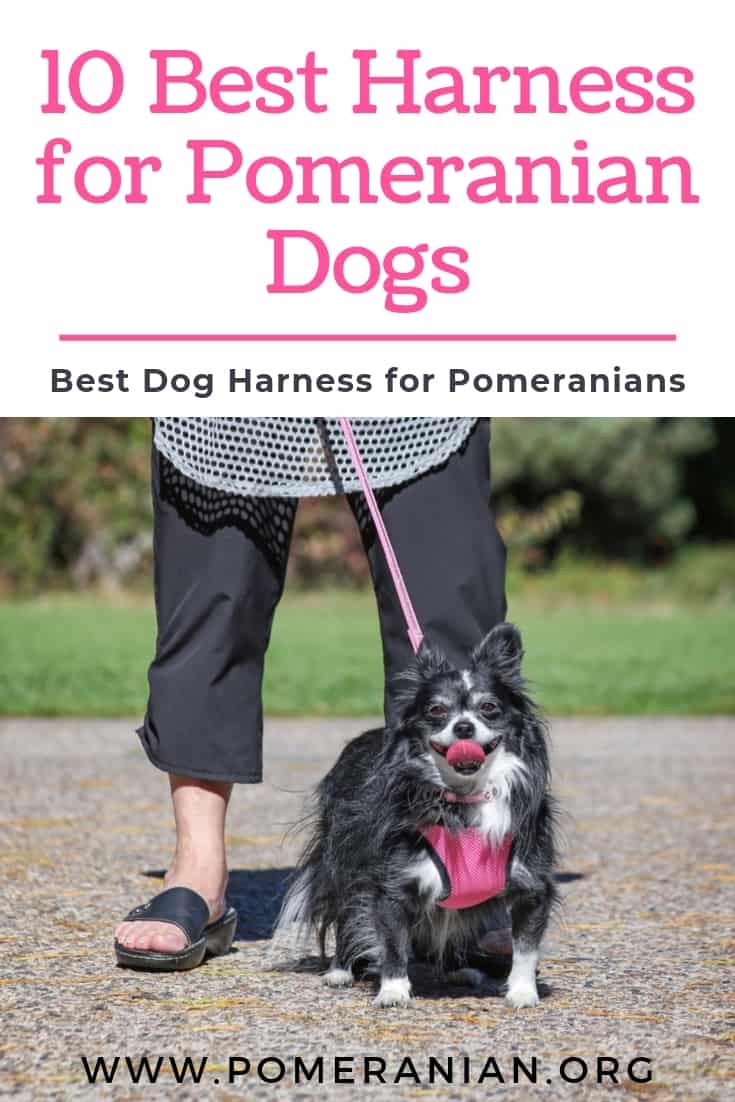 The Pomeranian Handbook