Pomeranian owners to review the ten best harnesses for Pomeranian dogs, and here are the results:
I have spoken with numerous Pomeranian owners and asked for recommendations and reviews to identify the top 10 best dog harnesses for Pomeranians. The harnesses for these small dogs vary from the step-in versions to the stylish vests and fulfill the needs of your Pomeranians.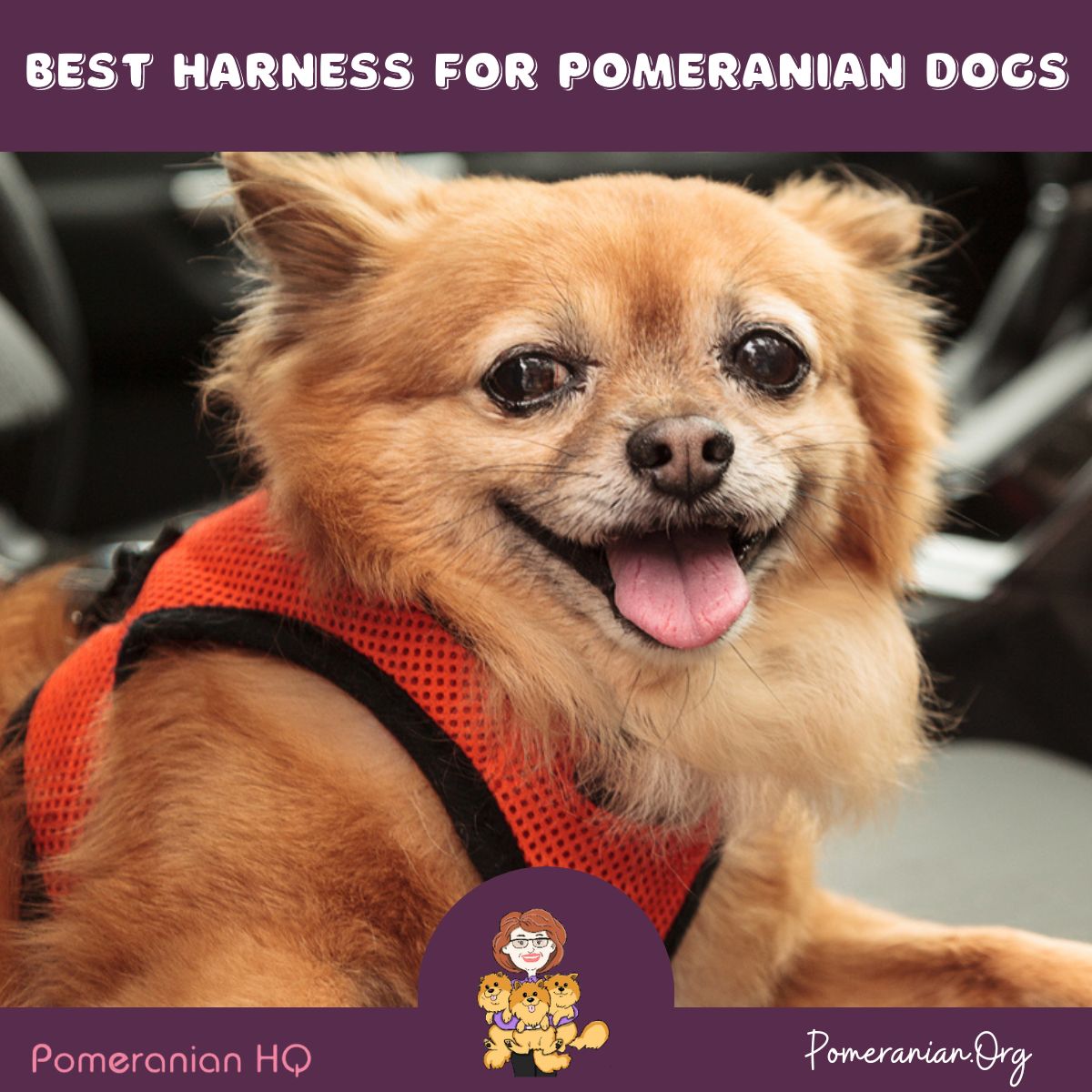 Puppia Authentic RiteFit Harness with the Adjustable Neck
The Puppia brand is the most popular harness for Pomeranian dogs for three main reasons:
The neck is adjustable, making it ideal for Poms in between sizes.
It still retains the same comfort and looks as the soft harness.
It also has an adjustable chest belt.
This Puppia brand Pomeranian harness has solved problems that so many proud dog owners have wanted. It solves the restrictions caused by the Soft Harness and the demand for an adjustable neck.
This newer harness has two fast-release buckles for the neck and hook and loop straps to make the neck more adjustable.
Undo the clasp around your Pomeranian's neck, open the straps, and adjust each side to fit his neck correctly. It's the best solution for Poms that don't match average sizes. The harness is made from the same polyester mesh as the adjustable chest belt and Soft Harness and has the same high-quality look and comfort as Soft Harness.
Pomeranian Owner Review:
The back strap and adaptable neck combine to create as perfect a fit as possible. The harness won't slide around a dog's body easily, and it's nearly impossible for a dog to move backward and get free of his harness. For this reason, I have ordered this harness for my Pomeranian dog.
I'm extremely happy about the nylon straps and plastic clips that cover the velcro fasteners at the neck. I have always been concerned that velcro can wear out and my dog can wiggle free at the worst time. I might never need it, but the extra security gives me peace of mind, just in case.
Tough seams. My Pomeranian puppy is seven months old and extremely hyperactive. During the last few weeks, he has pulled harder on the harness than I would expect a dog twice as big as him to pull and has done it hundreds of times. He chases his tail, dives and rolls on the ground, leaps in the air, gets himself tangled up in bushes, and still has more energy to burn. Despite all the wear and tear, his harness still looks close to new.
It does have a few scuff marks, but there aren't any loose threads, and the clips and straps are still in good condition. Because we take him out a lot, we have chosen to leave his harness on him from when he gets up until when it's his bedtime—considering that also, his harness is still in great shape.
2. Best Pet Supplies Voyager All Weather Dog Harness
This step-in harness gently and securely holds your Pomeranian through velcro closures. It has extra-gentle, padded, soft mesh. It has great visibility at night, thanks to the reflective bands attached to the sides.
Other reasons why I like this Pomeranian harness:
It comes in more than 16 bright colors.
Back-outs are prevented by buckle and velcro secure closures.
Double metal D-rings secure the leash attachment.
A Review From a Pomeranian Owner:
I use the harness on every Pomeranian I own. It's ideal for lots of reasons:
The velcro helps make this Pomeranian harness comfortable.
It's breathable and light to wear.
Two D rings secure the leash on the dog's back. This is critical because it doesn't circle the dog's throat and pull so hard that it collapses the Pom's trachea.
A Pomeranian can't get out of it.
Ensure your dog's measurements are accurate, so you buy the correct size.
3. Bark Appeal EZ Wrap Harness with Leash
A sophisticated plaid harness such as this will enable your Pomeranian to strut his stuff, thanks to Bark Appeal.
It's comfortable and easy to adjust, thanks to velcro closures and a step-in design.
A bonus is a matching leash.
I like it for numerous reasons:
The mesh fabric is soft, comfortable, lightweight, and breathable.
The vest is designed to avoid any pressure on your Pom's neck.
Due to the popular yet practical step-in design, it's simple to don and remove.
A Happy Customer's Review:
This particular Pomeranian harness is ideal for all small dog breeds and is simple to put on your dog…and it's about time! There's no choking or chafing, and he can't wiggle his body to get out of it. Wrap, snap, and you're off. Your dog is comfortable in a harness that's the right size.
4. Bolux Dog Harness
Does your Pomeranian provide emotional support? If so, this harness has an extra benefit for you and people who come into contact with you.
This Bolux reflective harness has a larger-than-normal velcro panel where you can attach a specific patch showing other people that your Pom is a support dog, therapy dog, or perhaps he's simply nervous (never touch him). It's made from Oxford material that's also waterproof, making this the perfect selection if your Pomeranian goes everywhere you go.
This harness has a long list of likable attributes:
A chest strap that can easily be adjusted along with a buckle, meaning your Pom won't escape his harness.
The top of this harness has a nylon handle that makes it simpler to pick up your Pomeranian.
Reflective stitching gives your dog greater visibility when it's dark.
Review by a Pom Owner:
This harness is better than the step-in-one we have for our small Pomeranian. I bought the small one because he weighs less than 10 lbs. and is under 18". The front band is adjustable, and the middle band has extra room if required. Taking my Pom for walks is so easy.
5. EcoBark Max Comfort and Control Vest Dog Harness
This lightweight, the comfortable harness is made from breathable mesh and eco-friendly materials. It also has a wonderful visual appeal because you can select from a rainbow of prints and colors. This EcoBark harness is a great functional, fashionable accessory for Poms outside the home.
Things I like about this harness:
Quick and easy to put on.
Precise sizing and secure straps prevent a dog from being able to get out.
The special vest design stops pressure on a Pomeranian dog's delicate neck.
Pom Owner Review:
My Pomeranian suffers from trachea issues, so this harness prevents her throat from irritation. When I get her harness, she's keen to wear it and go for walks. It seems truly comfortable.
6. RYPET Small Dog Harness and Leash Set
Imagine a Pomeranian wearing a bowtie. This leash and plaid vest harness set have an attached bowtie. Take your Pomeranian to the park and then enjoy a fancy patio dinner, where the leash will ensure he spends quality time by your side.
Things I like:
It fits your Pom properly, thanks to the adjustable side straps.
He's so adorable.
He's always comfortable because of the lightweight, breathable, soft material.
Review From a Loving Pom Owner:
He's very cute. I bought a medium size, and it fits well. He's adorable, and I love him.
7. Blueberry Pet Step-in Classic Dog Harness
Step-in-harnesses are the best for Pomeranians due to the simplicity and speed of putting them on and removing them. They're securely fastened around the dog's shoulders, so backing out isn't an option. This
is made from webbing that's strong yet simple to use.
I like these features:
A choice of 19 popular bright colors.
The nylon webbing is substantial but never stretches.
It has several adjustment points to customize the harness for your dog.
Review By a Pomeranian Owner:
This harness is ideal for my Pomeranian puppy. It's durable, even when chewed. It's the ideal width and length for walks and training. I recommend this harness for small Pomeranian dogs and other small dog breeds, such as Chihuahuas.
8. Comfort Fit Metric USA Small Dog Harness
This harness has a size XXS which makes this the best harness for a Pomeranian puppy. The Comfort Fit Metric USA Small Dog Harness fits the tiniest Pom puppies and is a suitable harness for small Pomeranian dogs. It's extra-comfortable due to the soft padding. First, measure your Pom puppy and check a size chart to find the perfect fit.
Other reasons I like it:
The harness is comfortable and soft, with a quick-release clip to put it on or remove it.
Two D-rings are reinforced, so the leash is attached securely.
Lots of bright colors to suit your dog's personality.
Pomeranian Owner Review:
I have been hunting for the best Pomeranian harness for ages. This one is perfect because it's easy to adjust. I bought a small one so it will still fit when she's being groomed or owns a full coat. It's so easy to remove or put on.
9. Gooby Choke Free Small Dog Harness
Pomeranians are a breed prone to having collapsing tracheas, so it's critical that you buy a Pomeranian dog harness that won't put any pressure on their throat. The Gooby Choke-Free Step-In Comfort Dog Harness has been specifically designed to prevent pressure on a dog's neck/throat. The X frame makes sure the force is even right across your dog's chest so that when he goes for walks, he has no difficulty breathing.
Why I like it:
The "Step-in" style is simple and quick to don and remove.
There are four straps that you adjust to ensure an ideal fit.
Suede trimmings and soft mesh combine to ensure your dog is comfortable.
Positive Pom dog Owner Review:
I chose these harnesses because they're the first ones I found with a deep v neckline, so I wanted a harness comfy for my Pom because he has a collapsing trachea. It's made from high-quality materials, and the generous straps stop him from escaping. It matches my needs completely.
10. PetSafe Easy Walk Harness
When you take your Pom for a walk, and he pulls the leash, this PetSafe Easy Walk harness is ideal. It fits across the dog's chest and will softly guide him to the side. This will decrease or possibly stop pulling on his leash. It's the best small dog harness for Pomeranian Dogs who can't wear a collar.
I like it because:
It fits across your Pom's chest, meaning zero pressure on his neck.
Quick-snap buckles that help put it on and remove it.
Different colored straps help with the right alignment of the harness.
Pomeranian Owner Review:
These are great harnesses if dogs pull on their leash. I strived for many years to stop my dog from pulling on his leash with no success. I was recommended to try this harness, and now there's no more pulling.

Pomeranian Harness Size:
What size harness for a Pomeranian? Always ensure you select the correct Pomeranian harness size by measuring your Pom dog. There are a few factors to consider to select the proper harness size for your Pomeranian.
First, measure your Pomeranian's girth (the widest part of its chest) and length (from the neck's base to the tail's base). You'll then need to compare these measurements with the sizing chart of the Pomeranian harness you're interested in purchasing.
It is also essential to adjust the harness for a comfortable fit, leaving enough room for two fingers between the Pomeranian and the harness straps.
Lastly, remember that Pomeranians are fluffy and often have fur that can add up to an inch of thickness - consider this.
Pomeranian Harness Summary
The ten best harnesses for Pomeranians are:
The Puppia Authentic RiteFit Harness.
Best Pet Supplies Voyager All Weather Dog Harness.
Bark Appeal EZ Wrap Harness with Leash.
Bolux Dog Harness.
EcoBark Max Comfort and Control Vest Dog Harness.
RYPET Small Dog Harnes and Leash Set
Blueberry Pet Step-in Classic Dog Harnesses.
Comfort Fit Metric USA Small Dog Harnesses.
Gooby Choke Free Small Dog Harnesses.
PetSafe Easy Walk Harness.
Final Thoughts on Pomeranian Harness
A Pomeranian harness can be essential for keeping your Pomeranian safe and secure. It is designed to fit comfortably and snugly around the Pomeranian's chest, providing greater control when walking or playing with your pup.
Additionally, Pomeranian harnesses are more comfortable for your dog than collars, which can irritate their neck or cause choking. Pomeranian harnesses also help reduce pulling on the leash and provide more control in busy and crowded areas.
A Pomeranian Harness can be an excellent solution for owners who want to ensure their pup's safety and comfort while out and about.

Each of these harnesses has unique features that make them suitable for different needs, such as adjusting or using reflective bands attached to the sides.
It is essential to measure your Pom's girth (the widest part of its chest)and length (from neck's base to tail's base) before selecting a size to ensure a comfortable fit.
Copyright Pomeranian.Org. All rights reserved.
References and Further Reading:
[1] Denise Leo "The Pomeranian Handbook."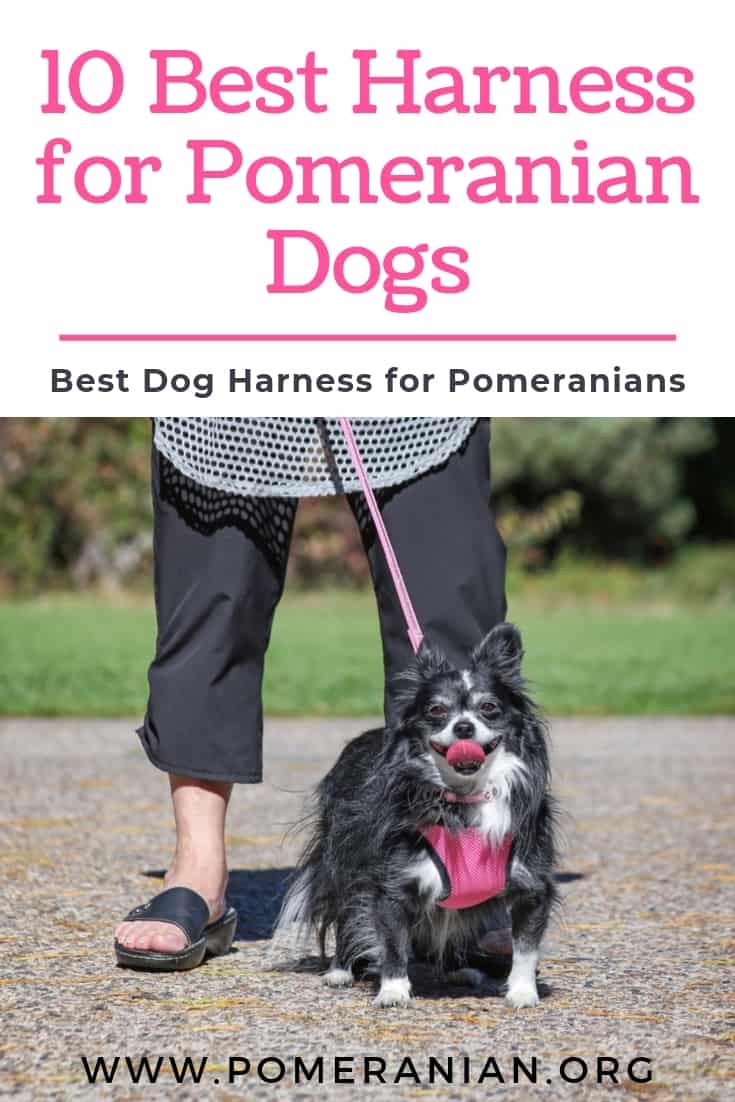 The Pomeranian Handbook