A white Pomeranian should be a solid white color with no lemon or cream shadings. The guard hairs and undercoat is also white. White Pomeranians must have black eye rims, a black nose, black lips and also black pads.
White Pomeranians are born ice white with all pink points. By the age of six weeks, these points should have darkened to black; however, the coat will remain snow white.
White Pomeranian Puppies
Will White Pomeranian Puppies Stay White ?
Cream, Orange and White Parti Colors and Light Orange, very young Pom puppies are frequently erroneously described as white.  Always look at the hair at the back of pup's ears. is there any color other then snow white ? Biscuit or cream hair behind the pup's ears usually means the puppy will turn out a cream or a very light orange Pom instead of ice white in color.  Small light biscuit patches on the pup's coat may indicate the puppy is parti colored not white.
It can be difficult to ascertain the color of a Pomeranian pup until after the coat change at around 6 months.
Is a White Pomeranian Dog a Rarity ?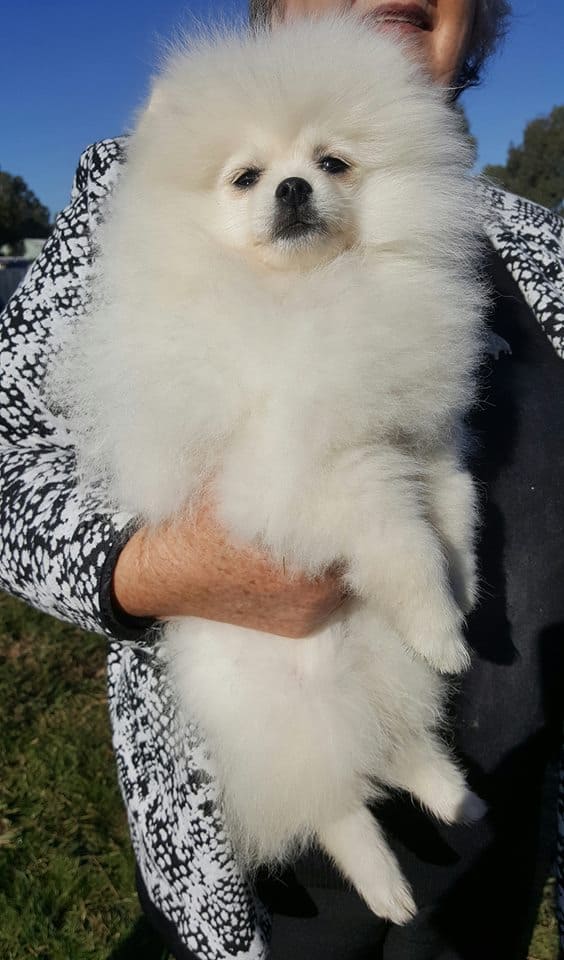 Ice White Poms can be considered rare. Quality White Pomeranians are usually very expensive owing to high demand. The most common Pom scam involves advertising white, teacup Pom pups, usually a female pup or puppies, which do not exist.
Read More about Pomeranian Puppy Scams and how to avoid being scammed by clicking here.
White Pomeranian Grooming Requirements
A little extra time is required in a grooming regime for a White Pomeranian. Special shampoos may be needed to keep the coat a sparkly ice white and tear staining is often a problem with the White Pom.
Breeding White Pomeranians
If your interest is how to breed snow white Poms and you enjoy a good challenge, you will find information on how to breed the white colored Pomeranian visit our Breeding Colored Poms page by clicking here.
Many have tried to breed show quality white Poms. The only really successful white breeders have concentrated solely on the white Pom. Numerous breeders, over the years have tried and quickly given up on this challenge.
Breeding white to white can quickly produce problems, including Poms whose quality has reverted back to the old style Pomeranian, loss of pigmentation, lacking head and leg coat, poor coat quality and more.
A study of old pedigrees will reveal past white breeders who gave up on breeding the Ice White Pom and used their white bitches to better advantage in an orange breeding program.
History of White Pomeranians
White is one of the original Pomeranian colors. The original colors being: White, Black, Cream and occasionally a parti color was seen. It was not until Queen Victoria visited Italy and bought back different colored Poms did other colored dogs appear in the breed.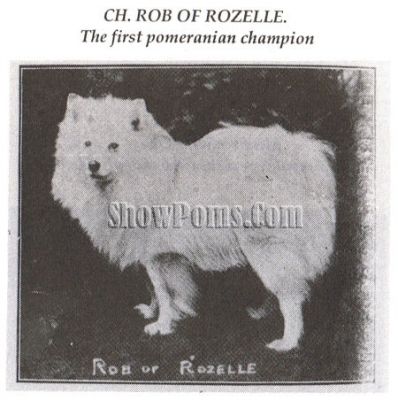 The first champion of the breed was a white Pomeranian : Champion Rob of Rozelle. The breeder and breeding of this first Champion is unknown.
White Pomeranian Dog Health Concerns
White poms are prone to the same health issues as other Pomeranians and have a similar lifespan.
One health issue related to many white dogs, of all breeds,  is deafness. As a breeder of White Pomeranians for many decades,  I have not come across a deaf white pom, but I have heard of poms who are deaf. You should be purchasing your puppy from a show breeder, who does health testing and proves their poms in the show ring prior to breeding. Ask your breeder to have the hearing of a white Pomeranian puppy checked prior to purchase. 
Copyright Pomeranian.org. All Rights Reserved.
References and Further Reading:
Official Standard of the Pomeranian (AKC). American Kennel Club, 2011.
Denise Leo, The Pomeranian Handbook.