What to Feed a Pomeranian Puppy
 Best food for Pomeranian puppy, amounts required and Pomeranian puppy feeding frequency options explained.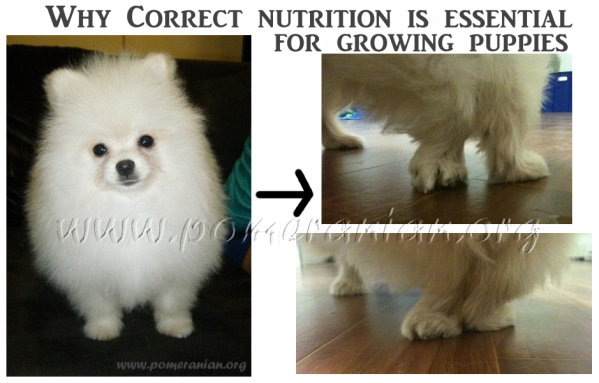 Correct nutrition is essential for a pup's development. Don't let this happen to your Pomeranian puppy.  If your puppy is under 12 months, I recommend a high quality commercial puppy food because most home cooked doggie meals won't contain the correct ratio of calcium to phosphorus.
Best Food for Pomeranian Puppy
A high quality canned puppy food.
High quality dry puppy food (often called puppy kibble). A Pomeranian puppy is best fed a dry food which comes in very small pieces).
Feed your puppy dairy products daily. For example: puppy milk, yoghurt and cheese.
Minced raw chicken carcass. (This is the minced chicken that contains small ground up chicken bones.)
Pomeranian Puppy Feeding Timetable
 Premium quality dry puppy food should be available at all times.
 Water must be available at all times.
 Canned puppy food or minced raw chicken carcass together with puppy milk (or cheese or yoghurt) is offered to puppy three to four times per day.
How Much Should You Feed a Pomeranian Puppy?
At Dochlaggie Pomeranians 8 week old Pom Puppies are offered the following:
• 1 or 2 heaped tablespoons of canned puppy food with a little cheese or puppy milk on top, three or four times per day.  Meals are made more palatable in winter if warmed prior to serving.
• 1 or 2 tablespoons of dry food in a small shallow dish should be available 24/7.
Increase these amounts a little each month until puppy is about six months. This is just a guide as puppies are individuals. A very active or bigger pup will require more food. Use common sense. If puppy is clearly still hungry and isn't fat, increase the amount you feed him.
• Avoid feeding him red meat.
• Avoid giving him calcium supplements.
• Increase the amount of calcium in pup's diet the safe way by feeding more dairy.
Pomeranian Puppies Often Require Increased Calcium While Teething.
Signs of calcium deficiency include:
 One or both ears standing awkwardly or flopping over.
 The tail standing upwards instead of flat on pup's back.
Signs of extreme calcium deficiency include:
Importance of the Correct Phosphorous and Calcium Ratio
Phosphorous and calcium work together well to maintain the structure and growth of your dog's skeletal system. If your Pom is deficient or has too much of either minerals, problems with the skeleton can occur. This is especially true in young puppies.
In the long term, it's critical to good health that you feed your Pomeranian the correct ratio of these two minerals. Issues with these minerals generally don't exist nowadays because it's easy to buy commercial pet food with a healthy balance of both substances.
Problems of this nature usually occur if you feed your  Pom an excessive amount of these minerals or make a homemade diet that isn't properly balanced. Young, rapidly-growing puppies face this problem much more often than older dogs.
Calcium Deficiency.
The correct ratio of phosphorous to calcium is vital. A calcium deficiency used to be fairly normal. The cause was mainly due to feeding your dog diets that are high in meats and organ meats that are low in calcium and high in phosphorous. If the dogs weren't fed calcium supplements, they would often develop rickets (a skeletal abnormality) and many other ailments.  After 12 months of age, I firmly believe healthy, home cooked meals are best for your Pomeranian.
Copyright Pomeranian.org. All Rights Reserved.
References and Further Reading:
[1] Denise Leo "The Pomeranian Handbook".