A Complete Guide To The Cutest Canine In The Cosmos
Are you a dog lover who owns a delightful Pomeranian?
Are you thinking about a dog and a Pom is the one you think you like best?
This Pomeranian book provides you with all you'll need to know!
Dogs are fabulous companions. That's the reason we have had them by our sides for thousands of years. From simple company to working alongside us, dogs are our favourite pets by far. And they really don't come cuter than an adorable Pomeranian.
There are many books about Pomeranians, but this Pomeranian Guide Book explains in detail everything you need to know about Pomeranians.
The Pomeranian Handbook is here to help you take care of your Pom.
Written by Pomeranian expert, Denise Leo of Dochlaggie Pomeranians fame and in consultation with our resident veterinary expert.
In order to ensure the best care for your Pomeranian, we have teamed up with our resident veterinarian. The information in the health, feeding and breeding sections has been provided in consultation with our veterinary expert.
Whether you're just getting started with Pomeranians, or if they are your life and love - this book will teach everything there is to know about the breed. The perfect gift for any aspiring Pom owner!
The Pomeranian handbook is a must for any canine enthusiast who wants to give their pup the best life possible.
This comprehensive Pomeranian book provides you with answers to everything related to one of the cutest breeds of dogs in the world. It will help you give your Pomeranian that 100% care he so richly deserves.
Learn everything you need to know to provide care for your precious dog (whether he's a show dog or a household pet).
Your life together will start when you first think about buying this beautiful dog as a puppy, and continues through his adolescence, into adulthood and then into his senior years.
From the moment when you first bring your new puppy home, it will be a very rewarding experience—one that never gets old or boring. Yes, there's a lot of work involved in caring for any animal and you'll soon learn about the extra responsibilities you need to take on.
The great news is that you're not alone if you refer to this all-in-one manual for Pomeranians.
It will be your best Pomeranian care guide while you're adjusting to life as a dog owner and all the new challenges that involves. After all, doesn't your newest best friend deserve the greatest possible care?

You'll need to learn everything about your Pomeranian and what's needed to provide him with the best possible care.
Inside The Pomeranian Guide Book:
The Pomeranian Handbook
A Complete Guide to the Cutest Canine in the Cosmos
You'll discover in-depth information on this fabulous little dog including:
Information about the breed and its history.
Their general appearance, colour and temperament.
The benefits and difficulties of owning a Pom.
How to Pom-proof your home.
Feeding and general care.
Pomeranian health and wellbeing.
Pomeranian Puppy training.
And much more…
There are many Pomeranian books available, this book stands out as a complete resource for all Pom dog owners.
The Pomeranian Handbook is the definitive work when it comes to knowing all there is about owning one of these charming and playful dogs.
With it you will be properly prepared for all stages of your new addition's life and be ready to have years of fun. Get a copy and see why this breed will make the perfect companion for you!
You'll soon discover this comprehensive Pomeranian dog book is an important tool to help you and your family welcome your new Pom to the household as warmly and successfully as possible.
Pomeranian owners interested in breeding and exhibiting Pomeranians will benefit from my extensive knowledge of the Pomeranian breed gained over 40 plus years.
Pom dog breed type, Pomeranian movement, Pomeranian colours, breeding Pomeranians , selecting and training a show Pomeranian and more, are all explained at length.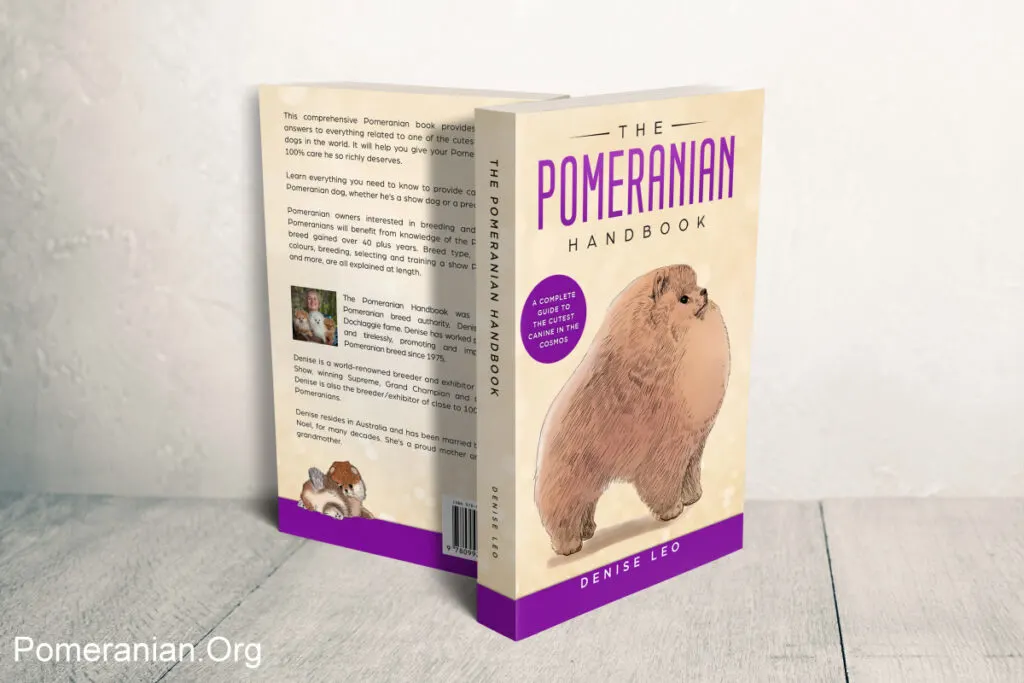 If you're thinking of purchasing, or already own, a Pom and don't have a copy of this Pomeranian dog book, you're doing yourself and your Pom dog a huge disservice.
You'll refer to the Pomeranian Handbook throughout your Pomeranian's life, so keep it in a safe place.
I'm a well-known Pomeranian breed authority. I have been breeding and exhibiting Best in Show winning Supreme, Grand Champion & Champion Pomeranians since 1975.

Who better to educate you on all the ins and outs of ensuring your Pomeranian has the best quality lifestyle?
I mix expertise with the kind heart and soul of a true pet lover and I hope you'll benefit greatly from my well-rounded knowledge and experience.
The Pomeranian Handbook PDF
The Pomeranian Guide eBook is available in many formats. The Pomeranian handbook pdf as an eBook for your Kindle ( Amazon) or as the Pom book pdf download.
The pom book pdf download version is available from Pomworld.Com and is best viewed with the free Adobe Reader on your computer, phone or tablet.
AVAILABLE NOW IN PRINT. The NEW Pomeranian Handbook Paperback new release. Available in PRINT from leading book outlets.
Purchase The Pomeranian Handbook ( Print Version)
Purchase The Pomeranian Handbook PDF in eBook Format. Instant Download Pom book pdf.
Copyright Pomeranian.Org. All Rights Reserved.