Congratulations on welcoming a new puppy into your life! This exciting journey comes with joy, playful moments, and responsibilities.
As you prepare to make your home puppy-ready, it might feel overwhelming with the myriad of products available in the market. Where should you begin?
What's essential and what's not? To help streamline this process and ensure your furry friend has everything they need from day one, we've curated a comprehensive "new puppy supplies list."
Discover the must-haves for your newest family member, making the transition smooth for both of you!
You'll most likely know ahead of time that you're going to get a puppy, and this means you can draw up an action plan that includes a list of puppy supplies you will need for your new Pomeranian.
When you get home with the newest addition to your family, you'll be as fully prepared as possible with Pomeranian accessories.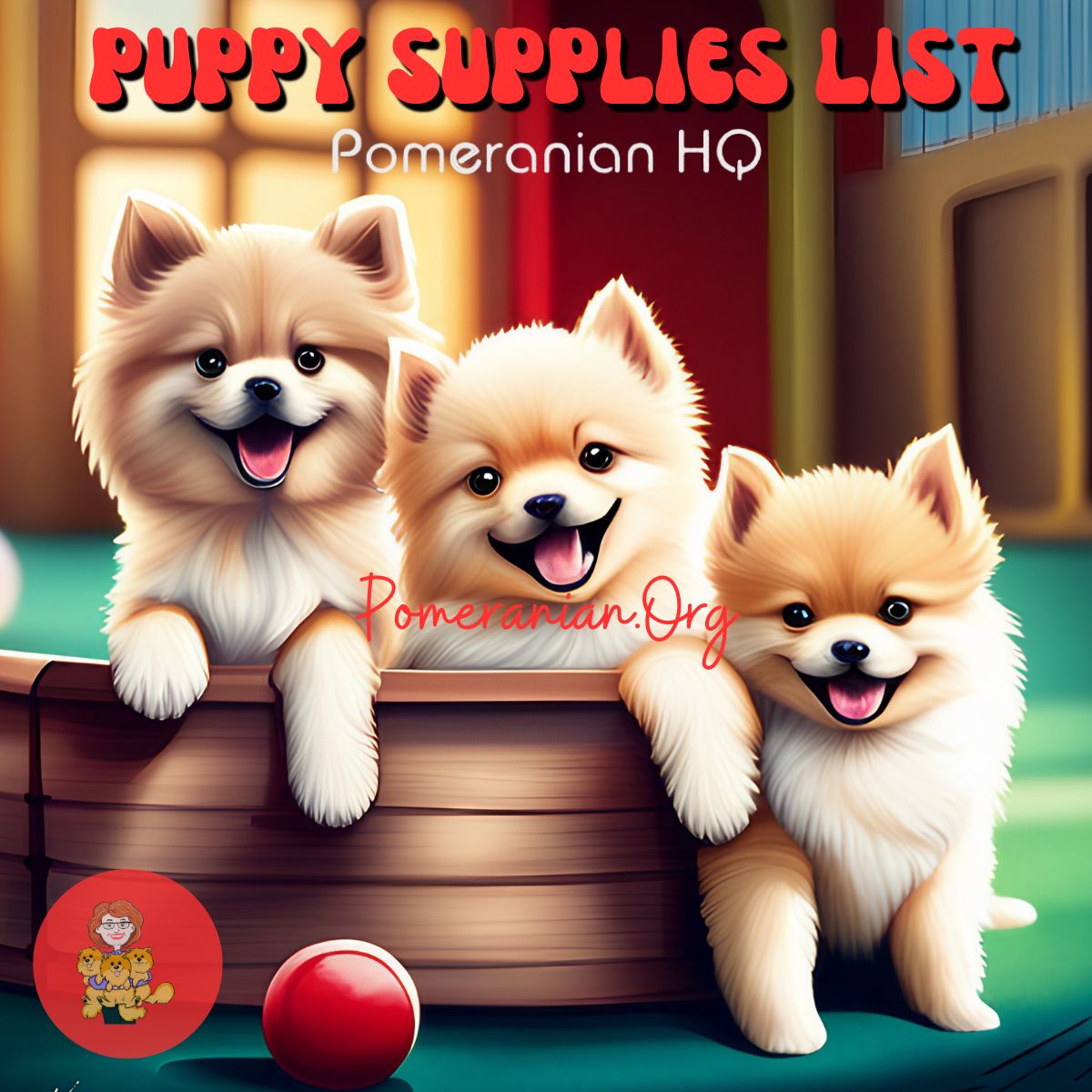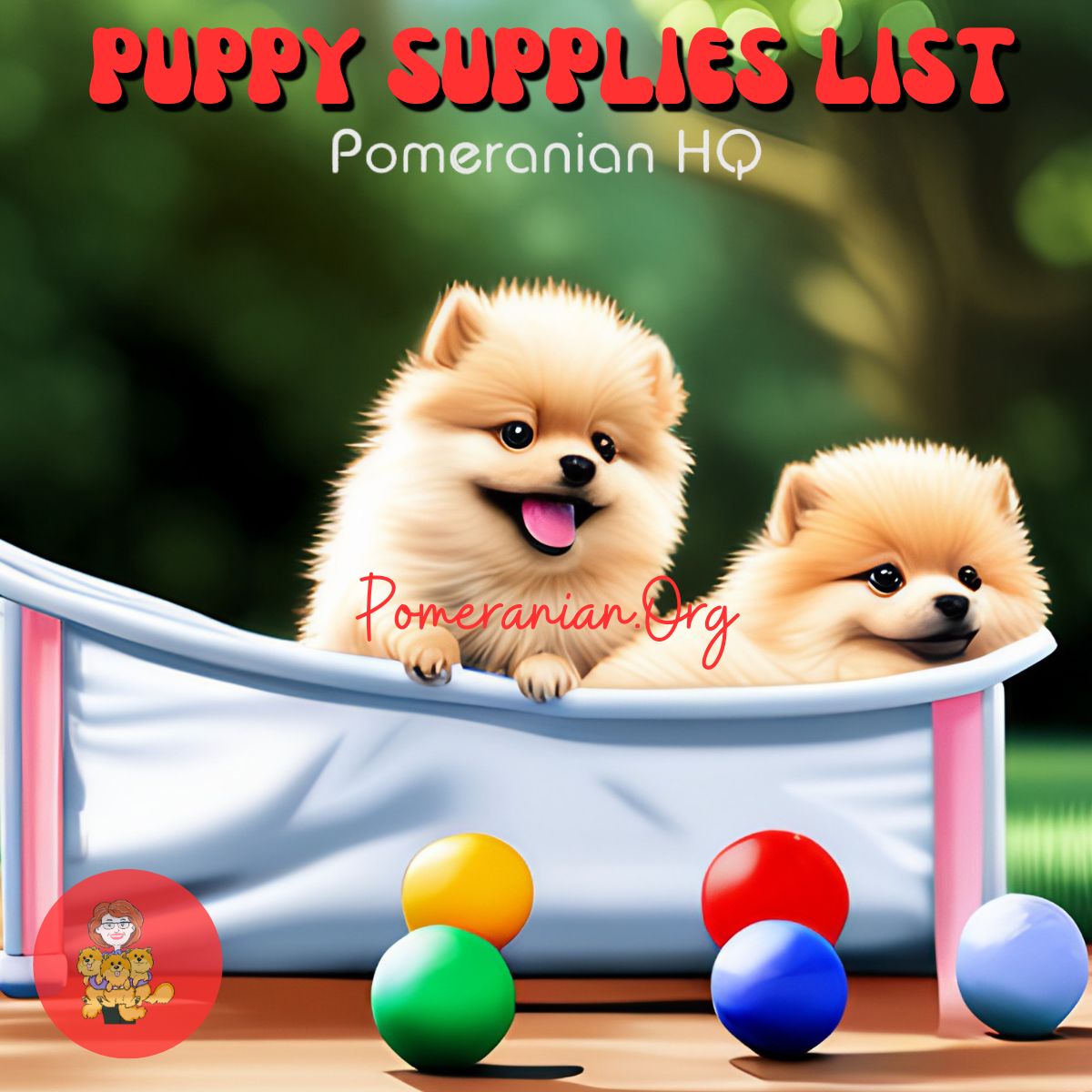 New Puppy Pomeranian Supplies List
| Category | Item | Description |
| --- | --- | --- |
| Safe & Secure Puppy Play Zone | Dog Playpen or Gates | Use dog playpens or gates to ensure your puppy's safety when you're not around and to aid in house training. |
| Food & Nutrition | Puppy-specific dog food | Nutrient-rich puppy food suitable for growing. |
| | Stainless steel food & water bowls | Non-tip and easy-to-clean bowls for daily use. |
| Grooming | Pin brush, comb, fan-forced dog dryer and a large soft slicker | Using the right grooming tools will enhance coat maintenance and yield quicker, more effective grooming outcomes. |
| | Puppy shampoo | Pin brush, comb, fan-forced dog dryer, and a large soft slicker |
| | Nail clippers | To keep those little paws tidy. |
| | Toothbrush & dog toothpaste | For oral hygiene and fresh breath. |
| Sleep & Comfort | Soft puppy bed | Cozy spot for your pup to rest. |
| | Puppy blankets | For warmth and comfort. |
| Training | Puppy training pads | Essential for house training. |
| | Collar & leash | For walks and identification. |
| | Training treats | Low-calorie rewards for good behavior. |
| Toys & Playtime | Soft plush toys | For cuddling and light play. |
| | Interactive toys | Stimulates the mind and keeps it busy. |
| | Chew toys | Chew toys to alleviate discomfort in teething puppies' mouths. |
| Health & Safety | Identification tag | It is important if the puppy is not microchipped and if your puppy gets lost. |
| | Puppy-safe cleaning supplies | Non-toxic cleaners for accidents and messes. |
| | Carrier Crate | Crate for secure car journeys. |
| | Puppy first aid kit | For any minor injuries or emergencies. |
| Education | The Pomeranian Handbook | Essential Pomeranian Guidebook covering all a Pomeranian owner should be aware of. |
| | Join the Pomeranian Headquarters Community | Become a member of the Pomeranian Headquarters Community for guidance and support. |
This list covers the basics to set up a nurturing environment for a Pomeranian puppy. Always consult a veterinarian or pet expert for specific product recommendations tailored to individual needs.
Dog Playpen or Gates:
Most new owners believe keeping a new puppy in his crate is the typical action when he's not being watched closely. However, there are a few negatives to doing this:
Your playpen or gated area needs certain elements to make it a comfortable "home" for your new puppy.
A Dog Crate Suitable For A Pomeranian:
If you're not personally collecting your puppy, he'll come in a crate. Such crates are great tools for housetraining and useful when traveling or as a bed.
Vets often request that you take your Pom puppy to his clinic in a carrier crate to help avoid spreading infectious diseases (e.g., Dog Flu or Kennel Cough) so he has the best possible method for controlling all animals in his clinic. Once you have found the right vet for your puppy's needs, talk to him about his protocols regarding crating your puppy for clinic visits.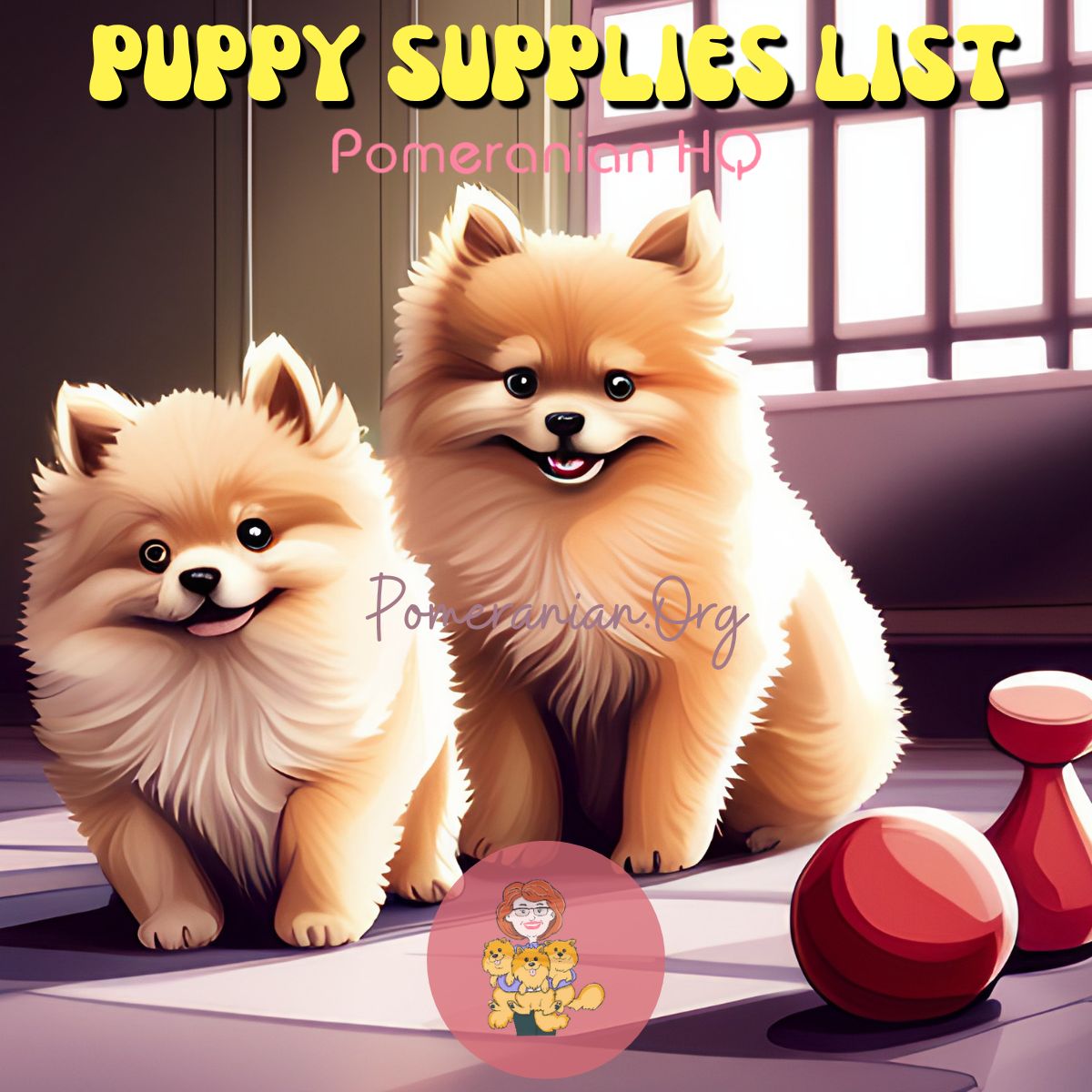 Pomeranian Puppy Food:
Good breeders will supply a diet chart as part of their file. Follow this to the letter for the first few weeks and make any dietary changes gradual. This also applies to "old food" he had been eating and whatever new puppy food you may use.
The key to dietary changes is to make them gradually, not quickly. Most puppies can't cope with fast changes in their diet, so have plenty of old and new foods, so you set the gradual pace for the changes. Breeders sometimes offer food samples for new puppy owners, but these will only last 1-2 days.
Get plenty of information regarding the variety and brands of food your new puppy has enjoyed eating before you take ownership. If you have enough food to last your pup for two weeks, that will be a good starting point from where to begin making gradual changes.
Bottled Water for your Pomeranian:
Giving your puppy tap water could result in tummy upsets. So, at least for the first few weeks, ensure your Pomeranian only drinks bottled water.
Pomeranian Sized Harness and Leash:
Pomeranians shouldn't wear collars because they may cause injuries, sometimes even life-threatening problems, and a major, long-term effect on their life. Because of the possibilities of severe problems, check out the Pom Care section "Tips on selecting the perfect collar and harness for your Pomeranian."
Pomeranian Puppy Grooming Supplies:
Your list should include:
If you need more information, read your Pomeranian's Combs and Brushes section.
Pee pads and Housetraining Accessories:
Some people use pee pads, others use newspaper, and some litter-train their pups. Talk to your breeder and buy a similar product for your puppy to use.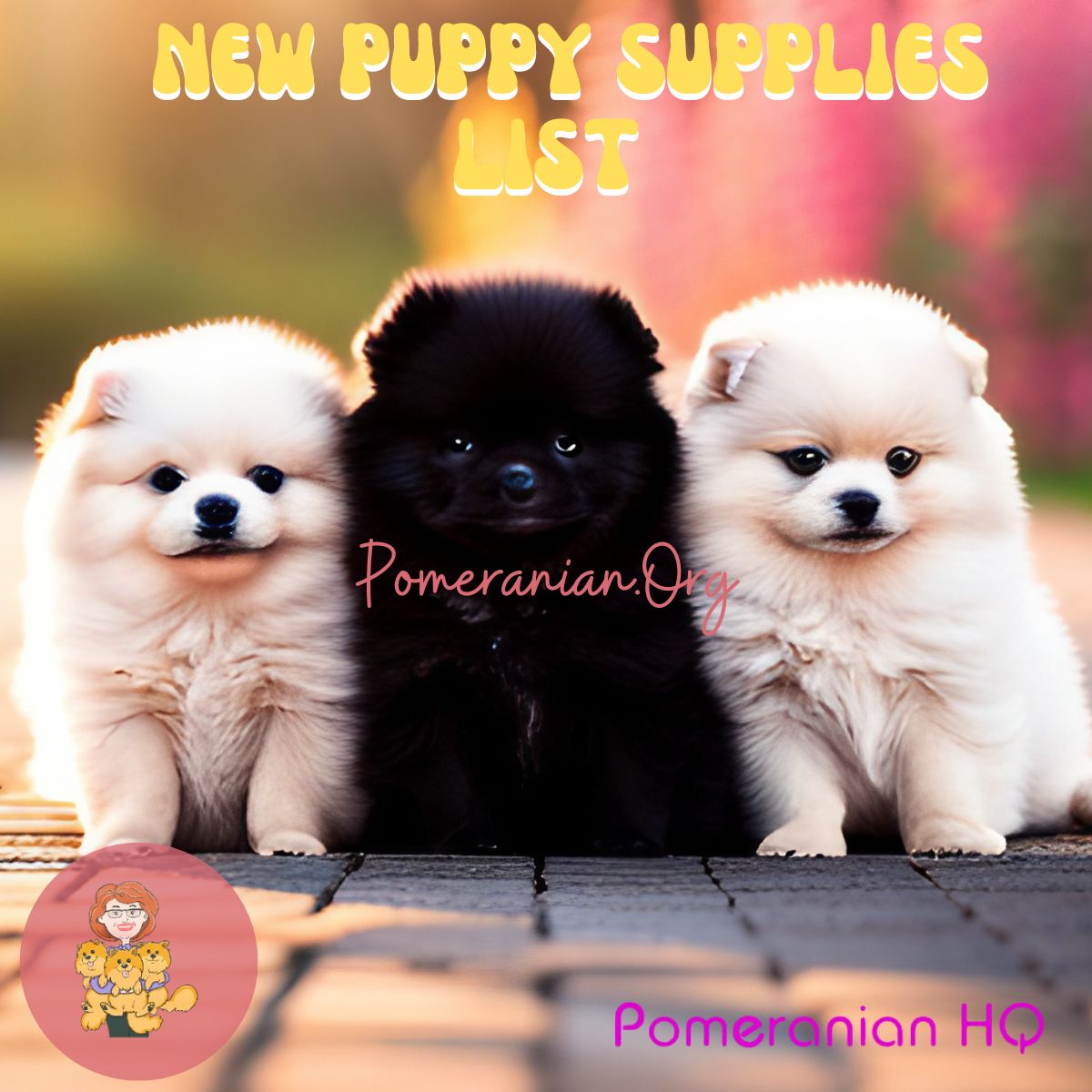 Water and Food Bowls Suitable for Pomeranian Puppies:
Bowls should be shallow for puppies so they don't keep hitting their head or nose against the side when drinking and/or eating. All dogs should only use stainless steel or ceramic bowls. Puppies and dogs can be allergic to bowls made of plastic.

Bowls that have heavy dyes may leak into the food. Plastic bowls become scratched and nicked easily, and bacteria can grow from these areas. If your puppy's bowl is colored, it can discolor his facial hair. These bowls are light, so they can be kicked, pushed, or tripped over very easily.
Please refer to the article "Right food and water bowls for Pomeranians."
Comfy Dog Bed:
You must make a decision early on regarding where your puppy will sleep. This will quickly become his habit. If you want him snuggled up in bed for you, think first. He may love it, and you may also love it…right now, but what happens in five years, ten years, or more?
Adult dogs can sleep in an owner's bed, but a Pomeranian puppy is small and won't be housebroken yet, so think of the problems ahead if that's where he will sleep. He's best off in a comfortable bed of his own.
You may decide to allow him to sleep in your bed when he's an adult. Regardless of your decision, he must have a suitable dog bed when you're not home, or he needs a nap.
Pomeranian Toys for Puppies:
You must select safe toys for puppies because they can help your Pomeranian puppy in many ways.
A Canine Car Seat Suitable for a Pomeranian:
Thoughts differ on whether a car seat or a crate is the safest when they take their dog in the car. This is not an item that needs to be purchased within the first week or so.
Spend time shopping for a seat to ensure your product is safe and strong and will last your puppy well into adulthood. You must learn as much as possible about canine traveling and the ideal products that are comfortable, safe, and reduce motion sickness.
Read the article – "Selecting The Ideal Car Seat For Your Pomeranian" for extra details.
A Good Veterinarian:
Although a vet isn't a product supplier (generally speaking), you must check your contract of sale as most breeders will stipulate that you must take your new Pomeranian puppy to the vet for a complete physical within 24, 48 or 72 hours from the day when your new pet arrives.
a. The breeder – Although breeders will guarantee your puppy has no genetic health problems, your vet needs to run a full gamut of tests to verify that your puppy did come home with no health problems you're unaware of.
b. The puppy – The breeder has had the all-clear from his vet. This examination will verify he's healthy and happy.
c. You – Owning a puppy is a huge responsibility, so you'll want peace of mind by confirming that the puppy you receive is healthy, and then it's your job to ensure he remains healthy.
The ideal vet for your Pomeranian may not be near you. It's highly recommended that you interview at least three vets within a decent driving range to understand better how they work and care for the animals they treat. Make an appointment so you know you have time to get to know the vet and his practice.
New Pomeranian Parents Should Ask Questions: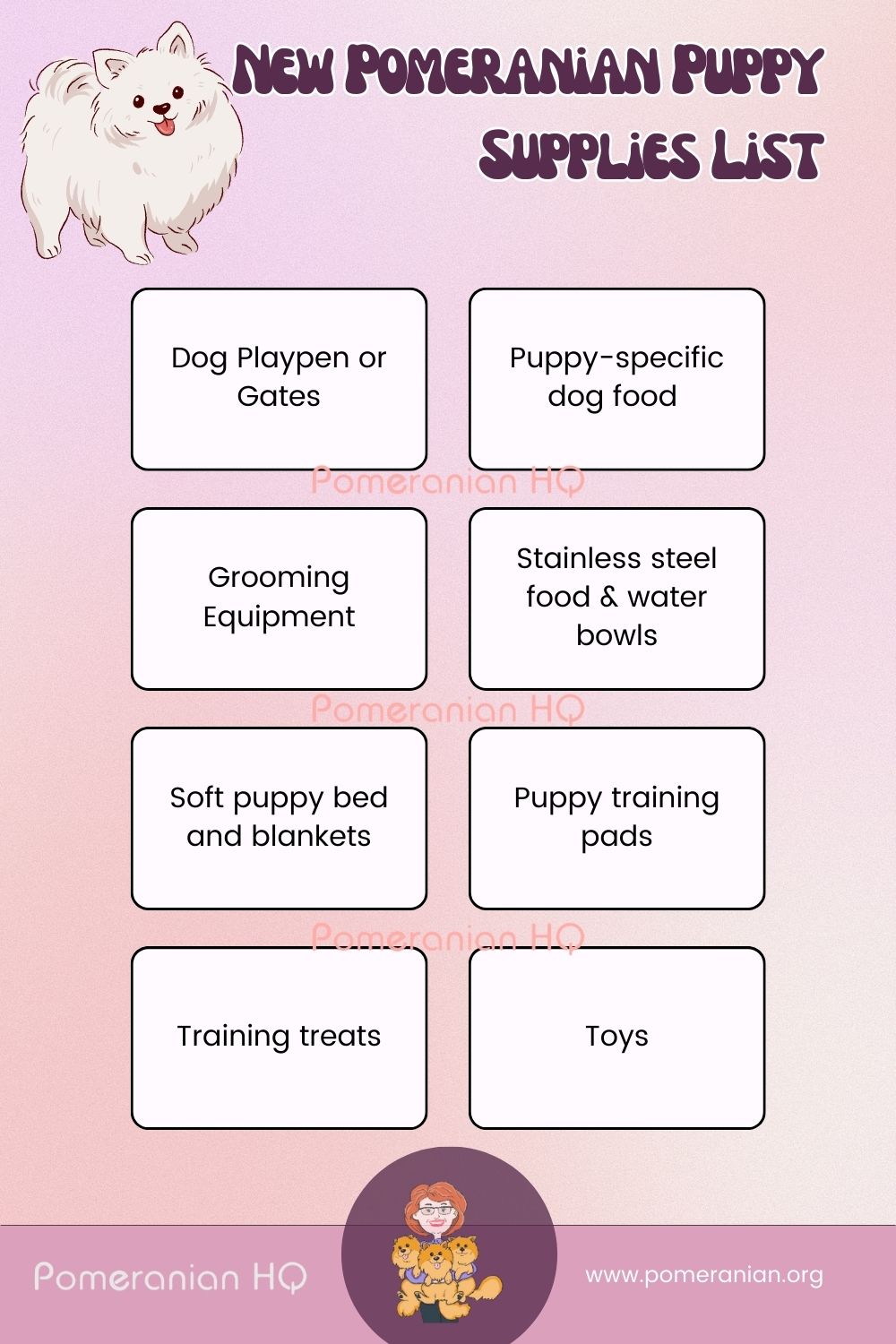 The Pomeranian Handbook
A Must-Have Guide for Every Pomeranian Owner:
Ensuring the right resources is crucial for those who have welcomed a Pomeranian into their lives. Every Pomeranian enthusiast, especially new parents to this breed, should consider adding "The Pomeranian Handbook" to their collection.
Penned by the renowned Pomeranian breed specialist Denise Leo, this handbook is more than just a guide—it's a comprehensive resource tailored for the breed. This book covers everything from understanding their unique temperament and grooming needs to navigating the various stages of their life.
Such a specialized guide ensures that Pomeranian owners are well-equipped to provide the best care, fostering a deeper bond between them and their furry companion. It's not just about owning a dog; it's about understanding and embracing every facet of their existence.

Join the Pomeranian Headquarters Community
Are you stepping into the world of Pomeranians? Consider becoming a valued member of the Pomeranian Headquarters!
Not only will you receive our insightful Pomeranian newsletter, packed with valuable tips and tricks tailored for Pomeranian enthusiasts, but as a token of our appreciation, we'll also gift you a complimentary copy of our ebook, "Pomeranian Puppy Care." Receive expert advice and make your Pomeranian journey even more rewarding!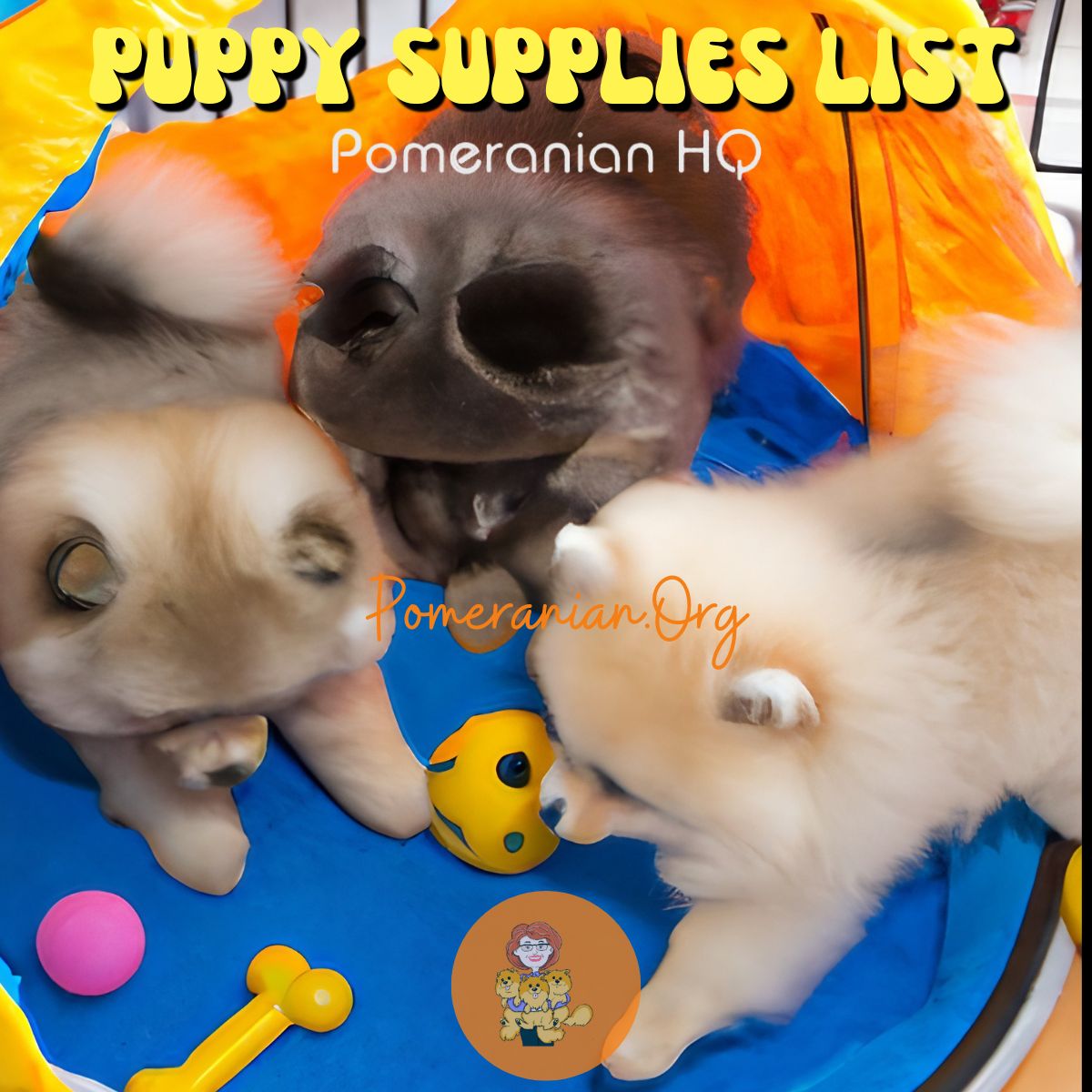 Wrapping Up Your New Puppy Supplies List
Embarking on the adventure of puppy parenthood requires preparation, and having a comprehensive "new puppy supplies list" is paramount.
As you journeyed with us through this guide, we hope you've found clarity and confidence in setting up the perfect haven for your furry friend. Remember, while having the right supplies is essential, love, patience, and understanding are the most precious gifts you can offer your new companion.
Best wishes as you and your puppy embark on this exciting chapter together!
Copyright Pomeranian.org. All Rights Reserved.
References and Further Reading:
[1] Denise Leo "The Pomeranian Handbook".
The Pomeranian Handbook by Denise Leo