You'll most likely know ahead of time that you're going to get a puppy and this is means you can draw up an action plan that includes a list of puppy supplies you will need for your new Pomeranian. By the time you get home with the newest addition to your family, you'll be as fully prepared as possible with Pomeranian accessories .
Dog playpen or gates
Most new owners believe keeping a new puppy in his crate whenever he's not being watched closely is the typical action to take. However, there are a few negatives to doing this:
It may be regarded as a case of neglect if you confine your puppy to a tiny crate.
If he's kept confined in this manner, he may start feeling extremely stressed, possibly leading your puppy to cry, bark, yelp and whine more and he may become more depressed as a result.
Puppy has nothing to stop him defecating and/or urinating each time he needs to do so and wherever he's standing within the crate.
Your playpen or gated area needs certain elements to make it a comfortable "home" for your new puppy.
A high quality dog bed. Don't leave him to sleep on solid ground where he can cause wear and tear on his elbows. It must be comfortable and warm.
A range of canine toys to keep him amused.
Food and water. (the rules for food and drink differ according to his age and other variables.
A carrier crate suited to a Pom Dog
If you're not personally collecting your puppy, he'll come in a crate. Such crates are great tools for housetraining and are useful when you go travelling or as a bed.
Vets will often request that you take your Pom puppy to his clinic in a carrier crate, to help avoid the spreading of infectious diseases (e.g. Dog Flu or Kennel Cough) so he has the best possible method for controlling all animals in his clinic. Once you have found the right vet for your puppy's needs, talk to him about his protocols regarding crating your puppy for clinic visits.
Pomeranian Puppy Food
Good breeders will supply a diet chart as part of his file. Follow this to the letter for the first few weeks and make any dietary changes gradual. This also applies to "old food" he had been eating, and whatever new food/brands you may change to using.
The key to dietary changes is to make them gradually, not quickly. The majority of puppies can't cope with fast changes in their diet so have plenty of both the old and new foods so you set the gradual pace for the changes. Breeders sometimes offer food samples for new puppy owners, but these will only last 1-2 days.
Get plenty of information regarding the variety and brands of food your puppy has enjoyed eating prior to you taking ownership. If you have enough food to last your pup for two weeks, that will be a good starting point from where to begin making gradual changes.
Bottled Water for your Pom
Giving your puppy tap water could result in tummy upsets. So for the first few weeks at least, ensure your Pomeranian only drinks bottled water.
Pom Sized Harness and Leash
Pomeranians shouldn't wear collars because they may cause injuries, sometimes even life-threatening problems and a major, long term effect on his life. Because of the possibilities of severe problems, check out the section titled – Pom Care – "Tips on selecting the perfect collar and harness for your Pomeranian."
Pomeranian Puppy Grooming Supplies
Your list should include:
If you need more information, read the section called Combs and Brushes for your Pomeranian.
Peepads and Housetraining Accessories
Some people use peepads, others use newspaper and some litter-train their pups. Talk to your breeder and buy the similar product for your puppy to use.
Water and Food Bowls Suitable for Pomeranian Puppies
Bowls should be shallow for puppies so they don't keep hitting their head or nose against the side when drinking and/or eating. All dogs should only use stainless steel or ceramic bowls. Puppies and dogs can be allergic to bowls made of plastic.

Bowls that have heavy dyes may leak into the food. Plastic bowls become scratched and nicked easily, and bacteria can grow from these areas. If your puppy's bowl is coloured, it can discolour his facial hair. These bowls are light so they can be kicked, pushed or tripped over very easily.
Please also refer to the article called "Right food and water bowls for Pomeranians."
Comfy Dog Bed
You must make a decision early on regarding where your puppy will sleep. This will quickly become his habit. If you would like him snuggled up in bed for you, think first. He may love it and you may also love it…right now, but what happens in five years, 10 years or more?
Adult dogs can sleep in an owner's bed but a Pomeranian puppy is small and he won't be housebroken yet, so think of the problems ahead if that's where he will sleep. He's best off in a comfortable bed of his own. When he's an adult, you may decide to allow him to sleep in your bed. Regardless of your decision, he must have a suitable dog bed for times when you're not home or when he needs a nap.
Pomeranian Toys for Puppies
It's critical that you select the safe toys for puppies because they can help your Pomeranian puppy in many ways.
Puppy teething toys help a Pom pup when he's teething.
A soft toy improves pup's ability to calm himself when he's alone.
Stuffed animal toys improves the quality of Pomeranian pup's sleep.
Puppy puzzle toys are must to stop puppy boredom he experiences. Because this is such a big decision, read more information in the article on "Pomeranians and Toys."
A Canine Car Seat Suitable for a Pomeranian
Thoughts differ on whether a car seat or a crate is the safest when they take their dog in the car. This is not an item that needs to be purchased within the first week or so.
Spend time shopping around for a seat to ensure the product you buy is safe and strong and will last your puppy well into adulthood. It's critical that you learn as much as possible about canine travelling and the ideal products that comfortable, safe and reduce motion sickness.
Read the article – "Selecting The Ideal Car Seat For Your Pomeranian" for extra details.
A Good Veterinarian
Although a vet isn't a product supplier (generally speaking), you must check your contract of sale as most breeders will stipulate that you must take your new Pomeranian puppy to the vet for a complete physical within 24, 48 or 72 hours from the day when your new pet arrives.
a. The breeder – Although breeders will guarantee your puppy has no genetic health problems, your vet needs to run a full gamut of tests to verify that your puppy did come home with no health problems you're not aware of.
b. The puppy – The breeder has had the all clear from his vet, this examination will verify he's healthy and happy.
c. You – Owning a puppy is a huge responsibility so you'll want peace of mind by confirming that the puppy you receive is healthy and then it's your job to ensure he remains healthy.
The ideal vet for your Pomeranian may not be near you. It's highly recommended that you interview a minimum of three vets within a decent driving range to gain a better understanding of how they work and care for the animals they treat. Make an appointment so you know you have time to get to know the vet and his practice.
New Pomeranian Parents Should Ask Questions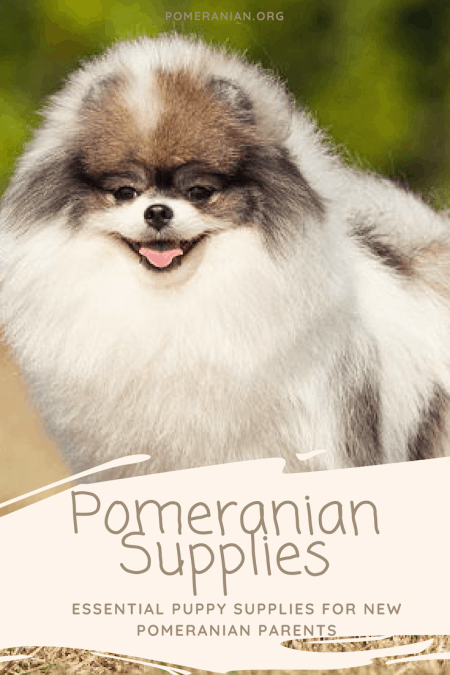 How many Pomeranians are current patients? He needs experience in treating Pomeranians.
 Do they answer after hours calls? If they say no, you don't need to waste more time.
 Do they have support staff who are available over the weekends and after hours? If not, you can stop right there as you need a 2am call to be answered if your Pom has hurt himself badly.
 Will they do a house call if urgent? How do they define an urgent matter? Your Pom may be too unwell for you to drive him to the vet.
 How long has the vet been practising? Sure, it's great to try out new people but when it comes to the health of your puppy, 2-3 years' worth of experience is a minimum requirement.
 What are their requirements regarding bringing in your ill Pom? The right answer is that he should be in a crate and, perhaps, brought in through a different door as he may be affected by other dogs who may be highly contagious. Read the "How To Choose A Veterinarian" article for additional information.

Copyright Pomeranian.org. All Rights Reserved.
References and Further Reading:
[1] Denise Leo "The Pomeranian Handbook".
The Pomeranian Handbook by Denise Leo