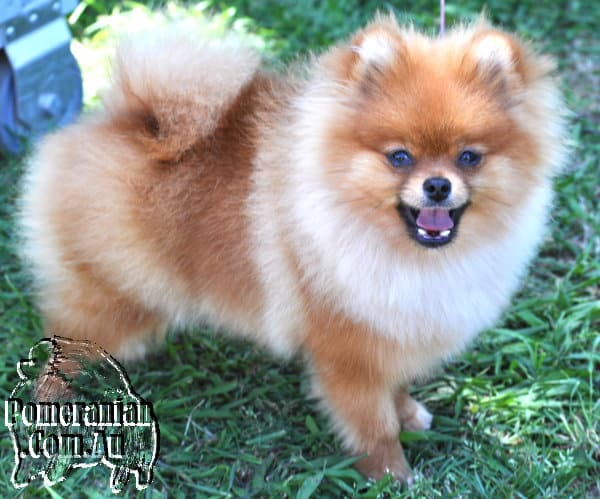 Everybody knows what bad breath (a.k.a. halitosis) is as soon as we smell it. It's caused by the build-up of bacteria in your dog's gut, lungs or mouth that has an awful smell to it. If this smell persists, it can indicate that you need to get your dog checked out. Maybe his mouth needs dental attention. Perhaps he has a problem in his kidneys, liver or gastrointestinal tract. Whatever the cause, it's a problem that should be taken seriously. Bad breath can be a sign of many serious health issues and it is always best to have your Pom vet checked.
How can I stop my Pomeranian from having bad breath?
Gum or dental disease is the major cause of canine bad breath. Small dogs such as the Pomeranian are particularly prone to tartar and plaque. However, if the smell persists, he could have more serious problems such as the issues previously mentioned above. How can I find out what is causing my dog's bad breath? Take your dog to the vet because professional help is needed to correctly diagnose the cause. He may have to do a physical exam and even some lab work. Your Veterinarian will have questions for you with regards to your Pom's diet, exercise habits, oral hygiene and overall behaviour.
When should you see the vet?
If your dog's breath suddenly has a smell you don't recognise, see the vet. Here are some examples of problems that need treating urgently: Fruity or sweet may indicate the presence of diabetes, especially if your dog has also been urinating and drinking a lot more than normal. "Urine breath" may indicate a kidney problem. A very foul smell as well as poor appetite, vomiting or a yellowish tinge to his gums or corneas can be signs of liver problems.
What's the treatment for a Pomeranian's Bad breath?
The treatment will depend on what the vet thinks the cause is. If it's plaque, he may need his teeth professionally cleaned. If it's a dietary issue, you may have to change some of his food. If it's an issue with liver, kidneys, lungs or the gastrointestinal region, you'll need to discuss the specifics with the vet.
How Can I Stop my Pomeranian getting Bad Breath?
Lots of people assume that dogs have bad breath when they're at a particular age. This isn't actually true. You need to be proactive in the oral hygiene area of your dog to help prevent problems as he grows older. Get him regularly checked by the vet to avoid problems before they become serious. Ensure your vet checks and track's your pet's breath and teeth regularly. Primarily feed your Pomeranian home cooked food,  meat from your butcher and a small amount of premium dog dry food. Canned dog food, some commercially-prepared "treats" and poor quality dog food cause unnecessary tooth decay.
Healthy treats would include home-made doggie treats. Boiled beef heart or liver, cut into small pieces and put in the freezer with zip lock bags is a tasty and healthy home-made treat. This treat will last frozen for a couple of months. Another safe treat is small cheese pieces. The Healthy Home cooking for your Pomeranian Booklet contains recipes for healthy dog food and treats.
Brush your dog's teeth daily if possible. Use a canine toothpaste because human toothpaste may cause an upset stomach. Give puppies toys to chew on as early as you can. This helps clean their teeth. Make sure toys don't have pieces that can be choked on or chewed off. Give your Pom marrow bones regularly. (Beef femur that's cut into one inch slices by the butcher). Ensure there aren't any sharp edges. If you are worried about hygiene, boil the bone quickly to kill germs. You can give your pet other toys, pig ears, rawhide chews and hooves.
For your Pomeranian's safety, avoid all imported treats.
Get recommendations from your vet for safe oral health products you can use. If your pet's gut isn't healthy, his breath may be bad too. In a healthy animal, an intestinal balance is achieved because the pathogenic microorganisms are outnumbered by the beneficial microorganisms. Diseases, chronic stress and antibiotics can kill the beneficials and let the pathogenics multiply wildly. That's when foul-smelling waste is created and the bad breath occurs as a result. Apart from good oral hygiene, your pet needs probiotic  supplements, green supplements (e.g. spirulina) and digestive enzymes to make his breath smell better. Always seek your vet's advice if problems don't settle down.
Copyright Pomeranian.Org. All Rights Reserved.