What's the Best Dog Food for Pomeranians ?
What is the best Pomeranian food ? How much and how often to feed your Pomeranian are vital questions. You  should decide what foods you'll feed your dog and wean him off the foods the breeder fed him and onto the foods you intend to give him in the long term. 
There's a wealth of advice relating to what food to give your Pomeranian puppy. The main difference between good and bad food for Pomeranians is the quantity of fillers. The digestive tract of your puppy processes lots of protein, not carbs and definitely not fillers.
Understanding Pomeranian Food Needs
You need to feed your Pom properly or he can become overweight. Then he'll have health problems, similar to human problems. A Pomeranian can suffer from strained ligaments and joints and may contract diabetes if he doesn't have a properly balanced diet.
The Pomeranian will burn calories quicker than many other breeds, especially when still a puppy. As he get older, his exercise needs change.
How Often Should I Feed My Pomeranian ?
You should decide what foods you'll feed your dog and wean him off the foods the breeder fed him and onto the foods you intend to give him in the long term. Because Pom puppies are so small, you must make slow changes for the sake of his health.
Follow this Pomeranian Food plan to gradually get him onto your food diet.
Week 1: Replace ¼ of his "normal" food with your choices.
Week 2: Replace 1/3 of his "normal" food with your choices.
Week 3: Replace half of his "normal" food with your choices.
Week 4: Replace ¾ of his "normal" food with your choices.
Week 5: You're now feeding your puppy only the foods you intend to give him.
What You should Feed your Pomeranian? Best Pomeranian Food.
Most brands have fillers which are ingredients designed to "bulk up" the dog but have no nutrients. One cup of food is usually half to ¾ of proper food and the rest is cheap filler/garbage that just fills the dog's bowl and tummy. Fillers pass through the dog (without being absorbed) and come out the other end.
This can cause nutritional deficiencies and issues with bad behaviour such as eating faeces or grass. The Pomeranian is fragile and small which means his digestive system is also sensitive and small.
Home cooking is the ideal solution for your dog because then you'll know there are no fillers and you can give him the best nutrition. Click to go to the Pomeranian food recipes.
Best Dry Food for Pomeranians
Are many years of testing different commercial dog food on the Dochlaggie Pomeranians I recommend the following for Pomeranians:
If you either can't or don't want to cook for your dog for whatever reason, there are commercial food options. If you buy cheap food, it will be low quality. Big pet stores stock dog products but most don't have premium, nutritious dog food.
There are two problems associated with buying dog food for Pomeranians that's manufactured.
1. The myriad of commercials make people believe certain foods must be the best because they're brand names they hear so much about. The sad news is that the opposite is often true.
2. It's simple to buy something while you're out shopping and the advertisements do their work again so the popular foods go into the trolley and then into your dog's tummy.
If you're going to buy commercial food, choose quality dog food brands such as,
Price Disclaimer
The downside is that you'll pay a bit more for this higher quality food but this is a reason to go for the home cooking option. Read the food labels and use chicken and fish as your main ingredients when you cook. Add vegetables and you can also add probiotics to aid in digestion. If you see the word "chelated," this simply means it has an added chemical to help with absorption.
Lots of the ingredients you would feed your dog are the same as what you normally buy yourself anyway. Just buy a little more for your dog's meals. You can also make larger amounts and freeze them as small portions so you don't have to cook every day just for your dog. This is not the same as tossing your dog the table scraps. You control what nutrients your dog is getting so you can ensure he remains healthy.
Some better ingredients you may use include:
 Organs such as brains, kidneys and liver.
 Lean meats including fish, white breast chicken and lean Hamburg.
 Vegetables such as: sweet or regular potatoes (your Pom loves these), spinach, baby carrots, zucchini and broccoli. Don't use corn.
• Starch is good, as is white or brown rice. Poms also love different types of pasta so use your imagination there.
Meat is the most important ingredient for your dog and should be the biggest component of each meal. The other foods help balance the meal. Use a ratio of 40% meat, 30% starch and 30% vegetables.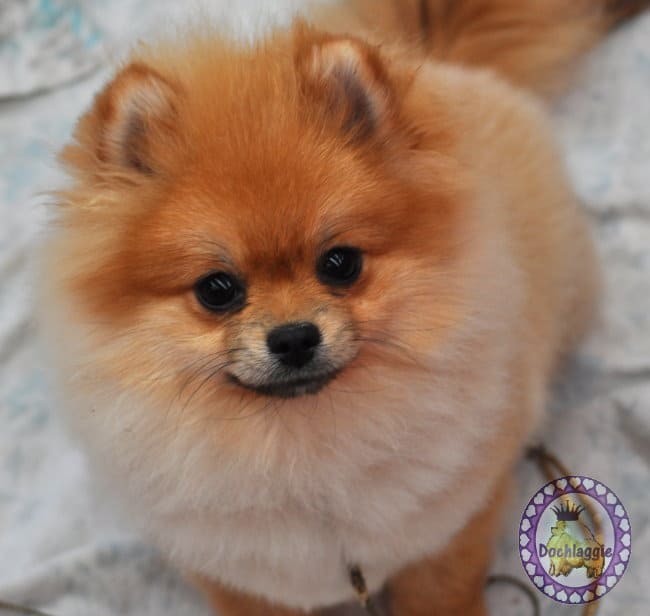 Food Quality Never buy the cheap supermarket food. Higher quality food has less filler and will give your dog better quality vitamins, protein and calories.
The cheaper food can make your dog gain weight and become unhealthy. It may affect his immune system and he could be sick more often. He'll find it harder to fight off any illnesses. Food with more filler will also give him bigger, more frequent bowel motions.
Wet or Dry Pomeranian Dog Food?
Some say you should feed your Pom dog mainly dry food. If he's resistant, add some low salt beef or chicken broth on top or mixed through the food. Never give your Pomeranian Rawhide snacks. They may give him an allergic reaction internally and on his skin. They can also damage his teeth and jaw, cause bad breath and digestion issues. There are good alternatives if you want this type of product.
High Protein Dog Food for Pomeranians?
When studies claimed that it was dangerous for dogs to be on a high protein diet, people were worried. However, the studies were conducted on rats, not dogs and, therefore, don't apply to dogs. Your dog should have 40% or more of his diet as protein, mainly meat.
Dog Food For Senior Pomeranians
Dogs older than 7 or 8 need a diet slightly lower in protein Nutrients need to be absorbed properly. If your dog is eating the best possible home cooked food, he may not be absorbing the vitamins, minerals and protein. A small amount of normal enzymes can make most of these essential nutrients go right through the dog's body without being absorbed. If your Pom isn't gaining weight or has stomach problems, a Prozyme enzyme can help ease this issue.
 A good food choice for senior Pomeranians is the following :
Your Dog may have Times when he needs a Special Diet.
When you feed your Pom's store-bought food, you'll need to amend the diet when the Pom Is pregnant. She needs food with more vitamins and minerals to help her puppies grow. To lower the risk of milk fever (hypocalcaemia) and for ease of whelping the calcium to phosphorous balance must be correct throughout pregnancy and lactation.
Best Food for Pomeranian Puppy
Pomeranian under 12 months of age must be fed a special puppy diet to ensure correct growth. If you Pom is inactive because of a health problem, age, an injury or some other reason. He needs a reduced fat diet with more fish oils.  Always consult with you Veterinarian about special feeding requirements.
Best Pomeranian Puppy Food:
Dog Vitamins and Supplements
Regardless of the food, you need to ensure your dog gets sufficient vitamins and minerals regularly. A supplement may be needed and it will change as he becomes an adult and then a senior dog. Ask your vet for advice.
Portion Control is Essential for Pomeranians
Some dogs will eat everything you give them so you need to control how much they eat. The amount you give your dog will depend on his age and level of activity. Only leave his food out for 15-20 minutes. If it's not gone by then, put it away. Quantities can be adjusted but here are guidelines to help you.
Growing puppies need more food than adults but each one will vary.
  1 pound puppy needs approx. ½ cup of food.
  3 pound puppy needs about 1 cup of food.
  5 pound puppy requires about 1.25 cups of food.
  6 pound puppy needs 2 cups of food.
The amount increases during growth spurts and drops when he's a fully grown adult. He needs 3-4 meals per day until he's 6 months old. A puppy has a tiny tummy so each meal should be small. Every dog is unique in size, activity level and metabolism.
Use your brains when feeding your Pom. If your puppy stops eating after 5 minutes, he's full. On the other hand if he eats it all within 10 mins and wants more, give him another 1/4 cup. (If he's losing weight and has no appetite, he's probably sick.) After 6 months of age, drop him from 4 to 3 meals or 3 to 2 meals per day. When he's 1 year old, he's an adult and you need to start changing his food to that of an adult over the next 6 months.
You may have 1 or 2 meals per day, depending on how much he's able to eat in one go. If it's 2 meals, it's half the food at each meal, not double the food. His tummy is sensitive so slowly make the increases in food volume. You can give your Pom a snack at any age.
Dog chews and treats should be only given as rewards. Then it will be easier to train him. If you do it all the time, it won't mean anything.
Pomeranian Strange Eating Habits
Occasionally your dog will take his food somewhere else to eat. You should train him not to do this.
Allow Pomeranian Begging or Not?
Your dog will beg for food. When you have put his food in his bowl, he'll look like he will die if you don't feed him. If you're also eating, never give him your food or he won't eat his own. It will be very tempting to give him a piece of your food but don't give in. Human food has lots of additives that cause harm to people. Just think what they may do to your Pomeranian.
For complete and detailed Pomeranian information, Feeding your new Pomeranian puppy, How to read dog food labels. Feeding your Pomeranian for optimum health, toilet and crate training your Pomeranian, how to choose the right Pomeranian puppy for your family, Socializing your Pomeranian Puppy. Download the Pomeranian Book by Pomeranian Breed Authority Denise Leo.
Copyright Pomeranian.Org. All Rights Reserved.
References and Further Reading:
[1] Denise Leo "The Pomeranian Handbook".
Copyright Pomeranian.Org. All rights reserved.