In this article I will explain in detail how to clean Pomeranian teeth and the potential Pomeranian teeth issues your little dog may face unless correct Pomeranian teeth care is practised.
How to Deal With Pomeranian Teeth Problems
Probably the most neglected area of our tiny Pomeranians are their teeth. Often this major health concern is not noticed until a dog's bad breathe alerts an owner to a problem and at this stage your dog will have suffered Pomeranian tooth loss and possibly gum infections.
When to Start Brushing Your Pomeranian's Teeth
To avoid Pomeranian tooth loss, a Pomeranian's teeth need care and attention from an early age. Paying attention to your puppy Pomeranian's teeth should start at 3 months of age.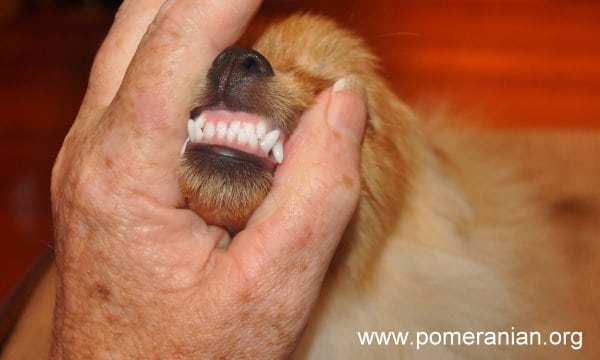 Brushing Pomeranian teeth frequently should protect your Pom dog against tartar accumulation, tooth decay, tooth loss, and a reduction in jaw bone mass. If tartar is allowed to accumulate, cleaning at your vet's will be required.
Since your Pom will be anesthetized at your vet's before cleaning their teeth, it is important to make those occasions as infrequent as possible. Pomeranians often do not do well with anaesthesia and have been known to perish from a simple teeth cleaning.
Pomeranian teeth cleaning is a task that should not be overlooked as your Puppy's dental health is just as important as caring for your Pomeranian puppy's coat, nails or any other necessary maintenance tasks.
Keeping a Pomeranian Healthy Requires Commitment
Exercising, bathing, brushing take care of external requirements, of equal importance is internal health of which dental care is a very important part.
Diet does play a huge part in general health and dental health of your Pomeranian. Try to analyse the food your Pomeranian eats by reading the breakdown on commercial packets. I try to avoid feeding too much commercial dog food and try to feed a natural as possible diet.
A good product is Newman's Own Organics Adult Dog Food Formula another one is Natural Balance Dry Dog Food, Ultra Premium Formula, or a visit to the site Doggie Dinners.
I do not like to give my Pomeranians doggie treats, chews pig ears etc as most are processed in China and I worry about the health of my small doggies. It is safer and more beneficial for the health of your Pomeranian to go to your butcher and buy a bone or a chicken frame. It is safe to feed your Pomeranian raw bones and raw chicken frames.
If you are concerned about bacteria on raw chicken frames and bones simply freeze the raw meat to kill any bacteria, thaw in your refrigerator and then feed the chicken frame or raw bones. I do spend a few minutes removing any loose fatty pieces from the chicken frame that my Pomeranian could choke on.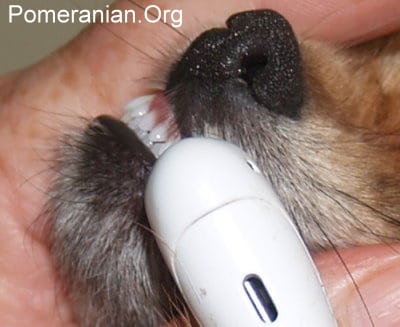 If small pieces of food remains in your Pomeranian's mouth, this will offer bacteria a rich place to develop and cause gum disease and other health problems, including kidney and heart disease in older Pomeranians.
Start young with brushing your puppy's teeth two or three times a week is sufficient. Never use human toothpaste. There are many products available that will help to keep your Pomeranian's teeth gleaming white.
Best Toothpaste for Pomeranians
There many doggie toothpastes suitable for Pomeranians available including CET Poultry flavoured Dog Toothpaste.
Use a doggie toothbrush or a very soft child's toothbrush. A very good brush for a Pom is a Petrodex Toothbrush Dog Dual-Ended Soft Bristle
. I use a battery operated human toothbrush on the Dochlaggie Pomeranians.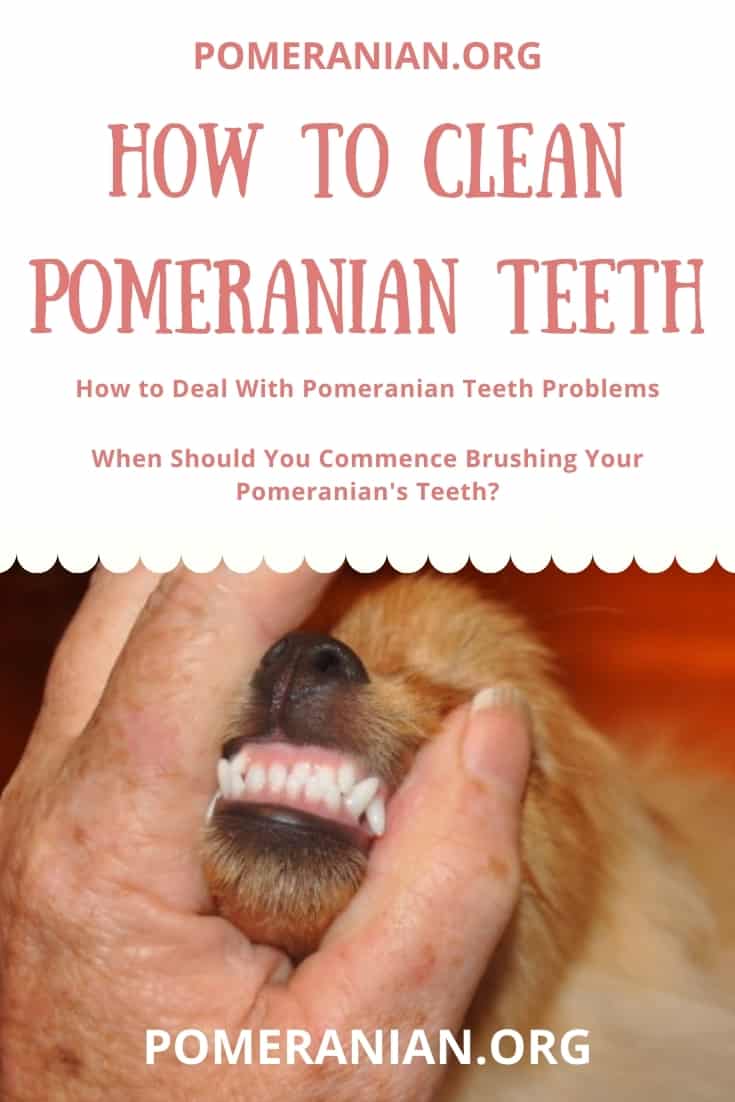 How to Clean Pomeranian Teeth
You will need to examine the Pomeranian puppy's teeth by gently parting it's jaws. You could start opening the puppy's mouth and just rubbing the teeth with you finger. Make this a fun thing and reward puppy with heaps of praise and treat. When your Pomeranian puppy is comfortable with you opening his mouth to see his teeth, you can then follow this simple procedure to brush puppy's mouth.
Develop a habit of checking its teeth often; this can be done a few times daily while patting your puppy. Always reward puppy afterwards with praise and treat.
Next step is to introduce your Pomeranian to a toothbrush in its mouth. Put a tasty treat on the brush like a small piece of cheese, sardine etc. At this stage do not attempt to brush your puppy's teeth .
Once your puppy is comfortable introduce doggie toothpaste. Reward puppy with a treat and much praise at the end of this teeth cleaning session.
While you are taking care of your Pomeranians teeth keep an eye on the progress of your puppy changing teeth. Some Pomeranian puppies can start changing teeth as young as 4 months of age, other Pomeranians may be slower and not change teeth until 7 or 8 months of age.
Another good product is Proden PlaqueOff Dental Care for Dogs and Cats PlaqueOff effectively fights bad breath, tartar and plaque and is simply added to your Pomeranian's food.
Why Do Poms Have Bad Teeth?
Smaller Pomeranians are slower to change teeth than their bigger brother and sisters. Often the canine teeth ( the long teeth on either side of the upper and lower jaw ) do not fall out as expected. Retained puppy canine teeth can cause problems and your veterinarian should be contacted for advice.
I always advise new Dochlaggie Pomeranian owners to have their Pomeranian puppy's teeth checked and any retained baby teeth removed at the same time as the puppy is desexed.
Final Thoughts on Pomeranian Teeth Problems
When to worry, If your Pomeranian suffers from any of the following;
Sores on the tongue or gums.
Weak teeth or broken teeth.
Bloody saliva.
You should at this point contact your veterinarian for a professional diagnosis and treatment.
The Pomeranian Grooming Book has full details on how to care for your Pomeranian's teeth
Copyright Pomeranian.Org.All Rights Reserved.
Disclaimer: The Content is not intended to be a substitute for professional veterinarian advice, diagnosis, or treatment. Always seek the advice of your veterinarian with any questions you may have regarding the medical condition of your dog. Never disregard professional advice or delay in seeking it because of something you have read on ANY website.
References and Further Reading:
[1] Denise Leo "The Pomeranian Handbook".