Making your oatmeal shampoo for your dog can be a great way to treat their skin with natural ingredients without exposing them to harsh chemicals.
It is cost-effective and easy to make. Just make sure that you speak with your veterinarian beforehand if you have an over-the-counter product in mind to determine if it will meet the needs of your pup before just diving into making it yourself at home.
Several tools and supplies are involved in creating this easy DIY remedy, like a blender, so be aware of what you will need before trying it out.
Making oatmeal shampoo for dogs doesn't have to be complicated; remember key points such as the instructions being followed precisely, the right ingredients being used, and any special considerations needed when properly caring for the dogs' skin at home.
With these tips and tricks in mind, you'll soon have a healthy and wonderful-smelling companion!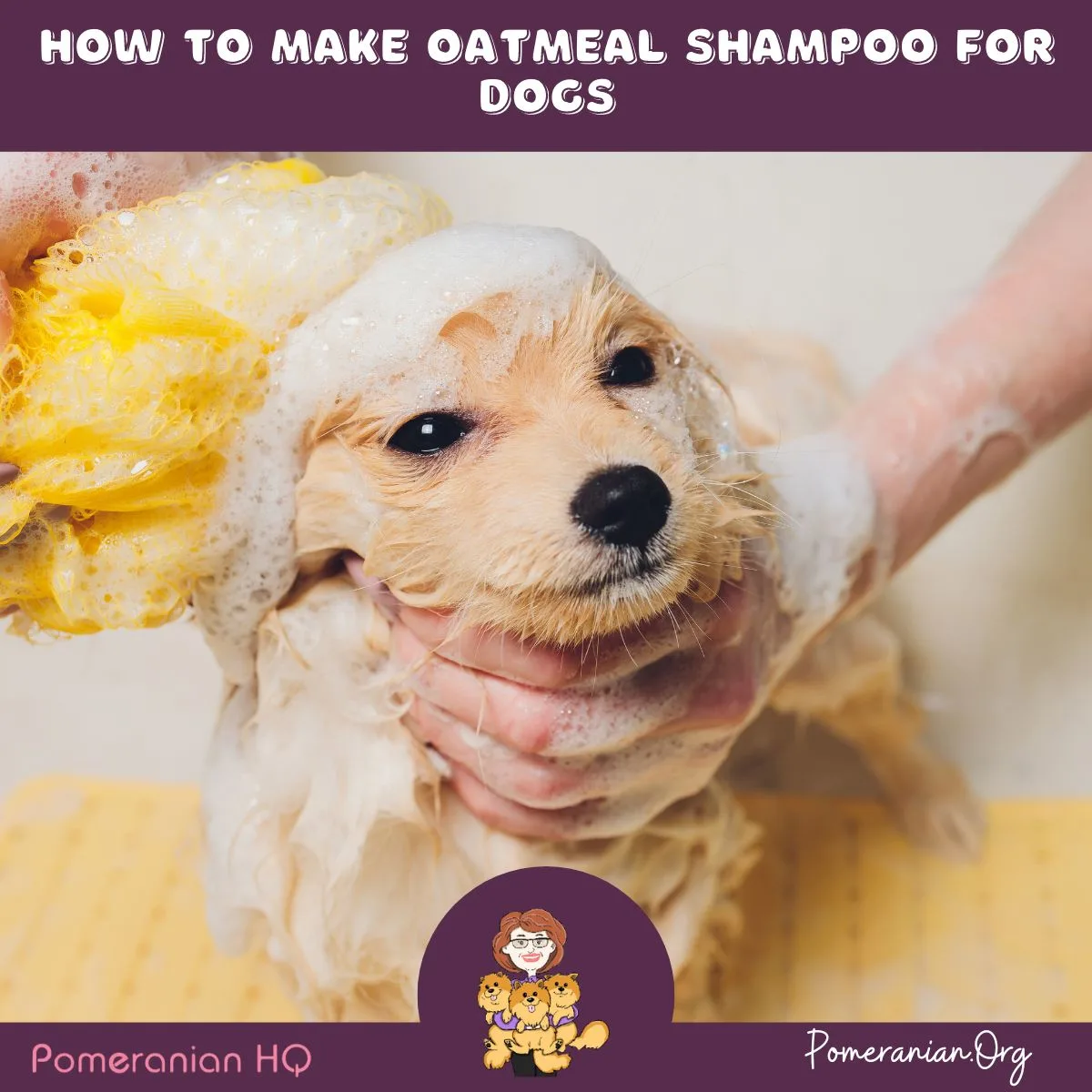 How Does Oatmeal Puppy Shampoo Ease Pomeranian Itchy Skin?
Pomeranian itchy skin is a common Pomeranian care issue. Oatmeal shampoo provides relief for a lot of Pomeranian allergies. This may also help relieve many Pomeranian skin conditions, including Pomeranian hair loss problems.
It's time to learn more about how the best shampoo for Pomeranians can ease itchiness, as well as many other benefits.
You'll also learn how to make oatmeal puppy shampoo alternatives for yourself.
Oatmeal has been used as a cultivated crop since the Bronze Age. Other civilizations, such as the Egyptians, Romans, and Greeks, also saw the potent benefits of oatmeal to protect the skin and make it more beautiful than ever.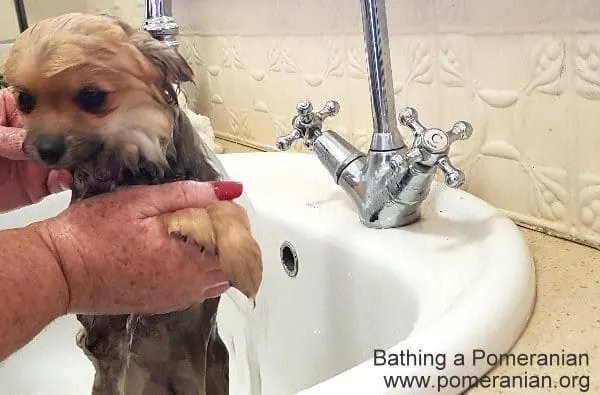 Oatmeal has two forms when used for breakfast cereals. However, the third type is best for skincare, and that's colloidal oatmeal because it is ground into a powder for baths and pastes.
Two chemicals in oatmeal soothe irritated and itchy skin. These are called phenols and avenanthramides. Oatmeal helps balance the skin's pH levels, so it's also useful for relieving symptoms of psoriasis and eczema.
How Oatmeal Puppy Shampoo Helps Pomeranian Skin Problems
Oatmeal dog shampoo provides many benefits to ease most Pomeranian Skin Problems. An oatmeal bath for dogs can soothe and moisturize most Pomeranian itchy skin. Very few, if any, dogs have problems with oatmeal baths, and I have not yet encountered a dog allergic to oatmeal shampoo.
Oatmeal baths for dogs help ease allergy symptoms, hot spots, dry skin, and tick and flea problems. This dog shampoo also acts as a coat cleaner and softener.
What Ingredients Should an Oatmeal Puppy Pomeranian Shampoo Contain?
When shopping for oatmeal Pomeranian dog shampoo, always read the labels thoroughly. You want to see ingredients that will help give your dog relief.
Good dog oatmeal bath ingredients, include tea tree oil, vitamin E, and aloe. Avoid low-quality ingredients. If you have doubts about what to buy, go for something hypoallergenic or say it's ideal for dogs with sensitive skin. Avoid any deodorizing dog shampoos.
How to Make Oatmeal Shampoo for Dogs
How to make oatmeal dog shampoo and dog shampoo alternatives. You can make your own oatmeal Pomeranian homemade dog shampoo with a few common household ingredients. Below are the best homemade dog shampoo recipes.
Diy Oatmeal Shampoo for Dogs Recipes
Grind a cup of oatmeal into powder with a food processor, coffee grinder or blender. Combine with a quart of warm water and a cup of baking soda. Blend until the ingredients are well mixed and then apply that mixture to your dog's coat after making it as wet as possible. Leave it on your dog for a minimum of 5 minutes and then thoroughly rinse off and towel dry.
If you prefer, add a cup of ground oatmeal to a quart of warm water. Stir the water as the oatmeal slowly mixes in and then place your dog into the tub and let him soak for around 15 minutes. Massage the mixture deep into the coat so his skin gets the same attention as the coat. Rinse your pom with warm water and towel dry. Do this twice a week until you can see the improvements in your dog's skin and coat.
You may create an oatmeal Pomeranian homemade dog shampoo that's dry and can be applied to your pom's fur. Mix 1 cup of bran and 1 cup of oatmeal and spread the mix on a baking sheet. Warm the sheet in an oven for 5 minutes at 200 degrees and then use a warm towel and slowly apply it to your dog's coat. Once finished, spend time fully brushing it all out of his coat.
Pups with dry skin can benefit from a special oatmeal shampoo! It's easy to make yourself and only requires three common ingredients. Start by grinding 1 cup of uncooked oats until they become flour-like in consistency, then mix it with ½ cup baking soda and warm water. Lather your pup up, leave the mixture to sit for a few moments if he lets you rinse well - et voila! Pamper your pet pooch at home today with this all-natural doggy spa treatment. Finally, add some pet-safe scented fragrances like vanilla or almond - up to 10 drops if desired or essential oils! Store your doggy creation into a bottle for ongoing washes, and voila – one luxurious pooch ready for playtime again!
All Natural Oatmeal Dog Shampoo. Make your pup smell and feel great with a natural, handmade oatmeal dog shampoo! You'll need: 3/4 cup dry oatmeal,1/2 cup baking soda,1/2 tablespoon honey, 1 1/2 cup filtered water and some measuring cups, a mixing bowl and spoon, and two 8-ounce jars, along with a food processor, to create the perfect blend. Start by pulsing dry oats in the food processor for a fine powder before combining it with other ingredients like baking soda and honey into one big fluffy mixture that you can pour into separate containers. When bath time rolls around, shake up the mix well enough before lathering it onto wet fur to massage skin clean - let sit for a couple of minutes, then rinse off, leaving them refreshed from head to toe!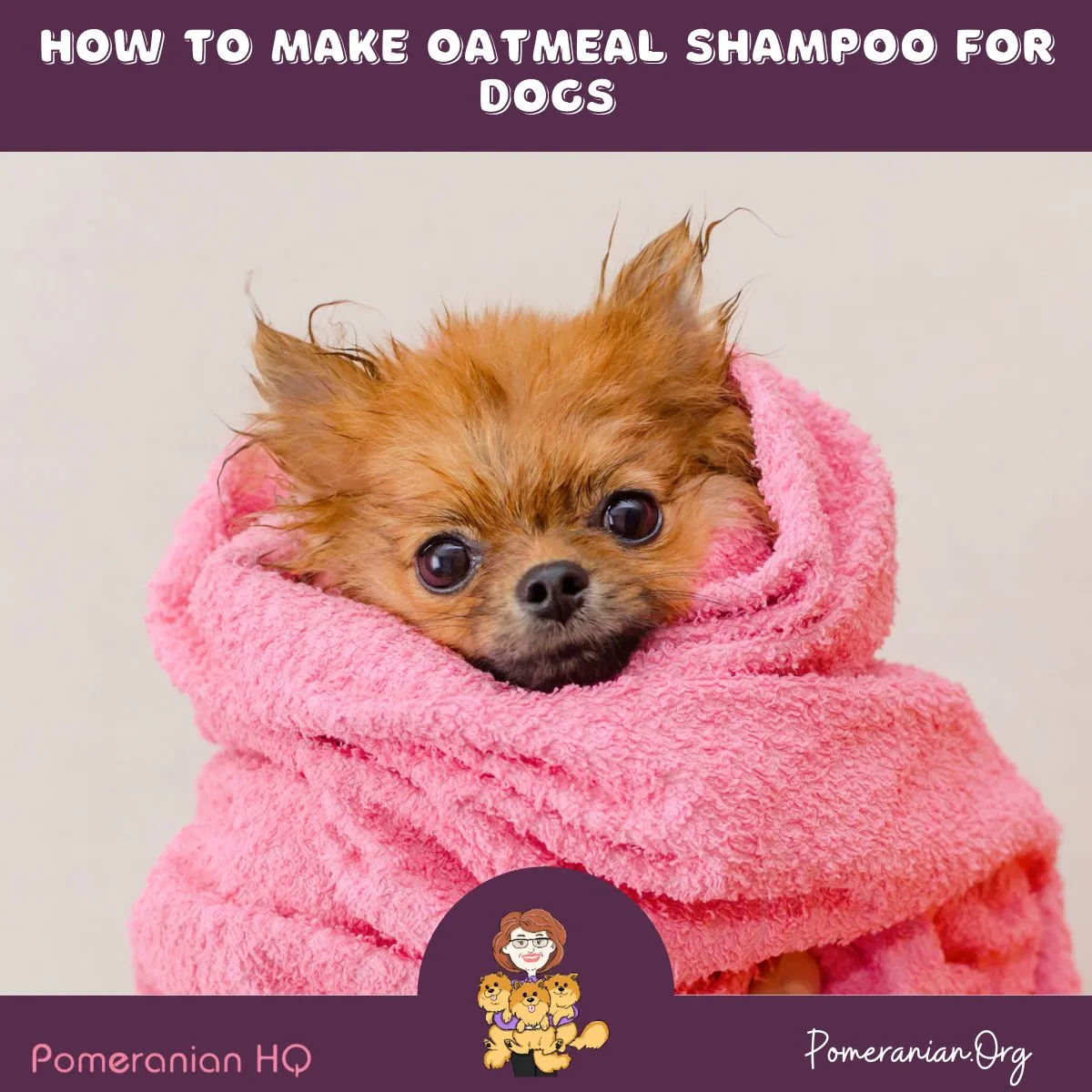 How to Make Oatmeal Dog Shampoo Conclusion
As we have seen, oatmeal dog shampoo is a great way to help keep your dog healthy and looking its best. Not only is it relatively inexpensive to make at home, but it has natural ingredients, so you know exactly what's going into this beneficial homemade dog shampoo.
It nourishes your dog's coat while cleaning away dirt, debris, and unpleasant odors. Plus, if your dog suffers from itchy or sensitive skin due to specific allergies, using a homemade oatmeal shampoo can reduce or even remove itchiness and relieve some discomfort.
With this blog post, you have the knowledge and confidence to go out there and make your own oatmeal dog shampoo for your Pomeranian.
Experiment with the recipe until it produces satisfactory results for you and your pup. You might even discover that you've come up with an amazing new recipe!
For more information on grooming your Pomeranian, brushing, brushes to use and how to care for a Pomeranian's coat download our Pomeranian grooming booklet.
Copyright Pomeranian.Org. All Rights Reserved.
References and Further Reading:
[1] Denise Leo " Pomeranian Grooming".
[2] Denise Leo "The Pomeranian Handbook".
Best Oatmeal Puppy Shampoo for Dogs With Itchy Skin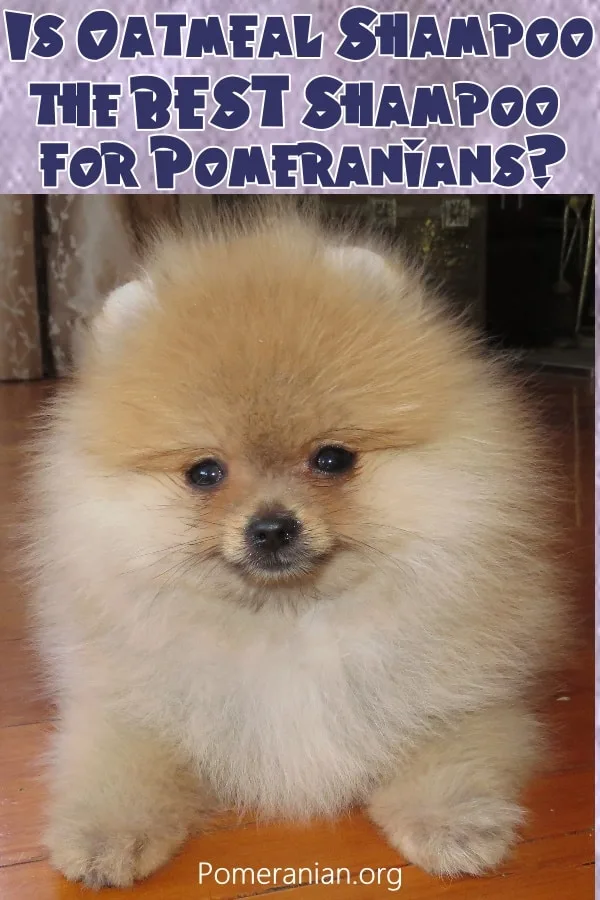 The Pomeranian Handbook