Grooming A Pomeranian at Home
This comprehensive guide will show how you can achieve that immaculate Best in Show look on your own Pomeranian.
Give you and your Pomeranian the winning edge at Dog Shows, or simply to show off your beautiful Pomeranian to your friends and family.
Learn how to easily create the Teddy Bear Pomeranian look for your pet Pom. Just like a professional Pomeranian groomer.
Learn all of the inside secrets the professional Pomeranian dog groomers don' t want you to know.
All my 40 years of experience of Pomeranian show grooming experience have been compressed into the Pomeranian Grooming Video and Pomeranian Grooming Booklet for your benefit.
Learn what are the correct Pomeranian Grooming Supplies to help you easily and quickly achieve a professional show dog look for your Pom. Many Pomeranian grooming tips and the perfect bathing routine explained in detail. How often to bath your Pom. The best coat products, shampoos and conditioners to use on a Show dog or a pet Pom.
Many diagrams and drawing explaining actually how to groom a Pom. Before and after Pomeranian grooming pictures.
How to deal with problem Pom coats and how to deal with Hot spots. Pomeranian grooming cuts and styles illustrated. Show and Teddy bear Pom clipping style. How to train your Pom to enjoy grooming explained.
Pomeranian Grooming Booklet available for instant download NOW.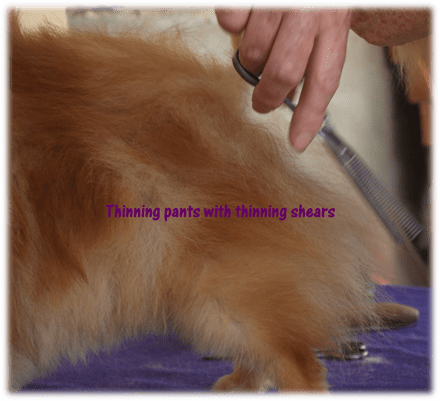 The perfect complement to the Pomeranian Grooming Video The Pomeranian Grooming Guide is available here on THE Pomeranian Information Site  as an eBook in  PDF format.
Download and store on your computer, tablet, phone and print a hardcopy if required. The Pomeranian Grooming Guide will be sent to you via email.
The Grooming Guide is also available at Amazon.Com in Kindle format and other outlets including iBooks, Nook, Kobo etc.