In England, in 1761, George III was shortly to be crowned King. His soon-to-be Queen was Charlotte from the Duchy of Mecklenburg, a German territory, and a neighbor of Pomerania. She was only 17 years old when she committed to this politically expedient marriage.
Queen Charlotte's Pomeranian Dogs
Queen Charlotte brought her beloved Pomeranians with her. These dogs were either white or cream in color, except for Fino, a black and white dog who was especially loved by the Prince of Wales (King George the Fourth).
Pomeranian dogs lived in the Royal palaces and several of the Queen's peers received a Pomeranian for themselves. The King's son, (King George the Fourth) carried on this royal tradition, and examples of this appeared in paintings by Gainsborough and Stubbs.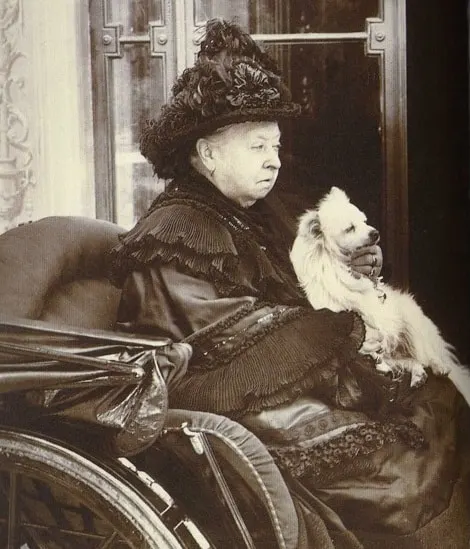 Queen Victoria's Pomeranian Dogs
Queen Victoria was Queen Charlotte's granddaughter, and she obviously inherited her grandmother's passion for Pomeranians. She was widely acknowledged as the most famous person who owned and exhibited Pomeranians during her lifetime.
Over the years she imported numerous Pomeranians from different parts of Europe. The dogs had different colored coats and her kennel in Windsor housed more than 30 Pomeranians.

Queen Victoria housed several different dog breeds in her Home Park Kennels. In February 1891 in Crufts (London), the Queen first exhibited Pomeranians and Collies.
The people of England greatly admired and loved Queen Victoria as well as her dogs, who became very popular. She absolutely loved her Pomeranians and they were of great comfort to her during the period after Prince Albert passed away.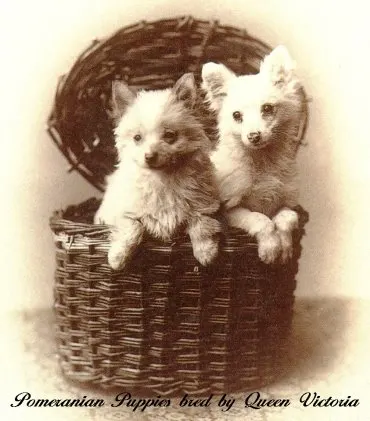 The Queen's royal Pomeranians often traveled with her. The royal train contained a specially made compartment to house her dogs during her train trips.
Her dogs were even protected by special policemen to guarantee their security and safety. When Victoria was on her deathbed, she asked her people to bring her favorite Pomeranian to keep her company during her final days.
Because people had an incredible fascination for the dogs in the Queen's life, there was a mammoth amount of information available to the general public.
So there's plenty of accurate information about her dogs and their involvement in her life. Much of this information appeared in the New York Times, various British papers and magazines, as well as canine-specific magazines.
While Queen Victoria was on holiday in Florence in 1888, she bought foundation stock of Italian Spitz dogs also called Volpino Italiano or Florentine Spitz.

Reading all about the Queen and her passion for Pomeranians, you should understand that the dogs she loved back in her day aren't classified as Pomeranians today by the English Kennel Club.
There have been many improvements to the breed type of the Pomeranian since Queen Victoria's day and the Pomeranian is now in the toy group in non-FCI countries. The type of dog bred and loved by Queen Victoria is now referred to as the German Spitz and is even shown in a different group in non-FCI countries.
If Queen Victoria was breeding dogs today, her mission to breed German Spitz dogs with the Italian Volpino dogs would probably be frowned upon. This was a common practice of many other Pomeranian breeders of that era and resulted in the appearance of many new colors in the breed.
Queen Victoria Preferred Pomeranians Weighing 6-12 lbs
Numerous sites have erroneously claimed Queen Victoria focused her breeding efforts on breeding small Pomeranians. In addition, also giving credit to Queen Victoria for the reduction in Pomeranian size. Absolutely nothing could be further from the truth.
I am not certain why these fictitious claims are made. Perhaps one internet site adds this misinformation simply because it sounds impressive and additional shady internet sites imitate it. I am saddened by the volume of false information regarding my precious breed posted on the internet.
Below is a description of the style of Pomeranian favored by Queen Victoria and pictures of her actual Pomeranians at her kennel. You should judge yourself the accuracy and reliability of these other sites and their unsupported and outrageous claims.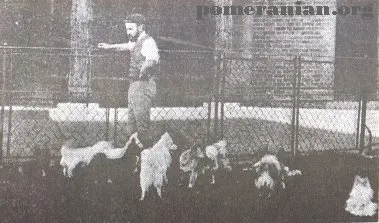 At the end of a kennel visit, a comment was made regarding the "type" of Pomeranian owned and bred by Queen Victoria. The comment went like this:
"A dog's coat is thick and long and appears to be standing out from his body. His tail curls over and lays near to his back. His ears are erect and small and he has a foxy head. His legs and back are fairly short and his overall appearance is of a thick set square dog. Despite all these factors, he seems to be as energetic as a kitten."
Carson I. A. Ritchie wrote a book titled "British Dog – Its History from Earliest Times" He wrote a couple of intriguing statements.
Carson I. A. Ritchie in his book about the history of British Dogs makes some interesting comments:
The Queen stopped exhibiting her beloved dogs after a number of them contracted distemper and died. She suspected one or more of her dogs brought the disease back to the kennel when they were involved in a dog show earlier that year.
The Windsor kennel name is now owned by Queen Elizabeth II.
Pomeranians Owned by Queen Victoria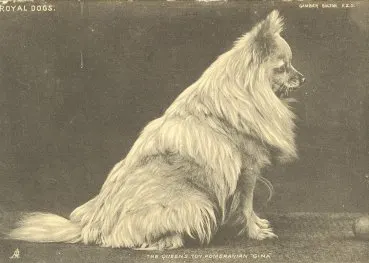 Gena
Queen Victoria purchased Gena in 1888 while visiting Florence. However, her pedigree, breeder, and birth date were not known (a commonality in those days). Gina was white in color with some touches of lemon, and she weighed 7.5 pounds.
Gena was proudly shown at the very first Crufts and the judges diplomatically judged her as an equal winner alongside Rob. Rob, a white Pomeranian later became the very first champion of the breed; Champion Rob of Rozelle.
The New York Times listed Gena as being a dog that was one of the best-known in the entire world and was especially favored by Queen Victoria. After she was listed as originating in Italy, she also gained the name "toy Pomeranian."
Newspaper reports of the time included her weight and both of her first-place show wins at Crufts because that was the first time the Queen had entered her in a show.
Gena was described as "tiny little Gena" because she looked like a silky white ball of wool.
Beppo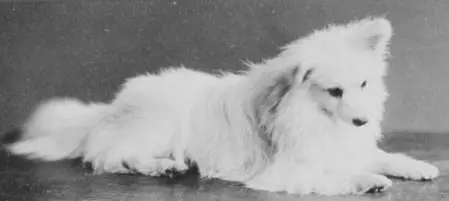 While on her trip to Florence in 1888, the Queen also bought Beppo but, as usual, information about her pedigree birth date and breeder didn't seem to exist. He was a very handsome dog.
Beppo's coat was almost a pure white color, however, he did have a single lemon patch near one eye, as well as a black nose. Beppo came third in the Crufts show in 1892.
Lina
No records exist that Lina ever participated in dog shows. She was mated with Marco and her two puppies came into the world on July 27th, 1891. Their names were Lulu and Mina. In 1892, Lulu won a higher place than Mina. Both puppies had fawn coats.
Lenda
Lenda was one of the other dogs to be bought while the Queen was in Florence. In April 1981, Lenda first appeared at the show conducted at the Kennel Club and narrowly missed out on a first place.
Lenda had a white "blaze" and a fleck of white on the side of her neck. Overall, her color was referred to as "buff". Her tail was regarded as the best carriage and shape, compared to the rest of the Queen's dogs. Her head was foxy and her breechings), were regarded as "handsome and full."

Lenda and Marco had two puppies (Nino and Fluffy), on August the 4th, 1889. Nino's coat had a deep brown and sat higher on his legs than most dogs. Nino was placed third at the 1891 Kennel Club Show.
Fluffy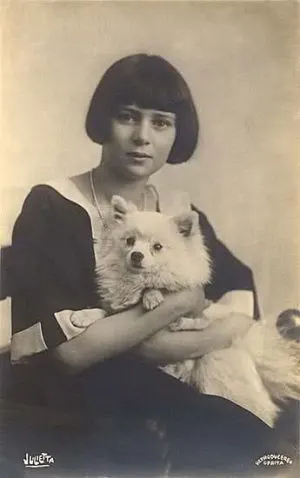 Fluffy achieved greater success than her brother in the show ring.
Her coat was registered as white and cream and some described Fluffy as the smallest of the Queen's Pomeranians. Fluffy's coat was the same buff color that her mother had.
Fluffy's tail was far from perfect, having a limp tail. Beppo and Fluffy were mated and produced one puppy – Glinda.
Mrs. Gordon Lynns was the proud owner of Ruffle, described as an exquisite sable Pomeranian. (Fact: Ruffle was born in 1892 but didn't get his title until 1901.)
Ruffle mated with both Gilda and Fluffy.
Sadly, all the puppies, as well as Fluffy herself, died during the whelping.
Mrs. Lynns offered the Queen the opportunity to mate with another of her dogs and she gratefully accepted the kind offer.
Gilda and Ruffle's daughter (Gilda 2) was born in 1895 and was bought by Mr. Smith, who showed her at Crufts in 1896.
Lenda also gave birth to Alfio (sired by Windsor Marco), a dog with a red coat. Alfio won first place at the 1894 Crufts puppy class.
Marco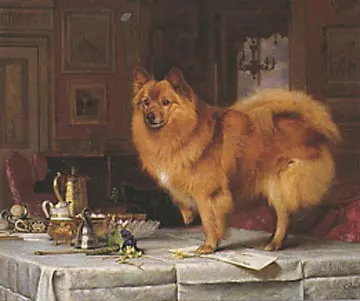 Marco was a German Spitz and he was recorded as being named for Marco Polo, a well-known Italian traveler, and merchant. Marco was born in 1888 and weighed 12 pounds. His coat was deep red sable but his hind featherings and tail had an almost white tint.
Lenda and Marco were mated on three separate occasions and produced a total of five puppies – Nino and Fluffy, Mina and Lula, and Alfio were the last one.
Zeela and Turi
Zeela was another much loved, black dog owned by the Queen.
The Queen bought her last dog, Turi, in 1893. He appears in many photos with the Queen and was the last favorite dog to see HRH Her Majesty alive. On the day prior to her death, she seemed to gain a little extra energy and asked for her staff to bring Turi to her. The Queen lost her life on 22 January 1901.
Blackie
Other people in the Royal family also had a love of Pomeranians. In 1895, the Canine Press published a story about "A Pomeranian."
The Prince brought Blackie from Homburg as a gift for Princess Victoria. Blackie was only four pounds and was often described as lively, friendly, and charming. His Spitz coat is everything you would expect; his body is compact and he's always alert.
When he was one year old, he almost lost his life. Blackie was removed from Marlborough House and taken to Sandringham, he was virtually a skeleton. However, the change in scenery brought him back to splendid health(along with plenty of TLC).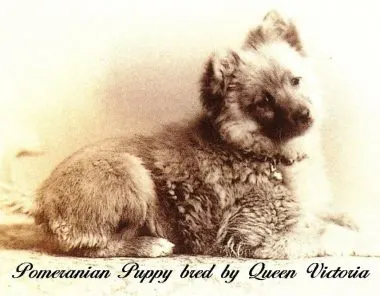 Other Royals Also Loved Pomeranian Dogs
Mrs. Langton Dennis (a successful breeder of this era), received a very special reception when she brought her canines to Buckingham Palace.
When the German Crown Prince and Princess inspected Mrs. Langton Dennis' dogs, it was regarded as a huge compliment and they assured Mrs. Dennis that their small Pomeranians couldn't compare to the English ones when it came to the texture and quality of their coats and that the German dogs lacked that particular "stand-offishness" that was apparent in the English dogs.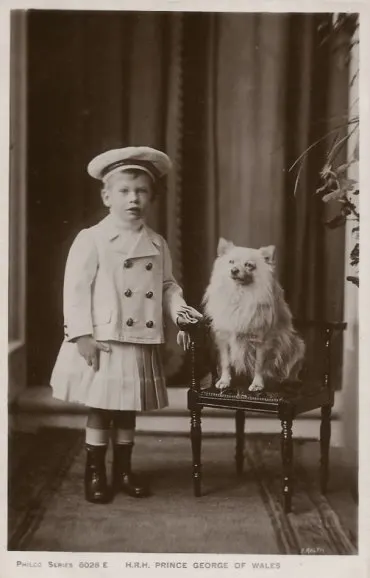 The German Princess later purchased several British dogs, the first from Mrs. Dennis, (a DragonFly dog) and the second one was an orange sable bitch that was bred by Miss Kirkwood – Offley Shining Light, (she was a daughter of Champion Offley (Saucy Atom).
Many other Royals loved and owned Pomeranians. Joséphine de Beauharnais, wife to Napoleon I of France and Princess Ileana of Romania both had a passion for Pomeranians.
Copyright Pomeranian.Org. All Rights Reserved.
References and Further Reading:
[1] Denise Leo "The Pomeranian Handbook".
[2] Milo G. Denlinger "The Complete Pomeranian".
[3] Kimbering Pomeranians "1891-1991".
[4] William Taplin "The Sportsman's Cabinet".
[5] E. Parker "The Popular Pomeranian".
[6] Lilla Ives "Show Pomeranians".
[7] Carson I. A. Ritchie " British Dog – Its History from Earliest Times".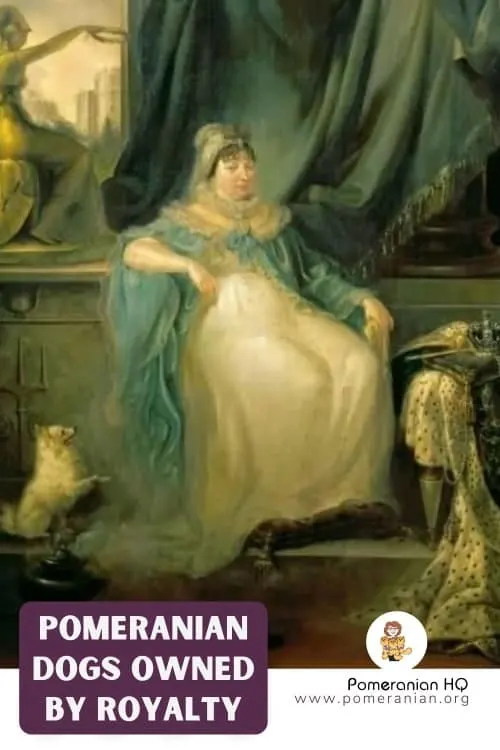 The Pomeranian Handbook