The Top Leave-In and Best Detangler Sprays for Pomeranians
One standout feature of any Pomeranian is their magnificent coat. It doesn't matter what haircut style is their owner's current choice, a Pomeranian dog is always guaranteed to be noticed in a crowd and anywhere they may go.
Whether you own Pomeranians for breeding, to perform in shows, or as a new family pet, caring for their coat begins with a regular routine that is far from simple. Their coat should look shiny and healthy and this means much more than the odd bath and brush. Carrying out all the steps to ensure his coat will be shiny can be a disaster if wrong choices are made.
You will need to invest reasonable money to get the best Pomeranian grooming tools and they include:
Pomeranian shampoo

to clean his coat thoroughly.
Best Pomeranian conditioner.
Pomeranian brush that's top-quality to ensure his coat stays shiny and clean.
A Pomeranian comb designed to get down to the skin without causing any damage or discomfort.
Best detangler sprays for Pomeranians to protect his coat and keep it healthy and clean for a long period of time.
Best leave in conditioner for Pomeranian Dogs and Puppies.
Pomeranian leave-in conditioner sprays will protect your Pom from all smells and leave his coat shiny, smooth, visually clean, and free from all tangles and knots. As the proud owner of a Pomeranian, it's up to you to ensure your dog looks and smells clean and amazing.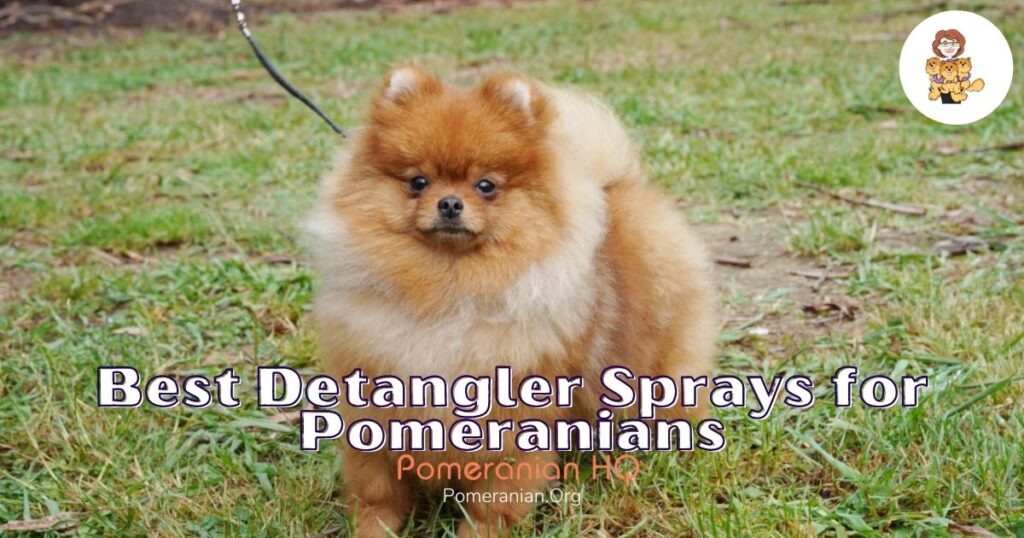 Which Pomeranian Leave in Conditioner Sprays Are The Best?
First on my list of the best Pomeranian grooming tools are the Isle of Dogs products.
Waterless dog shampoos are among the most useful tools for your Pomeranian grooming kit that I have ever seen during my many years of being a proud owner, breeder, and exhibitor of show Pomeranians.
The top product in this group is Bodhi Dog's Waterless Dog Shampoo Spray. As a company, Bodhi Dog markets plenty of products that promote the wellness and health of all types of pets, so they can legitimately be classified as experts in this arena.
Isle of Dogs Primrose Oil Conditioning Mist
If you want a good-quality Pomeranian leave-in conditioner spray that will condition the coat of your treasured Pom like no other product on the market, your only choice must be the Isle of Dogs Primrose Oil Conditioning Mist. Sure, it's a little more pricy than other similar leave-in sprays, it will perform like no other products.

After I bought this Isle of Dogs as the best leave-in conditioner for Pomeranian dogs. I discovered that the smell was well worth the buy on its own because it had an aroma like rich evening primrose. This leave-in spray has herbal, all-natural extracts that combine to ensure your canine family member's skin that's very soothing whilst eliminating any flakes of skin.
The fact is, this leave-in spray is very useful for both skin and coats, (aka, the double whammy). This makes it ideal because getting rid of unpleasant smells is only 50% of the battle when trying to choose an ideal leave-in spray. After all, your Pomeranian deserves nothing but the best when it comes to selecting ideal products, such as a Pomeranian leave-in conditioner spray, that will be very effective for your Pom.
Isle of Dogs Everyday Conditioning Spray
I mention the Isle of Dog again as they create numerous first-class, superior products that make it hard for any other company to beat. The Isle of Dogs Everyday Conditioning Spray is another product in their superior range. In my opinion, they have set themselves up as one of the top brands in the canine market, with every product performing equally well.
This is the best Pomeranian conditioner to maintain your Pom's coat and keeps him feeling as healthy as he can be. It's among the best solutions for keeping his coat so soft while detangling all the mats and knots. Part of the formula repels dirt and prevents other elements from staining and/or causing damage to his coat.
This Pomeranian leave-in conditioner spray is a winner for all Pom owners wanting to increase the wellness and health of their Pomeranian's coat.
BioSilk Therapy Detangling & Shine Mist
All Pomeranian owners appreciate that feeling of brushing their Pom's coat and finding tangles and that it's tough to brush through completely. The Therapy Detangling & Shine Mist by BioSilk has solved that puzzle and provides a host of other benefits too. It's one of the best canine leave-in sprays so you really should check it out for your dog.
BioSilk's leave-in spray has natural ingredients that reduce the level of stress when brushing your dog because it decreases the amount of pulling off the matted areas while leaving your Pom's coat smelling so fresh, and feeling so soft and shiny.
It's also perfect between baths or after a bath to ensure your Pom's coat remains clean and fresh for a longer period of time. Extra benefits include no parabens, made in America, and is pH balanced for Poms eight weeks and older. Talk about a series of WOW factors!
Bodhi Dog Natural Deodorising & Conditioning Cologne
If you need a terrific Pomeranian Leave-in Conditioner spray, then check out Bodhi Dog's Natural Deodorising & Conditioning Cologne. Give your Pomeranian's coat a simple spritz and it will eliminate unpleasant odors without overwhelming you. It's the best choice if you don't have sufficient time to bathe him.
This product instantly gets rid of stinky smells that occur when his coat is musty, musky, or wet and he has been outside playing on his own or with other dogs. It's wise to use this cologne 2 – 3 times a week as one of the tools in your Pom's regular grooming arsenal so he retains that pleasant smell between baths.
It's manufactured in America under responsible practices, from sustainable, locally sourced ingredients. No animals are harmed during the production and it has recyclable, eco-friendly packaging.
Bodhi Dog Waterless Dog Shampoo Spray
Bodhi Dog's leave-in spray is perfect for owners with a need to ensure their Poms are clean and fresh in between their regular baths. It's 100 non-toxic, all-natural, no-rinse, and is chockful of a range of natural extracts.
A vital part of caring for your Pomeranian is the confidence to use products that you can rely on to do what they actually claim they can do. If they don't, you won't buy them more than once. This leave-in spray is extremely reliable and its ingredients are professional grade.
Made in the USA, the ingredients are sustainable and sourced locally, utilizing socially responsible practices. No animals are harmed during the process and they have eco-friendly recyclable packaging.
Bodhi Dog All Natural Detangling Spray
I think you can tell by now that I love the Bodhi Dog products as well as their All-Natural Detangling Spray. I have a personal collection of Bodhi Dog products in my Pomeranian grooming tool kit, and it simply wouldn't be complete without this high-quality detangling spray.
This leave-in spray is what I use on all of my Pomeranians each day prior to, and once I finish, brushing them. It's incredibly good at detangling all their hair and soothing and conditioning their skin and coat at the same time. There are zero chemicals, alcohol, or detergents so I have great peace of mind knowing they're all happy and healthy.
An extra bonus is that Bodhi Dogs' products have amazing aromas so I know my dogs will always smell wonderful. If you want one of the greatest American leave-in sprays that also detangle your dog's coat, you owe it to yourself to check out Bodhi Dog for yourself.
Lillian Ruff Waterless Dog Shampoo Spray
Sometimes it can be hard to find time to bathe your Pomeranian every week, despite the fact that it's a necessity. What makes it harder is that their double-layer coat needs more attention than many other breeds so there's no excuse; you MUST put in the time to keep your canine family member as clean and fresh as possible.
One product in my arsenal is Lillian Ruff's Waterless Dog Shampoo Spray. If you can't bathe your Pom, you can use this leave-on spray and be confident that the shampoo and conditioner within the spray will ensure his coat is cared for and remains healthy.
It detangles your Pomeranian's hair and prevents unpleasant smells between grooming sessions. This is another product that's made in America, is free of dyes, parabens, gluten, and sulfate. It's 100% vegan and cruelty-free. I strongly recommend this spray!
Cloud Star Spritzer & Conditioner Spray
If you're on a budget but still have the desire to maintain the health of your Pomeranian's coat between baths, Spritzer & Conditioner Spray by Cloud Star is the product to check out for you. Of all the leave-in sprays on this list, this product is the most cost-effective answer.
Cloud Star's leave-in spray is a very effective conditioner for deodorizing your Pom's coat between baths. Made from all-natural, pure botanical conditi9oners and extracts, you'll notice the difference almost immediately. It's made in the USA and is an ideal solution to keep your Pom's coat clean, soft and deodorized, He will feel healthy and happy every time you give him a quick spritz.
The Viva La Dog Spa Spritz Grooming Spray
The main fact you need to know is that this high-quality grooming product has been created by a small family-owned business where the customers are treated as well as possible.
The bottom line here is that if you need a terrific product that keeps your Pomeranian looking wonderful and feeling great while supporting a family business, this is the ideal opportunity to do just that.
Earthbath 3-in-1 Spritz Dog and Puppy grooming leave-in spray is perfect for detangling your Pomeranian's coat hair but not leaving an oily residue or static. In addition, they make a few different aromas. I have a preference for this dog grooming leave-in spray. This is 100% biodegradable, eco-friendly, recyclable, animal cruelty-free, and is made in America.
Top Performance Pet Conditioner & Detangler Spray
I'm really impressed by this product. If you're after a good-quality leave-in spray conditioner and detangler, you have come to the right place. Top Performance's leave-in spray has been made with cosmetic-grade human ingredients purposely designed to penetrate tangles and mats rapidly so they can be combed out faster.
It's even useful on trouble spots as well as damp coats, particularly where you want to brush the coat. It means you can comb your Pom's coat with no difficulty and the leave-in spray will keep their coat healthy at the same time. Its special formula will also repel urine, dirt, and dust, give a dog's coat an immediate luster and it will leave behind a clean, fresh scent.
The Vet Recommended Waterless Dog Shampoo Spray
There are not many leave-in sprays that are of a high enough quality that I would recommend Pomeranian owners use. However, the Vet Recommended Waterless Dog Shampoo Spray certainly ranks high on such a list. It doesn't contain any alcohol and is a very efficient, no-rinse spray shampoo ideal for cleaning spots, making it handy in numerous situations.
One top quality of this product is that it has no artificial dyes to discolor your Pomeranian's coat. The quality of this hypoallergenic cleaner causes his coat to have a silky feel.
Its efficiency as a spot flea treatment is second to none. In addition to everything else, it's manufactured in America, isn't tested on animals, is made from recycled materials, is eco-friendly, and last but not least, is Pom-friendly as well.
Pawfume Premium Grooming Spray
In the past, I sometimes have found it hard to brush the coats of my Pomeranians because their hair became densely packed and tangled. Since I began using Pawfume's Premium Grooming Spray, the job has become much easier because it has been designed specifically to make my Pomeranian's coat luscious, healthy and smooth before and after brushing their coats each day.
Pawfume's leave-in spray is so simple to use because you just spray him before and after his daily brushing ritual. It eliminates smells and also has a conditioner to clean and freshen his coat for days. It's one of the only premium dog wellness and grooming products that has been veterinarian-certified. That's good enough to entice me to use it on Pomeranian coats.
Miracle Coat Dog Shampoo Spray
I can't recommend the incredible Dog Shampoo Spray by Miracle Coat enough because it's an extremely popular spray to help keep your Pomeranian clean and fresh for a long period. I have heard of dog owners who use this spray for months instead of bathing them for months on end.
Miracle Coat's leave-in shampoo spray forms intensifies, and prolongs an unbelievable luster for the skin and coat of your Pomeranian. His coat will have a natural buoyancy as well as healthy, soft skin after you spray him. It's also so gentle enough that it can be used regularly, meaning your Pomeranian's coat is easy to care for and will remain so shiny and fresh.
Eqyss Avocado Conditioner Mist
I am going to finish the list with a strong product, the Eqyss Avocado Conditioner Mist. Avocado has become recognized (in recent years) as a powerful ingredient in all types of products, many of which are recognized as health benefits. It IS an ingredient in quite a few good-quality leave-in sprays to help your Pomeranian.
Eqyss Avocado Conditioner Mist has all-natural avocado and by using it on my Pomeranians, I have proved that it's a highly effective, good-quality leave-in spray by using it on my Poms.
Avocado has numerous benefits when considering the wellness and health of numerous animals and people. One benefit for your Pomeranian's coat is that the avocado enhances its shine.
It conditions his coat while also moisturizing his skin and coat. If you're wanting a terrific Pomeranian leave-in conditioner Spray, you have no need to look any further.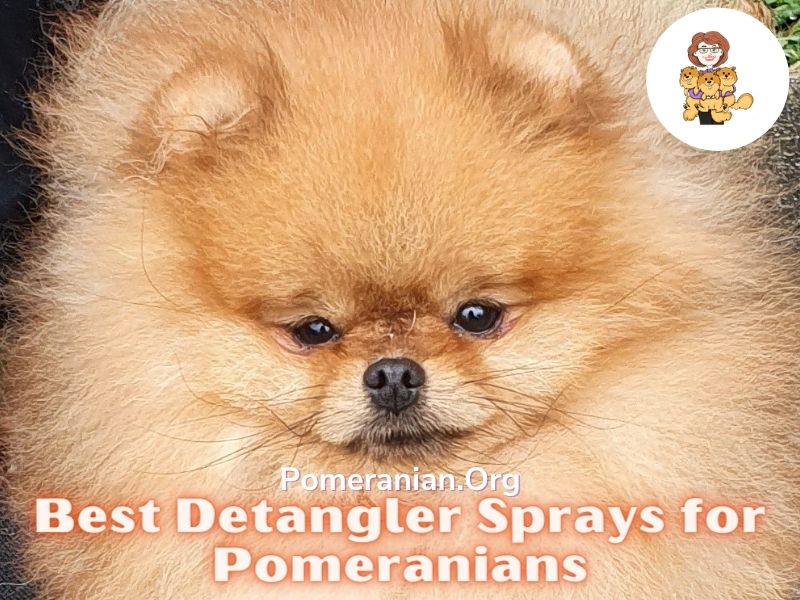 Final Thoughts on Best Leave-In Sprays for Pomeranians
Although small, Pomeranians possess a large character and a personality that can only be described as strong and extroverted. However, much of it is attributed to their look and, consequently, how they feel. The most obvious Pomeranian feature is their coat and, because of this, it's even more necessary to give his coat a small spray to make sure it looks very good and remains as healthy as possible.
By giving your Pomeranian a little spray and brush here and there, you're ensuring that he will feel and look as wonderful as possible all the time. Let's be honest, we all want our Pomeranians to live the longest, happiest, and healthiest lives possible, which is certainly possible if you plan the ideal strategy and this includes the use of the best products for his health.
As a proud Pomeranian parent, I know that leave-in sprays help all of my Poms live a better-quality life, and now I really hope you also know this yourself.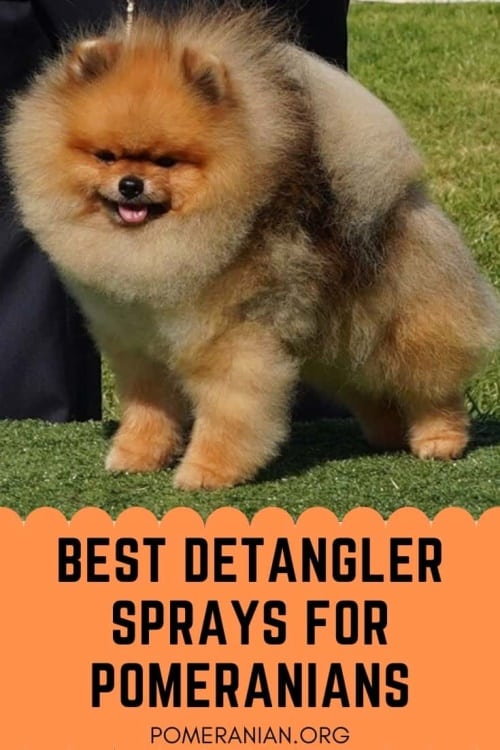 Grooming Tools for Pomeranians. How to Brush a Pomeranian's Coat
Copyright Pomeranian.Org. All Rights Reserved.
References and Further Reading:
[1] Denise Leo "The Pomeranian Handbook".
[2]Denise Leo " Pomeranian Grooming".
The Pomeranian Handbook by Denise Leo