We're in the coldest season of all, Winter, so it's normal to face icy cold weather, whether you're human or canine. A puppy heat pad may be the solution to keep your Pom warm in Winter.
The good news is that dog heating pads are a common product to keep your Pomeranian warm. Manufactures have a tough time finding ways to stand out from the crowd.
Here are a few tips to assist you when deciding which dog heated pad is ideal to keep your Pomeranian warm.
Unfortunately a lot of pets simply can't cope with the severe hot and cold seasons they experience during their lifetime. As humans and owners, we may falsely believe that because they play in the icy snow for a short while, that it's ok. The majority of dogs don't have protection against the extremes of cold weather.
Do I need a Puppy Heating Pad for my Pomeranian?
Poms vary in shape, size and weight. Some are very lightweight while others are carrying extra pounds. Coats may be coarser in some while others maybe much lighter.
Perhaps your Pomeranian may have been clipped short or suffer from coat loss problems. Here are vital points you must think about if you're considering the purchase of a puppy heat pad for your Pom.
There are times when the temperature affects a dog more than usual.
Here are the times when you need to consider whether your dog needs a dog heating pad:
If you take your Pomeranian for a walk or if he spends time in your back yard, not having pet heating pads may be harmful to his health, especially if it's a recurrence.
While walking your dog, you'll see if the weather is affecting him. If he appears to be very cold, then it's time to purchase a top quality heating pad.
Electric Heat Pad for Puppies
Electric heat pad for puppies are the best because they can heat your dog on even the coldest of nights. However, there are also dangers to using this type.
Your dog might chew through the pad itself and then go further into the electric wiring, or may wet his bed and electrocute himself in the process. How shocking!
While there are both negatives and positives when it comes to using heating pads, spend a bit more and buy the best quality heating pads you can.
Don't buy cheap and nasty heat pads because you'll face greater risks when it comes to the safety of your beloved Pomeranian. The best quality pads are waterproof and can't be chewed through to the wiring.
Here are some of the best dog heating pads you can buy:
The K&H Manufacturing Lectro-Kennel Heated Pad with a FREE 22.5″ x 28.5″ large cover. It's made for outside use and has been strengthened so it can handle the coldest temperatures and harshest elements the weather provides. It's also tough enough to deal with typical wear and tear due to its tough ABS plastic and 5.5 foot cord wrapped in steel, all designed to ensure your pet is well-protected.
[easyazon_image align="center" cart="y" cloak="y" height="500″ identifier="B000ICGJZK" locale="US" localize="y" nw="y" nf="y" src="https://m.media-amazon.com/images/I/41gaRiJwZ+L._SL500_.jpg" tag="petgal-20″ width="500″]
An extra positive factor is that you'll save money on your power bill (as well as helping to save our planet) as it uses a low wattage and a self-controlled system that won't ever exceed your beloved Pomeranian dog's body temperature. K&H also includes a cover to keep it clean and it's machine-washable to boot.
Thermal Dog Pad
Many owners don't need a super-sophisticated electric dog heat pad. They easily handle he cold weather with a normal self-heating pad for their dog. They're sheepskin or fleece throws and are sold as "heating pads" for dogs, at a higher price tag.
Instead of wasting money on a throw, it's a better idea to buy a good quality thermal mat that's self-heating and will keep your dog warm. Most thermal dog pads have been specifically designed and made for dogs for this situation.
[easyazon_image align="center" cart="y" cloak="y" height="500″ identifier="B01BE5BOWC" locale="US" localize="y" nw="y" nf="y" src="https://m.media-amazon.com/images/I/41q-PtNWv7L.jpg" tag="petgal-20″ width="500″]When they say "built specifically for dogs," it means they can handle the digging and scratching that a typical dog would do. It's also machine washable because you can't expect your dog to stay clean all the time.
Microwavable Dog Heating Pad
I personally use a puppy microwave heat pad (snuggle puppy heat pads) for the Dochlaggie Pomeranians and recommend the SnuggleSafe pet bed heating pads.
Lots of breeders and dog owners suggest using snuggle puppy heat pads if you have an inside dog. They're easy to use and give enough warmth for hours.
They're handy if you have a Pomeranian or other toy dog that lives in the house but won't last long outside. However, your home should be properly insulated or they may not function the right way.
Snuggle Safe Pet Bed Microwave Heating Pad
[easyazon_image align="center" cart="y" cloak="y" height="500″ identifier="B00008AJH9″ locale="US" localize="y" nw="y" nf="y" src="https://m.media-amazon.com/images/I/51adH3roGuL.jpg" tag="petgal-20″ width="465″]
Dog heating pads only needs a few minutes in the microwave and then you can put the dog heat pad either near him or underneath him or his bed. It's impossible to get anything wrong because it's so simple. It's always wise to have a couple handy as they're cheap and there will be times when you need one.
If you have a whelping box and a bitch that's nursing, a heating pad for puppies will be ideal as you can keep the new mother warm and the puppies will need additional warmth in the early stages as well.
How long do puppies need a heating pad? This depends on the season and age of your pups. It is vital to keep newborn Pomeranian pups warm.
After two weeks, I would monitor if the pups still need the puppy heat pad during the day. Always have enough room in the whelping box to allow the mother pups to move away from the pet warming pad.
Dams will not like as much heat as new pups and will pant and act extremely distressed in an overheated environment.
Heating Pad for Newborn Puppies
[easyazon_image align="center" cart="y" cloak="y" height="500″ identifier="B07VXVGCRM" locale="US" localize="y" nw="y" nf="y" src="https://m.media-amazon.com/images/I/51Dfn5oTHWL.jpg" tag="petgal-20″ width="500″]
Copyright Pomeranian.Org. All Rights reserved.
References and Further Reading:
[1] Denise Leo "The Pomeranian Handbook".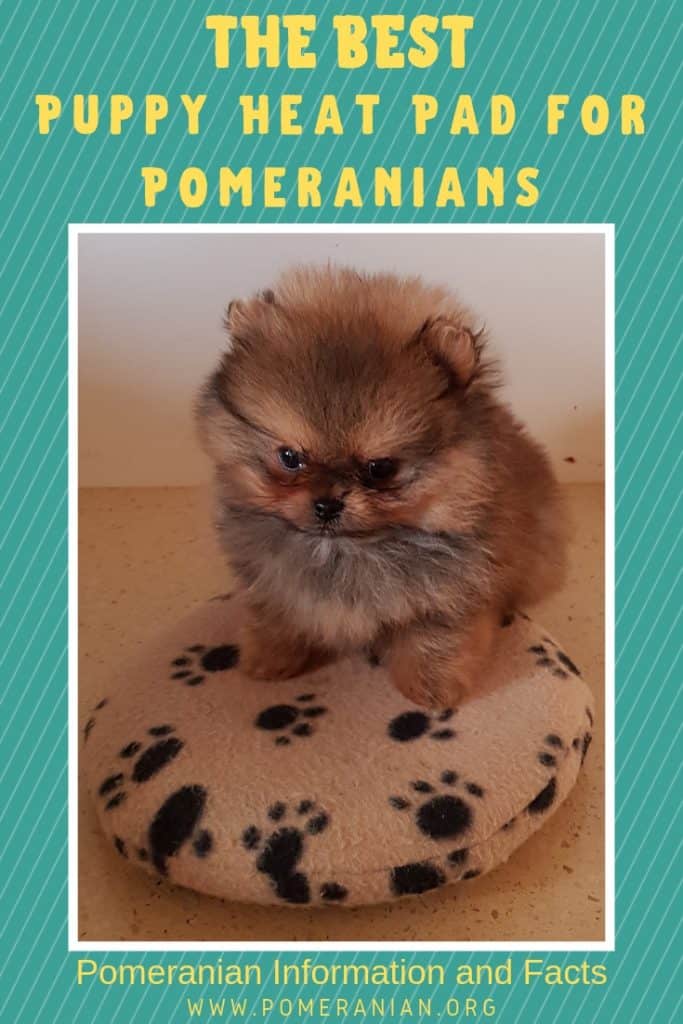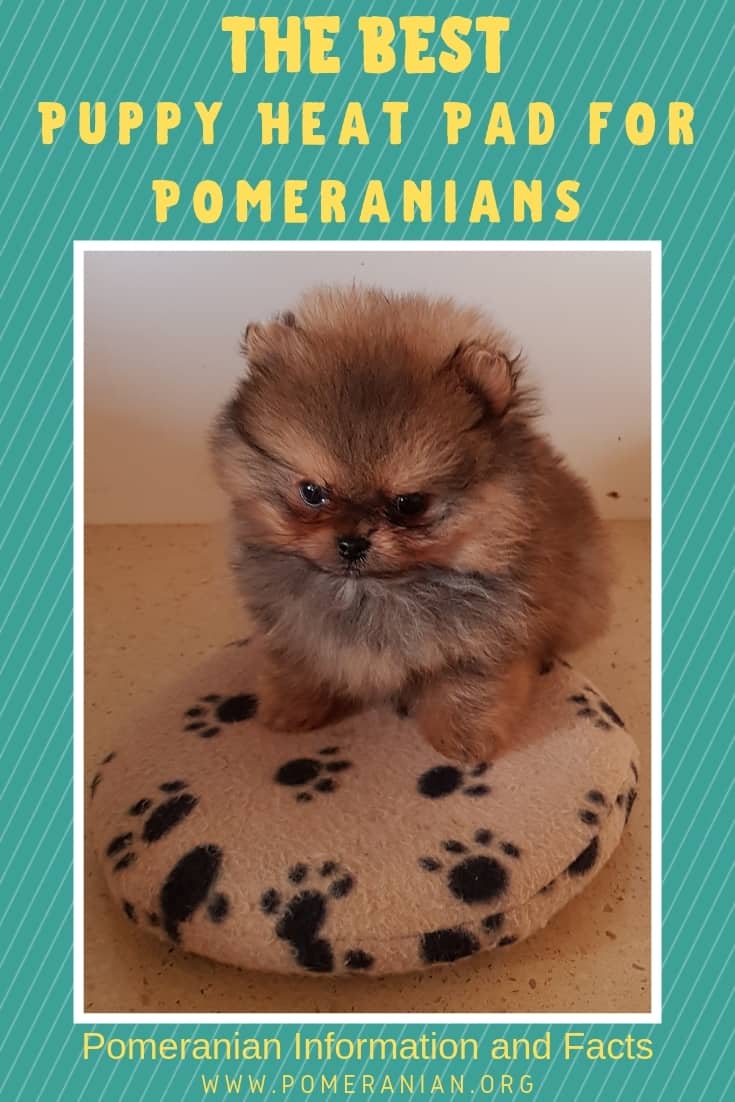 The Pomeranian Handbook
[easyazon_image align="center" cart="y" cloak="y" height="500″ identifier="0992487897″ locale="US" localize="y" nf="y" src="https://images-na.ssl-images-amazon.com/images/I/51BCuEsL2HL.jpg" tag="petgal-20″ width="333″]