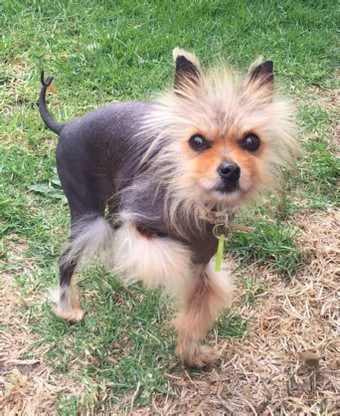 Most Spitz breeds including Pomeranians are susceptible to Black Skin Disease (BSD), a disease where your dog loses his coat. People who have come across this disease cringe at the mention of it but it's vital that you know all about it if you own a Pom.
If your Pom has this, he'll slowly lose all his fur and there are different stages:
1. He'll start having odd patches that look different to the rest of his fur or his coat may appear very dry, dull and dead looking. Usually the first signs of coat loss problems begin with thinning tail coat and areas on the back legs.
2. The patches will get thinner and increase with time.
3. Over time his fur will keep falling out until there are parts with no fur at all and you can only see his skin.
4. Known as BLACK Skin Disease because the dog's skin exposed to air will discolour and appear black.
Alopecia X is another name some people use for this disease. Alopecia X simply means "unexplained loss of fur or hair," which doesn't provide the answers that owners seek.
Sorry the complete article is only available to our Premium members. Please join us now.
Copyright Pomeranian.Org .