This article will explore the qualities of the best dog beds for Pomeranians and what you should look for when purchasing a Pomeranian bed.
For most pet owners, sharing your bed with your Pomeranian is second nature; you have no problems, and you both love it.
However, there are reasons why your Pom should have a bed where he can sleep. Your Pom dog deserves to sleep in the most comfortable Pomeranian dog bed for his tiny body.

If your Pom always sleeps in your bed, he's more likely to face hurdles when he's left alone all day. Because he won't be accustomed to having naps and/or resting in that new bed, his bed, he'll often find it hard to settle in his playpen or gated area when it's daytime. This may create feelings of anxiety and separation.
As a small dog breed, Poms can have toilet accidents and/or may fall off your bed or you might even roll on top of him while asleep. The more access your Pom has to your bed, the greater the risk will be that he wets the bed, soaking through the mattress.
Qualities of the Best Pomeranian Bed
It must have proper support. A top priority when choosing a bed for your Pom is the necessity for good support. Because he's small, many owners might not know how important it is. Stress on a body is related to its size.
When your dog rests, his mattress should curve to provide the right support for his body and ease joint pressure. Your mattress is far too thick from the ideal thickness, thus causing the correct support for your pet's body, being such a small breed.
Your Pom must also have good cushioning on his elbows, or they may stiffen and feel sore, as well as have a thinning of the fur on his elbows. If you have a senior Pomeranian, it's vital that his orthopedic bed is made from memory foam.
The correct size to provide security. Pomeranians generally have an almost overwhelming desire to feel secure and safe. They love nestling up to you to feel protected, which helps most Pom pets become fully relaxed. The Pomeranian bed you buy for your dog must be the right size for him.
Pomeranians vary in what they prefer in their bed. Some like a flat surface, while others prefer it to be elevated. Your beloved pet may like bumper pads for his head.
Regardless of preference, your Pom needs his bed to be a quiet retreat so he can slip inside quietly without making a fuss or allowing others time to help him. In his space, he can rest and sleep away from the noise and other animals, rest comfortably, and get good quality sleep.
High-quality material to stop contact friction. Many things can affect your pet's coat, such as arid Winter air, the hot Summer sun, the type of bristles on the brush you use, and ingredients in his collection of washing and cleaning products.
Contact friction occurs when your Pom's coat rubs against various surfaces. Surfaces can only be gentle or rough, and the intensity will vary, sometimes a little and other times a lot. If it's a rough texture and the contact is prolonged, the coat can be badly affected, causing static, split ends, a frizzy texture, and other issues.
Washable. It's a wise idea to buy a good quality bed with a washable cover (and a spare one) that's easy to wash when needed. Several things can soil the cover, such as:
An unspayed female Pomeranian, while in a heat cycle, usually "flow" for a minimum of two weeks. Although Poms may only produce a light, barely noticeable flow, it's still something to watch for and clean when necessary. If the bedding doesn't get cleaned with soap and hot water, it's very unhygienic.
Your dog's body creates natural oils within his body 24/7/365. Every few weeks, the bedding needs a wash due to the oil build-up. Your dog must be washed every 3 - 4 weeks to prevent dirt and oils from accumulating. This is the ideal time to wash his bedding too.
Minuscule amounts of these oils will sink into the bedding as your Pom sleeps. Eventually, it will begin smelling either a musty smell or weird sweet and sour smell. Food particles, dust, dirt, and debris will affect his bedding and needs a wash so that bedding becomes hygienic again.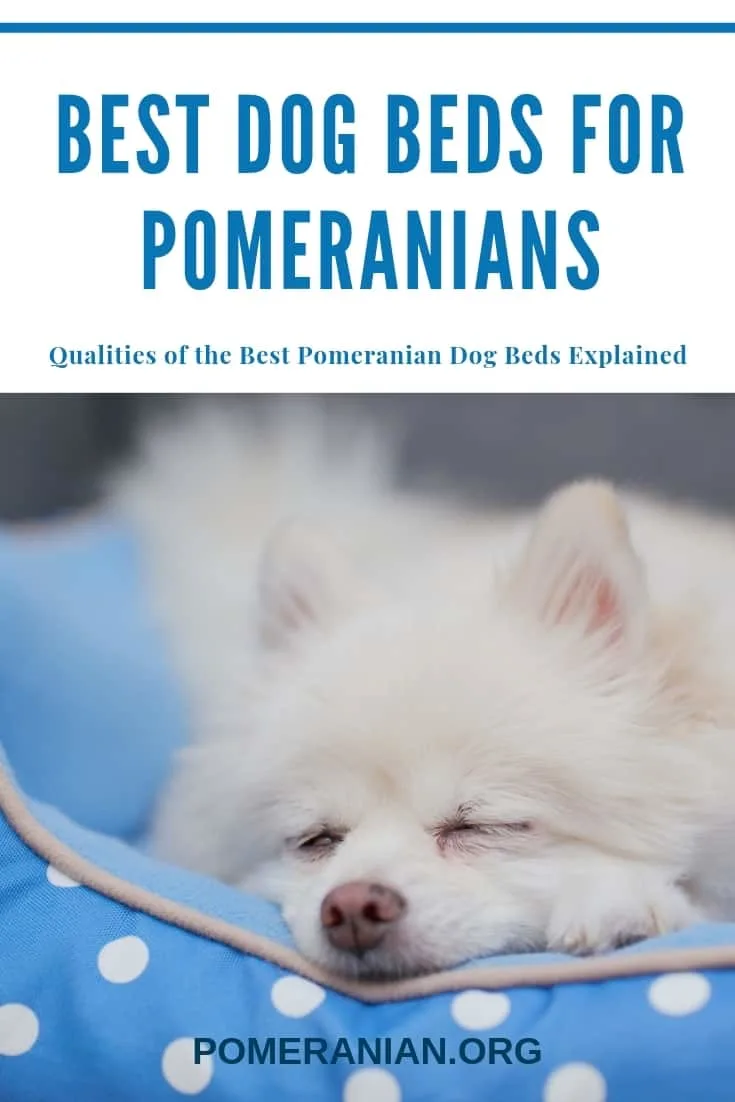 Best Dog Beds for Pomeranians
Recommended good quality bumper Pomeranian dog bed
Many Pomeranian adults and puppies feel safe, comfortable, and secure in a bed with raised sides. Beds' mattresses are extremely supportive.
Recommended Memory Foam Orthopedic Pomeranian Dog Bed
If your Pom of any age has problems with hips and/or knees, choose an orthopedic-style bed as it provides joint support, eases pressure, and helps your dog get better quality sleep.
These beds are ideal for any age Poms because you can't spoil your dog too much when it comes to comfort and health. You can have a bed with low or high bumpers and even a flat mattress if your pet loves sleeping and relaxing on your floor.
Specialty Pomeranian Bed
There are times when a dog is best suited to an atypical bed. Some prefer being raised from the floor, ideal in Summer when air flows beneath them. A raised bed is a great way of allowing your Pom to relax while enjoying the outdoors.
Your Pom might prefer to be raised so he's level with your bed. If so, a raised indoor pet house is probably the answer.
Ramps and Steps for Human Beds
If your pet sleeps in your human bed with no problems, that's fine. However, you must be wary of how your Pom gets up onto your bed and down again. Buy steps for small dog breeds or a ramp if your dog is a senior, and you'll help your Pom feel safe when trying to get up to you or down to the floor.
Copyright Pomeranian.org. All Rights Reserved.
References and Further Reading:
[1] Denise Leo "The Pomeranian Handbook".
[2] Milo G. Denlinger "The Complete Pomeranian".
[3] Kimbering Pomeranians "1891-1991".
[4] E. Parker "The Popular Pomeranian".
[5] Official Standard of the Pomeranian (AKC). American Kennel Club, 2011.
[6] Official English Kennel Club Pomeranian Breed Standard , 2017.
The Pomeranian Handbook