This article will explore the qualities of the best dog beds for Pomeranians and what you should look for when purchasing a Pomeranian bed.
For most pet owners, sharing your bed with your Pomeranian is second nature; you have no problems and love it.
However, there are reasons why your Pom should have a bed where he can sleep. Your Pom dog deserves to sleep in the most comfortable Pomeranian dog bed for his tiny body.
If your Pom always sleeps in your bed, he's more likely to face hurdles when left alone all day. Because he won't be accustomed to napping and resting in his new bed, he'll often find it hard to settle in his playpen or gated area during the daytime. This may create feelings of anxiety and separation.
As a small dog breed, Poms can have toilet accidents and fall off your bed, or you might even roll on top of him while asleep. The more access your Pom has to your bed, the greater the risk that he will wet the bed, soaking through the mattress.
Qualities of the Best Pomeranian Bed
It must have proper support. A top priority when choosing a bed for your Pom is the necessity for good support. Because he's small, many owners might not know how important it is. Stress on a body is related to its size.
When your dog rests, his mattress should curve to support his body and ease joint pressure. Your mattress is far too thick from the ideal thickness, thus causing the correct support for your pet's body, being such a small breed.
Your Pom must also have good cushioning on his elbows, or they may stiffen and feel sore, as well as have a thinning of the fur on his elbows. If you have a senior Pomeranian, his orthopedic bed must be made from memory foam.
The correct size to provide security. Pomeranians generally have an almost overwhelming desire to feel secure and safe. They love nestling up to you to feel protected, which helps most Pom pets become fully relaxed. The Pomeranian bed you buy for your dog must be the right size.
Pomeranians vary in what they prefer in their bed. Some like a flat surface, while others prefer it to be elevated. Your beloved pet may like bumper pads for his head.
Regardless of preference, your Pom needs his bed to be a quiet retreat so he can slip inside quietly without making a fuss or allowing others time to help him. In his space, he can rest and sleep away from the noise and other animals, rest comfortably, and get good quality sleep.
High-quality material to stop contact friction. Many things can affect your pet's coat, such as arid Winter air, the hot Summer sun, the type of bristles on the brush you use, and ingredients in his collection of washing and cleaning products.
Contact friction occurs when your Pom's coat rubs against various surfaces. Surfaces can only be gentle or rough, and the intensity will vary, sometimes a little and sometimes a lot. If it's a rough texture and the contact is prolonged, the coat can be badly affected, causing static, split ends, a curly texture, and other issues.
Machine Washable. It's a wise idea to buy a good quality bed with a washable cover (and a spare one) that's easy to wash when needed. Several things can soil the cover, such as:
While in a heat cycle, an unspayed female Pomeranian usually "flows" for at least two weeks. Although Poms may only produce a light, barely noticeable flow, it's still something to watch for and clean when necessary. If the bedding doesn't get cleaned with soap and hot water, it's very unhygienic.
Your dog's body creates natural oils within his body 24/7/365. The bedding needs a wash every few weeks due to the oil build-up. Your dog must be washed every 3 – 4 weeks to prevent dirt and oils from accumulating. This is the ideal time to wash his bedding, too.
Minuscule amounts of these oils will sink into the bedding as your Pom sleeps. Eventually, it will begin smelling a musty or weird sweet and sour smell. Food particles, dust, dirt, and debris will affect his bedding, and he needs a wash to become hygienic again.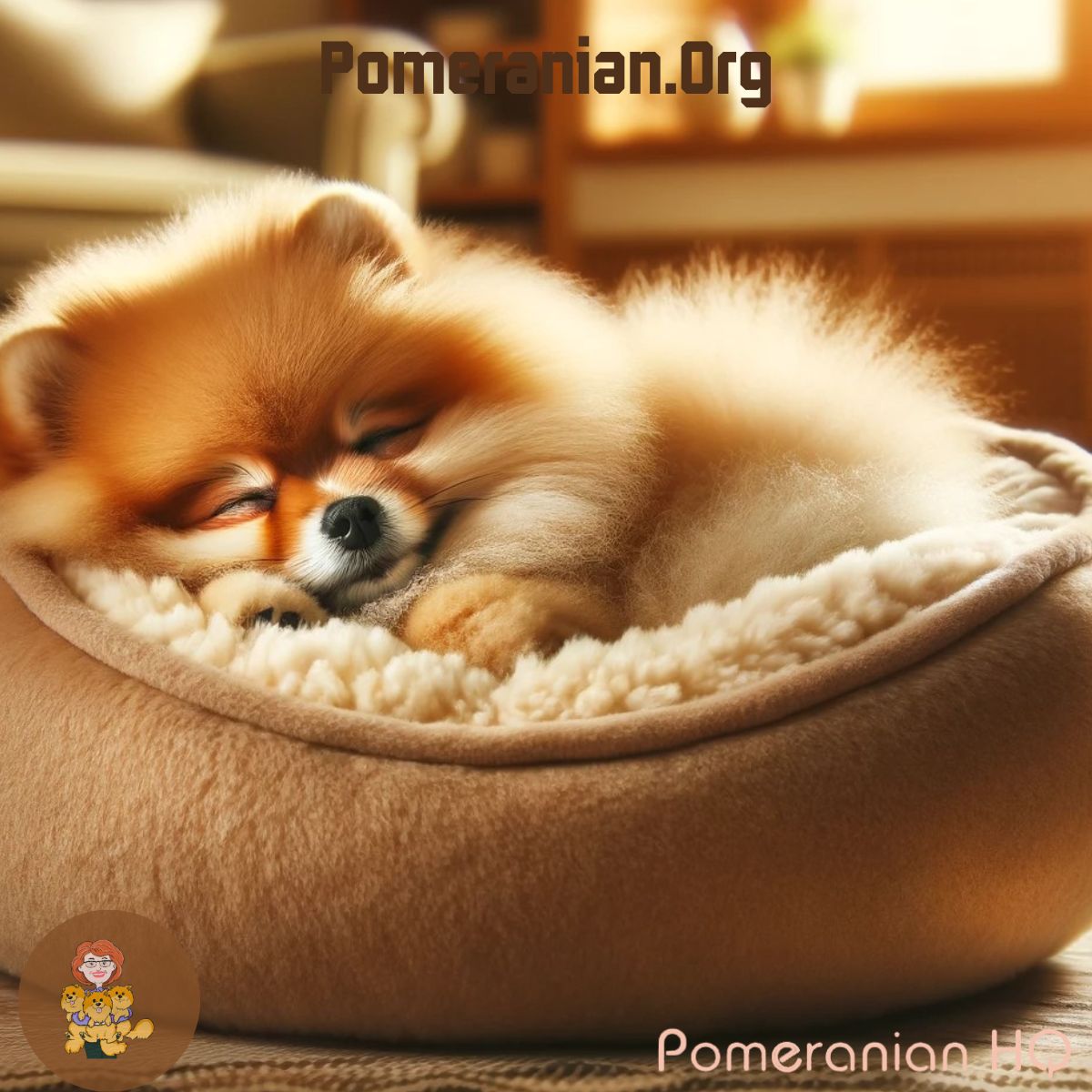 Choosing Dog Beds for Pomeranians Hints
Finding the best beds for Pomeranians, those adorable small dogs involves considering their unique needs for comfort and cleanliness. Like many furry friends, Pomeranians often enjoy a cozy spot to curl up and relax. A key feature to look for in a Pomeranian bed is a removable cover.
It is paramount for Pomeranian owners to ensure their furry friends have the best possible rest. The right dog bed contributes to better dog sleep and addresses various needs specific to Pomeranians.
The pet's weight and size are crucial when searching for the best Pomeranian dog bed. Small dog beds are a great option, offering a comfy bed perfectly proportioned for Pomeranians. These beds come in different sizes and designs, catering to dogs of all sizes and ages, from playful puppies to seniors.
This is especially important for Pomeranians, known for their thick, luxurious fur. Moreover, the compatibility with a washing machine is another vital aspect to consider.
Machine Washable Dog Beds
Additionally, many Pomeranian dog carriers now come with a removable and washable dog bed cover, making them easy to keep clean. Pomeranian beds come in a simple design can be more elaborate, and are available in different colors to match any home decor.
Pet parents will appreciate that washable dog beds are a must-have item, ensuring easy maintenance and hygiene.
Beds that can be safely and effectively cleaned in a washing machine save time and effort, making it easier for owners to keep the bed in top condition. This feature is particularly beneficial for Pomeranians, as their beds can become quickly soiled due to their active nature and tendency to bring in debris from outside.
This is not just a matter of convenience; it's about maintaining a hygienic and comfortable sleeping environment for your pet. Removable covers allow pet owners to unzip and remove the cover for washing easily, ensuring the bed remains free of dirt, hair, and potential allergens.
Choosing a bed for small dogs, with adequate support and size-appropriate cushioning, ensures your Pomeranian gets the restful sleep they need. By prioritizing these key features, you can provide your Pomeranian with a bed that offers comfort, cleanliness, and convenience.
Senior Dogs Have Special Requirements
Senior Pomeranians, or those suffering from joint pain, can greatly benefit from orthopedic pet beds. These beds are designed to provide additional support, helping to alleviate discomfort and ensure a cozy bed for older pets.
Handy Travel Beds
For Pomeranian owners who love to travel, fabulous dog carriers with a handy travel dog bed feature can be perfect. These carriers often include a soft bed, ensuring your pet remains comfortable during journeys.
Plastic Dog Beds
For those looking for durability, a plastic dog bed can be a good option, while those seeking luxury might opt for a soft bed made from plush materials.
Best Dog Beds for Pomeranians
Many Pomeranian adults and puppies feel safe, comfortable, and secure in a bed with raised sides. Beds' mattresses are extremely supportive.
Recommended Memory Foam Orthopedic Pomeranian Dog Bed
If your Pom of any age has problems with hips and knees, choose an orthopedic-style bed as it provides joint support, eases pressure, and helps your dog get better quality sleep.
These beds are ideal for any age Poms because you can't spoil your dog too much regarding comfort and health. You can have a bed with low or high bumpers and even a flat mattress if your pet loves sleeping and relaxing on your floor.
Specialty Pomeranian Bed
There are times when a dog is best suited to an atypical bed. Some prefer being raised from the floor, ideal in summer when air flows beneath them. A raised bed is a great way of allowing your Pom to relax while enjoying the outdoors.
Your Pom might prefer to be raised to level with your bed. If so, a raised indoor pet house is probably the answer.
Details of Best Dog Beds for Pomeranians
Sale
Bestseller No. 1
Small Calming Dogs Bed for Small Dogs Anti-Anxiety Machine Washable Fluffy Luxury Anti-Slip Waterproof Mute Base Warming Cozy Soft Pet Puppy Round Bed
Comfortable and deep sleep : Comfy soft warm Bionic faux fur dog bed is reminiscent of a pet mom's embrace,creating an anti anxiety and calming pet bed, make your pet have deep restful sleep.
Fluffy calming bed for dogs: A dog bed allows your puppy to have their own space, a place where they can curl up and relax. Your dog will get a solid night's sleep in this luxurious round bed. The cushioned plush Expandable Polyethylene bolster dog bed provides your dog exceptional comfort, even for dogs with joint pain or arthritis. Plush design dog bed is perfect for any breed of puppy.
The dog calming bed is about 19.7"x 19.7"x 6", perfect for cat or small dog up to 10 lbs to curl up or sprawl on the fuzzy dog bed, this orthopedic dog beds is finished with faux shag fur, ultra soft, warm and comfortable, Satisfies the nesting instinct of dogs who tend to curl up when they sleep
Puppy beds for small dogs washable:The cover is not removable,Just put it in the washer when you want to clean it. The whole bed is safe in the washer and dryer (Hand wash or machine wash on gentle cycle. Tumble dry, low heat).
Notice: This round dog bed is best gift for dogs/cats who love to curl up. Dog bed is stored and shipped compressed, rolled and vacuum sealed in a vacuum bag. Please pat to make the dog bed completely fluffy before use. wait for 48 hours patiently and manually adjust the dog bed to the desired shape. We are always committed to do more professional dog bed to provide you the most satisfactory shopping experience. Please contact us if you have any problem.
Bestseller No. 2
Best Friends by Sheri The Original Calming Donut Cat and Dog Bed in Shag Fur Frost, Small 23″
DONUT PET BED; 23in round dog bed for pets up to 25lbs; this includes breeds such as small Terriers, Daschund, Pomeranian, Shi Tzu, Pug, Chihuahua, all Toy Breeds etc
CALMING COMFORT DESIGN; round shape and 7in tall bolster make this the perfect bed for cuddling up and burrowing, helping to calm dog anxiety and provide a sense of security while your pet sleeps
LOFTY AND SUPPORTIVE; filled and finished in the USA with premium high loft and high density polyfill for long-lasting support and comfort
SAFE FOR HOME AND PETS; made with materials that are free from harsh dyes, skin irritating chemicals, formaldehyde, and flame retardants
MACHINE WASHABLE; machine wash entire bed on gentle cycle and dry on low or no heat; please see our pro tips and special care instructions for more details
Bestseller No. 3
Donut Dog Bed for Small Dogs – Veepax Non-Slip Washable Calming Pet Bed | Soft Fluffy Round Dog Cat Cushion Bed (20″)
【Pet-Safe Material】Our pet beds are responsibly sourced, made with durable luxurious nylon faux fur and non-toxic premium filling to ensure safety and comfort for you and your pets.
【Easy Care】Pets can present some unique cleaning challenges, which is why made sure the dog bed cover is completely machine washable and dryer for your convenience.
【Superior Comfort & High quality】Cozy, Flexible, the bolsters and interior sleep surface are covered with high quality synthetic plush fur that is luxuriously soft comfortable and breathable, Perfect gift to keep your paw friend happy day & night.
【Supports Better Sleep】Our beds feature a round design, creating a cozy, protective atmosphere. Pets will feel surrounded by love and warmth, It helps them to calm down faster, ease anxiety, and sleep well. The raised rim creates a sense of security and provides head and neck support, while the super soft filling offers joint and muscle pain relief.
【Satisfaction Guarantee】100% Satisfaction of Customer Service. If you get any product problems. Please contact us directly, you'll get a quick response and satisfactory reply.
Bestseller No. 4
Extra Small Dog Bed Cute Grey Dog Bed Washable 19 inches Donut Fluffy Small Pet Beds,Calming Anti Anxiety Round Fits up to 10 lbs Soft Warm Pets Beds for Puppy Dogs Indoor
【Washable Dog Bed Small】The doggy bed is machine washable and hand washable(Please machine wash the whole pet bed separately with cold water in a gentle cycle, Tumble dry low or air dry) which can minimize pet odors and excess hair. Your dog will regain a softer dog bed,Easy care for the bed will keep a comfortable and clean sleeping space for our friends.
【Round Dog Bed Small】Calming donut pet dog beds feature nest-like walls helps your dog curl and burrow like it would in a natural environment ,raised rim provide head and neck support,Furry doggie bed can support better sleep.provides a full sense of security for your pet.Make the dog friendlier, calmer, and less anxious,Can also relieve muscle soreness and joint pain.
【Dog Bed Small Size Dog】We recommend the 19" pet bed for puppy dogs and small cats up to 10lbs(Small breed dog:Maltese,Yorkie,ShihTzu,ToyFoxTerrier,Pomeranian)Please select the suitable pet bed according to the actual size of the pet.
【Faux Fur Dog Bed Small】Our dog beds are made high quality materials(Cozy,fluffy plush faux fur exterior,The interior is filled with soft environmentally friendly high quality pearl cotton,Anti-slip PVC dot fabric bottom).This combination allows your pet can play safely and rest peacefully and comfortably on the dog bed.
【Fluffy Dog Beds for Small Dogs】Due to the large amount of cotton filling and the fact that the dog bed is vacuum compressed.When you open package please manually adjust the dog bed to the desired shape and let the dog bed stand for 24-48 hours,lt will regain its original fluffy status. If you have any questions about our pet beds,simply reach out to our customer service team
Sale
Bestseller No. 5
pawstrip Cute Princess Dog Bed, Soft Breathable Bowknot Pet Cat Cushion for Small Dogs, Waterproof Bottom, Self-Warming, Machine Washable (Pink)
COMFORTABLE PET BED: Super soft short plush, smooth to the touch. The Bottom waterproof oxford cloth Moisture-proof and non-slip, and can withstand the wanton toss of pets. Seaming process, machine stitching at the connection, not easy to open the thread, bite resistant and durable.
UNIVERSAL FOR ALL SEASONS: This pet bed has good air permeability, and the smooth fabric makes the dog/cat not afraid of sultry heat in the summer, and at the same time, because of its warm feature, the pet is still not afraid of the cold weather in the winter.
AVOID PET'S NEGATIVE EMOTIONS: If a pet does not sleep well, its emotions will also be affected. The consequences of a long sleep failure are serious. This pet bed is designed according to the pet's engineering, which can keep the dog high-quality sleep, and is the bed that pets like. And No symptoms of allergies to pets
CUTE COLORS AND SHAPES: The color of the pet bed can also affect the mood of life. Bright colors can keep the dog in a bright mood. The design of the side bow increases the beauty of this pet bed and enhances the fun of the dog.
LIGHTWEIGHT AND SOFT: Small size 18.9″x15.0″x7.1″, Medium size 22.8″x15.7″x8.7″, the light and soft pet bed can be washed by hand and machine, easy to clean. Suitable for small dogs such as Corgi, Pomeranian, Teddy, Small Schnauzer, Pug, Shih Tzu, Maltese, Chihuahua, Yorkshire Terrier, Papillon, French Bulldog, etc.
Bestseller No. 6
Tofern Dog Beds for Small Dog Cats Colorful Dots Pattern Striped Cute Fleece Warm Washable Igloo Pet Bed with Removable Cover
★【Highly-quality Material】- Our dog bed is made of durable PV fleece. The interior is made of 7D PP high density foam padding. With these designs, this bed is ultra soft and comfortable. The mat inside is usable on two sides. One side with long fleece and others with short, which is suitable for all year around.
★【Anti-slip Design】- The cat and dog beds use oxford material which is anti-slip and waterproof. It provides better stability and safety. Your dog can play and rest securely in the calming dog bed.
★【Suitable Size】- 13.8 x 15.4 x 14.6 inches (H x W x L). Package: 1 x Pet Bed. The dog bed ideal for small dogs, cats and pets young. It is recommended that you measure the size of your pet before buying. Perfect for small dogs like: poodle, hikuma dog, chihuahua, pomeranian, Yorkshire Terrier, etc.
Sale
Bestseller No. 7
Furhaven Orthopedic Dog Bed for Small Dogs w/ Removable Washable Cover, For Dogs Up to 20 lbs – Ultra Plush Faux Fur & Suede Mattress – Cream, Small
DESIGNED FOR PETS: The classic pet bed mattress design gives both dogs and cats plenty of room to sleep in a variety of different positions, with the gusseted sides providing additional cushioned loft for enhanced nestling and lounging comfort
SLEEP SURFACE: The main sleep surface is lined with thick, cuddly soft, plush curly faux fur that is gentle on noses and paws for enhanced snuggling comfort
EASY ON JOINTS: The egg crate orthopedic foam mattress helps distribute body weight, cushion pressure points, and improve air circulation to help ease discomfort and encourage restful sleep
CUSTOMER ASSURANCE: Comes with a 90-Day Limited Coverage against material defects and may also qualify for our 60-Day Worry-Free Program; restrictions apply: purchases from unauthorized 3rd party resellers may not be covered by Furhaven
PRODUCT DETAILS: Cream; Small, 20″ x 15″ x 3″
Bestseller No. 8
Pet Craft Supply Ultra Plush Calming Anti-Anxiety Pet Bed – Includes Super Soft Comfort Blanket – Great Medium Dog Bed Small Dog Bed Cat Bed Puppy Bed
BUNDLE DEAL : Created to offer your dog and cat the best sleep for the best value on Amazon. We combined the popular calming shag donut cuddler dog bed, with the matching dog blanket. A perfect medium dog bed, puppy bed or cat bed for indoor cats.
DESIGNED FOR WELLNESS: A unique donut shape & high padded walls provide a safe, private place for dogs and cats who love to curl up. The orthopedic dog bed design offer a sense of security and help reduce anxiety and discomfort in your cat or dog.
ULTRA SOFT: Give your dogs or cats the pet bed they always dreamed of – Featuring ultra soft vegan faux-fur shag fabric – your small dog, puppy or cat will love to cuddle up in this bed and blanket combo.
JUST THE RIGHT SIZE: In the photo is "Teddy", the 10-pound Pomeranian. This bed is great for multiple cats, or small dogs up to 20 lbs or medium dogs that just like to curl up. The measures 24×24" with an interior sleep area of 12″x12″. The ultra-soft calming blanket measures 30×40".
EASY CARE: The pet bed comes with a removable cover and blanket which are safe in the washing machine and dryer, helping to keep homes odor, fur, and dander free.
Bestseller No. 9
Dono 1 Pack 3 Blankets Soft Fluffy Paw Print Pattern Fleece Pet Blanket Warm Sleep Mat Puppy Kitten Blanket Doggy Mat Paw Print for Animals-23 * 16in
🦴🦴🦴Multiple Sizes: S- 23″*16″ (60*40cm) / M- 30 "x20" (76*52cm) / L- 41 "x31" (104*78cm)/XL50 "x40" (128*78cm)/XXL60 "x50" (152*128cm), This blanket size is suitable for small and large dogs, as well as other small animals, each size is packaged in three pieces, very affordable and durable
🦴🦴🦴Soft Material: double-sided 100% facecloth fleece texture (polyester) with a cute bone print design. Soft, comfortable, and durable. Well-made fluffy fleece blanket, no pilling, no color loss. It will keep your pet warm and cozy in winter and summer, providing warmth and comfort for your pets
🦴🦴🦴Easy to Wash/Clean: 100% machine washable and dryable. Will not warp or shrink after each wash. Delicate wrap-around design, no need to worry about pet bites and tears. after washing, it's still as good as new and is packed in a sterile vacuum package to ensure that the puppy's blanket is damaged in any way during shipping
🦴🦴🦴Multi-functional: three-piece design, easy to replace, dog blanket can use as a pet warming, bed and nest in any season, also be called daily warming blanket, bath towel, sleeping mat, picnic blanket, etc. Great for floors, sofas, couch protection, dog crates, car seats, or outdoor travel, and a great gift for newborn dogs
🦴🦴🦴Easy to Carry: the blanket is comfortable and lightweight, and easy to compress. Perfect for outdoor sports such as travel, camping, and picnics. Not only can your baby use it for warmth when outdoors, but also for diaper spacing, etc. The charming plush can be used as a comforter cover/stitching/quilt filler for sundries/cats/other animals during rest time
Bestseller No. 10
Who Is Hiding In The Egg ?
Amazon Prime Video (Video on Demand)
Kids 1st TV – Educational Fun Videos For Kids (Director) – 123 Kids TV – Kids Nursery Rhymes TV and Baby Songs (Writer) – 123 Kids TV – Learning Animals Video (Producer)
English (Playback Language)
English (Subtitle)
Ramps and Steps for Human Beds
If your pet sleeps in your human bed with no problems, that's fine. However, it would be best to be wary of how your Pom gets onto your bed and down again. Buy steps for small dog breeds or a ramp if your dog is a senior, and you'll help your Pom feel safe when trying to get up to you or down to the floor.
Bestseller No. 1
GREENBOX Dog Ramp, Portable Non-Slip Oak Pet Ramp for Bed Suitable for Small & Large Dogs & Cats, Adjustable & Folding with 6 Adjustable Height Supports 200lbs Pets for Bed, Couch, Car, SUV
【Safety & Sturdiness Dog Ramp】-We have attached 4 pieces of 6.5cm detachable U-shaped silica gel to the dog ramp to prevent your pet from being injured by the dog ramp moving when climbing. In addition, we cover the walking surface of the ramp with a high traction fabric carpet with grooves. Six crossbars have been added on the dog ramp to provide your dog and pet with the maximum claw holding ability, which can avoid slipping when climbing.
【Upgraded High Quality Ramp】-Dog Ramp for couch is made of high-quality oak wood materials which is tasteless, non-toxic and smoothand, don't worry about rainy and wet weather. Embedded structure not only increases stability but also increases bearing weight to avoid pets injurie.
【Portable Outdoor Dog Ramp】-Foldable and Adjustable dog car ramp is convenient to carry and move indoors and outdoors, it is also convenient to store the dog ramp in your car, under the sofa or bed,which doesn't need to take up too much space. When you need to carry it outside, you just put the panel down. The squeeze lock on the side of the pet ramp will automatically close, so that the ramp panel and base will avoid collision.
【Adjustable Height Pet Ramps】-Dog Car Ramps are 41.33 "in length and 15.7" in width, and can weigh 200LBS pets. The size of the ramp is larger than that of other products, and there are 6 adjustable heights, 13.77, 17.71, 19.68, 21.65, 23.62 and 25.59 inches, respectively. The 6 adjustable heights of the Dog ramp make it easy for Small&Large Dogs Cats and various pets to climb to Bed, Couch, Car and SUV.
【Practical Ramp For All Pets】-The adjustable dog ramp is suitable for small and large old dogs and cats to reach bed, car, SUV, couch, sofa or other places where pets can't get. This pet ramp do not require assembly and are ready to use upon receipt.
Sale
Bestseller No. 2
PATHOSIO PETS Dog Ramp for Bed Small Dog to Medium Dog for All Breeds – 40″ Long, Adjustable 11″-23″ Dog Ramp for Couch, Bed or Sofa, Folding Portable Wooden Dog Ramps (Walnut Wood-Grey Carpet)
Adjustable and Versatile: This 40″ long dog ramp is perfect for small to medium-sized dogs and offers an adjustable height range of 11″-23″, making it suitable for various furniture heights.
Premium Quality: Crafted from walnut wood and featuring a soft grey carpeting, this ramp provides a durable and non-slip surface for your pet, ensuring both style and safety.
Convenient and Portable: The folding design allows for easy storage and portability, making it a breeze to take with you on trips or move around the house as needed.
No Assembly Required: It arrives fully assembled, eliminating the hassle of setup, so your furry friend can start using it right away.
Enhanced Comfort and Independence: With this dog ramp, your pet gains easy access to their favorite spots, enhancing their quality of life and ensuring they can join you for cuddles on the couch or bedtime snuggles on the bed.
Sale
Bestseller No. 3
MEWANG 19″ Tall Adjustable Pet Ramp – Wooden Folding Portable Dog & Cat Ramp Perfect for Bed and Car – Non Slip Carpet Surface 4 Levels Height Adjustable Ramp Up to 90 Pounds – Small Dog Use Only
EFFECTIVE & HELPFUL: The pet ramp reduce the dog's muscle and joint straining caused by jumping, make it easy for older or arthritic pets to reach sofas, beds, cars, and more.
ADJUSTABLE HEIGHT: The pet ramp can be adjusted to 4 heights -10, 13, 16 and 19 inches. The dog ramp is very gradual, even at a height of 19″, its max slope is only 27°.
COMFORTABLE ACCESS: Fabric&White fluff covered dog ramp provide traction for your pet's paws. The grip carpet is designed to keep your pet from slipping when on the ramp.
DECORATIVE & STURDY: Built with a simple design offering a soft accent to any room. The ramps are independently safety tested and rated to support pets up to 90 Lbs.
EASY TO CARRY & STORE: The pet ramps can folds to 3.5" height for easy storage and carrying. Easily store it in your car or at home and not take much space.
Bestseller No. 4
EHEYCIGA Curved Dog Stairs for High Beds, 4-Step Dog Steps for Small Dogs and Cats, Pet Stairs for High Bed Climbing, Non-Slip Balanced Pet Step Indoor, Grey
COMFORTABLE PET STAIRS – This foam dog stair is designed directly against the edge of a bed, sofa or other furniture, so your pet can climb up and down comfortably. It's a dog stair for small, large and extra large dogs.
SPECIFIC AND STEADY DESIGN – 33D density of pure foam make this stair more steady when your pets walk on. The dog bed stairs can provide strong support for pets in the walking process. Low angle slope design can better protect your pet's joints.
MULTIPLE STEP SIZES – This dog stair has 2 steps, 3 steps, 4 steps and 5 steps to choose. Our 2-step stairs fits for chair/sofa/bed up to 13inch. 3-step stairs fits for chair/sofa/bed up to 17inch. 4-step stairs fits for chair/sofa/bed up to 21inch. And 5-step stairs fits for chair/sofa/bed up to 24inch.
EASY TO CLEAN – The dog step has a removable washable cover made of bonded fleece that can be hand washed or machine washed, so you don't require spending a lot of time cleaning it. It's very convenient.
CARE INSTRUCTION – After removing the foam from the compression bag, please allow 24-48 hours for the foam to fully expand before use. No need to set the cover. Please note that the inner foam is not washable.
Bestseller No. 5
High Density Foam Dog Stairs Ramp for Beds Couches, Romrol Extra Wide Pet Steps with Durable Non-Slip Waterproof Fabric Cover, Dog Slope Stairs Friendly to Small Dogs and Cats or Pets Joints, 3-Tiers
🐶DOG-FRIENDLY DESIGN: Different from traditional right-angle dog stairs, this more scientifically designed slope dog ramp is more suitable for puppies and pets with knee joint injuries. The size of the 2-step pet stairs is 23*15*15 inches, whether it is the bedside, sofa or bay window.💕Please note that due to trimming and vacuum compression, the sponge may take a minimum of 24 hours to fully rebound, and there may be variations in size.💕
🐱SAFE AND FIRM: Dog ramp for bed is made of high-density 3D foam. The high-quality foam has good recovery, can guarantee the best support for dogs and protects the dog's knee joints and provides maximum climbing comfort for puppies and kittens. The foam material is light and easy to carry, and stairs for dogs to get on bed can be used indoors&outdoors. Pet steps for small dogs will not deform even after repeated use.
🐕STABLE AND NON-SLIP: Surface layer of the dog ladder is made of thick coral fleece, providing a soft and non-slip experience for your pet's feet. Back of the coral fleece is a waterproof layer, so you won't worry about the dog peeing. Side of the dog stairs for high beds is made of wear-resistant cotton and linen so that dog can grind it's paws. Bottom is made of non-slip nylon, which can be firmly attached to the ground to ensure the stability of the dog steps, and dogs can climb freely.
🐈PET HAIR REMOVER ROLLER: The package also includes a pet hair remover roller to help you easily remove hair from your pet steps and keep it clean at all times. Also can use it to remove pet hair from everyday clothes, sofas, blankets. It won 't destroy the fabric surface. Easy to tear off after use. The brand label on the side of the pet ramp is convenient for storing the Lint Roller, and you can also put your pet's favorite toys here.
🐩WORRY-FREE GUARANTEE: For easy transportation, dog stairs for small dogs is packed in vacuum compression. Please note that due to trimming and vacuum compression, the sponge may take a minimum of 24 hours to fully rebound, and there may be variations in size. When the cover is attached, it blends seamlessly into the staircase. If you have any questions, contact us for a speedy response.
Sale
Bestseller No. 6
Sturdy Dog Stairs and Ramp for Beds Or Couches by ZICOTO – Durable Easy to Walk on Steps for Small Dogs and Cats – Allows Your Pets Easy Instant Access to Your Sofa or Bedside Up to 22″ High
Perfect For Your Dog To Climb Up On Couch & Beds up to 22″ height.: Help your furry friend to comfortably & safely get up right next to your side on the couch for some lovely cuddling sessions! The HappyClimber TM sturdy dog stairs and ramp by ZICOTO simplifies your daily life as a pet owner immensely and is a true game-changer for your dog – great for smaller breeds, senior or mobility-impaired companions
Sophisticated Design – Super Comfy & Easy To Walk On with Pawsoft! TM What a brilliant, practical design that combines the best out of a dog ramp with dog stairs for small dogs (recommended max weight: sixty)! Our Pawsoft! TM design is made of high density memory foam with a fantastic cover made of corduroy giving it reliable traction and not to forget, gentle sloping steps – making it ultra easy to walk on for your dog!
Durable, Stable And Safe – Always Keeps Firmly In Position: You and your beloved pet will love the HappyClimber TM premium dog steps with perfect height of 15.7″ . The pet ramp is sturdy, featuring a non-skid bottom surface, so it will never slide away – stability and safety are top priorities covered with the dog ramps for small dogs!
Stylish Washable Cover – Ready For Action Again In No Time: Everything has been thought of in the pet stairs design! With its welcoming light gray color & darker gray accents, it matches any furniture in style and you can even remove the cover and wash it in the machine – easy, quick & perfectly hygienic
Allow It To Unfold – Vacuum Compression Packaging For Enhanced Transport: To facilitate transport and also reduce the ecological footprint in the logistics chain, the pet steps are vacuum packed; watch them expand & unfold into the shape of stairs up until they are fully rebound after 24-48 hours – now the time has come for your dog to become a HappyClimber TM (the comfy way!)
Bestseller No. 7
Rypet Wooden Adjustable Dog Ramp for Small Dogs, Folding Portable Doggie Ramp Rated for 55 LBS Adjustable 8.3″-17.3″ Dog Ramp for Bed with Non-Slip Traction Mat
🐕‍【Portable Dog Ramp】: The Rypet puppy ramp adopts a foldable design for easy storage. The folded size is about 16.15″*11.82″*4.8″(L*W*H). When not in use, you can easily put the pet ramp under the sofa, in the car or under the bed without taking up much space. Side Designed with a leather handle for easy daily carrying and use.
🐕‍【Four Heights Adjustable】: The wooden dog ramp has four heights for adjustment: 8.3″, 12.6″, 14.7″, 17.3″, suitable for most beds and sofas. In daily use, the size of the ramp can be adjusted according to needs, so as to better help pets get on and off the sofa and bed.
🐕‍【Non-slip ramp material】: The main body of the cats ramp is made of pine wood, which is safe, environmentally friendly and durable. The surface is covered with grooved high-traction fabric carpet, and there are 5 horizontal bars under the carpet as steps, which provide pets with greater claw grip and avoid slipping and falling when climbing. The four corners are rounded to prevent pets and owners from bumping their feet. Great for puppies, senior dogs, and injured dogs.
🐕‍【High Stability】: The stable wooden pet ramp is made of solid wood support frame, the bracket is thicker and larger, and the support crossbar touches the ground, which has stronger bearing capacity and stability.Each ramp for pets has been independently tested for safety and is capable of supporting pets up to 55 lbs.
🐕‍【Folding Pet Ramp Dimensions】: 31.52 inches long * 11.82 inches wide; the adjustable dog ramp landing is suitable for small dogs, miniature dogs and cats, not suitable for large pets. The dog ramp helps your pet easily reach the bed or couch! To reduce the muscle and joint tension caused by jumping, relieve the pressure on the paws and joints.
Bestseller No. 8
4 Steps Dog Ramp/Stairs for Beds and Couches,MOOACE Pet Stairs with High Density Expand Immediately Foam, Washable Cover and Pet Hair Remover Roller – Reduce Stress on Pet Joints/Easy to Walk
Open Immediately Foam:The Foam of this dog ramps for small dogs don't need to waiting 24 hours or 48 hours like other dog stairs, when you open the vacuum packed bag the foam will opens immediately, we use 30 kg per cubic meter of high density (30D)foam, can withstand the weight of 45 lbs,high quality to stay with your dog or pet for a long time.
Gray Washable Cover:This washable cover is made of high quality material and zipper, pet safety is a priority, this cover features a non-slip bottom design for your pet to slide into, and a grainy surface design to make walking easier for your dog.
Reduce Stress On your Pet's Joints:This 4 steps dog ramp for bed is perfect for your dog to climb onto a 19 in "high couch or bed. It solves the problem of small dogs climbing onto the high bed or sofa, It also protects your pet's joints. Especially for older dogs, this pet stairs helps your cute dog and cat come to you for some fun interactions.
Pet Hair Remover Roller:The package also includes a pet hair remover roller and two hair rolls to help you easily remove hair from your pet ramp and keep it clean at all times.
Dimension:The sturdy dog stairs and ramp size is 27.5 x 15.3 x 19.68 inches inches, it is perfect for small pets or cats and dogs with post-year joint injuries.
Bestseller No. 9
3 Tiers Dog Ramp and Stairs for Beds Or Couches – Non-Slip Sturdy Pet Steps – for Small Dogs to get on High Bed
PET STAIRS:The sturdy and stable stairs and ramps are designed so that your pet can walk steadily on them to the bed or couch for a close encounter with you. Perfect for small dogs, senior dogs or pets with limited mobility.We recommend it for pets weighing less than 60 pounds
STABLE AND NON-SLIP:The pet ramp has a corduroy fabric outer cover to increase the friction between your pet's paws and the steps. Climbing ladder has a non-slip bottom surface, stable structure to bring enough security to the little ones.
EASY TO PUT:By placing the pet stairs in your living room or bedroom, you can watch your furry friend play with confidence that the silicone footprints on the bottom won't let him slip and slide around, whether on the carpet or the floor.
EASY TO ASSEMBLE:For easy transportation, the dog ramp is packed in vacuum compression. Normally, it can be fully popped up and unfolded into the shape of a staircase after 24-48 hours. After putting on the outer cover, it fits seamlessly into the staircase.
SUITABLE HEIGHT: The stairs are 15.7in high and 15.7in wide. Compatible with most sofas and beds. Gray steps can also match the style of any of your furniture. And the outer cover can be disassembled and cleaned.
Bestseller No. 10
BSRGMS Dog Ramp for Bed Folding Adjustable Dog Ramp for Couch Portable Pet Ramps for Small Dogs Get on Bed Wooden Dog Stairs for High Beds Non-Slip Carpet Surface 3 Levels Natural Grey
【Folding & Adjustable】:Our adjustable dog ramp has 3 adjustable heights – 11.8, 14.2, and 17.7 inches. Fits most of the furniture and cars in your home. The folding dog ramp is only 5 inches in height when folded. You can easily put the pet ramps in your car or under your sofa and bed without taking up a lot of space.
【Easily Use & Carry】:The dog ramps for bed requires no assembly and can be used directly upon receipt, bringing more convenience to pet owners; the folding dog ramps weighs only 7.5 pounds. The pet ramp adds carry handles on the side so that you can easily carry it indoors or outdoors.
【Stable, Sturdy and Safe】: This ramp for small dogs is made of high-quality wooden material, no smell, non-toxic, smooth surface, sturdy and durable, not easy to break or wear; Our pet ladder adopts a triangular design, which provides sturdy support and enhances the the stability of the ramp is also easy to clean.
【High traction and anti-slip】: The small dog ramp is covered with a high-grip fabric carpet and the ramp has slightly protruding "steps" to help paws maintain their grip without slipping. In addition, the dog stair has four removable U-shaped silicone anti-slip strips. You can use it at the bottom of the dog ramp, which provides security for your fur friends.
【Versatile】: The dog ramp for small dogs, cats and pets can reduce muscle pain and joint tension caused by jumping. The dog bed ramp allows small, sick, old or overweight dogs and cats to easily reach beds, couches and cars, making it the perfect choice for multiple pet owners.
Dog Beds for Pomeranians Conclusion
It is paramount for Pomeranian owners to ensure their furry friends have the best possible rest. The right dog bed contributes to better dog sleep and addresses various needs specific to Pomeranians.
Considering the pet's weight and size is crucial when searching for the best Pomeranian dog bed. Small dog beds are a great option, offering a comfy bed perfectly proportioned for Pomeranians. These beds come in different sizes and designs, catering to dogs of all sizes and ages, from playful puppies to seniors.
When choosing the perfect bed for a Pomeranian, it's important to consider the bed's size, comfort, and suitability for your pet's specific needs.
Ultimately, the best Pomeranian beds provide a safe, comfortable, and cozy resting place, reflecting the love and care of their owners.
Copyright Pomeranian.org. All Rights Reserved.
References and Further Reading:
[1] Denise Leo "The Pomeranian Handbook".
[2] Milo G. Denlinger "The Complete Pomeranian".
[3] Kimbering Pomeranians "1891-1991".
[4] E. Parker "The Popular Pomeranian".
[5] Official Standard of the Pomeranian (AKC). American Kennel Club, 2011.
[6] Official English Kennel Club Pomeranian Breed Standard, 2017.
The Pomeranian Handbook