Are you looking for Pomeranian puppies for sale or cute Pomeranian puppies for sale? Once you have a list of breeders or a referral to a Pomeranian breeder with Pomeranian puppies for sale, it's time to go and visit them.
The majority of breeders don't have large-scale facilities and generally aren't geared towards unplanned visitors. They may just have a small kennel or could be doing it all from their home.
It's unfair to just drop in on breeders unexpectedly. So make some calls and book appointments at mutually suitable times. Then you're sure to get the best attention but don't drag things out as the breeder will be very busy.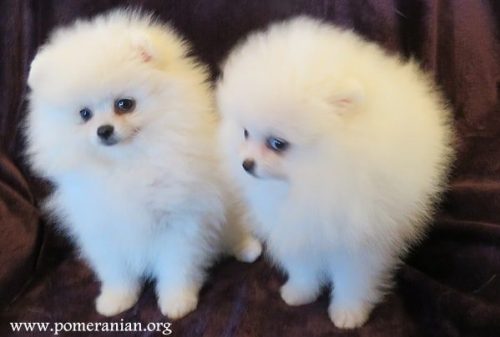 So choose only a couple of the best breeders on your list and book to see them. Pomeranian Breeders don't like you going from one kennel to another and spreading potential germs and diseases unwittingly. Wash your hands prior to your visit and, if asked, remove your shoes when entering.
The Visit to the Pomeranian Breeder
When you visit the breeder, you'll see how he cares for the puppies, whether the puppies and other dogs look happy and healthy and, more importantly, if you and the breeder get along.
Check to see if his facilities are clean and that there's sufficient room for all the dogs. The good breeders will have more than ample room and all cages will be kept as clean as possible.
Important Questions to Ask the Pomeranian Breeder
Do his Pomeranian puppies get to spend time outside and can they play in the grass?
If a Pomeranian puppy is solely raised inside, he may get used to the hard floor as a place to go potty and this will make it harder to housetrain him.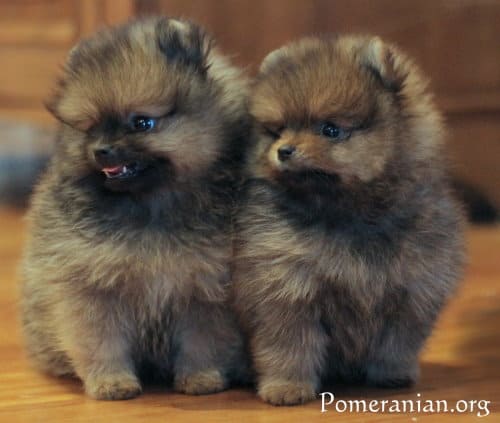 Do Pomeranian puppies spend time socialising with people?
If the puppies are housed in a separate kennel, check whether they do get to socialise inside the home.
Do all the dogs seem healthy and friendly?
Do their coats look cleaned and groomed? Some will like you more than others but none should be growling and snarling at you. As for the looks and temperament, apply leniency to older dogs and the dam, who may have had her coat fall out once she has given birth. Ask to see photos of the dam before she gave birth. She may dislike you being near the puppies but she will be fine with the breeder being there.
Ask these particular questions:

While you're with the breeder, ask these extra questions.
Why was this Pomeranian litter bred?
Good breeders choose specific dogs to mate so the puppies have the ideal qualities of both parents and the breeder will be very excited when explaining this. He may point out the excellent health of the parents, their pleasant temperaments and that they conform to the Pomeranian breed standard. Be wary if the breeder doesn't want to answer your questions or answers them in a strange manner.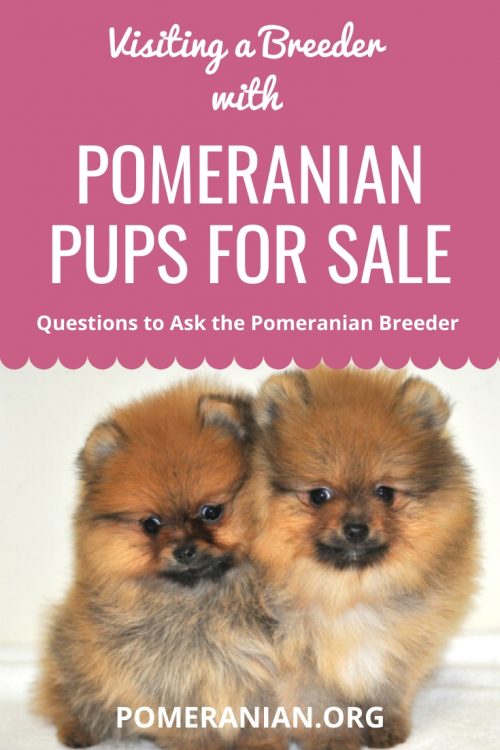 May I see photos of the parents and any other relatives?
This is a loaded question as the excited breeder will bring out a dozen photo albums full and rave about the various dogs within the pages.
How well do the parents match the breed standard?
For example, can the breeder identify a fox-like expression on one dog with a skull that's slightly too domed and has bigger ears. Any breeder who claims the dogs are perfect or tells you to simply ignore the standard should be crossed off your list immediately.
When can I take my gorgeous ball of fur home?
No Pomeranian puppy should be sent home with you prior to reaching eight weeks of age. Like other toy dogs, Pomeranians are often not let go to new homes until they're 10-12 weeks of age.
Copyright Pomeranian.Org. All Rights Reserved.
References and Further Reading:
[1] Denise Leo "The Pomeranian Handbook".
The Pomeranian Handbook by Denise Leo
[easyazon_image align="center" cart="y" cloak="y" height="500″ identifier="0992487897″ locale="US" localize="y" nw="y" nf="y" src="https://images-na.ssl-images-amazon.com/images/I/41HJ1A03qnL.jpg" tag="petgal-20″ width="333″]