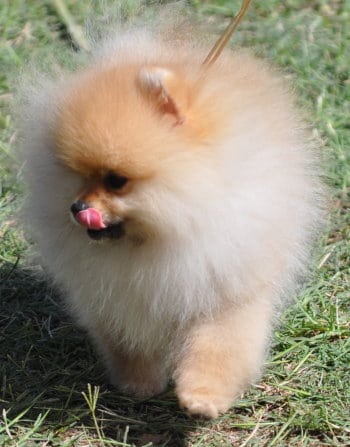 Hairballs can be a serious problem for dogs and cats. Dogs with longer fur are more susceptible to hairballs, and bigger ones at that. If their throats are small, such as in Pomeranians and other toy breeds, as well as in all puppies, then it can become an even more troublesome problem.
Dogs get hairballs for numerous reasons
Dogs often lick their fur and, if they're shedding at the time, a large amount may be ingested. If they have fleas or ticks or simply itchy skin, they'll more often be seen chewing or licking their fur, increasing the possibilities of hairballs. Any fur that your Pomeranian ingests should move through his digestive system. If there's too much of it, he may cough or vomit up the offending hairballs and then there won't be any more trouble. However, occasionally a hairball may be too big to move through your beloved pet's intestines and it can't be coughed up. It then starts blocking his digestive system and begins to ferment. In extreme cases, surgery may be required to remove it before too much damage has been done.
Sorry the complete article is only available to our Premium members. Please join us now. Copyright Pomeranian.Org. All Rights Reserved.