Wolf Sable Pomeranians are a grey color. The coat of a  wolf sable Pomeranian consists of a light grey undercoat and the guard hair is a darker grey ending with black tipping. The grey undercoat and guard hairs can vary in color from silvery off- white to a light grey. The wolf sable Pom must not have any hint of orange in his coat.  Eye rims, nose, lips and pads (the points ) are black.
Identifying a True Wolf Sable Pomeranian
Too many Pomeranians are registered as Wolf Sable without proper verification. DNA color gene testing for the presence of the aw color gene can easily and quickly  prove whether a Pom is indeed a true wolf sable. Talk to your veterinarian who can organize DNA color gene testing. DNA color gene testing will detect if your Pomeranian is a true Wolf Sable or not.
 DNA testing is a helpful tool for breeders. Breeders wishing to breed the Wolf Sable Pomeranian are now able to select breeding pairs who both carry the wolf sable aw gene with absolute certainty.
Beginner Pom breeders sometimes mistakenly register an orange sable puppy as a wolf sable. Orange sable Pomeranian puppies often appear more grey than orange at six weeks of age. However, as they mature, the orange color will come through. Experienced Pom breeders know to check behind the puppy's ears. The actual color of the hair behind a puppy's ears is a reasonably accurate guide to the Pomeranian puppy's adult coat color.
A true wolf sable Pomeranian is a rarity. Those wishing to purchase a wolf sable should ask that the color is proven via DNA prior to purchase.
The wolf sable Pomeranian usually has the harshest,  stand-off coat compared to the other colors in the Pom breed. 
History of the Wolf Sable Pomeranian
Shaded Wolf Sables are today a rare color. Not so in the early years of the breed.
The first Wolf Sable Champion was Mrs Barnett's "Ruffle. Ruffle was later bought by Mrs F. Smyth and exported to America.
Mrs Nicholas an early breeder and exhibitor owned a larger kennel of wolf sable Pomeranians. Wolf sables owned by Mrs Nicholas include, Champion Shelton Sable Mite and Champion Sable Mite. 
A stunning orange sable shaded dog was to come on the scene, who took the Pomeranian world by storm, Champion Dragon Fly. Champion Dragon Fly was bred to most of the wolf sables in an attempt to introduce warmth to the coats. The craze of oranges had began, which saw most of the other colors take a backseat to the oranges and orange sables.
 An early American winning Wolf Sable was Perrywinkle Smo Kee bred and owned by Perrywinkle Kennels.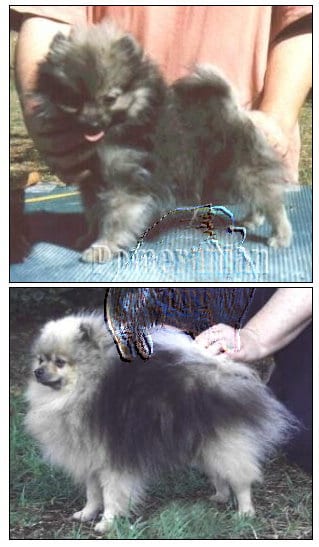 Pictured above: Top photo Wolf Sable Puppy and below Wolf Sable Pomeranian Adult.
Copyright Pomeranian.Org. All Rights Reserved.
References and Further Reading:
[1] Official Standard of the Pomeranian (AKC). American Kennel Club, 2011.
[2] Official English Kennel Club Pomeranian Breed Standard , 2017.
[3] Kimbering Pomeranians "1891-1991".
[4] Denise Leo, The Pomeranian Handbook.
[5] E.Parker, The Popular Pomeranian.
[6] L.Ives, Show Pomeranians.