Black Pomeranians were highly sought after in the early years of this breed. However the popularity of the black Pomeranian declined when oranges and sable made their appearance in the Pom dog world. Numerous quality black Pomeranian females were mated to any other color Pomeranian dogs in an attempt to breed sable Poms. The all black Pomeranian color  is just as popular today, as it has been during any time in the history of the Pom dog breed.
An all Black Pomeranian dog should possess a coat which consist of black guard hairs with a black undercoat and should be a "coal black" color.  The  dog's coat should be free of any red, white-colored or brownish fur. The points ( eye rims, pads, lips and nose) must be also be black.
Guard hairs on an adult, all black Pomeranian dog should be precisely the same color throughout the dog's coat. Exposure to sunlight can cause some burning to the coat,  which will appear as red tinges on the fur of Pom dogs who spend long periods of time outdoors. The black Pom's undercoat may possibly appear a lighter shade especially preceding shedding.
Black Pomeranian puppies often will have greyish tones to their coat during the coat change or puppy uglies stage. This is usually nothing to be concerned about,  as when the adult coat comes in a black Pomeranian puppies coat will usually change to a solid, bright black color.
Breeding and Exhibiting Black Pomeranians 
Many Black Poms have been big winners and the black Pomeranian has also had a huge influence on the Pom dog breed. Breeding black into the oranges and reds enhances the color clarity of the coat and improves pigmentation in only one generation. Black is also a very helpful color to add to a white Pom breeding program. Most successful Pom kennels will include at least one black to use to improve and maintain these very desirable qualities.
Personally, I don't like showing a Black Pomeranian dog.  I have found many judges appear to ignore a good black in favor of the more popular orange and orange sable  in the show ring. I have also found that blacks can be more difficult to prepare for the show ring than the orange and orange sables.
Another problem is the choice of contrasting color clothing for the handler. Never wear black or dark colored clothing when handling any black dog. Light and bright clothing is a much better choice for handlers of dark colored dogs.
Black Pomeranian Coat Care
An all black Pomeranian dog's coat needs special care and attention if it is to look it's best in the show ring. This colored Pom dog needs to be kept out of direct sunshine during the summer months to avoid any red tinges or sun burning of the this colored dog's coat.
Dog coat conditioning sprays containing sunscreen are a must have item to maintain coat condition for an all black Pomeranian. I personally recommend and use the following dog grooming products.
Avoid exposing your black show Pom to harsh sunlight will help the appearance of the black coat. Using ordinary talcum powder for grooming is to be avoided. A good alternative to use on any black show dog is a black chalk block.
White or grey hairs often appear and very noticeable at a young age on the muzzle area of dark sable and black adult Pomeranians, so these dogs will look older than they actually are.
All black Pomeranians are NOT one of the rare Pomeranian colors.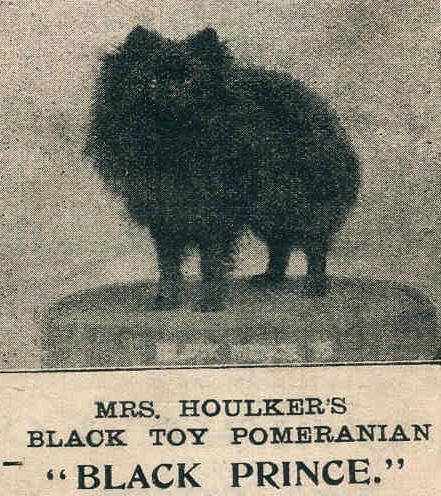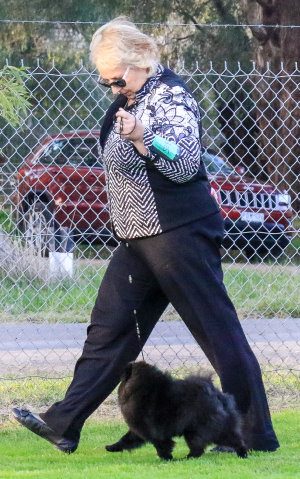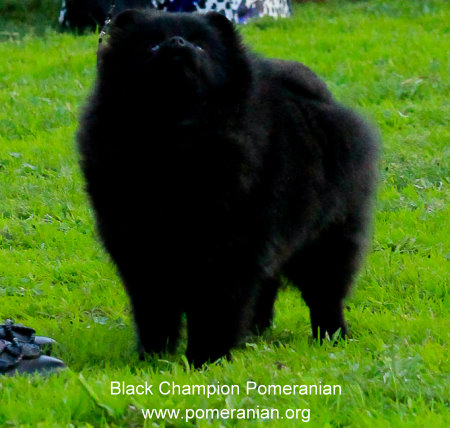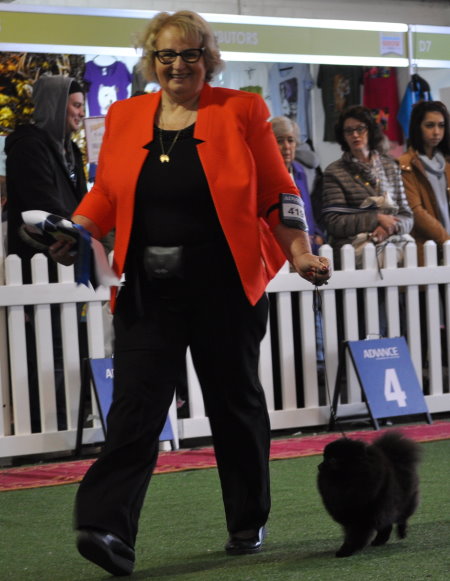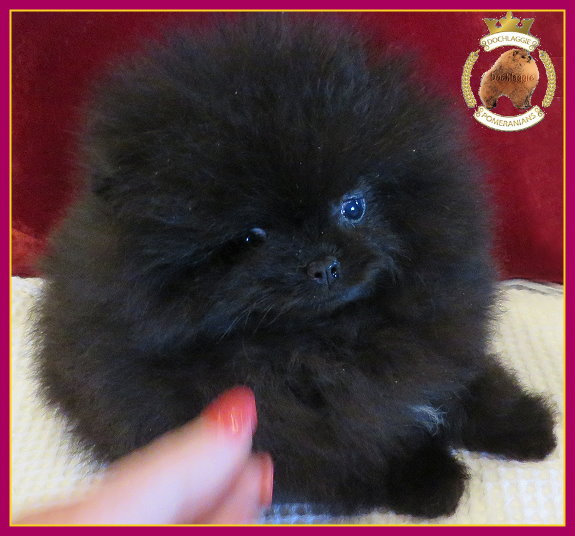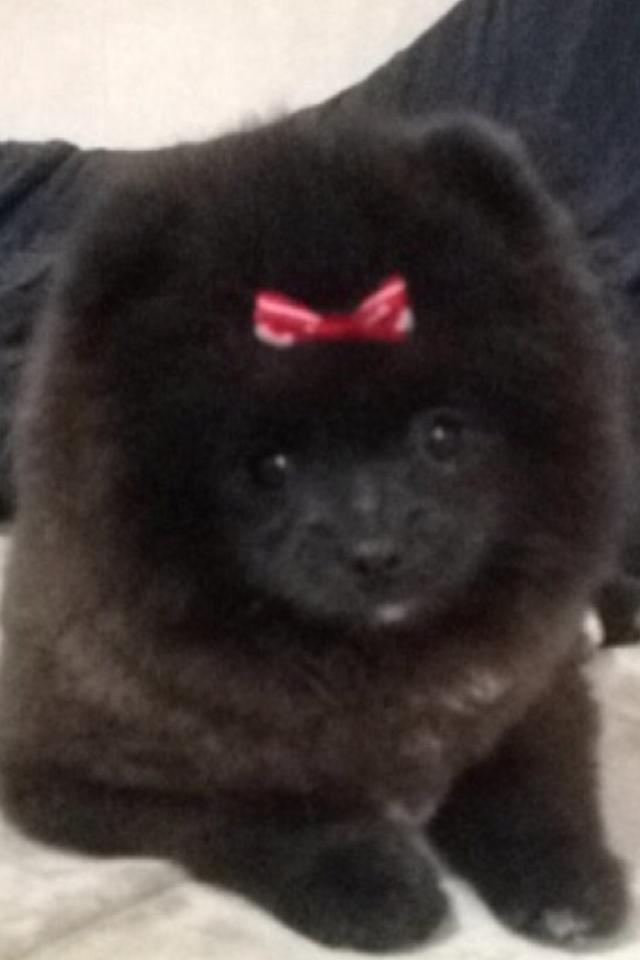 Copyright Pomeranian.org. All Rights Reserved.
References and Further Reading:
Official Standard of the Pomeranian (AKC). American Kennel Club, 2011.
Official English Kennel Club Pomeranian Breed Standard , 2017.
Denise Leo, The Pomeranian Handbook.