If you want to take your Pomeranian with you when you do errands or visit places or friends, there are some smart ways to make it easy to do so. The obvious choice is by using a leash and harness. However, your Pom has short legs and won't be able to keep up with you if you're out for a while.
So you may decide to use a Pomeranian stroller, a Pomeranian crate, Pomeranian carry bag, Pomeranian cage or a Pomeranian sling which means he can rest while you do the walking.
How Far Can a Pomeranian Walk?
Too Much Walking for Your Pomeranian May Include The Following Scenarios:
Visiting the local shopping centre. Some are so big that you'll also get tired. During vacations when you'll do a great deal of walking. Walking around a recreation space, a large park or a lake.
Rushing in and out of numerous shops where an easy way to care for your Pom will be essential. Shopping when you need to keep both hands free so the need to hold your pet's leash will be a definite hindrance.
Any crowded places where he may get trod on accidentally because he's so small that people may not see him.
Additional benefits of a Pomeranian stroller, Pomeranian carry bags, puppy backpacks and slings: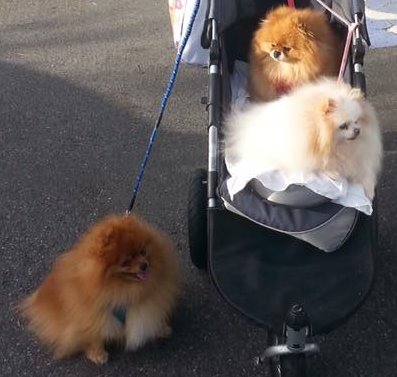 There are lots of places in which pets are forbidden. However, if your small Pom is in a backpack, sling, stroller or carrier, this rule is frequently ignored, although you may get people commenting on how adorable your Pomeranian is.
Pomeranian Sling
The use of a sling is a great way to keep your hands free and ensure your Pom is still right with you at every turn. You don't need to muck around with belts, Velcro or buckles and it's a quick action to put him into a sling and take him out again.
The best dog sling carrier is designed like a curved hammock and the best way is to use it in a criss cross fashion where his weight keeps him in a safe position. Most Pomeranians love the sling because your walking rhythm and your heartbeat create a soothing feeling and instead of wriggling around, he'll stay calm and relaxed.
A Pomeranian sling is made from a strong fabric that enables it to be folded up and put away when you don't need it and it's easy to take with you to use once your Pomeranian gets tired of walking.
Best Pomeranian Sling
Pomeranian Carrier Bags
Unlike a sling, Pomeranian carry bags are a more structured in their design and a bit like baby carriers. They have a solid frame that provides support and has open areas for the legs.
They can be worn on either your front or back, depending on your specific needs at the time. If your Pom tends to wiggle a lot and you need him to remain secure, they're a great idea. For example, you may go hiking and so your Pomeranian will be secured against your body, so you don't have to worry.
Another benefit to using this Pomeranian carry bags is that it makes carrying your Pom easy to do. If your Pom is a bit bigger than normal, the fact that the straps go over both shoulders (similar to a backpack) and certain types will also have a wide belt that's easy to adjust and helps distribute his weight so it's more comfortable.
Pomeranian Carry Bags Ideas
Best Dog Crate for Pomeranian
A Pomeranian crate are generally used for Poms and other small dogs for two main reasons.
The first is when he's travelling by aeroplane. Check the airline to ensure you have one that satisfies their guidelines. Airlines have regulations about Pomeranian crate size.
The other reason is when he's sick. The vet may need to see him and a carrier crate prevents whatever illness he has from spreading to other animals.
Obviously you would also prefer other Pom owners did this for their pets. Never use a carrier crate when transporting your Pomeranian in your car.
It's best to use a canine certified car seat. It's also not recommended to use it as a "training crate" to for keeping him in when you can't watch him. A playpen or gated area is designed for that purpose.
The Best Pomeranian Crate
Pomeranian Stroller
If you know you'll be doing a lot of walking, a stroller is a great idea for your Pom as dogs love riding around in a Pomeranian stroller because they can see what's going on and they can have a rest, or even a nap, if needed. You can also carry store purchases if you have other parts of the stroller designed for this purpose.
A Pomeranian stroller can keep your Pomeranian out of the hot sun during Summer days and you can include a few of his favourite toys to keep him amused. It may have other compartments for treats, a leash, wipes, some water and anything else you need to carry, leaving your arms free to push and browse.
One terrific benefit that the best strollers have is a convertible cover that allows you to zip up a mesh window, to protect against the sun and mosquitos, and you can leave it down when desired.
The Best Pomeranian Stroller
Copyright Pomeranian.org. All Rights Reserved.