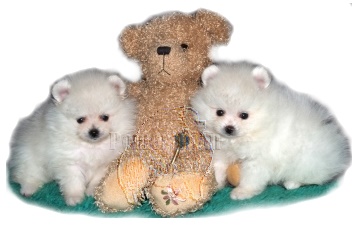 Your Pomeranian will be a member of your family for many years, so take great care to select the right dog for your family. To avoid many of the problems encountered by new puppy owners & save yourself a lot of heartache do not impulsively purchase that cute puppy in the window of your local pet shop. Impulse buying has no place in pet ownership.
Purchase your Pomeranian puppy from a reputable, registered SHOW Pomeranian breeder. It is extremely simple to select a committed breeder and avoid a registered backyarder. Ask if either parent is a champion and how many Champions the breeder has bred. How many years the breeder has been showing their Pomeranians? This gives you the best chance of obtaining a companion who is a true representative of it's breed. Do not be fooled into purchasing a puppy from a registered backyard breeder. A good show breeder will have screened the the parents for genetic problems and will be breeding Pomeranians who are true to the Breed Standard. Your puppy will have been given the best start in life by being reared in clean surroundings with lots of loving care.
I suggest that you should research the Pomeranian breed thoroughly, BEFORE purchase.
Questions you should ask the Breeder before purchasing: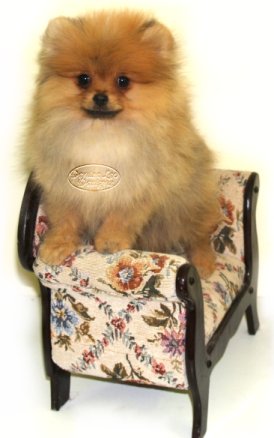 Ask to visit and see the puppy and the parents in the Breeder's home. Ask to see both the parents, this will give you an idea of how the puppy will look as an adult. Sometimes you may not be able to see the sire as the breeder may have used a sire from a different kennel but insist on seeing at least the mother. Do not purchase a puppy from a breeder that refuses to allow you to visit and see the puppy and the puppy's parents. If distance is a problem as for photos and to view the Breeders web site.
If you are buying over the internet ask to see photos. A safeguard to protect yourself from an internet scam is to ask for more photos of the puppy at different angles. Also ask for photos of the parents be forwarded to you. Unfortunately there are now scammers stealing photos from top Breeders websites and representing the puppies in these stolen photos as there own. In some cases the scammer has no puppies at all and will disappear as soon as you make payment. The other type of scammer does have puppies for sale, but very inferior quality. To make an easy sale this scammer also uses stolen photos to sell there puppies. To protect yourself ALWAYS ask for more photos of the puppy and photos of the parents.
If you are buying your new Pomeranian baby puppy on a photo alone. Carefully check the photos. Check if the puppy appears to be happy, healthy, clean and well groomed Does the baby Pomeranian look happy in the photos? Check the expression in the puppies eyes? Is he or she terrified? A happy, healthy, well reared puppy will take take most things in there stride and willingly pose for photos without being terrified. I have seen photos of puppies or sale on the internet, poor little mites, dressed up in beads, flowers and clothes but clearly absolutely terrifed. These puppies have clearly not been well reared.
How big will the puppy grow? Ask about the size of both parents. Ask questions about the size of the puppy now. A good breeder will be able to tell you the puppies current weight. We also have a weight chart on this site.
Ask the breeder how much grooming and exercise your new Pomeranian will require?
Has the puppy been vet checked? Ask about any health problems?
Has the Puppy been wormed on a regular basis?
Has the puppy been vaccinated and will a vaccination certificate signed by a veterinarian be available with this puppy?
Has the puppy been micro chipped? A good breeder will have permanently identified the Pomeranian puppy with a microchip.
Are the parents of the puppy DNA profiled? A good breeder will DNA profile breeding stock .
Does the Breeder do Health testing? A good breeder will have screened the the parents for genetic problems.
Is the Breeder involved in exhibiting Pomeranians? If you are buying for Show purposes only purchase from a breeder actively involved in exhibiting Pomeranians. A good Breeder will prove their Pomeranians in the show ring prior to breeding.
Is the breeder involved in Pomeranian rescue? Only purchase your new family member from a breeder who is dedicated to the breed.
Does the breeder belong to a Breed Club or Association? Is your puppy or kitten be registered by a controlling body and most reliable breeders are members of there breed club? In the U.S.A. your puppy should be registered with the A.K.C. ( American Kennel Club ). ONLY ACCEPT AKC registry puppies. The AKC registry has very strict rules of membership and requirements from there breeders. This simple rule is a major safeguard for a puppy buyer.
Does the breeder have a contract ? A good breeder will have a contract that should spell out all conditions of sale.
Does the Breeder have a web site? Most good breeders will have web site.
Avoid breeders who offer credit card or other instant methods of payment online, including paypal.
Beware of any "Breeder" who is in a hurry to close the "deal". Pomeranian babies are very easy to sell.
Avoid "Breeders' who always have Pomeranian puppies available.
Does the Breeder supply a diet sheet ? Good Breeders will expect you to have your new Pomeranian baby checked by your Veteranian with 48 to 72 hours of purchase and will offer to refund your purchase price if any health defect is found.
Avoid Pet Shop puppies. Most Pet Shop puppies come from Puppy Mills/Farms. These puppies are bred in horrible dirty conditions. A puppy bred in dirty surroundings will be very hard to house train. Most dogs like to be clean, but if the puppy has been reared in dirty surroundings it will be used to soiling it's own bed and living areas, and you will find it will take a lot longer to house train this puppy. This is especially true of puppies bred in puppy mill/ puppy farm conditions. A lot of these poor little mites are brought into the world in appalling conditions. Their poor mothers forced to whelp litter after litter before she is put to sleep after her productive life is over. You may feel sorry for the poor little puppy in the pet shop window but by you purchasing this baby you will only be helping keep these puppy mill/farm operations in business.
Another type of breeder to avoid are often referred to as "registered backyarders". These "registered backyarders" are registered with the kennel club and are breeding dogs with the main focus on producing quantity. Quality is rarely important in these situations. Signs of a "Registered backyarder" are usually the quality of the Pomeranians produced and most are not active exhibiting their Pomeranians. Ask a few important questions of your breeder i.e. Is either parent a Champion ? How many Champions have you bred ? If neither parent is titled ( a term for being a Champion) or this breeder has not bred any Champions, keep searching for another breeder.
If you are interested in purchasing a Pomeranian, be it an adult or a Puppy visit the Pomeranian Directory. The Pomeranian Directory only lists the very best Pomeranian Breeders. Reputable, Kennel Club, AKC Registered Pomeranian Breeders. Links to Pomeranian Rescue and Pomeranian Resource Links.
The Pomeranian Expert Information site provides a Pomeranian Breeders link to Reputable Kennel Club, AKC, registered Pomeranian Breeders on our left menu.
Good Luck and enjoy your new Pomeranian. For complete and detailed Pomeranian information, how to choose the right Pomeranian puppy for your family, Feeding your new Pomeranian puppy, toilet and crate traing your Pomeranian, Socializing your Pomeranian Puppy, Common Health Issues Affecting Poms, Choosing Your Pomeranian's Veterinarian, Pomeranian Colors and Patterns. The Pomeranian colors explained, Breeding & Exhibiting Pomeranians.
Download the Pomeranian Book by Pomeranian Breed Authority Denise Leo.