Best Food for Pomeranians
Pomeranian Food Recipes Book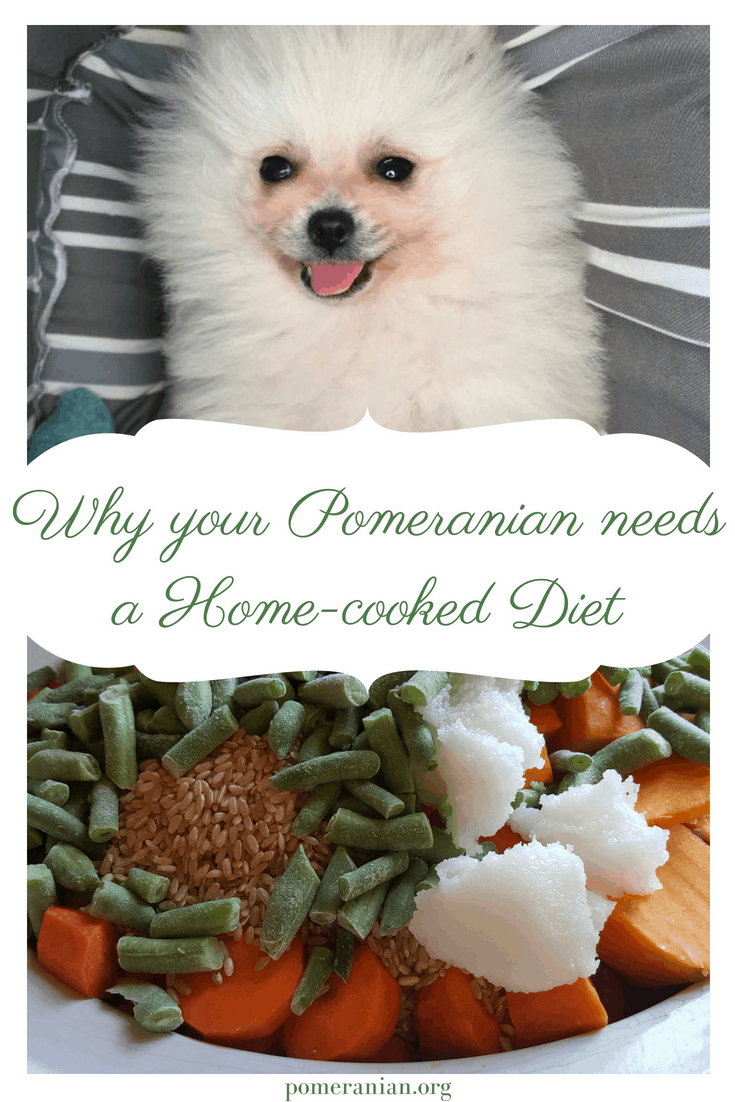 Home Cooking for Pomeranians available ONLY here at the #1 Pomeranian Information site, contains healthy Pomeranian dog food recipes. Homemade dog food for Pomeranians recipe book contains recipes for dishes suitable for all Pomeranian dogs.
What's the Best Food for a Pomeranian Dog?
What should Pomeranians eat? The best dog food for Pomeranians is homemade or raw feeding. There are always factors you need to remember when you compare manufactured dog food and food that has been home-made for your  Pomeranian.
If you buy food because vets recommend it, that can be a mistake. Manufactured dog food can legitimately have a label that says it has been recommended by vets if just one vet recommends it! That would only be one vet among thousands.
Why Manufactured Dog Food is NOT the Best Dog Food for Pomeranians
Fillers 
The chief difference between low quality and high quality manufactured canine foods is the quantity of fillers within the product. Fillers are ingredients with zero nutrients or other benefits, except that they help your Pom feel full because they increase the volume of the food your dog is eating. Fillers won't be digested. They'll simply go in one end and out the other.
Behavioral Troubles 
If your Pom is eating his own feces or grass, that's because there's a serious problem with his diet. While he eats fillers, it will fill him. However, his body will still have a strong craving for nutrients that were missing from the fillers.
Pomeranians and other toy dogs are highly likely to have allergic reactions to preservatives and artificial colors. Symptoms may include: diarrhea, vomiting, upset stomachs, a dull coat and dry skin. Many of the cases will be severe but if you cook healthy, highly nutritious home-made food for your beloved pet, you'll be able to give him all the nutrition he needs and also protecting him from having to eat low quality, chemical-ridden food from his body.
Wheat
If you're already aware that your Pom has a wheat allergy, it becomes easy to create delicious, home-cooked, wheat-free meals that your Pom can enjoy.
There's no good reason for having your Pomeranian puppy suffer during the teething period when you can create delicious home-made treats and food that will help him feel better.
Dog Food Companies Marketing Campaigns
 When buying food for your dog, you have to consider various factors such as her age and whether she's pregnant. When cooking her meals yourself, her age is totally irrelevant. Recipes suit Pomeranians of all ages.  Best diet is home cooked meals for Pomeranians from 12 months of age to Senior Poms.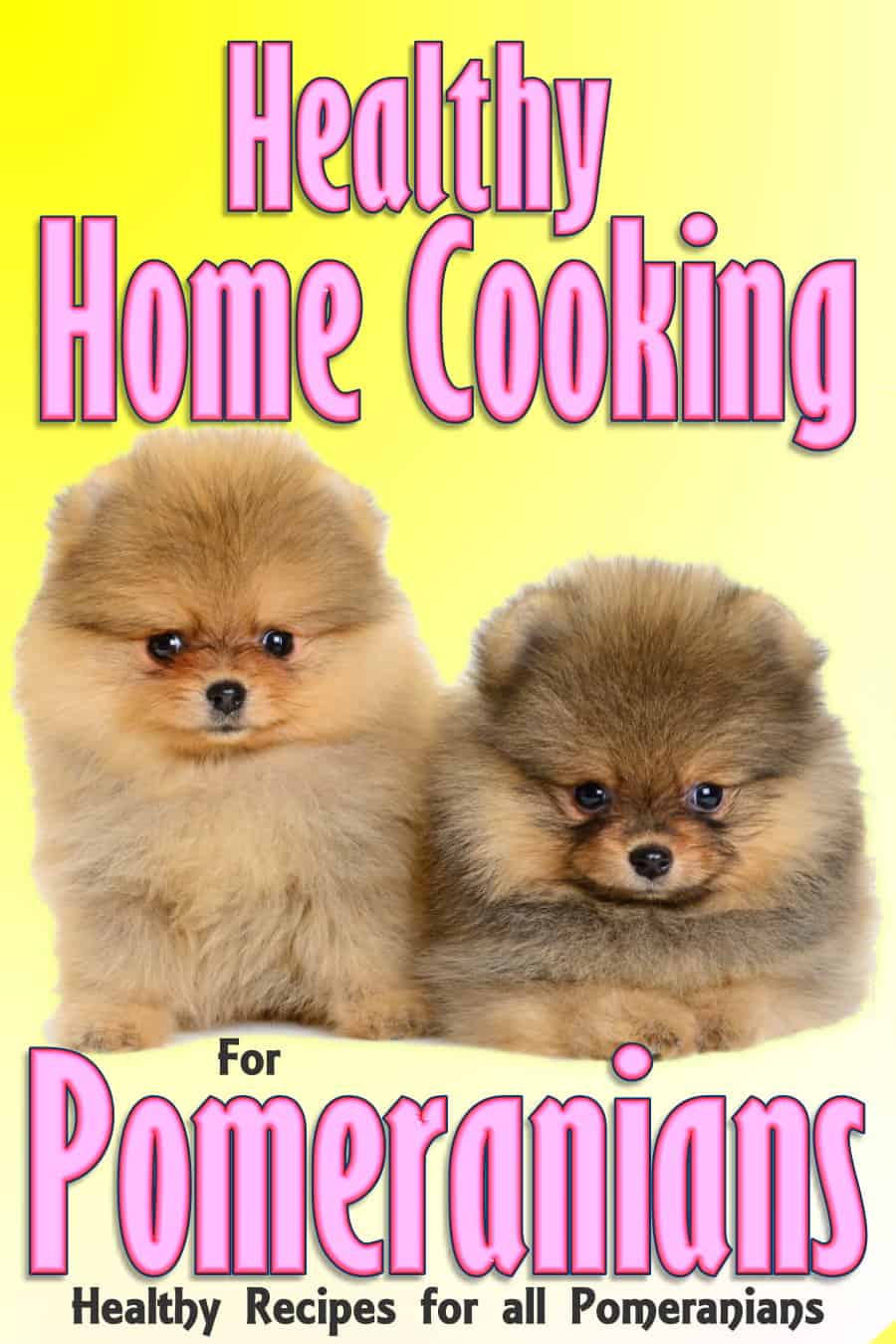 Raw Food Diets 
Numerous scientists have managed to trace dogs as far back as four specific wolves. Because of their origins, it's hardly surprising that dogs love eating a raw diet so you should also have a collection of meals from this diet.
Upset Tummies
It's quite common for your Pomeranian to feel "off," possibly recovering after undergoing a treatment, or having an upset tummy. You'll also have recipes to help ease that tummy to make your furry friend feel fantastic once more.
Your Pom Has Trust In You and Part of That is That You'll Feed Him Regularly 
He will sit patiently, beady eyes watching as you dish up his food and then he'll lick his bowl until it's gleaming. However, do you actually know what ingredients you put in his bowl to eat? Were there any fillers or chemicals? Were there any meat by-products (this includes animals that die during the trip to the facilities as well as road-kill)?
Don't make your dog sick when it's easy to cook home cooked meals full of healthy, nutritious ingredients that your dog needs to remain healthy and happy.
If you include powdered egg shell, cottage cheese or yogurt to your homemade dog food, it will increase his calcium levels to keep his teeth and bones strong. Calcium needs are the same for people and dogs.
Home Cooking Dog Food Recipe Book for Pomeranians Contains the following :
Pommy Barf Breakfast.
Doggie Casserole.
Homemade Kibble.
Tempt a fussy Pomeranian with this recipe for Fussy eaters.
Gourmet Chicken and Vegetables all in one.
Tasty Doggie Appetiser.
Chicken Soup for doggies.
Doggie Stew.
Doggie Goulash
Doggie Meatballs
Basic Balanced Doggie Meal with Vegetables.
Salmon Doggie Delight.
Fido's Fish dish.
Hound Soup.
Yummy Past meal for Poms. 
Doggie Chilli.
Doggie Beef Stew.
Homemade Doggie Stew.
Wild Salmon and Pumpkin Mornay
Roasted Chicken N Liver Dog Dinner.
Chicken Dog Dinner Recipe.
Raw beef and Liver Meat Balls.
Slow Cooker Dog Food Recipes.
Chicken with Brown Rice Pommy Casserole. 
Slow Cooker Doggie Stew.
Fur Babies Mince and Vegetable Stew.
Lentils Dog Food.
Chicken and Rice Doggie  Stew.
Kangaroo Stew for Poms.
Yummy Pork and Sausage Dog Food.
Doggie Delight.
Casserole for Dogs.
3 Meat Dog Feast. 
Slow Cooker Dog Food Beef & Vegetable Pasta.
Slow Cooker Dog Biscuits.
Slow Cooker Dog Muffins
Wheat Free Pumpkin Dog Cookies.
Oatmeal & Peanut Butter Cookies for your Doggie.
Puppy Patties.
Alfalfa Heart Cookies.
Bow Wow Brownies.
Mutts Muffins.
Gravy Canine Cookies.
Bake your own Crunchy Dog Biscuits.
Bacon Flavoured Dog Biscuits.
Canine Bacon Biscuits.
Pomeranian Dog Treat Recipe
Peanut Butter Banana Dog Treats.
Doggie Treats
Liver cake.
Satin Ball Treats.
Chicken Pate. 
Satin Balls. Which are great for coat problems and for Pomeranians needing to gain weight.
Sweet Potato Rawhides.
Turkey Doggie Treats.
Chicken Jerky.
Frozen Yoghurt Pops for Dogs.
Fruit and Vege Strips.
Beef & Vege Balls.
Fruit Puppy Parfait.
Healthy Dog Treat Recipe.
4 Ingredients Dog Treat Recipe
Canine Chicken Birthday Cake. 
Healthy Dog Food Recipes 
Satin Balls again.
Meal for Seniors or Dogs with Digestive problems.
Golden Paste for Doggies. 
Golden Paste Canine Cookies.
Homemade Bone Broth for Doggies.
Homemade dry dog food recipes are include in this eBook. Many slow cooker dog food recipes and crock pot dog food recipes. The best dog food recipe book available.  Easy to follow recipes for homemade dog food. 
The author of this homemade dog food recipe book is Denise Leo, breeder of Best in Show winning champion Pomeranians and a long time lover of the Pomeranian dog.
Best food for Pomeranians. Homemade Pomeranian Food is ONLY available here on #1 The Pomeranian Information Site  as an eBook in  PDF format. The eBook is in PDF format and will be emailed to you.
Download and store on your computer, tablet, phone and print a hardcopy if required. Healthy Home Cooking for all Poms is a MUST have item for ALL Pomeranian Parents.
Copyright Pomeranian.Org. All Rights Reserved.
References and Further Reading:
[1] Denise Leo "The Pomeranian Handbook".